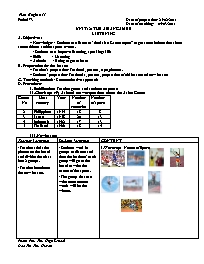 A. Objectives:
* Knowledge: - Students can listen to "the Asian Games report" to get some information about some athletes and the sports events.
 - Students can improve listening, speaking skills
* Skills : Listening
 * Attitude : Being eager to learn
B. Preparation for the lesson:
 * Teacher's preparation: Textbook, posters, tape, pictures.
 * Students' preparation: Textbooks, posters, preparation of old lesson and new lesson
C. Teaching methods: Communicative approach
D. Procedure:
 I. Stabilization: Teacher greets and students response
 II. Check up: (5') Ask and answer questions about the Asian Game:
Bạn đang xem tài liệu "Thiết kế bài dạy môn Tiếng Anh 11 - Period 73 - Unit 12: The asian games - Listening", để tải tài liệu gốc về máy bạn click vào nút DOWNLOAD ở trên
Period 73	Date of preparation: 25/02/2011
	Date of teaching: 04/03/2011
UNIT 12: THE ASIAN GAMES
LISTENING
A. Objectives:
* Knowledge: - Students can listen to "the Asian Games report" to get some information about some athletes and the sports events.
 - Students can improve listening, speaking skills 
* Skills : Listening
	* Attitude : Being eager to learn 
B. Preparation for the lesson: 
	* Teacher's preparation: Textbook, posters, tape, pictures.
	* Students' preparation: Textbooks, posters, preparation of old lesson and new lesson
C. Teaching methods: Communicative approach
D. Procedure: 
	I. Stabilization: Teacher greets and students response
	II. Check up: (5') Ask and answer questions about the Asian Game:
Games
No
Host
country
Year
Number of
countries
Number 
of sports
2
Philippines
1954
18
8
3
Japan
1958
20
13
4
Indonesia
1962
17
13
5
Thailand
1966
18
14
	III. New lesson: 
Teacher's activities
Students' activities
CONTENT
- Teacher sticks the picture on the board and divides the class into 2 groups.
- Teacher introduces the new lesson.
- Teacher asks some pairs to practise in front of the class.
- Teacher asks students to give the meanings of these words.
- Teacher tells students that they will listen to "The Asian Games Report"
- Teacher has students listen again to check and find the information to support their answers before giving feedback.
- Teacher asks students to listen to the passage and answer the questions with the game "Lucky star"(poster).
- Teacher calls some preventatives to talk about the athletes in front of the class but don't tell their names. 
Other sts will guess who they are.
- Students work in groups to discuss and then the leader of each group will go to the board to write the names of the sports.
- The group that can write more correct words will be the winner.
- Students work in pairs.
- Students listen and repeat the words. 
- Students listen to the passage twice to do the task.
- Students compare their answers in pairs 
 - Students work in two groups to choose the colored star they like. If it's a question. They must answer it to get 1 mark. If it's a lucky star, they will get 2 marks without answering any question. The group that gets more marks will win the game
- Students work in groups of 4.
I. Warm-up: Names of Sports
III. New lesson: 
UNIT 12: THE ASIAN GAMES 
 LISTENING
A. Pre-listening: (5') 
Activity 1: Answer the following questions: (textbook, p.141)
1. Have you ever watched sports like these on television?
2. Which sport(s) do you like best? Why?
Activity 2: Listen and repeat: 
- gymnasium 
- freestyle - gymnast 
- land - bar 
- Lee Bong –ju - Vichai
B. While-listening: (24')
Activity 1: Choose the best answer A, B, C or D for the following sentences (textbook, p.142)
Feedback:
 1C 2A 3B 4B 5D
Activity 2: Listen again and answer the following questions.
 3
 2
1
 6
5
4
1) What time was " The Asian Games Report" programme?
2) How many gold medals have the Japanese athletes won in the first three days?
3) How many times has Lee Bong-ju compete in the long jump?
4) Lucky star
5) What was the last sports event mentioned in the report?
6) How was Vichai after he finished his performance?
* Feedback: 
1) (It was at ) 10.15 p.m.
2) (They have won) 6 gold medals.
3) (He has competed in the long jump) 2 times.
4) High jump (was the last sports event mentioned in the report).
5) He was very disappointed
C. Post-listening:(7') Talk about a famous athlete you know
- his/ her age 
 appearance
 achievements (medals) 
 nationality
 sport
IV. Consolidation and Homework:
 1. Consolidation:
-Use these cues to talk about the results of your current exams at school and what you will do to prepare for the next exams.
+ The results of my current exams at school: bad/ low/ not high.
+ Prepare for the next exams:
study/ work hard
listen carefully to my teacher
Write homework regularly
Practise more exercises
 2. Homework: (1')
 - Write a short paragraph about the athlete you like best
- Prepare the Writing section of Unit 12.
V. EVALUATION:

Tài liệu đính kèm:
unit 12 listening.doc