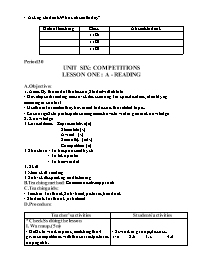 A.Objectives:
1. Aims: By the end of the lesson,Student will able to:
- Develop such reading micro-skill as scanning for specific ideas, identifying meaning in context
- Use the information they have read to discuss the related topic.
- Encourage Ss to participate some game shows to widen general knowledge.
2. Knowledge:
+ Lexical items: Representative (n)
 Stimulate (v)
 Award (v)
 Smoothly (adv)
 Competition (n)
+ Structure: - To be sponsored by sb
 - To take part in
 - To be awarded
- Asking students: Who's absent today?
Date of teaching
Class
Absent students
11B1
11B2
11B3
Period 30
UNIT SIX: COMPETITIONS
LESSON ONE : A - READING
A.Objectives:
1. Aims: By the end of the lesson,Student will able to:
- Develop such reading micro-skill as scanning for specific ideas, identifying meaning in context 
- Use the information they have read to discuss the related topic.
- Encourage Ss to participate some game shows to widen general knowledge.
2. Knowledge:
+ Lexical items: Representative (n)
 Stimulate (v)
 Award (v)
 Smoothly (adv)
 Competition (n)
+ Structure: - To be sponsored by sb
 - To take part in
 - To be awarded 
3. Skill
+ Main skill: reading
+ Sub-skills: speaking and listening
B.Teaching method: Communicative approach
C.Teaching aids: 
- Teacher: Textbook, Sub-board, pictures, handouts
- Students: Textbook,extra-board
D.Procedure:
Teacher's activities
Students' activities
* Check Ss dủing the lesson
I. Warm up.(5m)
- Get Ss to work in pairs, matching the 4 given competitions with the correct pictures on page 66.
- Check the answer with the class.
- Ss work in groups, discuss. 
1- a 2. b 3. c 4. d
II. Before you read.(8m)
- Introduce the topic of the lesson and get Ss to work in pair and answer the questions on page 67.
- Call on some Ss to answer the questions. Ask Ss to give reasons for their answer.
- Check with the class and ask Ss to guess what they are going to read about.
- Give and explain the meaning of new words.
- Guide Ss to read the new words.
- Get Ss to make sentences with these words.
- Give correct feedback.
- Listen carefully
- Answer the questions
1. I'd like to participate in the quiz: "Road to Mount Olympia" because it's an interesting game, which helps me to widen my general knowledge.
2. I'd like to win an English-Speaking Contest.
3. Winning or losing is not the most important. The main point our participation and the enjoyment we can have from it.
III. While you read.
- Give and explain some new words
*New words
Representative (n)
Stimulate (v)
Award (v)
Smoothly (adv)
Competition (n)
- Ask Ss to read after the teacher
* Task1 (7m): 
- Get Ss to read the passage silently and do task 1 
- Check Ss' understanding of the phrases by calling on some Ss to tell their equivalents 
in Vietnamese
- Check the answers with the whole class and give corrective feedback.
* Task 2: (8 m)
- Get Ss to read the task requirement and do the task individually and then find a peer to compare their answers with.
+ First, Ss should skim the five questions to understand them
+ Underline the key words
+ Ss should go back the passage and locate the key words in the passage.
+ Ss should read the key words carefully to find the answers
- Call on some Ss to read aloud their answers and ask them to explain their choices
- Give correct answers. 
Task 3: (10 )
- Ask Ss to read the passage again to complete the sentences
- Get Ss check their answers with a peer
- Call on some Ss to write their answers on the board and ask them to give their choices
- Give the correct answers 
- Listen then take note
- Read in chorus
- Read silently
- Speak out
- Answer 
1. d 2. f 3.e
4. c 5. b 6. a
- Read silently
- Individual work
* Answers
1. The representative of three classes of the speaker's school.
2. The aim was to stimulate the spirit of learning English among students
3. The Ss' Parents Society 
4. They had to complete 5 activities in all. 
On completion of each activity, they had to answer the questions in the worksheets within 2 minutes
5. They had to observe and score the Ss' performance.
6. A set of CDs for studying English and an Oxford Advanced Learner's Dictionary.
- Read silent again
Answer:
1..to recite the poem because he
could not remember the last sentence.
2..became the winner of the competition.
3. 60 points
4. "For me the important thing was 
Our participation in the competition and the enjoyment we had from it"
IV. After you read. (7m)( Use in 11B12)
- Read the poem aloud once or twice and 
get Ss to repeat each line after
- Let Ss practice reciting the poem in their
 own groups
- Call on different groups to read the poem
 and ask the class to decide who the best performers are.
- Call on different groups to translate the poem.
V. Homework: Revise the lesson.
- Work in groups
- Take note
- Asking pupils : Who's absent today?
Date of teaching
Class
Absent students
11B2
11B3
11B7
Period 31
UNIT SIX: COMPETITIONS
LESSON TWO : B - SPEAKING
A.Objectives:
1. Aims: By the end of the lesson,Student will able to:
- Ask for and give information about types of competitions. 
- Talk about a competition or contest.
2. Knowledge:
+ Lexical items: Words and phrases related to this period
+ Structure: - To be sponsored by sb
 - To take part in
 - To be awarded 
 - It's ..to do sth
 - What do you think of..? 
3. Skill
+ Main skill: speaking
+ Sub-skills: writing and listening
B.Teaching method: Integrated communicative approach
C.Teaching aids:
- Teacher: Sub-board, textbook.
- Students: textbook.
D. Procedure
Teacher's activities
Students' activities
* Check Ss dủing the lesson
I. Warm up.(5m)
- Ask Ss some questions: 
+ Have you ever participated in a competition?
+ What competition was it?
+ Who was the winner?
Answer freely.
 + Yes, I have
+ It was the: "Who wants to be the millionaire?"
+ A man who came from Bac Ninh
II. Before speaking
Task1 (10 m)
- Introduce the task and get Ss to do it individually
- Call on a student to read out the answers
- Check with the class and give correct answers
- Explain the new words or check Ss' understanding by getting them to translate 
the contests into Vietnamese. 
- Encourage Ss to explain why they like or 
dislike a contest. 
III. While speaking
 Task 2 (13 m)
- Introduce the task and call on one or two pairs
 of Ss to read aloud the sample dialogue 
- Go over the table of useful expressions on page 69 and explain new words to Ss when necessary.
- Elicit the structures that are used for asking for and giving suggestions about contests. Write
 these structures on the board and get Ss to do
 some practice before putting them in groups and do the task.
- Put Ss into pairs
- Go around to check and offer help
- Then elicit comments from the class and
 provide feedback.
IV. After speaking
 Task3 (15 m).
- Put Ss into groups of 3 or 4 
- Go around to offer help
- Call on each group to report their ideas to the class and elicit comments from the class.
- Give corrective feedback and final comments.
V. Homework (2m)
- Ask Ss to write a paragraph about a contest
 that they have participated or seen.
- Work individually
- Speak out
- Take note
- Listen carefully
- Speak out
- Pairs work 
- Listen carefully
- Pairs work
Answers:
A: What do you think of the General Knowledge Quiz?
B: Oh, it's great. It's an opportunity to test my general knowledge.
- Group work
Suggested answers:
We've seen the final English Speaking Contest at our school. The contest was organized by all the teacher of English in school, and was sponsored by some former teachers and students. All Ss who were interested in English participated in it. After all, the team of grade 12 won the contest. I enjoy the contest very much. I think it was a good opportunity for me, it encouraged the spirit of learning English in our school as well. I hope the school will organize such a contest in the future. 
- Take note
- Asking pupils : Who's absent today?
Date of teaching
Class
Absent students
11B2
11B3
11B7
Period 32
UNIT SIX: COMPETITIONS
LESSON THREE : C - LISTENING
A.Objectives:
1. Aims: By the end of the lesson,Student will able to:
- Develop extensive listening skills as listening for specific information and taking notes while listening
- Use the information they have listened to for other communicative tasks
2. Knowledge:
+ Lexical items: Race (n)
 Association (n)
 formally
+ Grammar: Past simple 
3. Skill
+ Main skill: listening 
+ Sub-skills: speaking and writing
B.Teaching method: Integrated communicative approach
C.Teaching aids: 
- Teacher: cassette, textbook.
- Students: textbook.
D.Procedure:
Teacher's activities
Students' activities
* Check the students the whole lesson
I. Warm up. (5m )
- Divides the class into groups of 3 or 4
- Give each group one card containing 10 words whose letter are jumbled and ask Ss to rearrange the letters to make good words. The group which finishes the task first with the most correct words will be the winner.
1. tohamarn 6. conpahim
2. sifihn 7. nurning
3. renurn 8. centadis
4. crae 9. storp
5. chiatelt 10. cirang
- Group work
- Answer 
1. marathon
2. finish
3. runner
4. athletic
5. race
6. champion
7. running
8. distance
9. sport
10. racing
II. Before you listen. (10 m)
- Use the picture in the textbook to introduce the topic of the lesson and ask some questions:
+ What do you see in the picture?
+ What even is it?
+ Where do you think the Boston Marathon might take place?
+ Who can participate in it?
* New words
Race (n)
Association (n)
formally
- Give and explain the meaning of new words.
- Guide Ss to read new words.
- Call on some Ss to read new words.
- Answer the questions
- Take note
Read new words in chorus.
III. While you listen. 
1. Activity 1:Task 1. (10 m) - Instruction: You are going to listen about the Boston Marathon and answer T or F question.
- Get Ss to read through the statements to underline the key words.
- Check with the class and ask them to guess the answers
- Play the tape once for Ss to listen and do the task.
- Get Ss to find a partner to check their answers with.
- Check the answers with the whole class. If many Ss can not answer, play the tape one or two more times and pause at the answers for them to catch.
2. Activity 2: Task 2. (10m)
 - Ask Ss to listen again and answer the questions
- Play the tape and asks Ss to listen. Before doing this, Ask Ss to read through all the questions.
- After playing the tape, get Ss to work in pairs and check their answer. 
- Call on some Ss to give their answers.
Play the tape again and pause at difficult points if many Ss cannot complete the task.
- Give correct answers.
- Listen carefully
- Read silently
- Listen carefully
Answers
1. T
2. T
3. F (2 hours 50 minutes and 10 seconds )
4. F (1967)
5. T
6. F (pass through 13 towns and ends in 
centre of Boston)
- Listen carefully
Answer:
1. New York
2. In 1972
3. 8
4. 6164
IV. After you listen. (8m) 
- Ask Ss to talk about a famous Vietnamese sportsman or sportswoman that they like.
- Put Ss in small groups of 3 or 4.
- Go around to check and offer help
- Call on the representative of each group to talk about their favourite sportsman or sportswoman.
- Correct their mistakes.
V. Homework (2m)
Ss write a summary of the story they list ...  write. (20m)
- Get Ss to read the requirements of Task 2 and work out with a peer what they need to include in the reply letter and what kind of language they need to use.
- Check the answer with the class and give feedback.
- Get Ss to write their own letters in 10 minutes
- Ask Ss to get in pairs, exchange their letter and correct each other
- Go around to check and offer help if necessary.
- Read silently
- Answer
- Individual work
- Pair work exchange their letter and correct each other
* Sample letter
Dear Thu Trang,
Thank you for your letter welcome to our English Speaking Competition. Here are 
the details about our competition.
The number of the participants is limited, 
just 25. The competition is held on
 November 25th, at 106 Tran Hung Dao 
Street. Hoan Kiem District, Ha Noi. It starts 
at 8:00p.m, but
contestants should be present an hour earlier
for registration.
For further information, you can contact me 
on phone number: 04987377
Good luck to you.
 Kate Johnson. 
IV. After you write.(8m) 
- Choose one or two letters and read it to the class
- Elicit corrective feedback from the class and give final comments.
V. Homework.(2m)
- Rewrite their letters based on T's and other suggestions and corrections.
- Read aloud
- Take note
- Rewrite their letters
- Asking pupils : Who's absent today?
Date of teaching
Class
Absent students
11B2
11B3
11B7
Period 34
UNIT SIX: COMPETITIONS
LESSON FIVE : E – LANGUAGE FOCUS
A.Objectives:
1. Aims: By the end of the lesson,Student will able to: 
 - Distinguish the clusters [tr] [dr], and [tw]
 - Pronounce the words and sentences containing these sounds correctly.
 - Understand reported speed with gerund and use these structures to solve communicative tasks
2. Knowledge:
+ Lexical items: Words and phrases related to this period
+ Grammar : Reported speech with gerund 
3. Skill
+ Main skills: Reading and writing
+ Sub-skills: listening and speaking
B. Teaching method: Integrated, mainly communicative.
C.Teaching aids: 
- Teacher: Textbook, extra-board, handouts
- Students: Textbooks
D.Procedure:
Teacher's activities
Students' activities
I. Pronunciation. (8m) 
- Model the three clusters [tr] [dr] [tw], for a few times and explain the differences in producing them.
- Read first and then ask Ss to read after.
- Read the words in each column all at once.
- Read the words and then ask Ss to read after.
- Ask Ss to practice pronouncing the words in fairs.
- Go around providing help.
- Ask some Ss to pronounce the words and give correction if necessary.
*practice reading sentences.
- Read the sentences. 
- Ask Ss to practice the sentences in fairs.
- Go around providing help.
- Ask some Ss to read the sentences and give feedback.
II. Grammar (25m)
Reported speech with gerund 
* presentation
- Review reported speech with gerund 
+ form: Verb+Object+ preposition + ( Not) V-ing 
+ Meaning and use: We usually use a gerund structure to report thanking, apologies, accusations, and so on. We don't use "say" in this structure. 
E.g: I apologized the teacher for submitting my assignment late. We thank you for having helped us generously.
Note: some verbs do not need a preposition: stop, deny, admit, suggest, and so on.
- Remind Ss that time and place references often have to change in reported speech
now
then
today
That day
here
There
this
That
This week
That week
tomorrow
The following day
The next day 
The day after
Next week
yesterday
The following week
The next week.
The day before
 *Practice.
1. Activity 1: Exercise 1.
 - Ask Ss to do exercise 1 individually and then compare their answer with another student.
- Call on some Ss to read their answers.
- Give correct answers
2. Activity 2: Exercise 2
- Ask Ss to do exercise 1 individually and then compare their answer with another student.
- Check with the whole class and provide corrective feedback.
* production (10m)
Give some sentences and ask Ss to choose the best answer.
1. "Would you like to spend the weekend with us?" They .her to spend the weekend with them.
a. advised b. ordered c. invited d. begged
2. "Could you open the window please?" She. him to open the window.
 a. asked b. ordered c. invited d. begged
3. " Don't forget to post the letter!" He .me to post the letter.
A. reminded	B. ordered	C. begged	D. asked
4. "Go to bed immediately!" Mary's mother her to go to bed immediately.
A. advised	B. asked	C. begged	D. ordered
5. "Park the car behind the van" The instructor.him to park the car behind the van.
A. offered	B. told C. asked	D. ordered
6. "Please, please, turn down the radio!" Mark's sisterhim to to turn the radio down.
A. reminded	B. ordered	
C. asked	D. begged
7. "Don't play with the matches. They're very dangerous." The teacher.. the children not to play with the matches. 
A. ordered	B. asked	
C. warned	D. begged
8. "I'll give you a lift to the airport" She ..to give her husband a lift to the airport.
A. refused	B. offered	
C. warned	D. begged
III. Homework. (2m)
- Ask Ss to revise the grammar and do exercises again.
 * Extra- exercise: Ask Ss to review the irregular verbs.( learn by heart 20 verbs)
- Listen and repeat.
- Read in chorus
- Read individually
- Read in chorus
- Read aloud
- Read the sentences
- Read then take note
- Listen then take note
- Do individually
- Compare their answer with another student.
- Speak aloud
Answers:
1. John congratulated us on passing our exam
2. Mary apologized for not phoning me earlier
3. Peter insisted on driving Linda to the station 
4. The teacher accused the boy of not paying attention to what he had said
5. Bob has always dreamed of being rich
6. I warned Ann against staying at the hotel near the airport.
7. Her mother prevented Jane from going out that night.
8. Miss White thanked Jack for visiting her. 
- Do individually
- Compare their answer with another student.
- Speak aloud
 Answers:
1. Tom insisted on paying for the meal.
2. Mr. and Mrs Smith looked forward to meeting their children soon
3. The boy denied breaking the window of the woman's house
4. The policeman stopped the customer from leaving the shop.
5. The thief admitted stealing Mrs Brown's car
6. Ann suggested having a party the next Saturday
7. John and his wife were thinking of buying the house.
- Do individually
- Take note
- Asking pupils : Who's absent today?
Date of teaching
Class
Absent students
11B2
11B3
11B7
Period 35
TEST YOURSELF B
A.Objectives:
1. Aims: By the end of the lesson, Ss will be able to:
 - Revise all the language skills and grammatical points which they have studied and used in the three units: 4,5 and 6.
- Improve their techniques of doing the simple tests.
 2. Knowledge: After this lesson, students will be able to:
- Check themselves their skills in reading, speaking, listening, writing
- Improve their knowledge through the test yourself
- Language: Students can improve their techniques of doing the simple tests
3. Skill
+ Main skills: writing, reading and listening
+ Sub-skill: speaking 
B. Teaching method: Communicative approach
C. Teaching aids: 
- Teacher: Textbook,extra-board
- Students: Textbooks
D. Procedure:
Teacher's activities
Students' activities
I. Warm-up: (5 minutes)
- Greeting
- Ask students something about the test yourself A
* Have you prepared it at home?
* Have you got any difficulties?
Test yourself
II. Listening(2.5 points) (10 minutes)
- Ask students to read all the sentences first
- Ask students to listen to the tape once.
- Ask students to listen again and speak out the statements are true or false .
- Ask students to listen in the third time, the work in groups to compare and discuss the answers with each others to find the correct answers. 
III. Reading (2.5 points) (10 minutes)
- Present the task: 
- Ask pupils to work in groups to compare the answers they have already done to find the correct ones.
- Give the correct answers to the class:
IV. Grammar(2.5 points) (8 minutes)
- Present the task: 
- Ask SS to complete the sentences, using the right form ( base, full or gerund) of the infinitive in brackets.
- Ask Ss to compare the results with the other groups
 - Check the answers
IV. Writing (7 minutes)
- Present the task: 
- Call the students to read the suggested sentences in front of the class.
- Time and the channel on TV
- Length of the show, parts of the show
- Number of the competitors.
- Content of the questions
- The feeling you have for it
- Check their writings and help them correct the mistakes if they've made.
V. Homework (5 minutes)
- Ask students:
 + to study all the lessons again
 + to get ready for the 45 minute-test in the next period
- Greeting
- Answer teacher's questions
- Look at the book and listen to the task
- understand the task
- Read the questions 
- Listen to the tape
- Listen again and say the statements are true or false.
- Listen and discuss in groups to find the correct answers:
1. A (They had olive wreath placed on their heads. ) 
 2. B 3. D 
 4. C 5. B
- Look at the textbook and listen to the teacher
- Work in groups to discuss about the passage
- Finish the task
- Compare their results with the other groups, and then with the keys
- Write the answers on the board
1. D 2. B 3. B 4. C 5. C
- Look at the textbook and listen to the teacher
- Listen to the teacher 
- Compare the results with the other groups
- Show the answers in front of the class. 
 - Observe the keys and correct their answers
* Suggested keys
 1- talking 2- to go 
 3- smoking 4. saying
 5- do 6- going
- Listen to the teacher
- Students work in groups and practise writing about their birthday party
- Two students go to the board and write.
- Give the writings by reading aloud.
- Read writing carefully
- Compare the results with the other groups
- Correct mistakes
* Writing sample
" Road to Mount Olympia" is a very popular competition for secondary students in Vietnam. It is a general knowledge quiz. Which debuted on VTV3 in 1999 and since then has been aired at 10:30 a. m every Sunday on the same channel. The show is sponsored by LG Corp and hosted by several popular speakers such as Ta Bich Loan, Luu Minh Vu, and Tung Chi
 The competition lasts one year and consists of 52 qualifying sessions and a final. There are 4 competitors in each session. These are the representatives of different schools around the country. They are asked questions about sciences and arts. The winner of each weekly session can go to the monthly session and compete with other students to win a place at the quarterly session. The winners of the quarterly session can go to the final. The winner of the final will receive a large cash prize.
 I like the show very much because I can learn a lot from the questions asked in it.
- Study all the lessons again
- Get the knowledge ready for the coming test