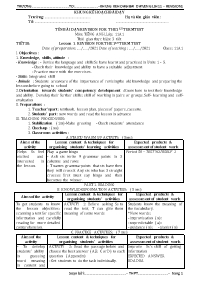 TIẾT 50. Lesson 1. REVISION FOR THE 1ST TERM TEST
Date of preparation: ./ ./2021 Date of teaching: ./ ./2021 Class: 11A1
I. Objectives:
1. Knowledge, skills, attitude:
- Knowledge: - Revise the language and skills Ss have learnt and practised in Units 1 - 5.
 - Check their knowledge and ability to have a suitable adjustment.
 - Practice more with the exercises.
- Skills: Integrated skill
- Attitude: Students are aware of the importance of revising the old knowledge and preparing the lessons before going to school
2. Orientation towards students' competency development: Know how to test their knowledge and ability. Develop their further skills: skill of working in pairs or groups. Self- learning and self- evaluation
II. Preparations:
1. Teacher's part: textbook, lesson plan, pieces of papers, cassette.
 2. Students' part: new words and read the lesson in advance
III. TEACHING PROCEDURES:
1. Stabilization (1m)- Make greeting - Check students' attendance
2. Check-up: (no)
3. Classroom activities:
A. START/ WARM UP ACTIVITY: (5 ms)
Bạn đang xem tài liệu "Kế hoạch bài dạy Tiếng Anh Lớp 11 - Revision for the 1st term test - Đỗ Văn Bình", để tải tài liệu gốc về máy bạn click vào nút DOWNLOAD ở trên
KHUNG KẾ HOẠCH BÀI DẠY
Trường: ....
Tổ: .
Họ và tên giáo viên:
..
TÊN BÀI DẠY: REVISION FOR THE 1ST TERM TEST
Môn: TIẾNG ANH, Lớp: 11A1
Thời gian thực hiện: 3 tiết
TIẾT 50. Lesson 1. REVISION FOR THE 1ST TERM TEST
Date of preparation: ./../2021 Date of teaching: ./../2021 Class: 11A1
I. Objectives:
1. Knowledge, skills, attitude:
- Knowledge: - Revise the language and skills Ss have learnt and practised in Units 1 - 5.
 - Check their knowledge and ability to have a suitable adjustment. 
 - Practice more with the exercises.
- Skills: Integrated skill 
- Attitude: Students are aware of the importance of revising the old knowledge and preparing the lessons before going to school 
2. Orientation towards students' competency development: Know how to test their knowledge and ability. Develop their further skills: skill of working in pairs or groups. Self- learning and self- evaluation
II. Preparations: 
1. Teacher's part: textbook, lesson plan, pieces of papers, cassette.
 	2. Students' part: new words and read the lesson in advance
III. TEACHING PROCEDURES: 
1. Stabilization (1m)- Make greeting - Check students' attendance
2. Check-up: (no) 
3. Classroom activities:
A. START/ WARM UP ACTIVITY: (5 ms)
Aims of the activity
Lesson content & techniques for organising students' learning activities
Expected products & assessment of student work
Helps Ss feel excited and interested in the lesson.
Play a game bingo
- Ask sts write 9 grammar points in 3 columns and rows
- T names grammar points that sts have then they will cross it. Any sts who has 3 straight crosses first must say bingo and then becomes the winner.
Period 50 – TEST YOURSELF 1 
PART 1. READING
B. KNOWLEDGE FORMATION ACTIVITIES: (5 ms)
Aims of the activity
Lesson content & techniques for organising students' activities
Expected products & assessment of student work
To get students to know the lesson objectives: scanning a text for specific information and carefully reading for more detailed comprehension.
ACTIVITY 1: Before asking Ss to read the text, T can give them meaning of some words 
Students know the meaning of the vocabulary.
* New words:
- improvisation (n):
- unpredictable (a):
- guidance (n): - pianist (n)
C. PRACTICE ACTIVITIES: (7 ms)
Aims of the activity
Lesson content & techniques for organising students' activities
Expected products & assessment of student work
- To develop students' ability in guessing word meaning in context and helps them know some new words about Jobs.
ACTIVITY 2: Read the passage below and choose the best answer (A, B, C or D) to each question (Appendix)
- Get students to do the task individually. 
- Ask them to share the ideas with their friends.
- Check answer as a class, and encourages Ss to justify their choices by referring to the relevant information in the reading text
Improve Ss's skill of getting information 
EXPECTED ANSWER 
BDADBA
D. APPLICATION AND EXTENSION ACTIVITIES: (5 ms)
Aims of the activity
Lesson content & techniques for organising students' activities
Expected products & assessment of student work
To enable students to use the words in context.
- Has students work in pairs to talk about famous people with disabilities
- Encourages Ss to present in front of class.
- Sts can talk about disability of person that they admire
PART 2. GRAMMAR
B. KNOWLEDGE FORMATION ACTIVITIES: (5 ms)
Aims of the activity
Lesson content & techniques for organising students' activities
Expected products & assessment of student work
To help students to remember the theory
- Asks sts to recall all the grammar points 
C. PRACTICE ACTIVITIES: (10 ms)
Aims of the activity
Lesson content & techniques for organising students' activities
Expected products & assessment of student work
To get Ss to practise more
ACTIVITY : Choose the best answer 
- Gets students to work in groups and try to find the best answer 
- T calls some sts and has them explain their choice.
Students are able to use their own knowledge to choose the correct answer and explain for their choices
Keys: CAADB/ BCCBC/ CABCA
D. APPLICATION AND EXTENSION ACTIVITIES: (5 ms)
Aims of the activity
Lesson content & techniques for organising students' learning activities
Expected products & assessment of student work
To provide free speaking practice
- Has students work in group and talk about voluntary work that they have done
- Calls some Ss to present their talks.
- Gives comments.
Students are confident to answer all the questions in front of the class.
IV. Homework: (3 ms) Do exercises in the notebooks. Study the structures carefully. 
V. Self-Evaluation: 
TIẾT 51. Lesson 1. REVISION FOR THE 1ST TERM TEST
Date of preparation: ./../2021 Date of teaching: ./../2021 Class: 11A1
I. Objectives:
1. Knowledge, skills, attitude:
- Knowledge: Revise the language and skills Ss have learnt and practised in Units 1 - 5. Check their knowledge and ability to have a suitable adjustment. Practice more with the exercises.
- Skills: Integrated skill 
- Attitude: Students are aware of the importance of revising the old knowledge and preparing the lessons before going to school 
2. Orientation towards students' competency development: Know how to test their knowledge & ability. Develop further skills: skill of working in pairs or groups  Self- learning & self- evaluation
II. Preparations: 
1. Teacher's part: textbook, lesson plan, pieces of papers, cassette.
 	2. Students' part: new words and read the lesson in advance
III. Teaching Procedures: 
1. Stabilization (1 m) - Make greeting - Check students' attendance
2. Check-up: (no) 
3. Classroom activities:
A. START/ WARM UP ACTIVITY: (3 ms)
Aims of the activity
Lesson content & techniques for organising students' learning activities
Expected products & assessment of student work
Helps Ss feel excited and interested in the lesson.
Play a game bingo
- Asks sts write 9 grammar points in 3 columns and rows. - T names grammar points that sts have then they will cross it. Any sts who has 3 straight crosses first must say bingo and then becomes the winner.
Period 51 – REVISION FOR THE FIRST SEMESTER TEST 
B. KNOWLEDGE FORMATION ACTIVITIES: (5 ms)
INTRODUCTION ABOUT THE FORM OF THE FIRST SEMESTER TEST
Aims of the activity
Lesson content & techniques for organising students' learning activities
Expected products & assessment of student work
To help Ss practice some skills (reading and listening)
- Introduce students about the form of the first semester test. 
- T reminds ss of the tips to do this kind of task quickly
Students understand the lesson 
C. PRACTICE ACTIVITIES: (5 ms) - PART 1: PRONUNCIATION
Aims of the activity
Lesson content & techniques for organising students' learning activities
Expected products & assessment of student work
Helps Ss practise skills 
- Asks the sts to do the exercise carefully 
- Ss do this activity individually.
- Then asks Ss to compare their answers with a partner.- Ss compare their answers with a partner.
- Assessment can be made through Ss' presentation.
PART 2. GRAMMAR - B. KNOWLEDGE FORMATION ACTIVITIES: (2 ms)
Aims of the activity
Lesson content & techniques for organising students' learning activities
Expected products & assessment of student work
To help students to remember the theory
- Asks sts to recall all the grammar points 
C. PRACTICE ACTIVITIES: (7 ms)
Aims of the activity
Lesson content & techniques for organising students' learning activities
Expected products & assessment of student work
To get Ss to practise more
ACTIVITY : VOCABULARY, EXPRESSIONS, GRAMMAR AND STRUCTURES
- Get students to work in groups and try to find the best answer 
- Call sts and has them explain their choice.
Students are able to use their own knowledge to choose the corect answer and explain for their choices
PART 3. WRITING - C. PRACTICE ACTIVITIES: (10 ms)
Aims of the activity
Lesson content & techniques for organising students' learning activities
Expected products & assessment of student work
To help Ss practice writing skills
1. Rewrite the following sentences
- Asks students to do exercise in appendix 
 - Corrects the writings as a whole
2. BUIDING SENTENCE. Use the words to make sentence 
- Techniques: individual work.
- Content:
- T elicits the use of the to infinitive.
- Some Ss tell the whole class the use of the to infinitive 
- T has Ss do this activity individually in 2'.
- Ss do the exercise
- T asks Ss to compare their answers with a partner.
- T asks a Ss to write his/her sentences on the board.
-Ss write his/her sentences on the board.
- T checks Ss' answers with the whole class.
HANDOUT 
+ Ss have something in mind about the language courses
+ Ss are assessed through their presentation.
PART 4. READING - C. PRACTICE ACTIVITIES: (4 ms)
Aims of the activity
Lesson content & techniques for organising students' learning activities
Expected products & assessment of student work
- To develop students' ability in guessing word meaning in context and helps them know some new words about Jobs.
ACTIVITY: Read the passage below and choose the best answer (A, B, C or D) to each question (Appendix). - Get students to do the task individually. 
- Ask them to share the ideas with their friends.- Check answer as a class, and encourages Ss to justify their choices by referring to the relevant information in the reading text
Improve Ss's skill of getting information 
HANOUT
D. APPLICATION AND EXTENSION ACTIVITIES: (4 ms)
Aims of the activity
Lesson content & techniques for organising students' learning activities
Expected products & assessment of student work
To enable students to use the words in context.
- Techniques: explanation, pair - work
- Content: - Ss do this activity individually.
- Then asks Ss to compare their answers with a partner.
- Ss compare their answers with a partner.
- T writes the sentences on the board and asks Ss to practise reading the sentences aloud.
- Ss can link 
- Assessment can be made through Ss' presentation.
IV. Homework: (3 ms) Do exercises in the notebooks. Study the structures carefully. 
V. Self-Evaluation: 
TIẾT 52. Lesson 1. REVISION FOR THE 1ST TERM TEST
Date of preparation: ./../2021 Date of teaching: ./../2021 Class: 11A1
I. Objectives:
1. Knowledge, skills, attitude:
- Knowledge:
Vocabulary: Words / phrases about 'Caring for those in need' and 'Being part of ASEAN'. 
Grammar: Past Simple, Present Perfect, Gerunds and State verbs in the continuous forms.
Pronunciation: Elision of weak vowels before |n|, |l|, |r|; Falling and rising intonation.
- Skills: explanation, question- answer, pair work, group work, discussion
- Attitude: have a good preparation for the first semester exam.
2. Orientation towards students' competency development: By the end of the lesson, Ss will be able to revise the language and skills they have practised in Units 4,5
II. Preparation of teacher and students:
1. Teacher's part: handouts, cards
2. Students' part: textbooks, pens, notebooks
III. Teaching procedures:
1. Stabilization (1m) Greet/ Check attendance
2. Check-up (no) 
3. Classroom activities:
PRACTICE ACTIVITIES - Activity 1. READING (10 ms)
Aims of the activity
Lesson content & techniques for organising students' activities
Expected products & assessment of student work
To help ss guess the meaning of the words from the context and get the information to answer the questions 
Tasks 1 and 2:
- Has Ss do Activities 1 and 2 individually, and then compare their answers with a partner.
 - Checks answers as a class and provide any explanations if necessary.
Task 1. Read the text and match the words in A with their definitions in B.
* KEY. 1. a 2. d 3. b 4. c
Task 2. Answer the questions.
* KEY
1. Devices that help disabled people perform an activity.
2. They can communicate quickly by sending and receiving messages.
3. They can have documents read out loud electronically on their computer.
4. Children with visual impairment and their parents can read together /share reading.
5. It can improve the quality of life for people. 
Activity 1. SPEAKING (10 ms)
Aims of the activity
Lesson content & techniques for organising students' learning activities
Expected products & assessment of student work
To make ss express their ideas 
Tasks 3. Ask Ss to work in pairs, and read about the three universities in Singapore and discuss any unfamiliar words or phrases.
Tasks 4. stay in the same pair or work with a different partner to answer the two questions. 
Encourage Ss to discuss their choices with their partners. Have Ss present their answers to the class.
Tasks 3 and 4. Work in pairs. Read the information, answer the questions by discussing with a partner.
Which university do you want to go to?
Why do you want to study there?
Activity 3. LISTENING (10 ms)
Aims of the activity
Lesson content & techniques for organising students' learning activities
Expected products & assessment of student work
Ss listen for specific information to decide the statements are true or false
Task 5. Play the conversation between Mr Long and his daughter Mai discussing the different cultures in the ASEAN countries. 
Ask Ss to listen and do the activity individually.
- Play the recording again for Ss to listen and check their answers. For weaker Ss, play the audio several times pausing after sentences and checking Ss' comprehension. 
- Check answers as a class, and give any explanations if necessary.
Task 5. Listen to the conversation between Mr Long and his daughter Mai. Decide whether the following statements are true (T) or false (F).
* KEY:
1. T 2. F 3. T 4. F 5. T
Activity 4. WRITING (12 ms)
Aims of the activity
Lesson content & techniques for organising students' learning activities
Expected products & assessment of student work
Ss can write an introduction using the facts 
Task 6. 
- Ask Ss to use the facts given (or find additional information if necessary) to write an introduction to Thailand. Ss may write their drafts first in class, and swap with a partner for peer review. 
- Ask Ss to make any revisions based on their partner's comments and complete their final versions at home.
Task 6. Write an introduction to Thailand using the facts below. Add more information if necessary.
Example: Thailand has a total area of 513,120 square kilometers. Its capital is Bangkok. It has a population of 67,149,778 (2014 estimate). The official language used in Thailand is Thai.
IV. Homework: (3 ms) Do exercises in the notebooks. Study the structures carefully. 
V. Self-Evaluation: