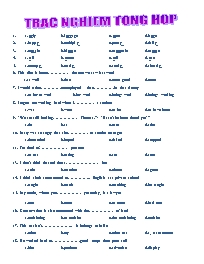 1. a.ugly b.luggage c.utter d.huge
2. a.happy b.multiply c.pretty d.daily
3. a.cousin b.blouse c.mountain d.mouse
4. a.call b.count c.cell d.can
5. a.occupy b.ready c.study d.already
6. This film is better the one we saw last week
 a.as well b.than c.more good d.more
7. I would rather unemployed than in that factory
 a.to be/ to work b.be/ work c.being/ work d.being/ working
8. I regret not working hard when I a student
 a.was b.were c.to be d.to have been
9. "We are still looking Thomas."- "Hasn't he been found yet?"
 a.for b.at c.care d.after
10. Mary was so angry that she to see the manager
 a.demanded b.hoped c.risked d.stopped
11. I'm tired of potatoes
 a.to eat b.eating c.ate d.aten
13. I don't think that red dress her
 a.suits b.matches c.cheers d.agrees
14. I think she is accustomed to . English at a private school
 a.taught b.teach c.teaching d.be taught
15. My uncle, whom you yesterday, is a lawyer
 a.met b.meet c.to meet d.had met
1.	a.ugly  	b.luggage	c.utter 	d.huge
2.	a.happy	b.multiply	c.pretty 	d.daily
3.	a.cousin 	b.blouse 	c.mountain 	d.mouse
4.	a.call	b.count 	c.cell 	d.can
5.	a.occupy 	b.ready 	c.study 	d.already
6. This film is better the one we saw last week
 a.as well 	b.than	c.more good 	d.more
7. I would ratherunemployed thanin that factory
 	a.to be/ to work 	b.be/ work 	c.being/ work 	d.being/ working
8. I regret not working hard when I a student
 	a.was 	b.were 	c.to be 	d.to have been
9. "We are still looking Thomas."- "Hasn't he been found yet?"
 	a.for 	b.at 	c.care 	d.after
10. Mary was so angry that she to see the manager
 	a.demanded 	b.hoped 	c.risked 	d.stopped
11. I'm tired of potatoes
 	a.to eat 	b.eating 	c.ate 	d.aten
13. I don't think that red dress her
 	a.suits 	b.matches 	c.cheers 	d.agrees
14. I think she is accustomed to.. English at a private school
 	a.taught 	b.teach 	c.teaching 	d.be taught
15. My uncle, whom you yesterday, is a lawyer
 	a.met 	b.meet 	c.to meet 	d.had met
16. Conservation is also concerned with the of land
 	a.reclaiming 	b.to reclaim 	c.the reclaiming 	d.reclaim
17. This car isn't.. It belongs to Mike
 	a.mine 	b.my 	c.mine car 	d.a, c are correct
18. He worked hard togood crops from poor soil
 	a.hire 	b.produce 	c.advertise 	d.display
19. It isexciting match. It is.most exciting match that I have ever seen
 	a. a/an 	b. an/a 	c. an/the 	d.no article/the
20.The three friends all..for the same job
 	a.requested 	b.applied 	c.intended 	d.referred
21. This book was written by a well-known writer. It is worth.
 	a. read 	b.to read	 	c.reading 	d.have read
22. "It's beginning to rain."- "Unless it stops, we won't.able to finish the ball game"
 	a.be 	b.been 	c.would be 	d.will be
23. You don't.. looking after the baby, do you?
 	a. agree 	b.stand 	c.mind 	d.notice
24. John..to let his children go to the concert
 	a.affords 	b.avoids 	c.refuses 	d.stops
25. She is the woman to whom I..
 	a.to write 	b.wrote 	c.written 	d.writing
26. Mary fell asleep when she.television
 	a.watches 	b.watched 	c.was watching 	d. is watching
27. These thingsby machinery, not by hand
 	a. are made 	b.is made 	c.makes 	d.are making
28. I don't have much money. But if I., I..travel around the world
 	a.had/will 	b.had had/would 	c.have/would	 d.had/would
29. My father's advice made meteaching as my career
 	a.to choose	 	b.choosing 	c.choose 	 d.chosen
30. It was difficult..a date which was convenient for everyone
 	a.making 	b.to make 	c.make 	d.made
31. The shops are alwaysof people at Christmas time
 	a.full 	b.busy 	c.crowded 	d.many
32. I will see him when he..here tomorrow
 	a.comes 	b.will come 	c.has come 	d.had come
33.The boys broke a window when they.football
 	a.played 	b.were playing 	c.had played 	d.are playing
34. What..to you yesterday?
 	a.happened 	b.did happen 	c.had happened 	d.has happened
35. "When.?"_ "In 1928"
 	a. penicillin was discovered 	b.was penicillin discovered
 	c. did penicillin discovered 	d. did penicillin discover
36. One of my..favourite is to watch advertisement on TV
 	a. a 	b. an 	c. the 	d. no article
37. Nobody knows what the.of the explosion was
 	a. source 	b. cause 	c.reaction 	d. reason
38. The newspaper report contained.important information
 	a.many 	b.another 	c.an 	d.a lot of
39. Are there..students in your class?
 	a. much 	b.many 	c.more 	d.a,b are correct
40. I didn't see him an hour ago, but I..him now
 	a.see 	b. am seeing 	c.shall see 	d.saw
41. Mathematics.not an easy subject for everybody
 	a.will see 	b.are 	c.is 	d.to be
42. students are studying while others are playing
 	a.almost 	b.some 	c.any 	d.much
43. Mary wants..sugar and milk to make a cake
 	a.any 	b.many 	c.some 	d.few
44. She has been.with me for an hour about the future job
 	a.reasonable 	b.reasonably 	c.reasoning 	d.reason
45. We were news from her
 	a.expect 	b.expecting 	c.expected 	d.expectant
46. This course will..for months
 	a.occupation 	b.occupy 	c.occupational 	d.occupied
47. Theythe new-comers yesterday afternoon.
 	a.expected 	b.expectant 	c.expecting 	d.expectantly
48. Up to now I the use of the tenses of verbs
 	a.understand 	b.understood	 c.have understood 	d.am understanding
49. Mr.Jones has been principal of our school.last January
 	a.for 	b.since 	c.at 	d.in
50. She knows that I have sold this house, ?
 	a. isn't it 	b.haven't I 	c.doesn't she 	d.hasn't she
51. It always........... him when someone reminds him of the time he failed his driving test.
 	a. Angries	b. delights	c. set-ups	d. upsets
52. She was............when the doctor told her she was pregnant.
 	a. radio	b. radiate	c. radiant	d. radiator
53. She was really...........with me when i accidentally broke her favourite vase.
 	a. angers	b. angry	c. anger	d. angrily
54. Cath smiles a lot these days. She seems so much............since she met Adrian!
 	a. happier	b. happiest	c. happy	d. happiness
55. Decide which of the adverbs below CANNOT be used in this sentence: He was...........devastated when his wife died.
a. mostly	b. totally	c. completely	d. utterly
56. Samantha was............when she got the promotion. She'd been waiting for this moment for years!
 	a. delight	b. delighted	c. delightful	d. devastated
Fill in the blanks with the question words.
What why where when how who how often which how much how many
1 does the company specialize in?
2are the headquarters of SMH?
3watches does the factory produce a year?
4money does the government allocate for health education a year?
5marketing plan has been chosen for the launch of new toothpaste?
6do you hold meetings for the corporation's shareholders? – Once a year.
7do you new regulations come into effect?
8do we have to change the marketing plan?
9do you work for?
10 can I tell Mr. Brown about the losses? It is not so easy.