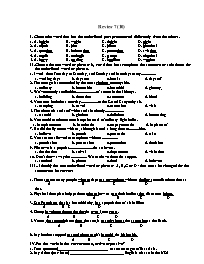 Review 7(10)
I. Choose the word that has the underlined part pronounced differently from the others.
1. A. height B. weight C. freight D. eight
2. A. climb B. idea C. idiom D. identical
3. A. question B. information C. protection D. aviation
4. A. media B. umbrella C. except D. chemical
5. A. heavy B. reading C. headline D. weather
II. Choose the one word or phrase - h, c or d that best completes the sentence or substitutes for the underlined word or phrase.
1. I work from Tuesday to Saturday, and Sunday and Monday are my.
 a. working days b. days out c. breaks d. days off
2. The cottage is surrounded by the most glorious countryside.
 a. ordinary b. honorable c. beautiful d. gloomy,
3. We've recently studied the.of stones in the kidneys.
 a. building b. formation c. structure d. block
4. Your tour includes a one-day.to the Grand Canyon by air.
 a. camping b. travel c. excursion d. visit
5. The cheese is soft and 'white and absolutely.
 a. tasteful b. glorious c. delicious d. interesting
6. You could use fluorescent lamps instead of ordinary light bulbs.
 a. in replacement b. in order for c. on payment for d. in place of
7. He did finally come with us, although it took a long time to.him.
 a. believe b. permit c. persuade d. take
8. You are not allowed to camp here without .
 a. permission b. persuasion c. protection d. decision
9. File town is a popular.for art lovers.
 a. destination b. arrival c. department d. visitation
10. Don't throw away the . We can have them for supper.
 a. sundeck b. photos c. food d. leftovers
Review 7(10)
I. Choose the word that has the underlined part pronounced differently from the others.
1. A. height	B. weight	C. freight	D. eight
2. A. climb	B. idea	C. idiom	D. identical
3. A. question	B. information	C. protection	D. aviation
4. A. media	B. umbrella	C. except	D. chemical
5. A. heavy	B. reading	C. headline	D. weather
II. Choose the one word or phrase - h, c or d that best completes the sentence or substitutes for the underlined word or phrase.
1. I work from Tuesday to Saturday, and Sunday and Monday are my...............
	a. working days	b. days out	c. breaks	d. days off 
2. The cottage is surrounded by the most glorious countryside.
	a. ordinary	b. honorable	c. beautiful	d. gloomy,
3. We've recently studied the....................of stones in the kidneys.
	a. building	b. formation	c. structure	d. block
4. Your tour includes a one-day.................to the Grand Canyon by air.
	a. camping	b. travel	c. excursion	d. visit
5. The cheese is soft and 'white and absolutely................... 	
	a. tasteful	b. glorious	c. delicious	d. interesting
6. You could use fluorescent lamps instead of ordinary light bulbs. 
 a. in replacement	 b. in order for	c. on payment for 	 d. in place of
7. He did finally come with us, although it took a long time to..........him.
 	a. believe	b. permit	c. persuade	d. take
8. You are not allowed to camp here without ................
	a. permission	b. persuasion	c. protection	d. decision
9. File town is a popular........................for art lovers.
	a. destination	b. arrival	c. department	d. visitation
10. Don't throw away the ................ We can have them for supper.
	a. sundeck	b. photos	c. food	d. leftovers
III. . Identify the one underlined word or phrase - A, B, C or D - that must be changed for the sentence to be correct
1. There are not many people whose adapt to a new culture without feeling some disorientation at
	A	B	C	D 
	first.
2. Physical therapists help patients relearn how to use their bodies after disease or injure.
	A	B	C 	D
3. San Francisco, that is a beautiful city, has a population of six Million
	A	B 	C	D
4. Sheep have been domesticating for over 5,000 years.
	A	B	C	D
5. Venus, the second planet from the sun, is exactly almost the same size as the Earth. 
	A	B	C	D
6. My brother stopped to smoke because it's harmful for his health.
	A 	B 	C	 D
IV. Put the verbs in the correct tense, active or passive?
1. Tom (promote)_________________________ to area manager of East Asia.
2. My father (just/ learn) ___________________________ English classes in the USA
3. How much money(save)__________________________ for your vacation?
4. My brother(just/ give) )____________________________- a ticket to the concert by my mother.
5. The population of our city (rise)_________________________ to nearly one million.
6. A strike (just/ call) ____________________________ by the factory workers.
7. They(not/ offer)________________________________ more money by the management yet.
8. A new building(just/ build)___________________________ in this city.
V. Choose the correct option a, b, c or d to complete this passage.
Children (36)............ appear intelligent and have normal sight and hearing may (37) ............ have learning disabilities such as dyslexia, difficulty in reading: dysgraphia, difficulty in writing: dyscalculia. difficulty with numbers; and auditory-memory problem that (38)	 the child from remembering what has just (39) ............. Considered an "invisible" (40) ............. such learning disabilities can be detected by alert parents before the children go to school.(41) ............ the child at about thirty months is not developing normal language skills, something is amiss. (42) ............ cannot do puzzles or put pegs in holes lacks perceptual-motor skills. Kindergarteners should (43)............. the ABC. First-graders may commonly reverse their letters. writing a d or a h. but if they are still doing this at the start of second grade, they (44.) ............ for learning disabilities. Proper and early (45) ............ is essential.
36. a. whom	b. who	c. whose	d. they
37. a. nevertheless	b. sometimes	c. anyway 	d. also
38. a. avoid	b. help	c. encourage	d. prevent
39. a. been saying	b. been said	c. said	d. to be said
40. a. barrier	b. retard	c. disabled	d. handicap
41. a. If	b. When	c. Although	d. Because
42. a. A child who	b. Child who	c. The child that 	d. A child
43. a. read	b. remember	c. recognize	c. pronounce
44. a. should test	b. may be tested	c. should be tested 	d. may have tested
45. a. detection	b. treatment	c. operation	d. curing
VI. Choose the word or phrase (A. B. C or D) that best fits the blank space 
1. We are made ................... all the cleaning in the house.
A. to do 	B. do 	C. doing 	D. done 
2. I ....................... television a lot but I don't any more.
A. was watching 	B. was used to watch
C. used to watch 	D. have been watching 
3. He ............... to New York three times this year.
A. had been 	B. was 	C. is 	D. has been 
4. I remember ............. you somewhere before.
A. meet 	B. meeting 	C. met 	D. to meet 
5. No one knows how many documents ..................... been lost.
A. has 	B. had 	C. have 	D. has had 
6. If energy .................... unlimited, many things in the world would be different.
A. is 	B. will be 	C. were 	D. would be
 7. Mr. Brown has .................... many patients .................... he is always busy.
A. too/that 	B. very/until 	C. such/that 	D. so/that
 8. The children, ............... parents work late, are taken home by bus.
A. that 	B. whom 	C. whose 	D. their
9. She doesn't understand ................. I am saying.
A. what 	B. that 	C. whose 	D. where