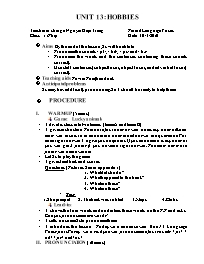  Aims: By the end of the lesson, Ss will be able to:
- Pronounce the sounds / pt /, / bd /, / ps / and / bz /
- Pronounce the words and the sentences containing these sounds correctly
- Use cleft sentences (subject focus, object focus, and adverbial focus) correctly
 Teaching aids: PowerPoint, handouts
 Anticipated problems:
Ss may have difficulty pronouncing. So T should be ready to help them
 PROCEDURE
I. WARM-UP (5 mins)
 Game: Lucky animals
- T divides class into two teams (team A and team B)
- T gives instruction: There are four animals with one lucky animal. Each team will take turn to choose the animal and answer the questions. For each right answer, I'll give you one point. If you choose the lucky animal, you will get 2 points if you have the right answer. The team has more points will be the winner
- Let Ss to play the game
- T gives feedback and scores
Questions: (Pictures: See in appendix 1)
1. What did she do?
2. What happened to the bank?
3. What are these?
4. What are these?
Bạn đang xem tài liệu "Thiết kế bài dạy Tiếng Anh 11 - Unit 13: Hobbies - Period: Language focus", để tải tài liệu gốc về máy bạn click vào nút DOWNLOAD ở trên
UNIT 13: HOBBIES
Teacher in charge: Nguyễn Diệu Trang Period: Language Focus
Class: 11 Phap Date: 30/3/2010
Aims: By the end of the lesson, Ss will be able to:
Pronounce the sounds / pt /, / bd /, / ps / and / bz / 
Pronounce the words and the sentences containing these sounds correctly
Use cleft sentences (subject focus, object focus, and adverbial focus) correctly
Teaching aids: PowerPoint, handouts
Anticipated problems: 
Ss may have difficulty pronouncing. So T should be ready to help them
PROCEDURE
WARM-UP (5 mins)
Game: Lucky animals
T divides class into two teams (team A and team B)
T gives instruction: There are four animals with one lucky animal. Each team will take turn to choose the animal and answer the questions. For each right answer, I'll give you one point. If you choose the lucky animal, you will get 2 points if you have the right answer. The team has more points will be the winner
Let Ss to play the game
T gives feedback and scores
Questions: (Pictures: See in appendix 1)
What did she do?
What happened to the bank?
What are these?
What are these?
Keys
 1. She jumped	2. The bank was robbed	 3. Maps	 4. Clubs
Lead-in:
T shows the four words and underlines these words on the P.P and asks: Can you pronounce these words?
T calls on some Ss to pronounce them
T introduces the lesson: Today we'll continue with Unit 13, Language Focus part. Firstly, we'll study how to pronounce the four sounds / pt /, / bd /, / ps / and / bz /
PRONUNCIATION (10 mins)
Presentation:
T asks Ss to open the books
T pronounces the four sounds in the textbook one by one
T asks Ss to listen to the words that contain the sounds
T reads again slowly and asks Ss to repeat
Practice:
T calls on some Ss to read out loud the words
T checks and corrects the mistakes
T asks Ss to practice the sentences in the textbook
Call on some Ss to read out loud the sentences which have the sounds they've learnt
T checks and gives feedback
GRAMMAR (30 mins)
Presentation
T shows the picture of the child in the zoo (see in appendix 2) and gives the sentence: Thao went to the zoo yesterday
T asks Ss to give the Subject, Object, Adverbial phrase and tense of the sentence
T gives the cleft sentence with subject focus:
It was Thao who went to the zoo yesterday
T asks whether Ss can make the similar sentences with Object and Adverbial phrase
T shows the rest two cleft sentences
T asks Ss: What do you call these sentences?
T introduces cleft sentences and shows the form of the cleft sentences
Subject focus:
 + Structure: It + be (is/was) + S + that/who + V
 + Usage: Emphasize the subject that does the action
 Ex: It was Thao who/that went to the zoo yesterday?
 S
Object focus:
 + Structure: It + be (is/was) + O + that + S + V
 + Usage: Emphasize on the object of the action
 Ex: It was the zoo which/that Thao went to yesterday
 O
Adverbial focus:
 + Structure: It + be (is/was) + Adverbial phrase + that + S + V + O
 + Usage: Emphasize the Adverbial phrase in the sentence
 Ex: It was yesterday that Thao went to the zoo
 Adverbial phrase
Practice
Task 1: 
T asks Ss to write the following sentences to cleft sentences in individual, focusing on the words that are underlined.
The boy visited his uncle last month.
My mother bought me a present on my birthday.
Nam's father got angry with him.
The man is learning English.
The woman gave him the book.
She sent her friend the postcard.
The boy hit the dog in the garden.
His father repaired the bicycle for him.
She bought that present from the shop.
T calls on some Ss to read out loud their answers
T gives correction and feedback
Keys
It was the boy who visited his uncle last month.
It was my mother who bought me a present on my birthday.
It was Nam's father who got angry with him.
It is English that the man is learning.
It was the book that the woman gave him.
It was the postcard that she sent her friend.
It was in the garden that the boy hit the dog
It was for him that his father repaired the bicycle
It was from the shop that she bought that present.
Task 2: Multiple choice
Read the following sentences and decide what these cleft sentences focus on
It was in December that we first met.
A. Subject focus	B. Object focus	C. Adverbial focus
It was today that Nam broke the window.
A. Subject focus	B. Object focus	C. Adverbial focus
It was the yellow umbrella that my sister borrowed from Nga.
A. Subject focus	B. Object focus	C. Adverbial focus
It was Lan who won the scholarship.
A. Subject focus	B. Object focus	C. Adverbial focus
It was in the airport that she said goodbye to her family.
A. Subject focus	B. Object focus	C. Adverbial focus
 6. It was a new car that my brother bought from our neighbour.
A. Subject focus	B. Object focus	C. Adverbial focus
7. It was Huong and Sandra who sang together at the party.
 A. Subject focus	B. Object focus	C. Adverbial focus
8. It was at 8.00 a.m that the meeting started.
 A. Subject focus	B. Object focus	C. Adverbial focus 
- T asks Ss to work in individual
- Ask Ss to take a piece of paper and choose the best answers
- Check Ss' answer
- T gives feedback and correction
Keys
1. C	2. C	 3. B	4. A	 5. C	 6.B	7. A	8. C
Production (Pictures: See in appendix 3)
T divides class into two teams again
T gives instruction: I'll show some pictures on the P.P. Each team will try to make as many as possible the cleft sentences based on the pictures. After that, one person in each team will go to the board and write down your answers. Which group has more correct sentences will be the winner.
T models first
Let Ss to play the game
T gives correction and feedback
HOMEWORK
Do the rest of the exercises in the textbook
Prepare for the next lesson
APPENDIX
Appendix 1: 
Appendix 2:
Appendix 2
Appendix 3

Tài liệu đính kèm:
U13LF.doc