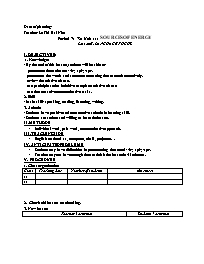 I. OBJECTIVES:
 1. Knowledge:
- By the end of this lesson, students will be able to:
+ pronounce three clusters : /∫r/; spl/; /spr/.
+ pronounce the words and sentences contaning these sounds corectively.
+ review the relative clause.
+ use participle and to infinitive to replace relative clause
+ use these to solve communicative tasks.
2. Skill
- Main skill: speaking, reading, listening, writing.
3. Attitude
- Students have positive and constructive attitude in learning skill.
- Students are serious and willing to learn the lesson.
II. METHODS
- Individual work, pair work, communicative approach.
III. TEACHING AIDS
- English textbook 11, computer, chalk, projector
Bạn đang xem tài liệu "Thiết kế bài dạy môn Tiếng Anh 11 - Period 71 + 72: Unit 11: Sources of energy - Lesson E: Language focus", để tải tài liệu gốc về máy bạn click vào nút DOWNLOAD ở trên
Date of planning: 
Teacher: Le Thi Hai Nhu
Period 71+72: Unit 11: SOURCES OF ENERGY
Lesson E: LANGUAGE FOCUS 
I. OBJECTIVES: 
 1. Knowledge:
- By the end of this lesson, students will be able to:
+ pronounce three clusters : /∫r/; spl/; /spr/.
+ pronounce the words and sentences contaning these sounds corectively.
+ review the relative clause.
+ use participle and to infinitive to replace relative clause
+ use these to solve communicative tasks.
2. Skill
- Main skill: speaking, reading, listening, writing. 
3. Attitude
- Students have positive and constructive attitude in learning skill.
- Students are serious and willing to learn the lesson.
II. METHODS
Individual work, pair work, communicative approach.
III. TEACHING AIDS 
English textbook 11, computer, chalk, projector
IV. ANTICIPATED PROBLEMS
Students may have difficulties in pronouncing the sound : /∫r/; spl/; /spr/.
Teacher may not have enough time to finish the lesson in 45 minutes.
V. PROCEDURE 
1. Class organization
Class
Teaching date
Number of students
Absentees
11
11
2. Check old lesson: no checking.
3. New lesson
Teacher's activities
Students' activities
I.PRONUNCIATION 
Activity 1: Gap Fill
- Ask students to fill in each blank with one relevant word to each picture.
Fill in each blank with one relevant word to each picture:
 Peach flowers are The stream.into greeting.. two branches
 ..is my favorite seafood
- Introduce /∫r/, /spl/; / spr/ cluster consonant sounds.
- Explain the way how to pronounce these sounds:
+ When you pronounce this cluster consonant sound /∫r/, the sound /∫/ is pronounced more strongly than the sound /r/.
+ When you pronounce this cluster consonant sounds / spl/, /spr/, the sound /p/ is pronounced more smoothly and softly than the sounds /r/, /s/ and /l/
-Ask students to open the book
Activity 2: Listen and read 
- Read these words
- Ask students to read after teacher
- Call on students to read again these words and correct if students' mistake
Activity 3: One , two, or three
Read the words including the sounds, students have to listen and realize the sound and say 1 with /spl/; 2 with /spr/ and 3 with /òr/ (2minutes)
 Words:
Shred, spring, shrill, spleen, splutter, spread, spray, split, shrine, sprightly.
Activity 4: Practise reading aloud these sentences 
- read these sentences
- ask students work in pairs and practise these sentences in 3minutes.
- Let students work I pairs and practise these sentences in 3 minutes.
- call on students to read these sentences in front of the class and correct if students' mistake
. 
Work individually
Listen to the teacher 
Suggested answers
Spring , split, shrimp
Work individually
- Listen to Teacher
- Read after teacher
- Read again these words
Work individually
Listen to the teacher 
Work in pair
- Listen to Teacher
- Listen and repeat
- Work in pairs and practise these sentences in 3 minutes
- Read these sentences in front of the class.
II. GRAMMAR
- Ask students to answer questions:
+ How many kinds of relative clause have you learn? What are they?
+ Introduce : " today, we are going to learn about another kind of relative clause. This is reduced relative clause.
 1.Relative clause replaced by participles ( active participles and passive participles )
a. Active participles ( present participles )
Activity 1
Give example 1 consist of 2 simple sentences on the board and ask student to combine the sentences into one using relative clause.
( Example 1: "The man is my brother . He is playing soccer."
=>.) 
give the other sentences having the same meaning ("The man playing soccer is my brother" )
Ask students to distinguish the difference between these 2 sentences 
underline that different points 
give other example 
( Example 2: The girl is very beautiful. She is sitting next to you.)
Ask students to match these 2 sentences by 2 ways 
 set up formula of active participle.
Formula 1
 N + Who + V ( active) 
 Which 
 That 
 N+ Who + V-ing 
 Which 
 That 
Note 1: present participles is uses to replace for relative clauses in active voice.
Activity 2: Do exercise 1
 Instruct students to do this exercise and gives the example to students.
 Ask students to work in pairs in 3 minutes.
Call some students to write their answers on the board.
Checks and gives the feedback.
b. Passive participles ( past participles )
Activity 1
Give example 1 consist of 2 simple sentences on the board and ask student to combine the sentences into one using relative clause.
( Example 3: "They live in a house. It was built in 1990"
=>.) 
give the other sentences having the same meaning ("They live in a house built in 1990" )
ask students to distinguish the difference between these 2 sentences 
underline that different points 
give other example 
( Example 4: (" the students are lazy. They were punished by teacher") 
ask students to match these 2 sentence by 2 ways
 set up formula of active participle.
Formula 2
 N + Who + V ( passive ) 
 Which 
 That 
 N+ Who + V-ed/ V3 
 Which 
 That 
Note 2: We use Participle to replace a relative clause when the verb is used in the passive
Activity 2: Do exercise 2
 Instruct students to do this exercise and gives the example to students.
 Ask students to work in pairs in 3 minutes.
Call some students to write their answers on the board.
 - Checks and gives the feedback.
2. Relative clause replaced by to- infinite 
Activity 1
a. Active voice 
Give example 1 consist of 2 simple sentences on the board and ask student to combine the sentences into one using relative clause.
( Example 1: "Tom is the last person. He enters the room"
=>.) 
Give the other sentences having the same meaning ("Tom is the last person to enter the room" )
Ask students to distinguish the difference between these 2 sentences 
underline that different points '
give other example
Example : "John is the youngest person. He takes part in the race.
=>- 
- ask students to match these 2 sentences by 2 ways.
set up formula of active participle.
Formula 3
 The first/ second/ last+ (N) + who + V
 Superlatives Which
 That
The first/ second/ last+(N) + Who + to +V
 superlatives Which
 That
b. Passive voice
Give example 1 consist of 2 simple sentences on the board and ask student to combine the sentences into one using relative clause.
( Example 1: " The Queen Elizabeth is the largest ship. It was built on the Clyde" ) 
=>.) 
Give the other sentences having the same meaning (" The Queen Elizabeth is the largest ship to be built on Clyde" )
Ask students to distinguish the difference between these 2 sentences 
underline that different points set up formula of active participle.
Formula 4
 The first/ second/+ (N) + who + be PII
 Superlatives Which
 That
The first/ second/ last+(N) + Who + to be +PII
 Superlatives Which
 That
Note 3: To- Infinitive is used after an ordinal number ( first, second....), after next, last, only, superlative adjectives.....
Activity 2: Do exercise 1
 Instruct students to do this exercise and gives the example to students.
 Ask students to work in pairs in 3 minutes.
Call some students to write their answers on the board.
Checks and gives the feedback.
Work individually
answer the question 
suggested answer
+ There are two kinds of relative clause. These are defining and non – defining.
Work individually
Listen to the teacher 
match these 2 sentences as requirement 
Work in pair
do exercise as requirement
write the answers board
suggested answer
1. The boy playing the piano is Ben
2. Do you know the woman coming toward us ?
3. The people waiting for the bus in the rain are getting wet
4. The scientist researching the causes of cancer are making progress
5. The fence surrounding our house is made of wood.
6. We have an apartment overlooking the park 
Work individually
Listen to the teacher 
match these 2 sentences as requirement 
Work in pair
do exercise as requirement
write the answers board
suggested answer
1. The ideas presented in that book are interesting.
2. I come from a city located in the southern part of the country
3. They live in a house built in 1980
4. The photograph published I the newspaper were extraordinary.
5. The experiment conducted at the University of Chicago was successful
6. They work I a hospital sponsored by the government
Work individually
Listen to the teacher 
match these 2 sentences as requirement 
Work in pair
do exercise as requirement
write the answers on the board
suggested answer
1. John is the last man to reach the top.
2. the last person to leave the room must turn off the light.
3. the first person to see is Mr.Smith.
4. this is second person to be killed in that way.
5. the first person to catch the ball will be the winner
3. Consolidation 
- T gives an exercise for Ss to do orally.
Choose the best answer to complete each of the following sentences.
1. He is the only student __________ the Math problems yesterday.
	A. to solve	B. who solve
	C. whom solved 	D. solved
2. I'm reading a book _________ by Jack London.
	A. was written	B. that wrote	
 	C. written	D. which written
3. The boy ________ next to me in the evening class is very clear.
	A. sitting	B. to sit	
 	C. who sit	D. whom sits
4. We're living in a house __________ by green trees.
	A. is surrounded	 B. that surrounded
	C. to be surrounded 	D. surrounded
5. The book ___________ the classroom last Monday might know the reason.
	A. entered	 B. to enter
	C. who enters	 D. whom entered
6. Do you know the woman __________ to the headmaster?
	A. is talking	B. she is talking	
 	C. talking	D. whom is talking
Keys
1.A 2.C 3.A 4.C 5.B 6.C
4. Home work 
- Ask students to review the grammar point and redo exercises in the textbook.
-Ask Ss to prepare the next lesson.
VI.COMMENTS 
Good points .
Weak points