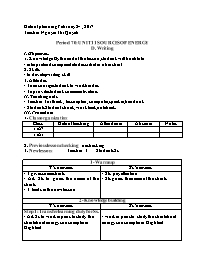 I. Objectives:
1. Knowledge: By the end of the lesson, students will be able to:
- interpret and compare data described in a bar chart.
2. Skills
- to develop writing skill
3. Attitudes:
- To encourage students to work harder.
- To provide students some motivation.
II. Teaching aids:
- Teacher: Textbook , lesson plan, computer, speaker, handouts.
- Students: Student's book, workbook, notebook.
III. Procedure:
1. Class organization:
Bạn đang xem tài liệu "Thiết kế bài dạy môn Tiếng Anh 11 - Period 70 - Unit 11: Sources of energy - D. writing", để tải tài liệu gốc về máy bạn click vào nút DOWNLOAD ở trên
Date of planning: February 8th , 2017
Teacher: Nguyen Thi Quynh
Period 70: UNIT 11 SOURCES OF ENERGY
D. Writing
I. Objectives:
1. Knowledge: By the end of the lesson, students will be able to: 
- interpret and compare data described in a bar chart. 
2. Skills
- to develop writing skill
3. Attitudes: 
- To encourage students to work harder.
- To provide students some motivation.
II. Teaching aids:
- Teacher: Textbook , lesson plan, computer, speaker, handouts.
- Students: Student's book, workbook, notebook.
III. Procedure:
1. Class organization:
Class
Date of teaching
Attendance
Absence
Notes
11A7
11A1
2. Previous lesson checking: no checking
3. New lesson: Teacher: T Students: Ss
1- Warm up 
T's activities
Ss' activities
- T gives some charts 
- Ask Sts to guess the name of the charts
- T leads in the new lesson
- Sts pay attention
- Sts guess the name of the charts
2- Knowledge building 
T' s activities
Ss' activities 
Step 1: Transfer learning duty for Ss.
- Ask Ss to work in pairs to study the chart about energy consumption in Highland
Step 2: Do the duty.
- Ask Sts to work in pairs to describe the trends in energy consumption in Highland 
Step 3: Report the result and discussion.
- Show their ideas 
Step 4: Evaluate the Ss' duty.
- Give comments to their ideas and feedback.
- work in pairs to study the chart about energy consumption in Highland
-work in pairs to describe the trends in energy consumption in Highland 
Show ideas 
Listen to the T
3- Practice 
T' s activities
Ss' activities
Task 1: 
-Ask Sts to read the requirement of task 1
- Ask Ss to work in pairs to do the task
-Ask some pairs to stand up and present.
- give feedback
 Task 2:
 - Ask Sts to describe the trends in energy consumption in 2005 from the chart:
-Ask Ss to work in pairs and fill in the gaps in the sample: 
 The chart shows the energy consumption in Highland in 2005. As can be seen, the total energy consumption was ________ million tons. Nuclear and hydroelectricity made up the largest amount of this figure (75 million tons). This was followed by the consumption of ________ (50 million tons). Coal made up the __________ amount of energy consumption (45 million tons).
- Call on some pairs to present 
- Give feedback
 Task 1: 
-Read the requirement :
Fill in the gaps with the information from the chart
work in pairs to do the task
some pairs to stand up and present 
answer:
(1) 117
(2) coal
(3) smallest
Task 2:
 -describe the trends in energy consumption in 2005 from the chart:
-work in pairs and fill in the gaps
-some pairs to present 
-Answer:
(1) 170
(2) petroleum
 (3) smallest
4- Application 
T' s activities
Ss' activities
Task 3: Describe the chart:
give the form to describe the chart: 
Introduction: introduce the chart
 +Name of the chart +place+
date:
 +The chart shows..in + place + date.
Body: Make a comparison between the energy consumption in Highland in 2000 and that in 2005
 the total energy consumption was
 ..made up the largest amount of this feature
+ It was followed by
+.came the second
+.made up the smallest
+ ... consumption was + feature 
Less . than
More than 
Conclusion: Give the general comment to the description
Eg: +in conclusion, the energy consumption in Highland in 2000 is less than that in 2005
-give some linking words:
Whereas:
However= Nevertheless
Moreover= Furthermore
-give useful languages: 
The chart shows/ describes: lược đồ cho thấy
As can be seen, .: có thể thấy rằng
 This was followed by the consumption of.: tiếp theo là mức tiêu thụ của
 made up the largest amount of.: chiếm số lượng lớn nhất là
- Ask Ss to pay attention and take note
- Ask Ss to work in groups to rewrite the sentences to describe the chart
1. chart / show / the / energy / consumption / Highland /2000 / 2005.
2. total / energy / consumption / 2005 / be / 170 million tons.
3. it / be/ high / than / it / be/ 2000 / (117 million tons). 
4. 2005 / nuclear / hydroelectricity make / up / large/ amount / of /this /figure /(75 million tons).
5. This / be / follow/ the / consumption / of / petroleum /(50 million tons).
6. Both / of / them / be/ high / than /they / be / 2000. 
7. coal / decrease/ the/ amount / of / the / energy / consumption / (from 57 million tons in 2000 to 50 million tons).
- Invite some groups' representatives to write down on the board.
- Give feedback and make comments.
-pay attention and take note
- Work in groups to rewrite the sentences to describe the chart
- some groups' representatives to write down on the board.
5- Knowledge widening 
T' s activities
Ss' activities
- Get Ss to do this task at home.
- Ask Ss to watch a video about energy consumption
- Talk about energy consumption in our daily life
- Ask Ss to show their discussion in front of class in the next lesson.
- Give comments.
-Do the task at home.
-Watch a video about energy consumption
- Talk about energy consumption in our daily life
- show discussion in front of class in the next lesson.
4. Consolidation: 
- Teacher summarizes the main points of the lesson.
5. Homework: 
- Talk about energy consumption in our daily life
- Prepare the next lesson.
 LEADER SUPERVISOR 
 Signature Signature 
 Nguyen Thi Thu Huong Ma Thi Thanh Lan