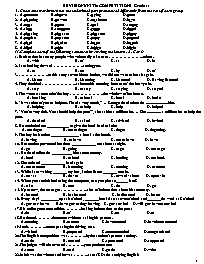 I. Choose the word which has the underlined part pronounced differently from the rest of each group
1. A.sentence B.observe C.saying D.score
2. A.planning B.answers C.maximum D.have
3. A.most B.poem C.total D.among
4. A.shout B.announce C.group D.found
5. A.pleasing B.pleasant C.pleasure D.plenty
6. A.precise B.pressure C.pretty D.pretend
7. A.plack B.planket C.brace D.branch
8. A.blind B.pride C.bridge D.blight
II. Complete each of the following sentences by circling the letter A, B, C or D
1. Each nation has many people who voluntarily take care .others.
A. with B. of C. at D. in
2. I am looking forward .seeing you.
A. to B. on C. by D. of
3. .to this story several times before, we did not want to hear it again.
A. Listen B. Listening C. Listened D. Having listened
4. They decided .at home this morning because of the heavy rain.
A. stay B. to stay C. staying D. stayed
5. The woman accused of the boy .the window of her house.
A. breaking B. to break C. break D. broke
Bạn đang xem tài liệu "Revision unit 6: Competitions grade 11", để tải tài liệu gốc về máy bạn click vào nút DOWNLOAD ở trên
REVISION UNIT 6: COMPETITIONS Grade 11
 I. Choose the word which has the underlined part pronounced differently from the rest of each group
1. A.sentence	B.observe	C.saying	D.score
2. A.planning	B.answers	C.maximum	D.have
3. A.most	B.poem	C.total	D.among
4. A.shout	B.announce	C.group	D.found
5. A.pleasing	B.pleasant	C.pleasure	D.plenty
6. A.precise	B.pressure	C.pretty	D.pretend
7. A.plack	B.planket	C.brace	D.branch
8. A.blind	B.pride	C.bridge	D.blight
II. Complete each of the following sentences by circling the letter A, B, C or D
1. Each nation has many people who voluntarily take care ..others.
A. with	B. of	C. at	D. in
2. I am looking forward .seeing you.
A. to	B. on	C. by	D. of
3. .to this story several times before, we did not want to hear it again.
A. Listen	B. Listening	C. Listened	D. Having listened
4. They decided ..at home this morning because of the heavy rain.
A. stay	B. to stay	C. staying	D. stayed
5. The woman accused of the boy .the window of her house.
A. breaking	B. to break	C. break	D. broke
6. "It was nice of you to help me. Thanks very much," → George thanked me for ......................him.
A. helping	B. to help	C. help	D. helped
7. "You're very rich. You should help the poor!", she said to a millionaire. → She .............. a millionaire to help the poor.
	 A. thanked 	 B. asked	C. advised D. invited
8. He reminded me ___________ to give the book back to John
 	 A. not forget	B. not to forget	C. forgot D. forgetting.
9. The boy insisted on ______________ a break after lunch.
 	A. having	 B. to have	C. not to have D. have
10. Her mother prevented her from ____________ out alone at night.
	A. go	B. going	C. to go D. not to go
11. He thanked her for __________ him some money.
 	A. lend	B. to lend	C. lending D. not lend.
12. She refused ____________ back again
 	A. not to come	B. is coming	C. coming D. to come
13. While I am waiting _______ my bus, I often listen _______ music.
	A. on / at 	B. for / to 	C. toward / about D. upon / in
14. When you are finished using the computer, can you please ______ it off.
	A. take 	B. turn 	C. do D. go
15. Up to now, the manager ..a lot of information about his secretary.
 A. learned 	B. has learned	 C. had learned D. learns 
16. Every day I _________up at 6 o'clock, _______breakfast at seven o'clock and_______for work at 8 o'clock
	A. get- eat- leave B. have got- eating- leaving C. got- ate- left D. will get- have eaten- left
17.His colleagues accused him.leaking information to the press
	A.for	B.of	C.on	D.to
18.He denedthe contest without asking his parents.
	A.entering	B.to enter	C.have entered	D.have been entered
19.Jonh..me on passing the driving test.
	A.wished	B.proposed	C.recommended	D.congratulated
20.The English competition was..by the student's parents society.
	A.made	B. created	C.sponsored	D.supposed
21.The judges will observe and ..your performance
	A.score	B.mark	C.grade	D.write
22.Minh was the winner and he was ..a set f CDs for studying English
	A.announced	B.awarded	C.welcomeed	D.responded
23.Fierstly. the MC explained the competition's..to the participants.
	A.laws	B.rules	C.decisions	D.pages
24.The competition's aim is to .the spirit of learning English among students.
	A.grow	B.present	C.offer	D.stimulate.
III. WRITING 
1. "It was nice of you to visit me. Thank you," Miss Hoa said to him.
→ Miss Hoa thanked .
2. "Remember to study hard for the coming exam," Harry said to his sister.
→ Harry reminded .
3. "I'm very sorry. I didn't tell you earlier about her leaving," I said to him.
→ I apologised to ...
4." Why don't you organize an English competition for our students?" said Mrs Lien
→Mrs Lien suggested..
5." I'm sorry I'm late," said Mr. Thanh
→Mr Thanh apologised ..
6." Me? No, I didn't take Sue's calculator," said Bob.
→Bob denied
7."I must see the manager," he cried
 →He insisted
8." You won the scholarship. Congratulations," Mary told me.
→Mary congratulated
9." It was kind of you to help me with my homework," Lan said to Hoa
→Lan thanked
10." Shall we walk there? It's no far," he said
→He proposed
11." Turn off the computer. You are not allowed to play the game now," Duc's mother said
→Duc's mother prevented
IV: Turn the following sentences into reported speech:
1. "You took the money," he said. (accuse  of)
=> .
2. "I stole his bicycle," he said to the police.(admit)
=> .
3. He said to the police, "I didn't steal the bike".(deny)
=> .
4. He said, "I'm sorry I'm late".(apologize for)
=> .
5. "I'll drive you to the airport. I insist," John said to Linda.(insist on)
=> .
6. "I'm happy to hear that you have passed the final exam. Congratulations!," Jim said to me.(congratulate .. on)
=> .
7. "It was nice of you to invite me to dinner. Thank you," Miss White said to George.(thank  for)
=> .
8. "Don't play with the matches," I said to Jack.(warn  against)
=> .
9. "I must have made a mistake in the calculations," said Mr Forest.(admit)
=> .
10. "I'll pay for the meal," Sarah insisted.(insist on)
=> .
11. Neil told us, "Perhaps we can go to Paris for the weekend."(suggest)
=> .
12. "I'm sorry. I couldn't come to visit you last summer," Kate said to her parents.(apologize  for)
=> .
13. "I hear you won the championship. Congratulations!," Said Dane.(congratulate  on)
=> .
14. "We should take the jumper back to the shop," Jack said to us.( recommend + gerund)
=> .
15. "It's not true! I have never been arrested by the police," Larry said.(deny)
=> .
16. "I always want to be a rich man," said David.(dream of )
=> .
17. The manager told the visitors, "Don't stay at the hotel near the airport."(warnagainst)
=> .
18. "Let's eat out tonight," said Tom.(suggest)
=> .
V . Rewrite the following sentences with Gerund
1. " Why don't you organize an English competition for our student?" said Ms Lien.
 Ms Lien suggested...................................................................................
2. " I'm sorry I'm late, said Mr Thanh. 
 Mr Thanh apologized....................................................................................
3. "Me? No, I didn't take Sue's calculator" Said Bob.
 Bob denied.....................................................................................................
4. " You were cheating" said David to Henry. 
 David accused ................................................................................................
5. " I must see the manager." he cried. 
 He insisted.....................................................................................................
6. " You won the scholarship. Congratulation," Mary told me.
Mary congratulated .........................................................................................
7. " It was kind of you to help me with my homework" Lan said to Hoa. 
 Lan thanked ..................................................................................................
8. " turn off the computer. You are not allowed to play game now," Dick mother said.
 Dick's mother prevented...............................................................................
9. " I'm sorry that I broke the glass," said Peter. 
Peter apologized
10. " Let's invite Mr. Brown to the party next weekend" he said. 
He suggested.
11. " You stole the jewels" the inspector said to him.
The inspecter accused .
12. " I only borrowed your car for some hours" the man said. 
The man admitted.
13. " I'm sorry I damaged your tape recorder, Mike." Said Bob. 
Bod apologized......
14. " You damaged my camera' said Jane to Henry. 
Jane accuseed .. .....
15. " Let's all go to Lisbon!" they said. 
 They suggested.......
16. " Please let me go to Martin's house!" Said Muriel three times. 
 Muriel insisted...
17. " It was you and only you who stole the cake from the fridge" my mother told my sister. 
My mother accused...
18. "I'm awful sorry, I will never again use your car without permission" she said almost crying. 
 She apologized....................................................................................................
19. " Don't cross the river, it's full of crocodiles" 
 They warned...........................................................................................................
20. "I'm sorry I'm late" 
 He apologized...
21. " I think you'd better drink the medicine" the doctor said.
 The doctor advised..
22. "Let's eat something and then go for a stroll" she said.
 She suggested.
23. " Don't worry, I'll pay for the drink" 
He insisted....................................................................................................................
24. " Yes, it was me who ate all the cake"
 She admitted...
25. " Why don't we go for a walk"? 
 She suggested................................................................................................................ 
26. " I gave you my homework last week."
The boy insisted......
27. 'It was nice of you to invite me to your birthday party. Thanks very much. Mike said to me
Mike thanked
28. 'I must. have made a mistake in the calculations.'
Mr Forest admitted. 
29. 'I'll pay for the meal.'
Sarah insisted..
30. Perhaps we can go to Paris for the weekend.'
Neil suggested
31. 'I'm sorry I couldn't come to visit you last summer.'
Kate apologized 
32. 'I hear you won the championship. Congratulations!' Dane said to me
Dane congratulated
33. 'You're selfish.' Jane said to her
Jane accused .
VI. READING 
Conservation is the protection and wise management of the environment. People practise conservation so that the environment can preserve their needs of all other living things. Without conservation, all the resources necessary for life _ air, animals, energy, plant, soil, and water _ would be damaged, wasted, or destroyed.
Conservation also includes a concern for the quality of the environment, so that people can enjoy living. It means keeping the environment comfortable and safe _ and an interesting place to live in. A healthy environment includes clean streets and highways, with open spaces in cities for parks and playgrounds. Ideal surroundings mean landscapes free of junk and litter. They include wilderness regions where animals and plants can be safe from destruction by human beings.
1. Which necessary resource(s) for life are NOT mentioned?
A. land	B. trees	C. species	D. minerals
2. What'd happen if there were no conservation?
A. The environment could damage	C. The environment would be damaged
B. The environment will be damaged	D. The environment could be damaged
3.Which shows an unhealthy environment?
A. comfortable environment	B. clean streets and highways
C. open spaces in cities for parks	D. landscapes full of junk and litter
4. "free of junk and litter" means 	 .
A. clean	B. much garbage 	C. little rubbish	D. landscapes
VII. Complete each sentence with the correct form of the word in brackets.
1. Did you hear the..made by the President on television this morning? (announce)
2. The road was blocked for two hours after the accident, but traffic is now flowing..again. (smooth)
3. Teaching is now a very .job, you have to try your best if you want to succeed. ( compete) 
4. Your exam results are entirely due to your inattention in class. ( disappoint)
5. It is illegal if an athlete takes drugs to improve his or her .. ( perform)
6. You must send her a letter of..for what you have done. (apologize)
7. A.form our company will meet you at the airport on you arrival. (represent)
8. After months of working, wefinished the project ahead of the scheduled time. (final)
9. Having read the book didn't spoil my.of the movie. (enjoy)
10. The Nobel prizess are awarded..(annual)

Tài liệu đính kèm:
Unit_6_Competitions.doc