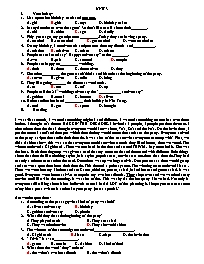 I. Vocabulary:
1. Lisa opens her birthday cards and presents.
A. gift B.gifts C. toys D. birthday cakes
2. Many Americans over the age of 30 don't like to talk about their________.
A. old B. older C. age D. family
3. Fifty years ago, my grandparents_________.Today they are having a party.
A. married B.are married C. got married D. were married to
4. On my birthday, I receive cards and presents from my friends and___________.
A. relation B. relatives C. relate D. relates
5. People eat cake and say " Happy anniversary" to the ________.
A.two B.pair C. second D. couple
6. People are happy on_________ wedding.
A. their B. them C. themselves D. they
7. She often_________ the guests solf drinks and biscuits at the beginning of the party.
A. serves B. gives C. offer D. bring
8. They like going_______ for dinner at weekends.
A. to B. out C. off D. up
9. People call the 25th wedding aniversary the "___________ anniversary"
A. golden B.metal C. bronze D. silver
10. Helen and her husband _________ their holiday in Nha Trang.
A. took B. got C. spent D. brought
II. Reading
Bạn đang xem tài liệu "Ôn tập Anh văn lớp 11 - Unit 3", để tải tài liệu gốc về máy bạn click vào nút DOWNLOAD ở trên
UNIT 3
Vocabulary:
Lisa opens her birthday cards and presents.
A. gift	B.gifts	C. toys	D. birthday cakes
Many Americans over the age of 30 don't like to talk about their________.
A. old	B. older	C. age	D. family
Fifty years ago, my grandparents_________.Today they are having a party.
A. married	B.are married	C. got married	D. were married to
On my birthday, I receive cards and presents from my friends and___________.
A. relation	B. relatives	C. relate	D. relates
People eat cake and say " Happy anniversary" to the ________.
A.two	B.pair	C. second	D. couple
People are happy on_________ wedding.
A. their	B. them	C. themselves	D. they
She often_________ the guests solf drinks and biscuits at the beginning of the party.
A. serves	B. gives	C. offer	D. bring
They like going_______ for dinner at weekends.
A. to	B. out	C. off	D. up
People call the 25th wedding aniversary the "___________ anniversary"
A. golden	B.metal	C. bronze	D. silver
Helen and her husband _________ their holiday in Nha Trang.
A. took	B. got	C. spent	D. brought
Reading 
I was14 last month, I wanted something original and different. I wanted something no one has ever done before. I thought of a theme BACK IN THE DECADES. I invited 15 people, 5 people per decade/team. I chose three decades that I thought everyone would know about, 70's, 80's and the 90's. On the invitations, I put the normal stuff and then put which decade they would come dressed as to the party.  Everyone arrived to the party at 4pm dressed in their decade. It was a lot of fun to see what everyone came up with! First, we did a fashion show, this was so that everyone could see whose outfit they liked better, then we voted. The winner recieved a $5 giftcard . Then we met back in the den and started TRIVIA. My mom led it. She was the host.  Each decade group was given a card that my mom made and decorated with different little things about that decade like clothing styles, hair styles, popular cars, movie stars etc. from that decade. They had exactly 1 minute to examine the card. Once time was up we began trivia. One person at a time would go up and answer a question about their decade. This formed a point system. The winning team recieved kisses . Then we went into my kitchen and ate Canes, chicken, potato, salad ,baked beans and green salad. It was good. Everyone went home at 9:30 except for my two best friends. They slept over and we watched scary movies until like 4 in the morning. It was alot of fun. This was by far the best party I have had. Not only is everyone still talking about it but believe it or not I had A LOT of fun planning it. I hope you can use some of my ideas put a twist to it and make your party just as special. " 
Answer the questions:
According to the passage, what kind of party was held?
A. silver anniversary	B. birthday 
C. golden anniversary	D. picnic
What did they do at the beginning of the party?
A They played cards	B. They ate salad
C. They watched movies	D. They showed fashion
The winners of the second game recieved____________________.
A. $5 gift cards B.kisses	C.claps	D. the invitation
" Trivia" is a/ an____________.
A. game	B. music	C. fashion	D. kind of food
What does the word "they" refer to?
A. the writer's two best friends	B. the writer's friends
C. canes, chicken, potato, salad. 	D. decades
Fill in the blanks:
 We gave presents to Mai and she ________ opened ________. It must really be ________ to receive all those presents. After that Mai's mother served us solf drinks and biscuits. We then listened to music and play cards. Athe winner were given _________. At about four thirty Mai's mother brought out a birthday cake. It was beautifully decorated _________ pink and white icing. We all clapped our hands eagerly and sang " Happy Birthday".
A. happy 	B.happily	C. happiness	D. unhappy
A. they	B.their	C. themselves	D. them
A.exciting 	B. to excite	C. excited	D. excitedly
A. price	B.rice	C. prizes	D. dry
A. on	B.without	C. with	D. about
a
a

Tài liệu đính kèm:
vocreading.doc