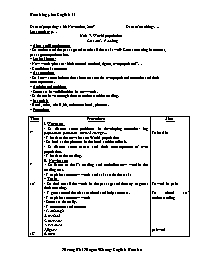 * Aims and Requirement
- Sts understand the passage and can do all the tasks well: Guess meaning in context, passage comprehension.
* Lexical items:
- New words/phrases : birth control method, figure, overpopulated``
- Conditional sentences
* Assumptions
- Sts know some information about reasons for overpopulated countries and their consequences.
* Anticipated problem
 - Some sts have difficulties in new words.
- Ss do not have enough time to understand the reading.
* Materials
- Book, ruler, chalk, bb, reference book, pictures.
* Procedure
Date of preparing: 15th November, 2007	Date of teaching: .
Lesson plan: p
Unit 7. World population
Lesson 1: Reading
* Aims and Requirement
- Sts understand the passage and can do all the tasks well: Guess meaning in context, passage comprehension.
* Lexical items:
- New words/phrases : birth control method, figure, overpopulated``
- Conditional sentences
* Assumptions
- Sts know some information about reasons for overpopulated countries and their consequences..
* Anticipated problem
 - Some sts have difficulties in new words. 
- Ss do not have enough time to understand the reading.
* Materials
- Book, ruler, chalk, bb, reference book, pictures.
* Procedure
Time
7'
7
10'
18'
3'
Procedure
I. Warm up
- Ss discuss some problems in developing countries: big population, pollution, limited energy...
- T leads to the news lesson: World population
- Sts look at the pictures in the book and describe it.
- Ss discuss some causes and their consequences of over population.
- T leads to the reading.
II. New lesson
 - Sts listen to the T's reading and underline new word in the reading text.
- T explains some new words and asks sts do the task 1
* Task 1
- Sts find out all the words in the passage and then try to guess their meaning.
- T goes around the class to check and help some sts.
- T explains some new words
- Some sts do orally.
- T comments and corrects 
- 1. although
2. method
3. increase
4. resouces
5.figure
6. limit
7. international
8. control
* Task 2
- Sts scan the passage to find out the answer
- Some ss present on the board
- Some pairs do orally
- T comments and corrects
1. The population of the world in 10,000 was 10 million; in 1750 it was 625; in 1850, 1.300 million; in 1950, 2,510 million;..
2. By the year 2010, the population of the world is expected to be 7 billion.
3. Some scientists say it can, but others say it can't. 
4. No, they don't.
5. They can't limit the size of their family because they know of no safe way to have fewew children.
After reading
Ss work in pairs: Say where they are and which is the richest and which is the poorest country.
T goes around to check and help
Some ss present
Other comment
T corrects
III. Consolidation
- T gives the feedback of the lesson
IV. Homework
- Sts learn the new words by heart.
- Sts prepare the new words in the speaking. 
* Comments after the lesson:
Aims
To lead in 
To work in pairs
To check sts' understanding
pairwork
Pairwork
To present
pairwork
To check sts' understanding
To check ss's reading and translation
Date of preparing:		Date of teaching: .
Lesson plan: p
Unit 7. world populaton
Lesson 2: speaking
* Aims and Requirement
- Sts practise speaking abt world population and their consequences.
* Lexical items
- New words/phrases : explosion, overpopulation...
- Intonation and stress in speaking.
* Assumptions
- Sts have background information from the reading.
* Anticipated problem
 - Some sts cannot speak well 
* Materials
- Book, ruler, chalk, bb, reference book.
Time
7'
7
10'
18'
3
Procedure
* Warm up:
- Ss work in group and are given a set of cards, each of which carries a letter. Ss work together to put them in right order to make a meaningful word. The first group to finish the word wins the game.
_ T checks and gives the answer:
1. Population
2. Population explosion
3. Overpopulation
4. Overpopulated
- T leads to the new lesson.
* Task 1
- Sts read all the sentences carefully and then put the cases explosion in order importance and explain why.
- T explains some phrases and new words more clearly
- T goes around the class to check and help some sts.
- Some sts do orally.
- T comments and corrects their pronunciation carefully:
1. People are not properly educated
2. People are not aware of population explosion...
- Ss work in pairs: Do the following model:
A: It says in the newspaper that the world population is incseasing so fast. What do you think is the main cause of the population explosion?
B: I think it is because people are not properly educated so they feel fre to have more children.
A: I quite agree with you. Another cause is that they are not aware of the population expolsion. They are so busy erning money so they do not show concern of things not relating to their own life...
* Task 2
- Sts work in pairs: List some problems facing poor and overpopulated countries then report the results to the class.
- T does the sample with a ss
- Ss do the same, using useful language in the textbook. 
- T guides sts to make sentences and provides some new words 
- Some sts do orally
- T listens and corrects for them:
A: What problems do you think are facing poor and overpopulated countries?
B; Oh I think poverty needs to the shortage of food, which is the most serious problems, because hungry people cannot do anything good.
A: That 's true. And other inevitable results of poverty are poor living condition and low living standard....
* Task 3
- Sts work in groups of 4: Work out the solutions to the problems of overpopulation . Then report the results to the class..
- T guides sts to make sentences and provides some new words 
- T checks some sts' notes and corrects.
- Some sts do orally
- T listens and corrects for them.
A: As we know, overpopulation is now one of the most serious problems of many countries in the world.
B: It is true. What solution can people do to it?
C: In my opinion, to solve this problem, we should educate people about the danger of overpopulation.
D: You mean we should raise poeple's awareness of disadvantages og these problems.
IV. Consolidation
- T gives the feedback of the lesson
V. Homework
- Sts learn the new words by heart and write about their party.
- Sts prepare the new words in the listening 
* Comments after the lesson:
Aims
To lead in 
work in pairs
To check sts' speaking
Paiwork
To practise
Groupwork
To check sts' speaking
To illustrate
-
Date of preparing: ..	Date of teaching: ..
Lesson plan: p
Unit 6. Competition
Lesson 3: Listening
* Aims and Requirement
- Sts listen to a dialogue about Bãton Marathon and decide whether statements are T/F and then answer the questions.
* Lexical items
-Words and phrases about the listening: race, athletic, association...
* Assumptions
- Sts have some knowledge abt conpetitions
* Anticipated problem
 - Some may not listen to the tape well.
* Materials
- Book, ruler, chalk, bb, reference book, CD and CD player.
* Procedure
Time
7'
10'
8'
15'
10'
Procedure
I. Organization
- Checks sts' attendance
- Asks sts abt the weather, health...
II. New lesson
1. Before listening
- Sts answer the qs in pairs.
- T goes around to check sts' speaking 
- Some sts do orally.
- T comments and corrects:
1. It's probadly the first long distanse race, marathon, in the world, and it started in the U.S in 1897.
2. At first this running was only reserved for men, until 1967, women could participate in it. Now everyone in the world can join it.
- T leads to the listening.
* Listen and repeat
- Sts read chorally after T
- T explains some new words.
2. While listening
- T introduces the situation of the listening.
* Task 1
- Sts read all the sentences carefully.
- T explains some new words 
- Sts listen to the tape once
- T goes around the class to check.
- Some sts give the answers.
- Sts listen again 
- T corrects: 
1.T
2. T
3. F
4. F
5. T
6. F
* Task 2
- Sts read all the qs carefully, underline the key words
and try to guess the answers from the task 1.
- Sts listen to the tape and then share the answers with their partners.
- T checks some pairs' answers.
- Sts listen again.
- T corrects:
1. New York
2. in 1972
3. 8
4. 6164 runners
3. After listening
- Sts discuss the qs in groups: Name some famous runners in Vietnam and say what is special about them.
- T goes around to check and help
- Some sts present.
- T comments and corrects.
III. Consolidation
- T gives the feedback of the lesson
IV. Homework
- Sts learn the new words by heart and summary the listening.
- Sts prepare the new words in the next period.
* Comments after the lesson:
Aims
To create the E atmosphere in class
Pairwork
To attract sts' attention
To lead in
To pay attention more
To check sts' understanding
To focus on
To check sts' understanding
Groupwork
To revise
Date of preparing: .	Date of teaching: ..
Lesson plan: p..
Unit 6. Competion
Lesson 4: Writing
* Aims and Requirement
- Sts write a respond letter with using suggestion.
* Lexical items
- New words/phrases and conectors in writing
* Assumptions
- Sts know something about the writing.
* Anticipated problem
 - Some sts have difficulties in vocabulary and grammar.
* Materials
- Book, ruler, chalk, bb, reference book, teaching aid ( an envelop or a letter).
* Procedure
Time
7'
5'
10'
18'
3'
Procedure
I. Check up
- Ss summarize the listening
II. New lesson
* Task 1 
- Sts work in pairs: Find out information required for the English Speaking Competition.
- T explains some new words in the letter: Participant, procedure...
- T goes around the class to check and help some sts.
- Some sts present.
- Other comment.
- T comments and corrects 
a. The number of participants
b. Entry procedure
c. Venue
d. Date and time
e. Phone number and e-mail of the center.
- T guides ss to pay attention to the way of writing in this task.
- Ss find out some structures and underline them
* Task 2
- Sts write a respond letter using the cues in the book.
- T explains some new words
- T goes around to check and help
- Some present
- Others give the comment.
- T goes around to check and help.
Dear Thu Trang, 
Thank you for your letter and welcome to our English Speaking Competition. Here are the details about our competition.
The number of participants is limited, just 25. The competition is held on November 25th , at 106 Tran Hund Dao street, Hoan Kiem District, Hanoi. It starts at 8.00 p.m., but contestants should be present an hour earlier for registration.
For further information, you can contact me on the phone number: 04 9838188 or the e-mail: englishclub06@yahoo.com.
Good luck to you. 
 Kate Jonhson
 secretary
III. Consolidation
- T gives the feedback of the lesson
IV. Homework
- Sts complete the writing.
- Sts prepare the new word in the next period. 
* Comments after the lesson:
Aims
To check sst' old lesson
To lead in 
Pairwork
To check sts' understanding
Pairwork
To prepare for the writing
Individually
To check sts' writing
Date of preparing:	.	Date of teaching: .
Lesson plan: p..
Unit 6. Competition
 Lesson 5: Language Focus
* Aims and Requirement
- Sts pratise pronunciating 3 consonants: /tr/, /dr/ and /tw/.
- Sts know how to use reported speech with gerund.
* Language focus
- New words/phrases 
- Consonants: /tr/, /dr/ and /tw/.
- Reported speech with gerund.
* Assumptions
- Sts understand the use reported speech in some ways
* Anticipated problem
 - Some sts have the difficulties in grammar.
* Materials
- Book, ruler, chalk, bb, reference book.
* Procedure
Time
7'
7'
30'
1'
Procedure
I. New lesson
- Slap the board: 
traffic, drink, drought, twenty, twin, troops
- T introduces consonants: /tr/, /dr/ and /tw/.
* Listen and repeat
- Sts read after T chorally all the words and sentences in the textbook.
- Some ss practise
- T comments and corrects their pronunciation.
* Warm up:
- Ss discuss some reported Verbs 
- Some ss present
- T corrects and introduces some V phrases following with gerund:
Thank sb for doing st/ congratulation sb on st/ apologise sb for doing st..
* Exsercise 1
- Sts read the eg carefully.
- T explains more.and some new words.
- Sts work in pairs: Change direct speech into reported speech.
- T goes around the class to check and help some sts.
- Some sts present on bb
- T corrects
1. Tom congratulated us on passing the exam.
2. Mary apologized for not phoning me earlier.
3. Peter insisted on driving Linda to the station.
4. The teacher accesed the boy of not paying attention to whathe had said.
5. Bob had always dreamed of being rich
6. I warned Ann against staying at the hotel near the airport.
7. Her mother prevented Jane from going out that night.
8. Miss White thanked for visiting her.
* Exsercise 2
- T explains the requirement and some new words in the exercise 2
- Sts work in pairs: Rewrite the dialogue in reported speech, using gerund
- Some ss present
- T goes around the class to check and help some sts.
- Some sts present on bb
- T corrects
1. Tom insisted on paying for the meal.
2. Mr and Mrs Smith looked forwarded to meeting their children soon.
3. The boy denied having broken the window of the woman's house.
4. The policeman stopped the customer from leaving the shop.
...
II.Consolidation
- T gives the feedback of the lesson
III. Homework
- Sts do all the exsercises in the unit 6 in the workbook.
- Sts do the test yourself B.
* Comments after the lesson:
Aims
To create the E atmosphere in class
To lead in 
To attract's attention
To check sts' speaking and understanding
Pairwork
To practise
To check sts' understanding
To present
pairwork
To revise
Date of preparing:	.	Date of teaching: 
Lesson plan: p..
Test yourself B
* Aims and Requirement
- Sts prepare the test carefully.
- Sts practise all the skills and can do the test well
* Language focus
- Reading: Finding the words or phrases having the similar meaning.
- Listening: Answering qs
- Writing: completing the invitation letter.
- Grammar: Passive voice and conditional sentences.
* Assumptions
- Sts prepare the test well 
* Anticipated problem
 - Some sts have vocabulary and grammar problems
* Materials
- Book, ruler, chalk, bb, reference book, CD and CD- player.
* Procedure
Time
7'
7'
26'
5'
Procedure
I. Organization
- Checks sts' attendance
- Asks sts abt the weather, health...
II. Check up
- T checks sts' preparing.
III. New lesson
1. Listening
- T iontroduces situation of the listening
- Sts read all the qs carefully.
- T explains some new words.
+ Geyser: ['gaizə]
 danh từ
 (địa lý,địa chất) mạch nước phun
 thùng đun nước nóng (bằng điện, bằng hơi)
- Sts listen to the tape once
- T goes around the class to check.
- Some sts give the answers.
- Sts listen again 
- T corrects: 
1. People go to a national park to enjoy nature.
2. It became a national park in 1872.
3. No, it isn't. it is the world's oldest national park and the world's largest park.
4. It has about seventy geysets in the park.
5. Visitors musn't pick the flowers and feed on hunt the animals.
2. Reading
- T explains the requirement and some new words.
- Sts discuss the answers in groups. 
- T goes around the class to check and help some sts.
- Some sts give the answers 
- T corrects: 
1. 
a. junk and litter
b.landscape
c. highway
d.healthy
2.
a. T; b. T; c. F; d. F; e.T; f. T
3. Grammar
- Sts work in pairs.
- T checks sts' answers
- Others give the comment.
- T explains it more carefully and corrects:
a.
1. hase been cleaned ; 2. have been turned on; 3. are waiting;
 b. knew- would help- knows.
c.decided to stay- would have gone out- hadn't been.
4. Writing
- Sts work in groups.
- Some sts present.
- Others give the comment.
- T corrects and gives mark if they do well.
Dear Alex,
You will be delighted to know that father is giving a party to celebrate the new year. He has invited some of our relatives and his friends to make the party a success. I too have invited a number of my friends in the neighborhood. Mother has asked me to tell you to come home for the New Year celebration. I'm sure you will be here in time to share the fun with us on that day.
Love,
Helen
V. Consolidation
- T gives the feedback of the lesson
V. Homework
- Sts revise carefully for the test.
* Comments after the lesson:
Aims
To create the E atmosphere in class
To lead in 
To attract sts' attention
To help sts guess some information to the passage
To elicit 
To check sts' understanding abt the passage
To check sts' grammar
To check sts' understanding
Sts copy