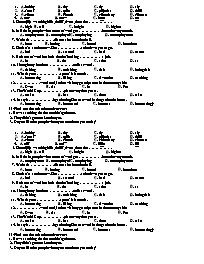 5. She enjoys watching hills, fields, rivers, from the
 A. high B. tall C. height D. higher
 6. In Britain, people who are out of work get benefit every month.
 A. employment B. unemployed C. employing D. unemployment
 7. We had a discussion about football.
 A. bore B. boring C. bored D. boredom
 8. She isn't a student now. She school two years ago.
 A. left B. started C. had D. came
 9. He is out of work but he is tired of looking a job.
 A. in B. for C. after D. at
 10. I bought my brother a rod last week.
 A. fishing B. to fishing C. fish D. being fish
 11. What is your sports? It is tennis.
 A. interesting B. liking C. favourite D. exciting
 12. weekends, I often visit my grandparents in the countryside.
 A. Over B. At C. In D. For
 13. The World Cup place every four years.
 A. makes B. has C. does D. takes
 14. Mary is in gardening. She can work in the garden for hours.
 A. interesting B. interested C. interest D. interestingly
Bạn đang xem tài liệu "Giáo án môn Tiếng anh lớp 11 - Ôn tập", để tải tài liệu gốc về máy bạn click vào nút DOWNLOAD ở trên
1. A. hobby	 B. dry	 C. fly	 D. sky 
2. A. forest	 B. open	 C. popular	 D. fond
3. A. cheer	 B. church	 C. chemistry	 	 D. choose
 4. A. sea B. tea	C. heart	 D. eat
 5. She enjoys watching hills, fields, rivers, from the 
 A. high	 B. tall	C. height	 D. higher
 6. In Britain, people who are out of work get  benefit every month.
 A. employment	 B. unemployed	 C. employing	 D. unemployment
 7. We had a  discussion about football.
 A. bore	 	B. boring	 C. bored	 D. boredom
 8. She isn't a student now. She  school two years ago.
 A. left	 B. started	 C. had	 D. came
 9. He is out of work but he is tired of looking  a job.
 A. in	 	B. for	 C. after	 D. at
 10. I bought my brother a  rod last week.
 A. fishing	 B. to fishing	 C. fish	 D. being fish
 11. What is your  sports? It is tennis.
 A. interesting	 B. liking	 C. favourite	 D. exciting
 12.  weekends, I often visit my grandparents in the countryside.
 A. Over	 B. At	 C. In	 D. For
 13. The World Cup  place every four years.
 A. makes	 B. has	 C. does	 D. takes
 14. Mary is in gardening. She can work in the garden for hours.
 A. interesting	 B. interested	C. interest	 D. interestingly
II- Find out the mistake and correct.
1. He was so tiring that he couldn't go home.
 2. They didn't gone to London yet.
 3. Do you like the people whom you met them yesterday?
1. A. hobby	 B. dry	 C. fly	 D. sky 
2. A. forest	 B. open	 C. popular	 D. fond
3. A. cheer	 B. church	 C. chemistry	 	 D. choose
 4. A. sea B. tea	C. heart	 D. eat
 5. She enjoys watching hills, fields, rivers, from the 
 A. high	 B. tall	C. height	 D. higher
 6. In Britain, people who are out of work get  benefit every month.
 A. employment	 B. unemployed	 C. employing	 D. unemployment
 7. We had a  discussion about football.
 A. bore	 	B. boring	 C. bored	 D. boredom
 8. She isn't a student now. She  school two years ago.
 A. left	 B. started	 C. had	 D. came
 9. He is out of work but he is tired of looking  a job.
 A. in	 	B. for	 C. after	 D. at
 10. I bought my brother a  rod last week.
 A. fishing	 B. to fishing	 C. fish	 D. being fish
 11. What is your  sports? It is tennis.
 A. interesting	 B. liking	 C. favourite	 D. exciting
 12.  weekends, I often visit my grandparents in the countryside.
 A. Over	 B. At	 C. In	 D. For
 13. The World Cup  place every four years.
 A. makes	 B. has	 C. does	 D. takes
 14. Mary is in gardening. She can work in the garden for hours.
 A. interesting	 B. interested	C. interest	 D. interestingly
II- Find out the mistake and correct.
1. He was so tiring that he couldn't go home.
 2. They didn't gone to London yet.
 3. Do you like the people whom you met them yesterday?
1. Last year, a new bridge ........................ over the river.
A. built	 	B. was built 	C. is built 	D. build 
2. London stands on the Thames .......................... divides it in to two equal parts.
A. what 	 	B. where	C. who	D. that
3. ....................., which is an old university, is known all over the world.
A. It's Cambridge 	B. Cambridge 	C. Cambridge is	D. That cambridge 
4. I talked to the men who ............................... sitting near me.
A. be 	B. was 	C. been 	D. were
5. Evis presley grew .......................... in poor home.
A. up 	B. on 	C. at 	D. of
6. The film is so ......................... that we can't leave.
A. interested 	B. interesting 	C. bored 	D. boring 
7. I didn't like the women ............................. came to see my house yesterday.
A. which 	B. where	 	C. whom 	D. who

Tài liệu đính kèm:
nhung hd 11.doc