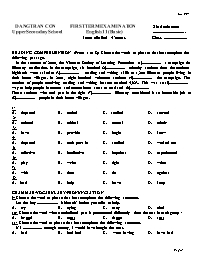 READING COMPREHENSION (From 1 to 8): Choose the words or phrases that best complete the following passage.
 In the summer of 2000, the Vietnam Society of Learning Promotion (1). a campaign for illiteracy eradication. In the campaign, six hundred (2). minority students from the northern highlands were asked to (3). reading and writing skills to 1,200 illiterate people living in their home villages. In 2001, eight hundred volunteer students (4). the campaign. The number of people receiving reading and writing lessons reached 4,623. This was an (5). way to help people in remote and mountainous areas to read and (6).
Those students who took part in the fight (7). illiteracy considered it an honorable job to (8). people in their home villages.
 DANG TRAN CON FIRST TERM EXAMINATION Student name:
Upper Secondary School English 11 (Basic) ................................
 Time allotted: 45 mins Class ....................... 
READING COMPREHENSION (From 1 to 8): Choose the words or phrases that best complete the following passage.
 In the summer of 2000, the Vietnam Society of Learning Promotion (1)................... a campaign for illiteracy eradication. In the campaign, six hundred (2)................... minority students from the northern highlands were asked to (3)................... reading and writing skills to 1,200 illiterate people living in their home villages. In 2001, eight hundred volunteer students (4)................... the campaign. The number of people receiving reading and writing lessons reached 4,623. This was an (5)................... way to help people in remote and mountainous areas to read and (6)...................
Those students who took part in the fight (7)................... illiteracy considered it an honorable job to (8)................... people in their home villages.
1:
A.
 departed
B.
 ended
C.
studied 
D.
 started
 2: 
A.
 colored 
B.
 ethical 
C.
 eternal 
D.
 ethnic
 3: 
A.
 have 
B.
 provide 
C.
 begin 
D.
 know
4: 
A.
 departed 
B.
 took part in 
C.
 studied 
D.
 worked out
5: 
A.
 effective 
B.
 ineffective 
C.
 hopeless 
D.
 experienced
 6: 
A.
 play 
B.
 write 
C.
 fight 
D.
 writer
7: 
A.
 with 
B.
 from 
C.
 for 
D.
 against
 8: 
A.
lead
B.
 help 
C.
 leave
D.
 keep
GRAMMAR-VOCABULARY-PRONUNCIATION
9: Choose the word or phrase that best completes the following sentence.
 Let the boy ..................... it himself before you offer to help.
A.
 try
B.
 trying
C.
 to try 
D.
 tried
10: Choose the word whose underlined part is pronounced differently from the rest in each group : 
A.
 bread 
B.
 meat 
C.
 dream 
D.
 seat
11: Choose the word or phrase that best completes the following sentence. 
 If I ................... enough money, I would have bought the coat. 
A.
 had 
B.
 had had
C.
 were having 
D.
 have had
12: Choose the word or phrase that best completes the following sentence.
 When they arrived at the meeting, everyone ............ home. 
A.
 had gone 
B.
 to go 
C.
 was gone 
D.
 has gone
13: Choose the word or phrase that best completes the following sentence.
 Tim................ TV when his parents came home . 
A.
 watch 
B.
 was watching 
C.
 is watching 
D.
has been watching
14: Choose the word whose syllable is stressed differently from the rest in each group: 
A.
 celebrate 
B.
 birthday 
C.
 effective
D.
 golden
15: Choose the word or phrase that best completes the following sentence. 
 .................. all the papers , Sarah put them back in the file . 
A.
 Having been copied 
B.
 Copy 
C.
 Having copied 
D.
 To copying
16: Choose the word whose underlined part is pronounced differently from the rest in each group : 
A.
 voyage 
B.
 passage 
C.
 age 
D.
 storage
17: Choose the word or phrase that best completes the following sentence. 
 Ann asked me ..................... anything to her parents.
A.
 that I didn't say 
B.
 to not say 
C.
 don't say
D.
 not to say
18: Choose the word or phrase that best completes the following sentence. 
 I've heard a lot about Dr. John and I'm looking forward ............... his talk tomorrow. 
A.
 about hearing 
B.
 to hearing 
C.
 to hear
D.
 with hearing
19: Choose the word or phrase that best completes the following sentence.
................. in some developing countries may be the cause of poverty and hunger. 
A.
 Modernization 
B.
 Pollution 
C.
Overpopulation 
D.
 Literacy
20: Choose the word or phrase that best completes the following sentence. 
A .............is a person that officially decides who is the winner of a competition.
A.
 sponsor
B.
 participant 
C.
 judge
D.
 contestant
21: Choose the word or phrase that best completes the following sentence.
 Jack promised............. me repair my bike. 
A.
 having helped 
B.
 to help 
C.
 helping 
D.
 to have helped
22: Choose the word or phrase that best completes the following sentence. 
 I want to avoid ............... everybody's feelings. 
A.
 hurting 
B.
 being hurt 
C.
 hurt 
D.
 to hurt
23:: Identify one error among A, B, C, D. 
 You had better learning a foreign language before applying for a job.
	 A B C D 
24: Identify one error among A, B, C, D. 
 The naughty boys apologized with their neighbors for making a lot of noise.
 A	 B	 C 	 D
25: Choose the word whose syllable is stressed differently from the rest in each group: 
A.
 mountainous
B.
 handicapped 
C.
 relation
D.
 celebrate
26: Choose the word whose underlined part is pronounced differently from the rest in each group: 
A.
 award
B.
 answer 
C.
 winter 
D.
 toward
 27: Choose the word or phrase that best completes the following sentence 
 If I had a car, I .................. you to the airport. 
A.
 would taking 
B.
 would have taken 
C.
 could take
D.
 could to take
28: Identify one error among A, B, C, D. 
 If you work hard, you would be successful in anything that you do.
	 A B C D
WRITING : ( 3 marks) 
Rewrite these sentences , beginning as shown so that the meaning stays the same : 
1. "I think you should see a doctor," my friend said to me.
→ My friend advised.........................................................................................
2. We didn't have money, so we didn't go on holiday last year.
→ If ....................................................................................
3. " I'm sorry I didn't phone you earlier," John said to me.
→ John apologized for...........................................................................
4. I'm not rich. I don't live in a big house.
→ If ...........................................................................
5. " If I know the answer, I'll tell you." 
→ She told me.............................................................................................
6. "Let's go out and enjoy the nice weather," said Rita.
 → Rita suggested.............................................................................................
=== THE END ===