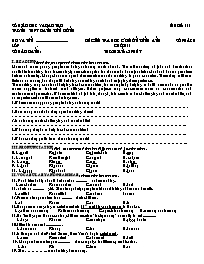 I. reading:Read the passage and choose the best answer.
More and more young people are doing voluntary work abroad. The wide variety of jobs and destinations available is making it an increasingly attractive option for those who have just left school and have a year free before university. Many choose to spend these twelve months working in poor countries. There they will earn little or no money, but thay will be doing something useful and enjoying the experience.
The working may consist of helping local communities, for example by helping to build new roads or provide water supplies to isolated rural villages. Other projects may concentrate more on conservation and environmental protection. Whatever kind of job it is, though, it is certain to be challenging and worthwhile, and an experience that will never be forgotten.
1.Where are many young people doing voluntary work?
2.How many months do they spend working there?
3.Is voluntary work challenging and worthwhile?
 .
4.What may they do to help local communities?
 .
5.What can they profit from the voluntary work?
Bạn đang xem tài liệu "Đề kiểm tra học kì I môn tiếng Anh khối : 11 - Mã đề: 111", để tải tài liệu gốc về máy bạn click vào nút DOWNLOAD ở trên
Së gi¸o dôc vµ ®µo t¹o m· ®Ò: 111
Tr­êng thpt ®Æng tiÕn ®«ng
Hä vµ tªn................................
Líp.
Sè b¸o danh:
®Ò kiÓm tra häc k× I m«n TiÕng anh
Khèi : 11
Thêi gian: 45 phót
Sè ph¸ch
I. reading:Read the passage and choose the best answer.
More and more young people are doing voluntary work abroad. The wide variety of jobs and destinations available is making it an increasingly attractive option for those who have just left school and have a year free before university. Many choose to spend these twelve months working in poor countries. There they will earn little or no money, but thay will be doing something useful and enjoying the experience.
The working may consist of helping local communities, for example by helping to build new roads or provide water supplies to isolated rural villages. Other projects may concentrate more on conservation and environmental protection. Whatever kind of job it is, though, it is certain to be challenging and worthwhile, and an experience that will never be forgotten.
1.Where are many young people doing voluntary work?
2.How many months do they spend working there?
3.Is voluntary work challenging and worthwhile?
..
4.What may they do to help local communities?
..
5.What can they profit from the voluntary work?
 ..
III.pronunciation: Pick out one word that has diffirent sound from the other.
6. A.world
B.whale
C.wheelchair
D.wrap
7. A. mutual
B. residential
C. natural
D. culture
8. A.snow
B.know
C.now
D. show
9. A.hand
B.honour
C.home
D.holiday
10. A.happy
B.husband
C.have
D.hour
II. vocabulary and grammar: choose the best answer.
11. Good friendship should be based on ----------- understanding.
 A.each other
B.one another
C.mutual
D.both
12. she is an ----------- girl. She always helps people without thinking of her own benefit.
 A.selfish
B.unselfish
C.modest
honest
13.Parents always make a fuss ---------- their children.
 A.of
B.over
C.on
D.in
14.Our parents are going to celebrate their 25th wedding anniversary in Dat Lat.
 A.golden annversary
B.silver anniversary
C.special anniversary 
D.memory anniversary
15.On Tet Nguyen Dan occasion, children receive "lucky money" normally in red------------.
 A.bags
B.boxes
C.envelopes
D.piggy banks
16.I like his sense of ---------------.
 A.humorous
B.funny
C.fun
D.humour
17.In Europe and the United States, New Year's day is celebrated.
 A.seen
B.remarked
C.observed
D.held
 18. Many students take part ------------ the campaign for illiteracy eradication.
 A.for
B.in
C.from
D.on
19. She .. me of taking her money.
 A.threatened
B.blamed
C.criticised
D.accused
20. I am interested------------- the new course next week.
 A.in learning
B.in having learnt
C.to learn
D.on having learnt
21.I would like to offer a small reward to ----------who finds my missing dog.
 A.someone
B. anyone
C. no one
D. those
22. We need to do some shopping because there isn't-------------- in the fridge.
 A.anything
B. nothing
C. something
D. thing
23. I tried-------------- the bus, but I missed it
A. catches
B. catch
C. to catch
D. catching
24.Daisy said if she-----------------me, she would not buy that house.
 A. is
B. been
C. were
D.had been
25.Johnny always dreams------------- a pilot.
 A.for becoming
B.to become
C.of becoming
D.of being become
26. Maria always remembers --------------- the door
 A.to lock
B.lock
C.locking
D.locked
27. Peter should have apologized---------------- being late this morning , but he did not
 A.about
B.at
C.for
D.up
28. He couldn't make the radio--------------------.
 A.to work
B.working
C.worked
D.work
29.His parents never allowed him ----------------- .
 A.a smoking
B.smoking
C.some smoke
D.to smoke
30.He never admits -------------wrong.
 A.to being
B.of being
C.being
D.to have been
IV.writing: Choose the best answer.
31."Don't talk in class," the teacher said.
 The teacher told..
32."Susan, can you remember to buy me some sugar?" said Billy
 Billy reminded .. 
33."Don't worry, I'll help you with the money."
 He promised.
34."I'm sorry I didn't phone you earlier,"Mary said.
 Mary apologized.	 
35."I wouldn't buy that car,Jane, if I were you."
 I advised  
Answer:
1
2
3
4
5
6
7
8
9
10
11
12
13
14
15
16
17
18
19
20
21
22
23
24
25
26
27
28
29
30

Tài liệu đính kèm:
tieng anh 11(9).doc