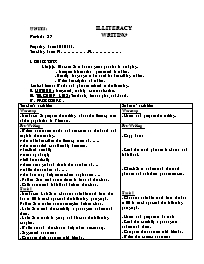 I. OBJECTIVES
 Aim(s):- Educate Ss to have a great passion in studying.
 - Interpret information presented in tables.
 - Identify language to be used for describing tables.
 - Write description of tables.
 Lexical items: Words and phrases related to the listening.
II. METHOD: Integrated, mainly communicative.
III. TEACHING AIDS: Textbook, lesson plan, sub-board.
IV. PROCEDURE.
Bạn đang xem tài liệu "Bài soạn môn học Tiếng Anh 11 - Unit 5: Illiteracy - Period 27: Writing", để tải tài liệu gốc về máy bạn click vào nút DOWNLOAD ở trên
UNIT 5: illiteracy
Period: 27 WRITING
Preparing date: 2/11/2007.
Teaching date: B2.B4
I. Objectives
 Aim(s):- Educate Ss to have a great passion in studying. 
 - Interpret information presented in tables.
 - Identify language to be used for describing tables.
	- Write description of tables.
 Lexical items: Words and phrases related to the listening.
II. METHOD: Integrated, mainly communicative.
III. TEACHING AIDS: Textbook, lesson plan, sub-board.
IV. Procedure.
Teacher's activities
Students' activities
Warm-up
- Introduce Ss prepare the writing about the literacy rate of the population in Vietnam.
Warm-up
- Listen and prepare the writing.
Pre-Writing
- Writes some new words and structure on the board and explain the meaning.
+ the table describes the literacy rates of.
+ the rate varied considerably between.
+ declined steadily
+ went up sharply
+ fell dramatically
+ there are a gradual rise in the number of.
+ while the number of 
+ the data may help researchers or planners.
- Guides Ss to read some times in front of the class.
- Calls some read individual before the class.
Task 1
- Introduce: Ask Ss to choose a suitable word from the box to fill in each space of the following paragraph.
Guides Ss to make some strategies before class.
- Asks Ss to read the carefully a passage to understand them.
- Asks Ss to work in group and discuss the following couples.
- Walks around the class to help when necessary.
- Suggested answers:
- Compare their answers with friends.
- Calls some Ss to answer and give opinions of sample writing. 
- Corrected answer.
1.varied
2.rise
3.declined
4.different
5.went up
6.dramatically
Pre-Writing
- Copy down
- Read the word phrases in chorus and individual.
- Check Ss to understand the word phrases and ask them put sentences.
Task 1
- Choose a suitable word from the box to fill in each space of the following paragraph.
- Listen and prepare to do task
- Read the carefully a passage to understand them.
- Compare the answers with friends.
- Write the correct answers:
1.varied
2.rise
3.declined
4.different
5.went up
6.dramatically
- Practice the paragraph in front of the class.
While-Writing
Task 2
Introduce: You are going to write a paragraph of about 100 words, describing information in the table below.
- Guides Ss to use some strategies before class.
- Asks Ss to read carefully information in task 2 and explain by Vietnamese.
* Useful language:
+ The table shows/ describes.
+ As can be seen from the data in the table,.
- Asks Ss to read writing the sample again.
- Asks Ss to write in group and discuss.
- Walks around the class to help when necessary.
- Suggested write
+ The table describes the trends of literacy rates in sunshine country from 1998 to 2007.
+ As can be seen from the data in the table,.
+ There are a gradual rise in the number of both males and females in the Lowlands with 50% in 1998..
+ Similarly, there was a steady rise from 70% in 1998 to .
+ On the contrary, the literacy rate in the Highlands declined. In 1998, 50% of the population was literate but the number.
+ These data may help the researchers make suitable plan for..
- Compare their writing with groups.
- Calls some groups to read writing in front of the class and others gives opinion.
- Check up writing of the groups and remark.
- Corrected writing in front of the class. 
While- Writing
Task 2
- Write a paragraph of about 100 words, describing information in the table below.
- Read carefully information in task 2 and explain by Vietnamese.
* Useful language:
- Copy down.
- Write in group and discuss.
- Compare the writing with groups.
- Write the correct writing.
The table describes the trends of literacy rates in sunshine country from 1998 to 2007.
As can be seen from the data in the table, the literacy rate of the population varied considerably during this period.
There are a gradual rise in the number of both males and females in the Lowlands with 50% in 1998, 53% in 2002 and 56% in 2004. Then this rate went up sharply to reach 95% in 2007.
Similarly, there was a steady rise from 70% in 1998 to 85% in 2007 for the number of literate males and females in the Midlands.
On the contrary, the literacy rate in the Highlands declined. In 1998, 50% of the population was literate but this number decreased gradually over the next six years. It was only 30% in 2007.
These data may help the researchers make suitable plan for educational development in each areas of the country.
- Practice writing in front of the class.
Post- Writing
- Give Ss some questions about writing for them understand the contents exactly.
1.What is the topic of the table?
2.Does it describe the past, the present or future?
3.What patterns are shown?
4.How are pieces of information related?
5.Which place had the highest rate of literacy in 1998 to 2007?
6. Which place had the lowest rate in each year?
7.Did the rate of literacy in the Lowlands increase or decrease between 1998 and 2007?
8.What about that rate for Midlands and Highlands?
- Guides Ss to answer in writing.
- Asks Ss to work in group and discuss.
- Walks around the class to help when necessary.
- Compare their answers with friends.
- Calls some Ss practice their answer in the front of the class.
- Remark and give correct answers:
Post- Writing
- Work in group.
- Answer the questions in writing.
- Compare the answers with friends.
- Write the correct answers:
1.Literacy rates in Sunshine country from 1998 – 2007.
2. It describes the past, the present or future.
3.The literacy rate of the population varied considerably.
4.The trend for literacy rate.
5. Midlands
6. Highlands
7. The rate of literacy increase in the Lowlands 
8. Midlands

Tài liệu đính kèm:
LESSON 4 WRITING.doc