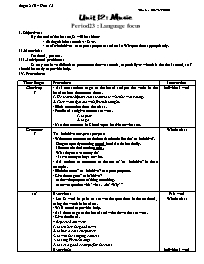 I. Objectives:
By the end of the lesson, Ss will be able to:
- distinguish the sounds /s/ & /z/.
- use To-infinitives to express purposes and make Wh-questions appropriately.
II. Materials:
 Textbook, posters.
III. Anticipated problems:
 Ss may not have difficult to pronounce the two sounds, especially /z/ when it is the final sound, so T should be ready to provide help.
IV. Procedure:
Bạn đang xem tài liệu "Bài ôn tập môn Tiếng Anh 11 - Unit 12: Music - Period 23: Language focus", để tải tài liệu gốc về máy bạn click vào nút DOWNLOAD ở trên
Date: 10/3/2010
Unit 12 : Music
Period 23 : Language focus
I. Objectives:
By the end of the lesson, Ss will be able to:
- distinguish the sounds /s/ & /z/.
- use To-infinitives to express purposes and make Wh-questions appropriately.
II. Materials:
	Textbook, posters.
III. Anticipated problems:
	Ss may not have difficult to pronounce the two sounds, especially /z/ when it is the final sound, so T should be ready to provide help.
IV. Procedure:
Time/ Stages
Procedure
Interaction
Check-up
5'
- Ask one student to go to the board and put the verbs in the brackets into the correct forms.
1. He learned (play) classical music when he was young.
2. They want (go) out with friends tonight.
- Elicit correction from the class.
- Feedback and give correct answers.
1. to play
2. to go
- Use the sentences in Check-up to lead-in new lesson.
Individual work
Grammar
5'
To + infinitive to express purposes
- Write some sentences on the board and underline the "to+ infinitive".
+ She gets up early morning to cook breakfast for her family.
+ I listen to classical music to relax. 
+ What do you save money for?
 - I save money to buy a new hat.
- Ask students to comment on the use of "to+ infinitive" in these examples.
- Elicit the use of "to+ infinitive": to express purposes.
- Give the usage of "to-infinitive": 
+ to show the purpose of doing something.
+ to answer question with "what  for?/Why?"
Whole class
10'
Exercise 1: 
- Let Ss work in pairs to answer the questions in the textbook, using the words in brackets.
- Walk round to provide help.
- Ask them to go to the board and write down the answers.
- Give feedback.
* Expected answers:
1. to tell her the good news 
2. to buy a cassette player
3. to win the singing contest
4. to sing French songs
5. to set a good example for the class
Exercise 2: 
- Ask Ss to work individually to complete each sentence with the right form of a suitable word.
- Get them to read through the sentence to guess the verb, then give correct form for it.
- Ask for Ss' answers and write on the board.
- Elicit correction from the class.
- Feedback and give suggested answers:
1. to read
2. to buy
3. to post
4. to invite
5. to learn
Pair work
Whole class
Individual work
Whole class
5'
* Wh – Questions: 
- Call on some students to make some wh-questions and write them on board
- Elicit the form and the use of "Wh-questions".
* To get information:
* Form: 
1. Ask for Subject:
What
+ Verb
.?
Who
E.g. What happened last night?
 Who opened the door?
2. Ask for Object:
What
+ Auxv
+ S
+ V?
Whom
E.g.
What did he buy at this store?
Whom does she stay with?
When did he move to London?
What did you do last night?
How often do you read book?
- Ask Ss to give more examples.
Whole class
8'
Exercise 3
- Ask Ss to work individually.
- Ask them to ask questions for underline words/phrases in the given sentences in the textbook.
- Walk round and help them.
- Ask Ss to go to the board and write down the answers.
- Give feedback.
* Expected answers:
1. What will you do if it rains?
2. What sort of music does your family enjoy listening to?
3. When did he leave for Ho Chi Minh city?
4. Who wants to talk to you?
5. How did you spend the evening last night?
6. When does the film start?
7. Who is your favorite musician?
8. Why do you like pop music?
Individual work
Pronunciation
10'
- Show some pictures of words containing the sounds /s/ and /z/ and ask Ss to call name of each picture.
- Introduce the sounds /s/ and /z/
- Model the two sounds twice or three times.
- Explain how to pronounce these sounds.
- Pronounce the words in each column and ask Ss to repeat.
- Ask Ss to practice pronouncing the sounds in chorus and individually.
- Give feedback.
- Read some words containing the target sounds and ask Ss to say (1) if they hear /s/ or (2) if /z/.
(sad, sing, story, zoo, pizza, jazz, class, exam, close, increase, nose) 
- Practice:
- Read the sentences and ask Ss underline the words with the sounds and write /s/ or /z/ under them.
- Ask Ss to practice the sentences in pairs.
- Ask some Ss to read the sentences.
- Give feedback.
Whole class
Individual work
Pair work
Wrap-up
2'
- Summarize the main points of the lesson.
- Ask to exercise at home and prepare part Reading of Unit 13 at home
Whole class