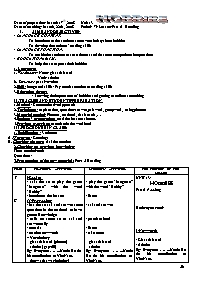 I. AIMS AND OBJECTIVES:
 - LANGUAGE CONTENT :
+ To introduce to the students some vocabulary about hobbies
+ To develop the students' reading skills
- LANGUAGE FUNCTION:
 + To enable the students to scan the text and do some comprehension questions
- EDUCATIONAL AIM:
 + To help the sts express their hobbies
1. Language:
a. Vocabulary: Noun: glass fish tank
 Verb: admire
b. Structure: passive voice
2.Skill: Integrated skills: Pay much attention to reading skills
3.Education factor:
 - knowing the importance of hobbies and getting to collect something
II.TEACHER AND STUDENTS' PREPARATION
1.Method: Communicative Approach
2.Techniques: explanation, question-answer, pair work, groupwork, using pictures
3.Material needed: Pictures, textbook, flash cards,
4.Students' preparation: read the lesson at home.
5.Previous exercises: exercises in the workbook
Date of preparation: March 17th ,2008 Unit 13 
 	Date of teaching: March , 22th , 2008 Period: 79 Lesson: Part A Reading
AIMS AND OBJECTIVES:
	- LANGUAGE CONTENT : 
+ To introduce to the students some vocabulary about hobbies
+ To develop the students' reading skills 
- LANGUAGE FUNCTION:
 	+ To enable the students to scan the text and do some comprehension questions
- EDUCATIONAL AIM:
 	+ To help the sts express their hobbies
1. Language:
a. Vocabulary: Noun: glass fish tank
	Verb: admire
b. Structure: passive voice
2.Skill: Integrated skills: Pay much attention to reading skills
3.Education factor: 
	- knowing the importance of hobbies and getting to collect something
II.TEACHER AND STUDENTS' PREPARATION
1.Method: Communicative Approach
2.Techniques: explanation, question-answer, pair work, groupwork, using pictures 
3.Material needed: Pictures, textbook, flash cards,
4.Students' preparation: read the lesson at home.
5.Previous exercises: exercises in the workbook
III. PROCEDURE IN CLASS:
1. Stabilization: 3 minutes 
A .Warm–up: Greetings 
B. Checking absence: Ask the monitor
2.Checking up previous knowledge: 
Time needed: omit
Questions: 
3.Presentation of the new material: Part A Reading
TIME
TEACHER'S ACTIVITIES
STUDENTS' ACTIVITIES
THE CONTENT OF THE LESSON
5'
8'
12'
8'
2'
I/Lead in 
- asks the sts to play the game "hangman" with the word "Hobby"
- introduces the lesson 
II/Pre-reading
- has the sts ask and answer some questions in the textbook to have general knowledge
- calls on some sts to ask and answer orally
- remarks
- teaches new words
* Vocabulary
+ glass físh tank [picture]
+ admire [ gap-fill]
Eg: Everyone ..Uncle Ho for his contribution to VietNam.
+ throw sth away [miming]
- checks the words' understanding by asking the students to fill the gap in these sentences
1. We keep fish in a .
2. These clothes are old and out of fashion. They intend to it .
Task 1: Find the Vietnamese equivalents
- asks the sts to do task 1 individually
- guides the sts how to find words in a dictionary easily and quickly
- calls on some sts to give answers
- gives feedback
accomplished	Well-trained, skilled	Taøi ba, taøi hoa
Accompanying	Going with a singer, using s musical instrument	ñeäm (ñaøn)
Modest	Humble, unasuming	Nhoû, khieâm toán
Avid	Eager	Say meâ
Discarded	Throw away	Ñaõ bò boû ñi
Indulge in	Allow oneself the pleasure of	Ñam meâ
Keep me occupied	Keep me busy	Laøm cho toâi baän roän
1. III/ While reading
Task 2: Answering questions
- asks the sts to ask and answer in pairs (5')
- calls on some sts to practise
- gives remarks 
1. His first hobbies is playing the guitar.
2. No, he isn't.
3. Because he 's an accomplished guitarist and he is good at accompanying people singing by his guitar.
4. His second hobby is keeping fish.
5. He bought some from the shop and collected some from the rice field near his house.
6. he is an avid stamp collector.
7. He collects them fro mdiscarded envelopes ; his relatives and friends give him.
8. Local stamps.
9. he keeps the less common ones inside a small album. The common ones he usually gives away to others or if no one wants them he simply throws them away.
IV/ Post reading 
- asks the sts to work in groups in 5'and talk about their hobbies
- goes around to help
- calls on some sts to present
- gives feedback.
V/ Consolidation 
- reminds the content of the lesson.
- play the game "hangman" with the word "Hobby"
- listen
- ask and answer
- practise aloud
- listen
- take notes
+ glass físh tank
+ admire
Eg: Everyone ..Uncle Ho for his contribution to VietNam.
+ throw sth away 
1. glass fish tank.
2. throw it away
- do task 1
- listen
- answer
- take notes
- ask and answer in pairs
- practise
- take notes
1. His first hobbies is playing the guitar.
2. No, he isn't.
3. Because he 's an accomplished guitarist and he is good at accompanying people singing by his guitar.
4. His second hobby is keeping fish.
5. He bought some from the shop and collected some from the rice field near his house.
6. he is an avid stamp collector.
7. He collects them fro mdiscarded envelopes ; his relatives and friends give him.
8. Local stamps.
9. he keeps the less common ones inside a small album. The common ones he usually gives away to others or if no one wants them he simply throws them away.
- work in groups in 5'and talk about their hobbies
- listen
- listen
- listen
UNIT 13: 
HOBBIES
Part A Reading
Before you read:
I/New words 
- Glass físh tank
- Admire
Eg: Everyone ..Uncle Ho for his contribution to VietNam.
- Throw sth away 
Task 1
accomplished	Well-trained, skilled	Taøi ba, taøi hoa
Accompanying	Going with a singer, using s musical instrument	ñeäm (ñaøn)
Modest	Humble, unasuming	Nhoû, khieâm toán
Avid	Eager	Say meâ
Discarded	Throw away	Ñaõ bò boû ñi
Indulge in	Allow oneself the pleasure of	Ñam meâ
Keep me occupied	Keep me busy	Laøm cho toâi baän roän
Task 2
1. 1951
2. the 2nd Asain Games held in manila, Philippines
3. 1958
4. squash, rugby, fencing and mountain biking
5. 2002
Task 2
1. His first hobbies is playing the guitar.
2. No, he isn't.
3. Because he 's an accomplished guitarist and he is good at accompanying people singing by his guitar.
4. His second hobby is keeping fish.
5. He bought some from the shop and collected some from the rice field near his house.
6. he is an avid stamp collector.
7. He collects them fro mdiscarded envelopes ; his relatives and friends give him.
8. Local stamps.
9. he keeps the less common ones inside a small album. The common ones he usually gives away to others or if no one wants them he simply throws them away.
Home work(3'):
- learn by heart the new words
- translate the text
- do exercises in the workbook
Preparation for the next lesson (2'):
-prepare Part B at home (Speaking)
Self–evaluation:
Date of preparation: March 20th , 2008. Unit 13 : HOBBIES
 	Date of teaching: March, 22nd , 2008 Period: 80 Lesson: Part B Speaking
I.AIMS AND OBJECTIVES:
	- LANGUAGE CONTENT : 
+ To help the sts practise talking about their hobbies
+ To arouse the sts' interest in collecting something
- LANGUAGE FUNCTION:
 	+ To enable the students to talk about their hobbies
- EDUCATIONAL AIM:
 	+ To make the sts aware of the importance of hobbies in life
1. Language:
a. Vocabulary: review vocabulary in the reading text
 b. Structure: 
2.Skill: Integrated skills: Pay much attention to speaking skills
3.Education factor: 
	- getting to collect something
II.TEACHER AND STUDENTS' PREPARATION
1.Method: Communicative Approach
2.Techniques: explanation, question-answer, pair work, group work
3.Material needed: Pictures, textbook, 
4.Students' preparation: read the lesson at home
5.Previous exercises: exercises in the workbook
III. PROCEDURE IN CLASS:
1. Stabilization: 3 minutes 
 A .Warm–up: Greetings 
 B. Checking absence: Ask the monitor
 2.Checking up previous knowledge: 
Time needed: 5'
Question: ask some questions about the reading text ( page 147)and ask the sts to write some new words
Answer: questions 6,7, 8
3.Presentation of the new material: Part B Speaking
TIME
TEACHER'S ACTIVITIES
STUDENTS' ACTIVITIES
THE CONTENT OF THE LESSON
5'
8'
12'
7'
2'
I/Lead in 
- asks the sts to play the game Describing things (describe some sports with their own words) [ 4 groups- each group has 4 names of sports. Who finishes first will be the winner)
II/Pre-speaking
- asks the sts what sports they like most and why
- introduces task 2: Lan and Huong are talking about Lan's hobby of collecting books
- provides some new words
+ second-hand book stall
+ classify
+ tag
+ landscape
- analyses the structure of the dialogue
- calls on two pairs to read aloud the dialogue
III/ While speaking
Task 3
- introduces the task, asks the sts to work in pairs to make a similar dialogue about collecting stamps (5')
- asks different pairs to practise orally
- gives remarks
IV. Post speaking
- asks the sts to work in pairs, talking about their hobby, using similar structures of task 2
- asks some sts to do the role play
- gives remarks
V/ Consolidation 
- reminds the content of the lesson 
- play the game
- answer
- listen
- take notes
+ second-hand book stall
+ classify
+ tag
+ landscape
- say the structure of the dialogue
- read the dialogue
- listen, work in pairs
- practise orally
- listen
- work in pairs, talking about their hobby
- do the role play
- listen
- listen
UNIT 13
Part B Speaking
Task 1
Which activities do you like best? Why? 
Task 2
* New words
+ second-hand book stall
+ classify
+ tag
+ landscape
Home work (3') - practise speaking at home
Preparation for the next lesson(1') -prepare Part C at home
Self–evaluation:
Date of preparation: March, 20th , 2008. Unit 13: HOBBIES
 	Date of teaching: March, 22nd , 2008 Period: 81 .Lesson: Part C Listening
	I.AIMS AND OBJECTIVES:
	- LANGUAGE CONTENT : 
+ To intoduce to the sts a passage about reading hobby
- LANGUAGE FUNCTION:
+To help the sts develop listening skills
- EDUCATIONAL AIM:
 	+ To help the sts realize the importance of reading books
1. Language:
a. Vocabulary: profitable (adj) à profitably (adv), gigantic (adj), bygone (adj), ignorantly (adv)
 b. Structure: simple sentences
 2. Skill: listening and speaking
3. Education factor: 
	- 	reading books to get knowledge
II.TEACHER AND STUDENTS' PREPARATION
1.Method: Communicative Approach
2.Techniques: explanation, pair work, group work, guessing
3.Material needed: textbook , cassete
4.Students' preparation: read the lesson at home
5.Previous exercises: talk about their hobbies
III. PROCEDURE IN CLASS:
1. Stabilization: 3 minutes 
A .Warm–up: Greetings 
B. Checking absence: Ask the monitor
 Checking up previous knowledge: 
Time needed: 5'
Questions: asks 2 sts to talk about their hobbies
Answer: textbook (part: speaking)
Presentation of the new material: Part C Listening 
TIME
TEACHER'S ACTIVITIES
STUDENT'S ACTIVITIES
THE CONTENT OF THE LESSON
7' 
5'
14'
7'
2'
I/Lead in 
- asks the sts to play the guessing game ( teacher hides a book in a box, then asks a student to go to the board, feel the book and express in English. The one who gives the right answer first will be the winner)
- leads to the lesson
II. Pre listening
- asks the sts to list 3 benefits of reading books, then share them with their partners
- writes on the board
- asks the students to pay attention to words in "Listen and Repeat"
- gives them the words' meaning
+ gigantic (adj) [ synonym]
+ fairy tale (n) [ real object]
+ profitably (adv) [ translation]
+ bygone (adj) [ example]
- asks the sts to listen and repeat after the teacher twice.
- calls on some sts to read them aloud.
III/ While listening
Task 1 
- introduces task 1
- asks the sts to read task 1 (true-false sentences) in 1'
- reads through th ... tly/ first of all
+ then/ next
III/ While writing
- asks the sts to write a paragraph of telling about their hobbies in 10'
- goes around to help
- asks some sts to read their writing
IV/ Post writing 
- corrects the sts' writing
- answer the questions
* I collect books. I just spend time for it in the summer. Yes, I do.
- listen
- answer, listen to the teacher and take notes
+ name of the collection
+ how you collect them (buy them, ask someone to give them, exchange them,)
+ how you keep them
+ when you started your collection
+ how you classify them
+ why you collect them (to relax, to kill time, to entertain oneself)
+ what you plan for the future
- answer: We use a variety of tenses
- write the paragraph in 10'
- ask for help
- read their writing
- listen, correct
UNIT 12:
Part D Writing
Outline
+ name of the collection
+ how you collect them (buy them, ask someone to give them, exchange them,)
+ how you keep them
+ when you started your collection
+ how you classify them
+ why you collect them (to relax, to kill time, to entertain oneself)
+ what you plan for the future
Suggested writing
Home work (3'):
- write a paragraph (workbook)
Preparation for the next lesson ( 1'):
-prepare Part E at home 
Self–evaluation:
One of my hobbies is watching TV. My hobby starts when I was a girl of five. I would always ask my parents to turn on the TV set so that I could enjoy the cartoon films or advertisements.
Now I find that watching TV enables me learn many things. I learn a lot about how people lived in the old times. I learn about the wonders of the world, space travel, animals and plants and other fascinating things.
TV programs provide me with so many information and facts. I can stay at home and watch almost everything happen around me.
I think I will continue to watch TV athough Tv programs are always useful to me. Watching TV is actually a good hobby.
Date of preparation: March, 26th , 2008 Unit 12 : 
 	Date of teaching: March, 29th , 2008 Period: 83 Lesson: Part E Language Focus
I.AIMS AND OBJECTIVES:
	- LANGUAGE CONTENT : 
+ To help the sts to pronounce the four sounds / pt/, / bd, / ps/, /bz/
+ To introduce to the sts how to use cleft sentence (subject focus, object focus, adverbial focus) 
- LANGUAGE FUNCTION:
 	+ To enable the students to pronounce four sounds above correctly
	+ To help them do some grammar exercises related to cleft sentences
- EDUCATIONAL AIM:
	 - To make the students aware of the importance of using correct grammar 
1. Language:
a. Vocabulary: review vocabulary learnt 
 b. Structure: cleft sentences
	2.Skill: Integrated skills
3.Education factor: doing grammatical exercises regularly
II.TEACHER AND STUDENTS' PREPARATION
1.Method: Communicative Approach
2.Techniques: explanation, analysis, question-answer, group work, pair work
3.Material needed: textbook, reference books, hand-outs 
4.Students' preparation: do the exercises at home.
5.Previous exercises: write a paragraph telling about their hobbies
III. PROCEDURE IN CLASS:
1. Stabilization: 2 minutes 
	A .Warm–up: Greetings 
	B. Checking absence: Ask the monitor
 Checking up previous knowledge: 
Time needed: 2'
Questions: asks some students to hand in their notebooks 
Answer: teacher checks at home
Presentation of the new material: Part E Language focus
TIME
TEACHER'S ACTIVITIES
STUDENT'S ACTIVITIES
THE CONTENT OF THE LESSON
5'
5'
4'
10'
5'
5'
5'
I/Lead in 
- asks the sts to play the game "Simon says"[ T will ask the 5 sts to do something, but sts only follow his order if his command begins with "please". When the teacher doesn't say "please" at the beginning of the request, Ss don't have to follow it. The student who has most right answers will be the winner. ( The words are: stopped, robbed, stops, robs)]
- introduces the lesson: "Today we'll practise some sounds / pt/, /bd/, / ps/, / bz/
II. Presentation 1
* Pronounciation
Activity 1: Listen and Repeat
- reads the words in the text book carefully once, shows them how to pronounce the sounds correctly
- asks the sts to read the words in the textbook after the teacher
- calls on some sts to read the words
- makes corrections
Activity 2: Practise the sentences
- reads the sentences once and explains the meaning if necessary
- asks the sts to work in pairs to practise reading the sentences.
- calls on some sts to read aloud
- gives comments
III. Presentation 2
* Grammar: Cleft sentences
- draws a girl and her mother on the board. Her mother is giving her a book
- asks the sts: What is her mother doing? (She is giving her daughter a book)
- introduces the sentence with "It"
* It was her mother who is giving a book to her.
- explains: her mother is the subject of the sentence. To emphasize, we can begin with "It was her mother who
+ Her mother is giving her daughter a book
+ It was her mother who is giving a book to her.
- gives another example
(T draws a girl who saw a cat. Asks: What did the girl see?)
- writes on the board
The girl saw a cat.
- asks: Is the cat here the subject or object of the sentence? (object)
- asks the sts to rewrite the sentence with "It"
- writes on the board
+ It was the cat that the girl saw.
- explains how to write cleft sentence with object focus.
+ The girl saw the cat.
+ It was the cat that the girl saw.
- expands the second sentence
+ The girl saw the cat in the garden. (in the garden: adverbial modifier)
à It was in the garden that the girl saw the cat.
IV. Practice
Exercise 1 
- asks the sts to do exercise 1 in pairs
- goes around to offer help
- calls on some sts to answer
- corrects
1. It was the boy who visited his uncle last month.
2. It was my mother who bought me a present on my birthday.
3. It was Huong and Sandra who sang together at the party.
4. It was nam's father who got angry with him.
5. It was the boys who played football all day long. 
6. It was the girl who received a letter from his friend yesterday.
7. It was his presence at the meeting that frieghtened the boy.
Exercise 2
- asks the sts to do the task individually
- calls on some sts answer orally
- corrects
1. It is English that the man is learning.
2. It was the book that the woman gave him.
3. It was the postcard that she sent her friend.
4. It was the book that Hoa borrowed from Long.
5. It was his garden whom the little boy greeted in a strange language.
6. It was the policeman whom the pedestrian asked a lot of questions.
7. It was the stranger whom the dog barked at.
Exercise 3
- asks the sts to do exercise 3 in groups in 2'
- asks the sts to answer orally
- gives feedback
1. It was in the garden that the boy hit the dog.
2. It was for tea that she made some cakes.
3. It was for him that his father repaired the bike.
4. It was on his birthday that she presented him a book.
5. It was in Britain that he met his wife.
6. It was from the shop that she bought that present.
7. It was at 8 a.m that the meeting started.
- 5 sts join tha game "Simon says". Others listen 
- listen
- listen
- read the words in the textbook after the teacher
- read the words aloud
- listen, repeat if necessary
- listen 
- practise reading the sentences
- practise
- listen
 look at the board
- answer: She is giving her daughter a book
 listen, take notes
* Her mother is giving her daughter a book
* It was her mother who is giving a book to her.
- listen, look at the board
- answer: The girl saw a cat.
- take notes
- answer: object
- rewrite the sentence with "It"
- take notes
+ It was the cat that the girl saw.
- listen
+ The girl saw the cat.
+ It was the cat that the girl saw.
- listen, take notes
+ The girl saw the cat in the garden. (in the garden: adverbial modifier)
- do exercise 1 in 2'
- asks for help
- answer
- take notes
1. It was the boy who visited his uncle last month.
2. It was my mother who bought me a present on my birthday.
3. It was Huong and Sandra who sang together at the party.
4. It was nam's father who got angry with him.
5. It was the boys who played football all day long. 
6. It was the girl who received a letter from his friend yesterday.
7. It was his presence at the meeting that frieghtened the boy. 
- do the task individually
- answer orally
- take notes
1. It is English that the man is learning.
2. It was the book that the woman gave him.
3. It was the postcard that she sent her friend.
4. It was the book that Hoa borrowed from Long.
5. It was his garden whom the little boy greeted in a strange language.
6. It was the policeman whom the pedestrian asked a lot of questions.
7. It was the stranger whom the dog barked at.
- do the task individually
- answer orally
- take notes
1. It was in the garden that the boy hit the dog.
2. It was for tea that she made some cakes.
3. It was for him that his father repaired the bike.
4. It was on his birthday that she presented him a book.
5. It was in Britain that he met his wife.
6. It was from the shop that she bought that present.
7. It was at 8 a.m that the meeting started.
UNIT 13: 
HOBBIES
Part E Language Focus
Pronunciation 
/ pt/ / bd/ /ps/ /bz/
Stopped robbed stops robs
Jumped stabbed steps bribes
Stepped grabbed maps rubs
Trapped bribed shops clubs
Grammar: 
Cleft sentence: subject of the sentence
+ Her mother is giving her daughter a book
+ It was her mother who is giving a book to her.
Cleft sentence: object of the sentence
+ It was the cat that the girl saw.
Cleft sentence: adverbial modifier of the sentence
The girl saw the cat in the garden.
Exercise 1
1. It was the boy who visited his uncle last month.
2. It was my mother who bought me a present on my birthday.
3. It was Huong and Sandra who sang together at the party.
4. It was nam's father who got angry with him.
5. It was the boys who played football all day long. 
6. It was the girl who received a letter from his friend yesterday.
7. It was his presence at the meeting that frieghtened the boy.
Exercise 2 
1. It is English that the man is learning.
2. It was the book that the woman gave him.
3. It was the postcard that she sent her friend.
4. It was the book that Hoa borrowed from Long.
5. It was his garden whom the little boy greeted in a strange language.
6. It was the policeman whom the pedestrian asked a lot of questions.
7. It was the stranger whom the dog barked at.
Exercise 3
1. It was in the garden that the boy hit the dog.
2. It was for tea that she made some cakes.
3. It was for him that his father repaired the bike.
4. It was on his birthday that she presented him a book.
5. It was in Britain that he met his wife.
6. It was from the shop that she bought that present.
7. It was at 8 a.m that the meeting started.
Homework (1')
- redo the execises and do some exercises in the workbook
Preparation for the next lesson (1'):
-prepare for the first semester examination
Self–evaluation: