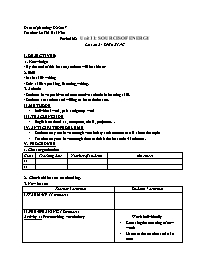 I. OBJECTIVES:
 1. Knowledge
- By the end of this lesson, students will be able to:
2. Skill
- Main skill: writing
- Sub- skills: speaking, listening, writing.
3. Attitude
- Students have positive and constructive attitude in learning skill.
- Students are serious and willing to learn the lesson.
II. METHODS
- Individual work, pair and group work
III. TEACHING AIDS
- English textbook 11, computer, chalk, projector
IV. ANTICIPATED PROBLEMS
- Students may not have enough vocabulary and structure to talk about the topic
- Teacher may not have enough time to finish the lesson in 45 minutes.
Bạn đang xem tài liệu "Ôn tập môn Anh văn 11 - Period 68 - Unit 11: Sources of energy - Lesson B: Speaking", để tải tài liệu gốc về máy bạn click vào nút DOWNLOAD ở trên
Date of planning: 8/2/2017
Teacher: Le Thi Hai Nhu
Period 68: Unit 11: SOURCES OF ENERGY
Lesson B - SPEAKING
I. OBJECTIVES: 
 1. Knowledge
- By the end of this lesson, students will be able to:
2. Skill
- Main skill: writing 
- Sub- skills: speaking, listening, writing. 
3. Attitude
- Students have positive and constructive attitude in learning skill.
- Students are serious and willing to learn the lesson.
II. METHODS
Individual work, pair and group work
III. TEACHING AIDS 
English textbook 11, computer, chalk, projector
IV. ANTICIPATED PROBLEMS
Students may not have enough vocabulary and structure to talk about the topic
Teacher may not have enough time to finish the lesson in 45 minutes.
V. PROCEDURE 
1. Class organization
Class
Teaching date
Number of students
Absentees
11
11
2. Check old lesson: no checking.
3. New lesson
Teacher's activities
Students' activities
I.WARM-UP ( 7 minutes) 
II. PRE-SPEAKING ( 8minutes ) 
Activity 1: Pre-teaching vocabulary
1.Technique: picture + ask students to answer the questions " what is this" 
=> nuclear reactor
2.Technique : definition (" able to be brought or used" ) + example (" is this dress available in large size" ) + picture. 
3.Technique: picture + synonym " very big" + example ( " an enormous house , an enormous car") 
4.
Technique : picture + definition (" that is replaced naturally ) 
non- renewable 
T reads new words 2 times and ask students to repeat it 
Leave students 1minute t self- practice.
Call 1 or 2 students to read new words
Check new words by an activity: 
Activity 2: Checking vocabulary
Matching new words in column A with its meaning in column B
Handout 1
A
B
1. enormous 
a. lò phản ứng
2. renewable 
b. có thể tái tạo được 
3. available 
c. khổng lồ, to lớn 
4. reactor 
d. có sẵn 
Task 1: Lead-in: You are going to identify which the statement talk about advantage and which the statement talk about the disadvantage. Write A for advantage and D for disadvantage.
- Ask Ss to do task 1. 
- Call on an S to come to the board and write down the answers.
- Check the answers with the whole class.
Work individually
Guessing the meaning of new words
Listen to the teacher and take note 
1. recruit (n) [ri:'æktə] : 
2. upgrade (adj) 
3. equip ( adj) [i'nɔ:məs]: to lớn, khổng lồ 
4 renewable (adj) [ri'nju:əbl]: Có thể tái tạo được 
Work individually
Match column A with column B as requirement 
Suggested answer 
1-c, 2-b, 3-d, 4-a 
Work in pair
Do task 1 as requirement 
Present their answers 
Suggested answer :
1-D, 2-D, 3-D, 4-A, 5-D, 6-A
III.WHILE SPEAKING ( 20 minutes)
Task 2: Talk about the advantages and disadvantages of some alternative sources of energy.
Activity 1
- Call 2 students to read the dialogue
- Ask students answer the question
 1. What structures are used to ask for opinion?
 2. Do you know any other structures? 
3. What about structures used to express opinions?
-Provide students with more structures (show slide). 
Handout 2
Asking for opinions:
Why do you think / believe so?
What's your opinion?
What do you think about?
What do you mean that?
How do you feel about?
Expressing opinions:
I think/ believe/ feel.
In my opinion,
According to,
It mean that
Expressing agreements
I agree
 I think so, too
That's true/ right.
It's good idea.
Expressing disagreements
 I don't think/ I don't agree/ I disagree 
Well, maybe
That might be true, but
Activity 2
- Give the handout 
Handout 3
A: I think/ believe that .can be an alternative source of energy.
B: Why do you think/ believe so?
A: Because our major sources of energy are running out  
B: I know
However, it is
- Ask students to work in pairs and make similar dialogues, using the provided words and structures
- Call on some pairs to present their own dialogues. 
- Give feedback.
Work in pair
Read the dialogue 
Answer the question as requirement of teacher 
Work in pair
- listen to the teacher 
- make a conversation
Sample conversation:
A: I think that solar energy can be an alternative source of energy
B: why do you think so?
A: because our major sources of energy are running out while solar energy is plentiful and infinite.
B: I know it is also clean and safe to the environment. However it is only possible during the day time"
IV. POST SPEAKING (8 minutes )
Task 3
- Asks Ss to work in groups to discuss the actions that you and your friends often do to use energy economically to protect our environment.
- Ask some students to stand up and tell loudly
- Listen and correct mistakes
Work in group
Listen to the teacher 
Give the answer 
 Suggested answer: 
" we often.
We often turn off electric devices like lights, fans when leave rooms, or unnecessary electric devices.
We go to school by bike everyday to protect our environment as well as practise our health
We join " the Earth hour" annually"
3. Consolidation ( 1 minute)
- Ask students what they have learnt about this lesson.
+ Remind 4 new words .
+ Summarize the advantages and disadvantages of using alternative source of energy.
4. Home work ( 1 minute)
- Ask students to revise Task 2
- Ask students to prepare Part C- Listening
VI.COMMENTS 
Good points .
Weak points