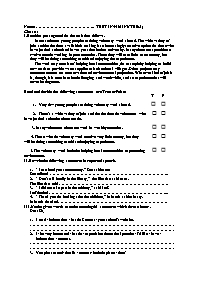 I.Read the passage and do the task that follows.
 More and more young people are doing voluntary work abroad. The wide variety of jobs and destinations available is making it an increasingly attractive option for those who have just left school and have a year free before university. Many choose to spend these twelve months working in poor countries. There they will earn little or no money, but they will be doing something useful and enjoying the experience.
 The work may consist of helping local communities, for example by helping to build new roads or provide water supplies to isolated rural villages. Other projects may concentrate more on conservation and environmental projection. Whatever kind of job it is, though, it is certain to be challenging and worthwhile, and an experience that will never be forgotten.
Bạn đang xem tài liệu "Thiết kế bài dạy Tiếng Anh 11 - Test in 45 minutes", để tải tài liệu gốc về máy bạn click vào nút DOWNLOAD ở trên
Name: .. TEST IN 45 MINUTES (A)
Class: 11
I.Read the passage and do the task that follows.
 More and more young people are doing voluntary work abroad. The wide variety of jobs and destinations available is making it an increasingly attractive option for those who have just left school and have a year free before university. Many choose to spend these twelve months working in poor countries. There they will earn little or no money, but they will be doing something useful and enjoying the experience.
 The work may consist of helping local communities, for example by helping to build new roads or provide water supplies to isolated rural villages. Other projects may concentrate more on conservation and environmental projection. Whatever kind of job it is, though, it is certain to be challenging and worthwhile, and an experience that will never be forgotten.
Read and decide the following statements are True or False:
 T F
Very few young people are doing voluntary work abroad. □ □
There's a wide variety of jobs and destinations for volunteers who □ □
have just left school to choose to do.
 3. Many volunteers choose to work in wealthy countries. □ □
 4. Those who do voluntary work receive very little money, but they □ □
will be doing something useful and enjoying experience.
 5. The voluntary work includes helping local communities or protecting □ □
environment.
II.Rewrite the following sentences in reported speech.
" I can lend you some money." Sue said to me
Sue offered ..
" Don't talk loudly in the library," the librarian said to us.
The librarian told .
" I did not take part in the robbery," said Jeff.
Jeff denied ...
" Thank you for looking after the children," Miranda said to Mary.
Miranda thanked .
III.Use the given words to make meaningful sentences which form a letter.
Dear Sir,
I read / information / Maths Contest / your school's website.
I / be very interested / Maths / especial mathematical puzzles / I'd like / have / information / contest.
You please send / details / contest / include place / time?
Please contact me / 054-3833272
I look forward / hear / you soon.
IV.Choose the word whose underlined part is pronounced differently from that of the others.
1. A. year B. yellow C. young D. why
2. A. when B. whose C. which D. where
3. A. play B. please C. place D. pretty
4. A. twenty B. twinkle C. two D. between
V. Choose the word with the different stress pattern.
1. A. provide B. children C. problem D. orphan
2. A. voluntary B. minority C. activity D. participant
VI.Choose the best option.
The Olympic .. consist of the Summer and the Winter ones.
A. Contests B. Contest C. Game D. Games
2. Henry promised  till we came.
A. to staying B. would stay C. staying D. to stay
3. She apologised  hurting my feelings.
A. for B. on C. to D. in
4. Olga finally admitted  responsible for the problem.
A. being B. was C. to be D. and was
5. What kind of .. work are you participating in?
A. voluntary B. volunteering C. voluntarily D. volunteered
6. Mrs. White spends most of her salary  clothes.
A. to buy B. buying C. in buying D. in order to buy
7. . tired, he went to bed right away.
A. To have felt B. Having felt C. Feeling D. To feel
8. On entering the bedroom, I found my pet cat .. a roast chicken leg in bed.
A. ate B. to eat C. was eating D. eating
9. The teacher encouraged Nam  harder.
A. to work B. working C. that he work D. he should work
10. To participate .. the contest, you must complete two activities.
A. in B. at C. during D. with

Tài liệu đính kèm:
test 45 lop 11.doc