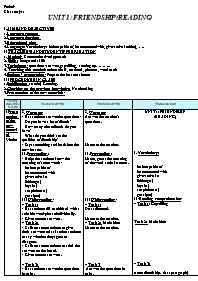 I.AIMS AND OBJECTIVES
1.Language content:
2.Language function:
3.Educational aim:
4.Language: Vocabulary: be incapable of, be concerned with, give-and-take(idm), .
II.TEACHER'S AND STUDENTS' PREPARATION
1. Method: Communicative Approach
2. Skills: Integrated skills
3.Techniques: questions-answers, gap-filling, suming up .
4. Teaching aids needed: colour chalk, textbook, pictures, word cards
5.Students' preparation: Prepare the lesson at home
III.PROCEDURE IN CLASS
1.Stabilization: (1min) Greeting.
2.Checking up the previous knowledge No checking
3.Presentation of the new materials:
Period:	 
Class(es):11
UNIT 1: FRIENDSHIP (READING)
I.AIMS AND OBJECTIVES
1.Language content: 
2.Language function: 
3.Educational aim: 
4.Language: Vocabulary: be incapable of, be concerned with, give-and-take(idm), .
II.TEACHER'S AND STUDENTS' PREPARATION
1. Method: Communicative Approach
2. Skills: Integrated skills 
3.Techniques: questions-answers, gap-filling, suming up.. 
4. Teaching aids needed: colour chalk, textbook, pictures, word cards
5.Students' preparation: Prepare the lesson at home
III.PROCEDURE IN CLASS
1.Stabilization: (1min) Greeting.
2.Checking up the previous knowledge No checking
3.Presentation of the new materials:
Teaching steps, time location
Teacher's activities
Students' activities
The lesson content
I.Presentation of the new material
34mins
II.Consolidation
(5mins)
III. Homework
5mins
I. Warm up: 
- Has students answer the questions:
+ Do you have a lot of friends? 
+ How many close friends do you have?
+ What do you think are the qualities of friendship?
- Says something and leads into the 
new lesson.
II. Pre-reading:
- Helps the students know the meaning of some words:
+ be incapable of 
+ be concerned with 
+ give-and-take
+ lifelong(a)
+ loyal(a) 
+ suspicious(a) 
+ gossip(n) 
III.While-reading:
* Task 1: 
- Has students fill each blank with a suitable word/phrase individually.
- Gives correct answers.
* Task 2: 
- Calls on some students to give their answers and asks other students to say whether they agree or disagree.
- Calls on some students to stick the answers on the board.
- Gives correct answers.
* Task 3: 
- Has students answer the questions in pairs.
- Gives correct answers.
IV. Post-reading:
- Has students discuss the questions in pairs: "What do we need to have friends?" 
- Gives feedback.
- Emphasizes the value of friendship in ourlife.
No
Gets the students to learn new words , read the text, answer the questions again & to prepare for the next lesson.
I. Warm up:
Answer the teacher's questions.
Listen to the teacher.
II. Pre-reading:
Listen, guess the meaning of the word and take notes.
III.While-reading:
* Task 1: 
Do as directed.
Listen to the teacher.
* Task 2: Main idea
Listen to the teacher.
* Task 3 
 Answer the questions in pairs.
Listen to the teacher.
IV. Post-reading:
Discuss the questions in pairs: "What do we need to have friends?".
Listen to the teacher.
Listen to the teacher and take notes.
UNIT 1: FRIENDSHIP (READING)
I. Vocabulary:
+ be incapable of 
+ be concerned with 
+ give-and-take
+ lifelong(a)
+ loyal(a) 
+ suspicious(a) 
+ gossip(n) 
II/ Reading comprehension:
* Task 1: Gap-filling
Task 2: Main idea
* Task 3: 
o true friendship. (last paragraph)
III/ Homework
- Learn new words, read the text and answer the questions again
- Prepare for the next lesson. 
* Self-evaluation: 
Period:	 
Class(es): 11A 
UNIT 1: FRIENDSHIP (SPEAKING)
I.AIMS AND OBJECTIVES
1.Language content: 
To provide the students with some words about characteristics and personalities.
2.Language function: 
3.Educational aim: 
4.Language: Vocabulary: forehead(n), crooked(a), quick-witted(a), modest(a)
II.TEACHER'S AND STUDENTS' PREPARATION
1. Method: Communicative Approach
2. Skills: Integrated skills 
3.Techniques: groupwork, describing, discussion, role-play
4. Teaching aids needed: colour chalk, textbook, pictures
5.Students' preparation: Prepare the lesson at home
III.PROCEDURE IN CLASS
1. Stabilization:(1min) Greeting.
2. Checking up the previous knowledge (5mins) * Questions: 
* Write some words on the board and answer the questions:
1. What is the first quality for true friendship and what does it tell you ?
2. Why are changeable and uncertain people incapable of true friendship ?
3.Presentation of the new materials:
Teaching steps, time location
Teacher's activities
Students' activities
The lesson content
I.Presentation of the new material
34mins
II.Consolidation
III. Home
work
5mins
I. Warm up: 
- Has students name parts of the body on the face and then ask them to mention some add to describe those parts.
- Tells the aim of the lesson.
II. Pre-speaking:
- Helps the students know the meaning of some words:
+ forehead(n) (pointing at his/her forehead)
+ crooked(a) (explanation)
+ quick-witted(a) (explanation)
III.While-speaking:
* Task 1: 
- Has students describe the people in the picture.
- Gives comments.
* Task 2: 
- Calls on some representatives to report the results of their discussion. to practise in front of the class.
- Gives final comments.
IV. Post-speaking: 
* Task 3: 
- Has students perform the interview.
- Goes around the class and provides help if necessary.
- Calls on some pairs to perform the interview.
- Elicits feedback from the class and gives final comments.
No consolidation
Gets the students to prepare for the next lesson
I. Warm up: 
Listen to the teacher.
II. Pre-speaking:
Listen, guess the meaning of the word and take notes.
III.While-speaking:
* Task 1: Describe the people in the picture.
Listen to the teacher.
 Task 2: 
Listen to the teacher.
IV. Post-speaking:
* Task 3: 
Listen to the teacher
Listen to the teacher and take notes.
UNIT 1: FRIENDSHIP (SPEAKING)
I. Vocabulary:
+ forehead(n): trán
+ crooked(a): describing one's nose (mũi khoằm)
+ quick-witted(a): nhanh trí
II/ Speaking tasks:
* Task 1: 
* Task 2: 
* Task 3: Role-play
What does he/she look like?
What does he/she like doing in his/ her free time?/What are his/her hobbies?
How is he/she?/Is he/she friendly?...
III/ Homework
Prepare for the next lesson. 
* Self-evaluation: 
Period: 	 
Class(es):11A 
UNIT 1: FRIENDSHIP (LISTENING)
I.AIMS AND OBJECTIVES
1.Language content: To help students know how to take notes while listening.
2.Language function: Listening and taking notes while listening.
3.Educational aim:
4.Language: Vocabulary: apartment building, sense of humour, give sb a ring,.
II.TEACHER'S AND STUDENTS' PREPARATION
1. Method: Communicative Approach
2. Skills: Integrated skills 
3.Techniques: questions-answers, True/False statement, taking notes, discussion.
4.Teaching aids needed: colour chalk, textbook, pictures, 
5.Students' preparation: Prepare the lesson at home
III.PROCEDURE IN CLASS
1.Stabilization:(1min) Greeting.
2.Checking up the previous knowledge(5mins)* Questions: 
Answer the question: What is the most important personality in friendship? Why?
3.Presentation of the new materials:
Teaching steps, time location
Teacher's activities
Students' activities
The lesson content
I.Presentation of the new material: 34mins
II.Consolidation
III.Home
work
5mins
I. Warm up: 
- Has students answer the questions:
1. Who is your best friend?
2. How did you happen to meet him or her?
3. How long have you known each other?
4. What qualities do you admire in your best friend? 
- Tells the aim of the new lesson. 
II. Pre-listening:
- Pre- teaches vocabulary:
+ apartment building
+ sense of humour
+ give sb a ring
+ go through a rough time 
+ residential area
III.While-listening:
* Task 1 
- Plays the tape once for students to do the task, 
- Gives the correct answers.
* Task 2 
- Has students fill the table with the things.
- Calls on some students to give the answers. Gives correct answers.
IV. Post-listening:
* Task 3: 
- Has students talk about how Ha has been Lan's best friend and how Minh has been Long's best friend in pairs.
- Comments on sts' performance.
No consolidation
Gets the students to learn the new words by heart and to prepare for the next lesson.
I. Warm up:
Answer the questions.
Listen to the teacher.
II. Pre-listening:
Listen, guess the meaning of the words and take notes.
III.While-listening:
* Task 1 
Listen Lan's talk, Long's talk and decide whether the statements are True/False
* Task 2 
Fill the table 
Listen again and note down the ideas in pairs.
IV. Post-listening:
* Task 3: 
Talk about how Ha has been Lan's best friend and how Minh has been Long's best friend.
Listen to the teacher.
Listen to the teacher and take notes.
UNIT 1: FRIENDSHIP (LISTENING)
I. Vocabulary
+ apartment building
+ sense of humour
+ give sb a ring = phone sb
+ go through a rough time
+ residential area
III.Listening tasks:
* Task 1 
+ Lan's talk: 1.F,2.F,3.T,4.F,5.T, 6.F
+ Long's talk: 1.F, 2.F, 3.T, 4.T, 5.T
* Task 2 – Taking notes
* Task 3: 
Talk about how Ha has been Lan's best friend and how Minh has been Long's best friend in pairs.
V. Homework
- Learn the new words by heart. 
- Prepare for the next lesson.
* Self-evaluation: 
Period: 
Class(es):11A 
UNIT 1: FRIENDSHIP (WRITING)
I.AIMS AND OBJECTIVES
1.Language content: To help students know how to write about a friend.
2.Language function:. 
3.Educational aim: 
4.Language: Vocabulary: 
II.TEACHER'S AND STUDENTS' PREPARATION
1. Method: Communicative Approach
2. Skills: Integrated skills 
3.Techniques: questions-answers, groupwork, translation. 
4. Teaching aids needed: colour chalk, textbook, charts
5.Students' preparation: Prepare the lesson at home
III.PROCEDURE IN CLASS
1.Stabilization:(1min) Greeting.
2.Checking up the previous knowledge(5mins)
* Questions: Talk about how Ha has been Lan's best friend and how Minh has been Long's best friend in pairs.
3.Presentation of the new materials:
Teaching steps, time location
Teacher's activities
Students' activities
The lesson content
I.Presentation of the new material: 34mins
II.Consolidation
III. Home
work
5mins
I. Warm up: 
- Has students use his/her partner's name to write an acrostic poem. He/she has to use the adjectives beginning with the letters of the name to describe his/her friend's personality or appearance.
- Tells the aim of the new lesson.
II. Pre-writing:
* Activity 1: 
- Hangs on a chart with descriptive adjectives on the board.
- Has students work in groups of four or five to put the adjectives under the following headings:
- Gives feedback on what students have.
* Activity 2: 
- Has students read the descriptions and decide which person is being described in each paragraph.
- Calls on some students to give the answers.
III.While-writing:
- Has students write a short passage about a friend of theirs.
- Goes around the class and provides help if necessary.
IV. Post-writing: 
- Has students tell them to read and correct their friends' writing.
- Calls on a student from each group to read their group's best writing, and ask students to give comments.
- Gives feedback.
No consolidation
Gets the students to learn by heart the descriptive adjectives and to prepare for the next lesson.
I. Warm up:
Use his/her partner's name to write an acrostic poem.. 
Listen to the teacher.
II. Pre-writing:
* Activity 1: 
Put the adjectives under the following headings
Listen to the teacher and take notes.
* Activity 2: 
Read the descriptions and decide which person is being described in each paragraph.
III.While-writing:
Write a short passage about a friend of theirs.
IV. Post-writing:
Listen to the teacher and take notes.
Listen to the teacher and take notes.
UNIT 1: FRIENDSHIP (WRITING)
I. More activities:
* Activity 1: Categorizing
* Activity 2: Recognizing and Matching
→ Answers: 
 A. 4 B.5 C.2
II/ Writing tasks:
III/ Homework
Prepare for the next lesson. 
* Self-evaluation: 
Period:	 
Class(es):11A 
UNIT 1: FRIENDSHIP (LANGUAGE FOCUS)
I.AIMS AND OBJECTIVES
To help the students distinguish between the two phonemic sounds /dʒ / and /t∫/.
* PRONUNCIATION: 
* GRAMMAR: To-infinitive and infinitive without To
II.TEACHER'S AND STUDENTS' PREPARATION
1. Method: Communicative Approach
2. Skills: Integrated skills 
3.Techniques: questions-answers, explanation, 
4. Teaching aids needed: colour chalk, textbook, pictures.
5.Students' preparation: Prepare the lesson at home
III.PROCEDURE IN CLASS
1.Stabilization:(1min) Greeting.
2.Checking up the previous knowledge(5mins)* Questions: Describe a person from the class.
3.Presentation of the new materials:
Teaching steps, time location
Teacher's activities
Students' activities
The lesson content
I.Presentation of the new material: 34mins
II.Consolidation
III.Home
work
5mins
A. PRONUNCIATION
I. Lead-in:
- Has students from each group arrange these words into the suitable column. The group with more correct answer wins the game.
- Tells the aim of the lesson.
II. Pre-practice:
- Plays the tape (or reads) once for students to hear the words containing these two sounds. 
- Plays the tape (or reads) again and this time asks students to repeat after the tape.
III.Controlled -practice:
- Has students practise the sentences and underline the words with the sounds in pairs. 
-Calls on some students to read aloud.
- Asks the rest of the class to listen and give comments.
- Corrects their mistakes.
IV. Free-practice:
- Has students give examples with the sounds.
- Gives comments.
B. GRAMMAR: 
INFINITIVE WITH "TO" & INFINITIVE WITHOUT "TO"
I. Lead-in:
- Has students answer the questions:
+ What is she doing?
+ Do you know why she learns English?
- Says something and leads into the new lesson.
II. Pre-practice:
- the infinitive with "to" and without "to":
e.g: To know how to drive is useful.
e.g: She likes to dance./They decided to build a new hospital.
III.Controlled -practice:
* Exercise 1: 
- Has students put the words in the correct order to make sentences.
- Calls on some students to read out their answers.
- Gives correct answers. 
* Exercise 2:
- Has students rewrite the sentences by using the words given in pairs.
- Checks the answers with the whole class and gives correct answers.
IV. Free-practice:
- Has students make five sentences with to-infinitive and bare infinitive individually.
- Checks the answers with the whole class.
No consolidation
Gets the students to review the grammar points they have learnt and to prepare for the next lesson.
A. PRONUNCIATION
I. Lead-in:
Arrange these words into the suitable column.
Listen to the teacher.
II. Pre-practice:
Listen to the teacher and take notes.
Listen to the tape.
III.Controlled -practice:
Practise the sentences and underline the words with the sounds.
Listen and take notes.
IV. Free-practice:
Give examples with the sounds.
Listen to the teacher.
B. GRAMMAR: 
* INFINITIVE WITH "TO" & INFINITIVE WITHOUT "TO"
I. Lead-in: 
Listen to the teacher.
II. Pre-practice:
Listen to the teacher and take notes.
III.Controlled -practice:
* Exercise 1: 
Put the words in the correct order to make sentences.
Listen to the teacher.
* Exercise 2:
Listen to the teacher and take notes.
IV. Free-practice:
Make five sentences with to-infinitive and bare infinitive individually.
Listen to the teacher and take notes.
UNIT 1: FRIENDSHIP (LANGUAGE FOCUS)
A. PRONUNCIATION
B. GRAMMAR:
 INFINITIVE WITH "TO" & INFINITIVE WITHOUT "TO"
A. INFINITIVE WITH "TO"
e.g: To know how to drive is useful.
e.g: She likes to dance./They decided to build a new hospital.
B. INFINITIVE WITHOUT "TO"
 Let/make + O + bare infinitive
* Exercise 1: 
1. Who wants something to eat?
2. I have some letters to write.
3. I was/am delighted to hear the news.
* Exercise 2:
1. The police watched them get out of the car.
2. They let him write a letter to his wife.
3.I heard them talk in the next room.
III/ Homework
- Review to infiniitive and bare infinitive at home.
- Prepare for the next lesson.
* Pictures: 
* Self-evaluation: