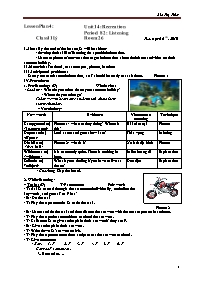 I. Aims: By the end of the lesson, Ss will be able to:
- develop their skill of listening for specific information.
- Listen to pieces of conversation to get information about the leisure activities on their summer holiday.
II. Materials: Textbook, cassette tapes, picture, handout
III. Anticipated problems:
 Ss may not catch some information, so T should be ready to assist them. Picture 1
IV. Procedure:
1. Pre-listening: (8') Whole class
* Lead in: - What do you often do on your summer holiday?
 - Where do you often go?
Today we will hear some students talk about their summer holiday.
Bạn đang xem tài liệu "Thiết kế bài dạy môn Tiếng Anh 11 - Unit 14: Recreation - Period 82: Listening", để tải tài liệu gốc về máy bạn click vào nút DOWNLOAD ở trên
Lesson Plan 4: 	Unit14: Recreation 
	Period 82: Listening
	Class 11Lý	Room: 26 	 Tue, April 6 th , 2010
I. Aims: By the end of the lesson, Ss will be able to:
- develop their skill of listening for specific information.
- Listen to pieces of conversation to get information about the leisure activities on their summer holiday.
II. Materials: Textbook, cassette tapes, picture, handout
III. Anticipated problems: 
 Ss may not catch some information, so T should be ready to assist them. Picture 1
IV. Procedure:
1. Pre-listening: (8') 	Whole class
* Lead in: - What do you often do on your summer holiday? 
 - Where do you often go?
Today we will hear some students talk about their 	summer holiday.
 * Vocabulary:
New words
Evidence
Vietnamese meaning
Technique
Campground (n)
/'kæmpgraund/
Picture 1- what are they doing? Where is this?
Bãi cắm trại
Picture 
Depressed (a)
/di'prest/
Look at me and guess how I am?
Thất vọng
Miming 
Dirt bike (n)
 /'dɜ:t 'baIk/
Picture 2- what is it?
Xe ô tô địa hình
Picture 
Wilderness (n)
/'wildənəs/
It is extremely quite. There is nothing in here.
Miền hoang dã
Explanation
Solitude (n)
/'sɒlItju:d/
What is your feeling if you have to live at desert?
Đơn độc
Explanation 
* Checking: Slap the board.
2. While-listening:
* Task 1: (8') 	T/F statements	Pair work
- T: Ask Ss to read through the statements individually, underline the key words, and guess T or F in 1'
- Ss: Do the task
- T: Play the tape once for Ss to do the task.	Picture 2
- Ss: Listen and do the task and then discuss the answers with the next to person in a minute.
- T: Play the tape the second time to check the answers.
- T: Call some Ss to give and explain their answers if they are F.
- Ss: Give and explain their answers.
- T: Write down Ss'answers on b/b.
- T: Play the tape one more time and pause at the answers to check.
- T: Give comments
 * Key: 	1. T	 2. T 3. F 4. T 5. F 6. T
	Correct F sentences:
 3. He used to. 
	 5. She does not want to live in nature and she does not enjoy it because of the solitude 	of the wilderness.
* Task 2: (8')	Gap fill 	Individual work
- T: Deliver the following handout and ask Ss to listen and fill in the gaps. Let Ss guess the results in 1' before listening.
Listen again and write the missing words
ANNA: We might stay at campgrounds in the park, but wilderness areas are more fun. What we enjoy most is .......... in the desert, '........... in waterfalls, and swim in the lakes and river. And at night they sleep in sleepingƒ.............
TERRY: I do think these natural places aren't as beautiful as they used to be. Now more and more people are going to these places. They "............ in the forests, and take…............. with them. They do not care about nature. I believe not only people are important to the world - †............ is important, too.
 MARY: I hate camping, too. I cannot put up ‡............ in the wind. I cannot make a fire in the rain, and a backpack is usually too heavy for me. So I'd better stay in the cities and enjoy the comfort they offer.
- T: Play the tape again for Ss listen and complete the text.
- Ss: Listen again & note down the answers.
- T: Ask Ss to discuss the answers with their friends in 1', after that call on 2 Ss to write down the answers on b/b.
- Ss: Go to b/b & write down the answers
- T: Play the tape one more time and pause at the answers to check with the whole class.
 * Key: 1. to ride our dirt bike	2. take showers	 3. bags or tents	 4. leave trash	5. rocks and plants	
 6. nature	7. an umbrella tent 
3. Post-listening: (5') 	Interview	Pair work
- T: Give instruction: I will deliver you a handout. You will work in pair to interview your partner about his/her memorable summer holiday and then take note on your handout.
When 
Where 
How long 
Activities 
Advantages 
Disadvantages
- T: Check instruction & model with a good Ss
 Deliver the following handout
- Ss: Work in pair & interview
- T: Call on some groups go to b/b and report.
- Ss: Go to b/b and report.
-T: Give feedback
4. Home work: (1')
 + learn by heart the new words
 + prepare for the next lesson "writing."
5. Fifteen- minute test. (Attached file) (15')
 Student's signature	 	 Supervisor's signature
 Bùi Thị Thùy Nguyễn Kiên Tường

Tài liệu đính kèm:
unit 14(1).doc