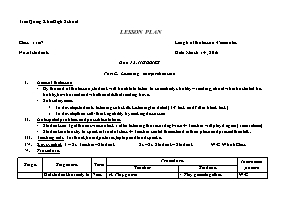 I. Aims of the lesson:
- By the end of the lesson, students will be able to listen to somebody's hobby – reading, about when he started his hobby, how he read and what benefits that reading have.
- Subsidiary aims:
 To develop students' listening subskills: Listening for detail (T/F task and Fill in blank task)
 To develop their self-thinking ability by making discussion
II. Anticipated problems and possible solutions:
- Students can't get the answers on task 1 after listening the recording twice  Teacher will play it again (1 more time)
- Students are too shy to speak in front of class  Teacher can let them stand in their place and present their talk.
III. Teaching aids: Textbook, board, pictures, laptop and loudspeaker.
IV. Key symbols: T – Ss: Teacher – Students Ss – Ss: Students – Students W/C: Whole Class
V. Procedures:
Bạn đang xem tài liệu "Thiết kế bài dạy môn Tiếng Anh 11 - Unit 13: Hobbies - Part C: Listening comprehension - Tran Quang Khai High School", để tải tài liệu gốc về máy bạn click vào nút DOWNLOAD ở trên
Tran Quang Khai High School
LESSON PLAN
Class: 11a17	Length of the lesson: 45 minutes
No. of students:	Date: March 14th, 2016
Unit 13: HOBBIES
Part C: Listening comprehension
Aims of the lesson:
By the end of the lesson, students will be able to listen to somebody's hobby – reading, about when he started his hobby, how he read and what benefits that reading have. 
Subsidiary aims:
To develop students' listening subskills: Listening for detail (T/F task and Fill in blank task)
To develop their self-thinking ability by making discussion
Anticipated problems and possible solutions: 
Students can't get the answers on task 1 after listening the recording twice ð Teacher will play it again (1 more time)
Students are too shy to speak in front of class ð Teacher can let them stand in their place and present their talk.
Teaching aids: Textbook, board, pictures, laptop and loudspeaker.
Key symbols: T – Ss: Teacher – Students 	Ss – Ss: Students – Students	W/C: Whole Class
Procedures: 
Stages
Stage aims
Time
Procedures
Interaction pattern
Teacher
Students
Lead – in stage
Get students be ready to learn new lesson and have an idea what the topic will be.
7ms
Play game:
Divide class into 4 teams.
Show pictures and words.
When the teacher say "GO", 1 person from each team turns over 2 cards (1 picture and 1 word).
If these 2 cards match each other, this team has 1 point.
Team A goes first.
Allow students 3ms to play game.
Introduce the topic.
Play game together.
Take turn to turn over the cards.
W/C
T – Ss 
The Pre – listening stage
Equip students with some new words so that they would feel easier when listen to the tape.
5ms
Vocabulary 
Introduce some new words:
Gigantic (a) 
Bygone (a)
Jungle (n) = tropical forest
Ignorantly (adv) 
Get fed up (v)
Use pictures to explain the new words.
Read aloud and ask students to repeat.
Listen, repeat and take notes.
T – Ss 
The While – listening stage
Get students practice listen for details.
Focus on accuracy.
13ms
Listen
Task 1: Listen and decide if the statements are true (T) or false (F)
Allow students 1 minute to look through these statements.
Ask them to find out key word(s) of each statement.
Ask students to listen to the recording and do task 1 individually.
Play the recording twice.
Let students check their answers with their partners.
Ask students to give their answers and explain it orally.
Play the tape again and check the answer with the whole class.
Give feedback.
Suggested answers: 
T
F (His parents got fed up with reading to him)
F (omit didn't)
F (anything)
T
T
T
F (certainly)
Look through these statements.
Find out the key words.
Listen to the recording and do task 1.
Check the answers with their partners.
Give the answers and explain it.
Listen and take notes.
T – Ss 
Ss – Ss
T – Ss 
Get students listen again in to recognize the missing words as well as checking their spelling.
Focus on accuracy.
10ms
Listen again
Allow students 1 minute to read through the passage.
Ask students to listen again and do task 2: Fill in blanks
Play the tape twice.
Ask students to check their answers with their friends.
Ask students to give their answers on the board.
Play the recording again (if necessary) and check the answers with the whole class.
Suggested answers: 
wonderful
disease
jungle
certainly
ignorantly
Read through the passage.
Listen again and do task 2.
Check the answers with their friends.
Give the answers.
Listen and take notes.
T – Ss 
Ss – Ss 
T – Ss 
The Post – listening stage
Develop students' self-thinking ability by finding out the disadvantages of over – reading. 
10ms
Discussion 
Ask students to make groups of fours.
Ask students to brainstorm and make a list of disadvantages of over-reading.
Suggested answers:
Be harmful for eyes
Get tired
Won't have enough time for studying
Won't have enough physical exercise 
Ask students to give examples if possible.
Allow students 3 minutes to do this task.
Ask some groups to write their list on the board.
Make groups of 4.
Groups work.
Write their options on the board.
Ss – Ss 
T – Ss 
Homework 
Give students practice their own writing at home.
1ms
Write a short passage about disadvantages of over-reading.
Listen and take note.
T – Ss 

Tài liệu đính kèm:
Unit_13_Hobbies.docx