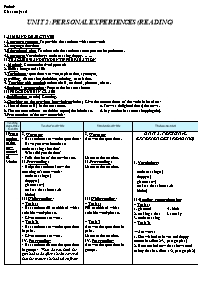 I.AIMS AND OBJECTIVES
1.Language content: To provide the students with some words
2.Language function:
3.Educational aim: To educate in the students some personal experiences.
4.Language: Vocabulary: embarrassing, floppy .
II.TEACHER'S AND STUDENTS' PREPARATION
1. Method: Communicative Approach
2. Skills: Integrated skills
3.Techniques: questions-answers, explanation, synonym,
gap-filling, discussion, definition, miming, translation.
4. Teaching aids needed: colour chalk, textbook, pictures, charts.
5.Students' preparation: Prepare the lesson at home
III.PROCEDURE IN CLASS
1.Stabilization:(1min) Greeting.
2.Checking up the previous knowledge:(5mins) Give the correct forms of the verbs in brackets:
a. I heard them (talk) in the next room. c. I'm/was delighted (hear) the news.
b. The customs officers made him (open) the briefcase. d. My mother has some shopping (do).
3.Presentation of the new materials:
Period:	 
Class(es): 11A 
UNIT 2: PERSONAL EXPERIENCES (READING)
I.AIMS AND OBJECTIVES
1.Language content: To provide the students with some words 
2.Language function: 
3.Educational aim: To educate in the students some personal experiences.
4.Language: Vocabulary: embarrassing, floppy..
II.TEACHER'S AND STUDENTS' PREPARATION
1. Method: Communicative Approach
2. Skills: Integrated skills 
3.Techniques: questions-answers, explanation, synonym, 
gap-filling, discussion, definition, miming, translation. 
4. Teaching aids needed: colour chalk, textbook, pictures, charts.
5.Students' preparation: Prepare the lesson at home
III.PROCEDURE IN CLASS
1.Stabilization:(1min) Greeting.
2.Checking up the previous knowledge:(5mins) Give the correct forms of the verbs in brackets:
a. I heard them (talk) in the next room. 	c. I'm/was delighted (hear) the news.	
b. The customs officers made him (open) the briefcase.	d. My mother has some shopping (do).
3.Presentation of the new materials:
Teaching steps, time location
Teacher's activities
Students' activities
The lesson content
I.Presentation of the new material
34mins
II.Consolidation
III.Homework
5mins
I. Warm up: 
- Has students answer the questions:
+ Have you ever been in an embarrassing situation? 
+ What did you do then?
- Tells the aim of the new lesson.
II. Pre-reading:
- Helps the students know the meaning of some words:
+ embarrassing(a) 
+ floppy(a) 
+ glance at(v)
+ make a fuss about s.th
+ idol(n) 
III.While-reading:
* Task 1: 
- Has students fill each blank with a suitable word/phrase.
- Gives correct answers.
* Task 3: 
- Has students answer the questions in pairs.
- Gives correct answers.
IV. Post-reading:
- Has students discuss the questions in groups: "What do you think the girl had to do after she discovered that the money she had taken from the boy's bag was not hers?" 
- Makes comments, gives feedback.
No consolidation
Gets the students to learn new words, read the text, answer the questions again & to prepare for the next lesson.
I. Warm up: 
Answer the questions.
Listen to the teacher.
II. Pre-reading:
Listen to the teacher.
III.While-reading:
* Task 1: 
Fill each blank with a suitable word/phrase.
* Task 3 
Answer the questions in pairs.
Listen to the teacher.
IV. Post-reading:
Answer the questions in groups.
Listen to the teacher.
Listen to the teacher and take notes.
UNIT 2: PERSONAL EXPERIENCES (READING)
I. Vocabulary:
+ embarrassing(a) 
+ floppy(a) 
+ glance at(v)
+ make a fuss about s.th
+ idol(n) 
II/ Reading comprehension:
* Task 1: 
1. glanced 4 . idols
2. making a fuss 5. sneaky
3. embarrassing
* Task 3: 
ŽAnswers:
1. She wished to have a red floppy cotton hat.(line 2-3, paragraph 1)
2. Because he knew that she wanted to buy that hat. (line 1-2, paragraph 2)
III/ Homework
- Learn new words, read the text and answer the questions again
- Prepare for the next lesson. 
* Self-evaluation: 
Period:	 
Class(es):11A 
UNIT 2: PERSONAL EXPERIENCES (SPEAKING)
I.AIMS AND OBJECTIVES
1.Language content: To help students know how to talk about past experiences and how they affected one's life. 
2.Language function: Talking about past experiences and how they affected one's life.
3.Educational aim: To educate in the students the value of friendship.
4.Language: Useful structures: Make somebody do something"/ "Make somebody + adjective"
 Have you ever ?; How did it happen?; When did it happen?
 How did the experience affect you?
II.TEACHER'S AND STUDENTS' PREPARATION
1. Method: Communicative Approach
2. Skills: Integrated skills 
3.Techniques: questions-answers, explanation, pairwork, matching 
4. Teaching aids needed: colour chalk, textbook, chart, handouts
5.Students' preparation: Prepare the lesson at home
III.PROCEDURE IN CLASS
1. Stabilization:(1min) Greeting.
2. Checking up the previous knowledge (5mins) * Questions: Write some words on the board and answer the questions: 
a. What did the girl wish to have when she was in grade 9?
b. Why did she decide to take the money from the boy's bag without saying anything about it?
3.Presentation of the new materials:
Teaching steps, time location
Teacher's activities
Students' activities
The lesson content
I.Presentation of the new material
34mins
II.Consolidation
III. Home
 work
 5mins
I. Warm up: 
- Has students in each group say what you did. 
- Tells the aim of the lesson.
II. Pre-speaking:
Asks the students: What do you say to ask about someone's experience that might have affected them?
III.While-speaking:
* Task 1: 
- Has students match the things they might have done or experienced in box A with how the experience might have affected them in box B.
- Corrects with the class and gives the answers.
* Task 2: 
- Has students work in pairs to put the lines of the dialogue in the correct order.
- Goes around the class and provides help if necessary.
- Calls on some students to give the answers.
- Gives feedback..
IV. Post-speaking: 
* Task 3: 
- Has students make similar dialogues.
- Calls on some pairs to act out their dialogues in front of the class.
No consolidation
Gets the students to write a paragraph about a past event that has had an influence on her/him and to prepare for the next lesson
I. Warm up: 
Listen to the teacher.
II. Pre-speaking:
Listen, guess the meaning of the word and take notes.
III.While-speaking:
* Task 1: 
Listen to the teacher and take notes.
* Task 2: 
Put the lines of the dialogue in the correct order.
Listen to the teacher.
IV. Post-speaking:
* Task 3: 
Make similar dialogues.
Listen to the teacher and take notes.
UNIT 2: PERSONAL EXPERIENCES (SPEAKING)
I. Structures:
 "Make somebody + adjective"
+ Have you ever..?
+ What were you thinking and feeling when it happened?
II/ Speaking tasks:
* Task 1: 
→ answers:
1.d 2.c 3.a 4.b 5.e
* Task 2: Re-ordering
→ answers:
1.b 2.d 3.h 4.a 5.e 6.g 7.c 8.f
* Task 3: 
Useful structures:
Have you ever ?
How did it happen?
When did it happen?
III/ Homework
- Write a paragraph about a past event that has had an influence on her/him.
- Prepare for the next lesson. 
* Self-evaluation: 
Period:	 
Class(es):11A 
UNIT 2: PERSONAL EXPERIENCES (LISTENING)
I.AIMS AND OBJECTIVES
1.Language content: To help students know how to take notes while listening.
2.Language function: Listening and taking notes while listening.
3.Educational aim: 
4.Language: 	Vocabulary: Memorable, scream .
II.TEACHER'S AND STUDENTS' PREPARATION
1. Method: Communicative Approach
2. Skills: Integrated skills 
3.Techniques: questions-answers, explanation, repetition, 
4.Teaching aids needed: colour chalk, textbook, pictures, 
5.Students' preparation: Prepare the lesson at home
III.PROCEDURE IN CLASS
1.Stabilization:(1min) Greeting.
2.Checking up the previous knowledge(5mins)* Questions: Talk about one of your most memorable past experiences.
3.Presentation of the new materials:
Teaching steps, time location
Teacher's activities
Students' activities
The lesson content
I.Presentation of the new material: 34mins
II.Consolidation
III.Home
 work
 5mins
I. Warm up: 
- Has students answer the questions:
1. What can you see in the picture?
2. What is happening?
3. Who are these people?
- Tells the aim of the new lesson. 
II. Pre-listening:
- Pre- teaches vocabulary:
+ Memorable(a) 
+ scream(v) 
+ gas stove(n) 
+ Embrace(v) 
III.While-listening:
* Task 1 
- Has students listen to the interview and decide whether the statements are True/False. 
- Gives the correct answers.
* Task 2 
- Plays the tape again, has students fill in the gaps in the summary of Christina's story in pairs.
- Goes around the class and provides help when necessary.
- Calls on some students to give the answers. 
- Gives correct answers.
IV. Post-listening:
* Task 3:
- Has students work in groups to give their opinions on the sentence:
"Family is more important than things"
- Comments on sts' performance.
No consolidation
Gets the students to learn the new words by heart and to prepare for the next lesson.
I. Warm up:
answer the questions.
1. A fire
2. 
Listen to the teacher.
II. Pre-listening:
Listen, guess the meaning of the words and take notes.
III.While-listening:
* Task 1 
Listen Lan's talk, Long's talk and decide whether the statements are True/False(individual work)
* Task 2 
Fill in the gaps in the summary of Christina's story in pairs.
Listen to the teacher.
IV. Post-listening:
* Task3:
Give the opinions on the sentence in groups:
"Family is more important than things"
Listen to the teacher and take notes.
UNIT 2: PERSONAL EXPERIENCES (LISTENING)
I. Vocabulary:
+ Memorable(a) 
+ scream(v) 
+ gas stove(n) 
+ Embrace(v) 
III.Listening tasks:
* Task 1 
→ answers:
1. T 
2. F (13 years ago)
3. F (in the kitchen)
* Task 2 
→ answers:
1. small 2. everything
3. family 4. replaced
* Task 3:
IV. Homework
- Learn the new words by heart. 
- Prepare for the next lesson.
* Self-evaluation: 
Period: 11	 
Class(es): 11A 
UNIT 2: PERSONAL EXPERIENCES (WRITING)
I.AIMS AND OBJECTIVES
1.Language content: To help students know how to write a personal letter about a past experience.
2.Language function:. 
3.Educational aim: .
4.Language: Vocabulary: no
II.TEACHER'S AND STUDENTS' PREPARATION
1. Method: Communicative Approach
2. Skills: Integrated skills 
3.Techniques: questions-answers, explanation, 
4. Teaching aids needed: colour chalk, textbook, charts
5.Students' preparation: Prepare the lesson at home
III.PROCEDURE IN CLASS
1.Stabilization:(1min) Greeting.
2.Checking up the previous knowledge(5mins) * Questions: 
 "Family is more important than things". Do you agree with the idea? Why?
3.Presentation of the new materials:
Teaching steps, time location
Teacher's activities
Students' activities
The lesson content
I.Presentation of the new material: 34mins
II.Consolidation
III.Home
 work
 5mins
I. Warm up: 
- Asks the students: 
+ Have you ever been in such a situation?
+ What did you do then?
+ Do you want to share it with your classmates?
- Tells the aim of the new lesson.
II. Pre-writing:
- Elicits the steps of a personal letter from students and write down on the board.
- Goes around the class and provides help if necessary.
III.While-writing:
- Has students write a letter to a friend of theirs, telling him/her about one of their most memorable experience.
- Collects students' writings.
IV. Post-writing: 
- Has students deliver each group five pieces of writings.
- Gives feedback.
Quy Nhon, 15 May 2011
Dear Tom, 
How have you been doing? Have you got any plan for the coming school break? Perhaps I will go to see my grandparents in the countryside. I haven't seen them since my last school holiday.
I tell you about my last summer vocation at my grandparents. It was almost a year ago & was one of my most unforgettable experiences. My grandparents live in a small village, which is about 50 kilometres southeast of Quy Nhon. .
No consolidation
Gets the students to write a letter about a past experience at home and to prepare for the next lesson.
I. Warm up:
Listen to the teacher and answer the questions.
Listen to the teacher.
II. Pre-writing:
Listen, answer the questions and take notes.
III.While-writing:
Write a letter to a friend of theirs, telling him/her about one of the most memorable experience.
IV. Post-writing:
Correct their friends' writing.
Listen to the teacher and take notes.
Listen to the teacher and take notes.
UNIT 2: PERSONAL EXPERIENCES (WRITING)
I. Steps of a personal letter: 
1. Greeting
2. Date (when it happened)
3. The story (the experience)
4. Closing
5. Signature
II/ Writing tasks:
 Quy Nhon, 15 May 2011
Dear Tom, 
How have you been doing? Have you got any plan for the coming school break? Perhaps I will go to see my grandparents in the countryside. I haven't seen them since my last school holiday.
I tell you about my last summer vocation at my grandparents. It was almost a year ago & was one of my most unforgettable experiences. My grandparents live in a small village, which is about 50 kilometres southeast of Quy Nhon.
III/ Homework
- Write a letter about a past experience.
- Prepare for the next lesson. 
* Self-evaluation: 
Period:	 
Class(es):11 
UNIT 2: PERSONAL EXPERIENCES (LANGUAGE FOCUS)
I.AIMS AND OBJECTIVES
To help the students distinguish the sounds /m/, /n/ and /ŋ/ and pronounce the words and sentences containing these sounds correctly.
* PRONUNCIATION: 
 * GRAMMAR: Present simple for indicating the past, past simple, past continuous and past perfect
II.TEACHER'S AND STUDENTS' PREPARATION
1. Method: Communicative Approach
2. Skills: Integrated skills 
3. Techniques: questions-answers, explanation, repetition, sentence completion. 
4. Teaching aids needed: colour chalk, textbook, handouts.
5. Students' preparation: Prepare the lesson at home
III.PROCEDURE IN CLASS
1. Stabilization:(1min) Greeting.
2. Checking up the previous knowledge(5mins)* Questions: Arrange the sentences into the correct order:
a. One day when I was swimming with some of my friends, I suddenly caught a cold.
b. Luckily, one of my friends saw that and shouted for help. Immediately, another friend who swims the best among us swam towards me and tried to pull me up.
c. This event definitely taught me to appreciate my life.
3.Presentation of the new materials:
Teaching steps, time location
Teacher's activities
Students' activities
The lesson content
I.Presentation of the new material: 34mins
II.Consolidation
III.Homework
5mins
A. PRONUNCIATION 
I. Lead-in: 
- Gets students to pick out the words containing the ending sounds /m/, /n/
/ŋ/ in the Tongue Twisters and put them into the right column of the three sounds.
- Introduces the sounds /m/, /n/, /ŋ/.
II. Pre-practice:
- Models the two sounds /m/, /n/, /ŋ/ for a few times and explains the differences in producing them.
+ When producing /m/, close tips.
+ When producing /n/, your tongues touch the roof of your mouths.
- Corrects if students pronounce the target words incorrectly.
III. Controlled -practice:
- Has students read aloud the given sentences and underline the words with the sounds /m/, /n/, /ŋ/ in pairs. 
- Goes around to listen and takes notes of the typical errors.
- Calls on some students to read aloud the sentences again and provides corrective feedback.
- Asks the rest of the class to listen and give comments.
- Corrects their mistakes.
IV. Free-practice:
- Has students give examples with the sounds .
- Gives comments.
B. GRAMMAR
VERB FORM REVIEW
I. Lead-in: 
- Has students hang on a chart with broken sentences.
- Calls on some sts to give the answers.
- Tells the aim of the new lesson.
II. Pre-practice:
- Simple Past/Past Continuous/Past Perfect
+ We can use Simple Past to talk about actions and situations in the past.
+ We can use Present Tense to tell a story happening in the past to make the events more dramatic and lively.
III.Controlled -practice:
* Exercise 1: 
- Has students use the correct tense forms of the verbs in brackets in the story.
- Provides correct answers.
* Exercise 2: 
- Has students complete the sentences.
- Checks the answers with the whole class and gives correct answers.
→ Suggested answers:
1. Broke/ was playing
2. wrote/ was
3. was working/ broke
4. started/ were walking
5. told/ were having
6. didn't listen/was thinking
7. phoned/didn't answer/were you doing
8. was not wearing/ didn't notice/was driving
IV. Free-practice: Exercise 3:
- Has students put the verbs in each sentence into the past simple/the past perfect tense
- Checks the answers with the whole class and gives correct answers.
No consolidation
Gets the students to review the grammar points they have learnt and to prepare for the next lesson.
A. PRONUNCIATION
I. Lead-in:
Listen to the teacher.
II. Pre-practice:
Listen to the teacher and take notes.
Listen to the tape.
Listen to the teacher.
III.Controlled -practice:
Read aloud the given sentences and underline the words with the sounds /m/, /n/, /ŋ/ in pairs. 
Listen to the teacher.
IV. Free-practice:
Give examples with the sounds .
Listen to the teacher.
B. GRAMMAR
VERB FORM REVIEW
I. Lead-in: 
Listen to the teacher and answer the question.
Listen to the teacher.
II. Pre-practice:
Listen to the teacher, answer the question and take notes.
III.Controlled -practice:
* Exercise 1: 
Use the correct tense forms of the verbs in brackets in the story.
Listen to the teacher.
* Exercise 2: 
Listen to the teacher and take notes.
IV.Free-practice: Exercise 3:
Put the verbs in each sentence into the past simple or the past perfect tense 
Listen to the teacher.
Listen to the teacher and take notes.
UNIT 2: PERSONAL EXPERIENCES (LANGUAGE FOCUS)
A. PRONUNCIATION
+ When producing /m/, close tips.
+ When producing /n/, your tongues touch the roof of your mouths.
B. GRAMMAR
VERB FORM REVIEW
+ We can use Simple Past to talk about actions and situations in the past.
+ We can use Present Tense to tell a story happening in the past to make the events .
* Exercise 1: Tense Using
1. Invites; 2. sets; 3. gets; 4. wares 
5. promises; 6. carries; 7. contains; 
* Exercise 2:
1. Broke/ was playing
2. wrote/ was
3. was working/ broke
4. started/ were walking
5. told/ were having
* Exercise 3:
1. had eaten/arrived
2. found/had taken
3. got/had closed
4. got/had left
5. got/had arrived
III/ Homework
- Review the grammar points the students have learnt.
- Prepare for the next lesson.
* Self-evaluation: