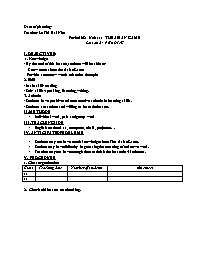 I. OBJECTIVES:
 1. Knowledge
- By the end of this lesson, students will be able to:
+ Know more about the Asian Game
+ Provide some new words related to the topic
2. Skill
- Main skill: reading
- Sub- skills: speaking, listening, writing.
3. Attitude
- Students have positive and constructive attitude in learning skills.
- Students are serious and willing to learn the lesson.
II. METHODS
- Individual work, pair and group work
Date of planning: 
Teacher: Le Thi Hai Nhu
Period 68: Unit 11: THE ASIAN GAME
Lesson B - READING
I. OBJECTIVES: 
 1. Knowledge
- By the end of this lesson, students will be able to:
+ Know more about the Asian Game
+ Provide some new words related to the topic 
2. Skill
- Main skill: reading 
- Sub- skills: speaking, listening, writing. 
3. Attitude
- Students have positive and constructive attitude in learning skills.
- Students are serious and willing to learn the lesson.
II. METHODS
Individual work, pair and group work
III. TEACHING AIDS 
English textbook 11, computer, chalk, projector
IV. ANTICIPATED PROBLEMS
Students may not have much knowledge about The Asian Game.
Student may have difficulty in guessing the meaning of unknown work.
Teacher may not have enough time to finish the lesson in 45 minutes.
V. PROCEDURE 
1. Class organization
Class
Teaching date
Number of students
Absentees
11
11
2. Check old lesson: no checking.
3. New lesson
Teacher's activities
Students' activities
I.WARM-UP ( 7 minutes) 
Activity : play game "your memory"
Let students play the game " Your memory"
Divide the class into 2 groups.
Explain rule of the game to the class
+ Show a video of sports on the screen. 
+ Student's task is to guess the name of the sport in each picture and try to remember it. + + After that, students will have 1 minute to write all the sports they have just seen on the board. 
+ The group that has more right answers will be the winner."
Show pictures of sports on screen.
Give students 1 minute to write the answer.
Check the answer and decide on who the winner is.
Activity 2 : Answer the questions
Ask Students some questions
What sports do you like? Why?
In which event are these sports competed?
Lead-in : "Today, we are going to learn a new lesson " The Asian Game" to understand more about history of the Asian Game"
Work in group
Listen carefully
Write the answer on the board quick 
Wok individually
Answer the questions
Suggested answers
II. PRE-READING ( 10 minutes ) 
Activity 1: Answer the question
Ask students some questions:
How often are the Asian Games held?
How many countries take part in the Asian Games?
In your opinion, what sport is Vietnam best at?
Activity 2: Choose the correct name for each picture.
Aquatic sport weightlifting wrestling 
Squash rugby fencing bodybuilding
Ask students to work in pairs and do activity 1.
Call on some students to give the answers.
Correct and give feedback.
Explain the new words by making sentences and showing pictures
Activity 3: Pre-teaching vocabulary 
1. Technique: picture + definition (a country, a city or an organization that holds and arranges a special event) 
2. Technique: Give the meaning in Vietnamese. 
3. Technique: picture + definition ( agreement between and support the members of a group, especially a political group)
4. Technique: synonym " encourage" 
5. Technique: picture+ definition ( take part in, join in)
6. Technique: picture+ definition ( a person who competes in sports)
 Activity 4: Check vocabulary 
Ask students to play game " Rubout and remember"
Delete the word in English.
Point words that have deleted
Ask students to read it
Work individually
Listen to the teacher
Answer the question
 Suggested answer:
Every four years.
45 countries.
Wushu, bodybuilding, etc.
Work in pair
Listen to the teacher 
Suggested answers:
bodybuilding 
aquatic sports
rugby
wrestling
weightlifting
fencing
squash
Work individually
Guess the meaning of new words
Listen to the teacher and take note
host / houst/ (n)
intercultural knowledge /ˌɪntərˈkʌltʃərəlˈnɑːlɪdʒ/: kiến thức liên văn hóa
solidarity /ˌsɑːlɪˈdærəti/ (n)  : tình đoàn kết
promote /prəˈmoʊt/ (v): encourage
participate /pɑːrˈtɪsɪpeɪt/ (v) 
→ participation /pɑːrˌtɪsɪˈpeɪʃn/ (n)
→ participant /pɑːrˈtɪsɪpənt/ (n)
athlete /ˈæθliːt/ (n): 
work individually
listen to the teacher 
III.WHILE READING ( 16 minutes.)
Task 1: fill in the blank
Ask students to underline the words in the box appear in the passage.
Ask students to read task 1 and think of part of speech to fill in each blank.
Call on some students to give the answers
Ask students to work in pairs in 3 minutes and do task 1
Call on some students to give the answer and explain the meaning of each word.
Correct and give feedback
Task 2: 
Ask students to work in pairs in 2 minutes and do task 2
Call on some students to give the answers
Task 3: Answer the questions
Let students play the game "Lucky sport".
Divide the class into 2 groups
Explain the rule of the game
Each group takes turns to choose one sport and answer one question in 10 seconds. For each right answer, students will get 1 marks. If a group cannot give answer when the time is up, the other group will get the right to answer and get mark. If a group chooses "Lucky sport", they will get 3 marks. 
Questions:
What is the purpose of the Asian Games?
How many participants took part in the 14th Asian Games?
How many gold medals were there in the 14th Asian Games?
Lucky sport
In which sport events did Vietnamese athletes win gold medals at the Busan Games?
How many sports events were there at the first Asian Games? What were they? 
What does the writer hope in the future?
Which country was the host of the 14th Asian Games?
Make the total marks of each group and decide on who the winner is.
Work in pairs
Give the answer
Suggested answer:
facilities: equipments
aquatic: connected with water
enthusiasm: the feeling of excitement
effort: an attempt to do something
advancing: developing and improving
appreciated: to be recognized high quality
Work in pairs
Give the answer
Suggested answer:
1951
The 2nd Asian Games
1958
Squash, rugby, fencing and mountain biking
2002
Work in group
Play game as requirement 
Suggested answer:
The purpose of the Asian Games is to develop intercultural knowledge and friendship within Asia. 
9,919 participants took part in the 14th Asian Games .
There were 427 gold medals. 
X
Vietnamese athletes won gold medals in bodybuilding, billiards and women's karatedo at the Busan Games. 
There were 6 sports events at the 1st Asian Games: basketball, cycling, football, aquatic sports, athletics and weightlifting. 
The writer hopes that in the future, Vietnam will become a host country and receive more medals in a variety of sports events. 
Korea was the host country of the 14th Asian Games.
IV. POST READING (7 minutes ) 
Ask students to work in pair to talk about "History of the Asian Games" basing on information in task 2,3 .
Work in pair
Listen to the teacher 
Talk about the topic 
3. Consolidation ( 4 minutes)
Questions: 
Where was the first Asian Games held?
New Delhi, India	C. Hanoi, Vietnam
Bangkok, Thailand	D. Incheon, Korea
How many countries took part in the 14th Asian Games?
11	C. 40
44	D. 47
Which is aquatic sport?
weightlifting	C. fencing
rugby	D. surfing
The 3rd Asian Games was held in.
Tokyo, Japan	C. Manila, Philippines
Busan, Korea	D. Jakarta, Indonesia
Name of this sport is
bodybuilding 	C. mountain biking
tennis	D. squash
How many gold medals did Vietnamese athletes win at the 14th Asian Games?
2	C. 3
4	D. 5
How many Asian Games have been held since 1951?
18 	C. 17
16	D. 15
Suggested answers:
1A, 2B, 3D 4A, 5D 6B, 7C
4. Home work ( 1 minute)
- Ask students to revise Task 2
- Ask students to prepare Part C- Listening
VI.COMMENTS 
Good points .
Weak points