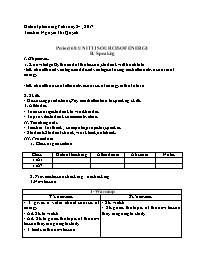 I. Objectives:
1. Knowledge: By the end of the lesson, students will be able to:
-talk about the advantages and disadvantages of using each alternative source of energy
-talk about the use of alternative sources of energy in the future.
2. Skills:
- Discussing predictions, Pay much attention to speaking skills
3. Attitudes:
- To encourage students to work harder.
- To provide students some motivation.
II. Teaching aids:
- Teacher: Textbook , computer, projector, speaker.
- Students: Student's book, workbook, notebook.
III. Procedure:
1. Class organization:
Bạn đang xem tài liệu "Thiết kế bài dạy môn Tiếng Anh 11 - Period 68: Unit 11 sources of energy - B: Speaking", để tải tài liệu gốc về máy bạn click vào nút DOWNLOAD ở trên
Date of planning: February 8th , 2017
Teacher: Nguyen Thi Quynh
Period 68: UNIT 11 SOURCES OF ENERGY
B. Speaking
I. Objectives:
1. Knowledge: By the end of the lesson, students will be able to: 
-talk about the advantages and disadvantages of using each alternative source of energy
-talk about the use of alternative sources of energy in the future.
2. Skills:
- Discussing predictions, Pay much attention to speaking skills
3. Attitudes: 
- To encourage students to work harder.
- To provide students some motivation.
II. Teaching aids:
- Teacher: Textbook , computer, projector, speaker.
- Students: Student's book, workbook, notebook.
III. Procedure:
Class organization:
Class
Date of teaching
Attendance
Absence
Notes
11A1
11A7
2. Previous lesson checking: no checking
 3. New lesson: 
1- Warm up 
T's activities
Ss' activities
- T gives a video about sources of energy
- Ask Sts to watch 
- Ask Sts to guess the topic of the new lesson they are going to study
- T leads in the new lesson
- Sts watch 
- Sts guess the topic of the new lesson they are going to study
2- Knowledge building 
T' s activities
Ss' activities 
Step 1: Transfer learning duty for Ss.
- Ask Ss to work in pairs to discuss about the advantages and disadvantages of using each alternative source of energy
- discuss about the use of alternative sources of energy in the future.
Step 2: Do the duty.
- Work in pairs to discuss about the advantages and disadvantages of using each alternative source of energy and the use of alternative sources of energy in the future.
Step 3: Report the result and discussion.
- Show their ideas 
Step 4: Evaluate the Ss' duty.
- Give comments to their ideas and feedback.
- work in pairs to discuss about the advantages and disadvantages of using each alternative source of energy and the use of alternative sources of energy in the future.
Show ideas 
Listen to the T
3- Practice 
T' s activities
Ss' activities
Task 1: 
-Ask an S to read the requirement of task 1
-give example: 
For example, the 1st statement talks about the disadvantage of fossil fuels so one asks: What is the disadvantage of fossil fuels? And the other answers: Fossil fuels will be exhausted within a relatively short time.
- Ask Ss to work in pairs to do the task
-Ask some pairs to stand up and present.
- give feedback
 Task 2:
-T gives some structures:	
Asking for opinions:
Why do you think / believe so?
What's your opinion about?
What do you think about?
Expressing opinions:
I think/ believe.
Personally, I
think/ believe
In my opinion,
Expressing agreements
I agree
 I think so, too
That's true/ right and.
Expressing disagreements
Well, maybe
That might be true, but
-Ask Sts to pick out structures to ask and give opinions .
-T gives the models:
A: I think that wind power
can be an alternative sources of energy.
B: Why do you think so?
A: Because our major sources of energy are running out while the wind is abundant and unlimited.	 
B: I know it is also clean and safe to the environment.
However, it is not available when there is no wind.
-Ask Ss to work in pairs and make similar dialogues
- Call on some pairs to present their own dialogues. Give feedback.
 Task 1: 
-Read the requirement :
identify which statement talk about advantage and which statement talk about the disadvantage. Write A for advantage and D for disadvantage.
work in pairs to do the task
some pairs to stand up and present 
Task 2:
- Pick out structures to ask and give opinions .
-Work in pairs and make similar dialogues.
-Present their dialogues in front of the class.
4- Application 
T' s activities
Ss' activities
Task 3: Discussion:
- Ask Ss to work in groups to discuss about the most potential source of energy in the future.
- Invite some groups' representatives to report their ideas.
- Give feedback and make comments.
- Work in groups to discuss about the most potential source of energy in the future.
- some groups' representatives to report ideas.
* Expected answer:
A: I think that solar energy can be an alternative sources of energy.
B: Why do you think so?
A: Because our major sources of energy are running out while the solar energy is plentiful and infinite.
B: I know it is also clean and safe to the environment.
5- Knowledge widening 
T' s activities
Ss' activities
- Get Ss to do this task at home.
- Ask Ss to work in groups of 4. Each group finds 3 ways of saving energy in the future?
- Guide them how to find out the information (books, television, radio, the Internet or other sources)
- Ask Ss to show their discussion in front of class in the next lesson.
- Give comments.
- Do the task at home.
- work in groups of 4. Each group finds 3 ways of saving energy in the future?
- show discussion in front of class in the next lesson.
4. Consolidation: Teacher summarizes the main points of the lesson.
5. Homework: 
- Ask Ss to do the homework and prepare the next lesson.
__________________________________________________________________