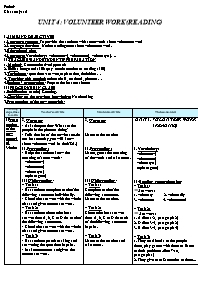 I.AIMS AND OBJECTIVES
1.Language content: To provide the students with some words about volunteeer work
2.Language function: Understanding more about volunteeer work.
3.Educational aim:
4.Language: Vocabulary: volunteer(v), volunteer(n), voluntary(a) .
II.TEACHER'S AND STUDENTS' PREPARATION
1. Method: Communicative Approach
2. Skills: Integrated skills (pay much attention to reading skill)
3.Techniques: questions-answers, explanation, definition
4. Teaching aids needed: colour chalk, textbook, pictures
5.Students' preparation: Prepare the lesson at home
III.PROCEDURE IN CLASS
1.Stabilization:(1min) Greeting.
2.Checking up the previous knowledge: No checking
3.Presentation of the new materials:
Period:	 
Class(es): 11A 
UNIT 4: VOLUNTEER WORK (READING)
I.AIMS AND OBJECTIVES
1.Language content: To provide the students with some words about volunteeer work 
2.Language function: Understanding more about volunteeer work.
3.Educational aim:
4.Language: Vocabulary: volunteer(v), volunteer(n), voluntary(a). 
II.TEACHER'S AND STUDENTS' PREPARATION
1. Method: Communicative Approach
2. Skills: Integrated skills (pay much attention to reading skill)
3.Techniques: questions-answers, explanation, definition 
4. Teaching aids needed: colour chalk, textbook, pictures
5.Students' preparation: Prepare the lesson at home
III.PROCEDURE IN CLASS
1.Stabilization:(1min) Greeting.
2.Checking up the previous knowledge: No checking 
3.Presentation of the new materials:
Teaching steps, time location
Teacher's activities
Students' activities
The lesson content
I.Presentation of the new material
34mins
II.Consolidation
III.Homework
5mins
I. Warm up: 
- Asks the question: What are the people in the pictures doing?
- Tells the aim of the new lesson. (In our lesson today, you will know about volunteer work in the USA.)
II. Pre-reading:
- Helps the students know the meaning of some words:
+ volunteer(v)
+ volunteer(n)
+ voluntary(a)
+ orphanage(n)
III.While-reading:
* Task 1: 
- Has students complete each of the following sentences individually.
- Checks the answers with the whole class and gives correct answers.
* Task 2: 
- Has students choose the best answer from A, b, C or D for each of the following sentences.
- Checks the answers with the whole class and gives correct answers.
* Task 3: 
- Has students practise asking and answering the questions in pairs.
- Makes comments and gives the correct answers.
IV. Post-reading:
- Has students discuss the questions in groups: 
Why do people do volunteer work?
- Makes comments.
No consolidation
Gets the students to learn new words, answer the questions again and to prepare for the next lesson.
I. Warm up: 
Listen to the teacher
II. Pre-reading:
Listen, guess the meaning of the words and take notes.
III.While-reading:
* Task 1: 
Complete each of the following sentences.
Listen to the teacher.
* Task 2: 
Choose the best answer from A, b, C or D for each of the following sentences in pairs.
* Task 3: 
Listen to the teacher and take notes.
IV. Post-reading:
Discuss the questions in groups: 
Why do people do volunteer work?
Listen to the teacher and take notes.
UNIT 4: VOLUNTEER WORK (READING)
I. Vocabulary:
+ volunteer(v)
+ volunteer(n)
+ voluntary(a)
+ orphanage(n)
II/ Reading comprehension:
* Task 1: 
ŽAnswers:
1. voluntary 2. voluntarily
3. volunteers 4. volunteered
* Task 2: 
Ž Answers: 
1. A (line 1-2, paragraph 2)
2. D (line 3-4, paragraph 2)
3. B (line 3-4, paragraph 4)
* Task 3: 
1. They read books to the people there, play games with them or listen to their problems.(line 7-10, paragraph 1)
2. They give care & comfort to them... 
III/ Homework
- Learn new words, read the text and answer the questions again
- Prepare for the next lesson. 
* Self-evaluation: 
Period:	 
Class(es):11A 
UNIT 4: VOLUNTEER WORK (SPEAKING)
I. AIMS AND OBJECTIVES
1. Language content: To help students know how to talk about volunteer work & identifying types of volunteer work.
2. Language function: Talking about volunteer work and identifying types of volunteer work.
3. Educational aim:
4. Language: Vocabulary: invalid, martyr, intersection
II. TEACHER'S AND STUDENTS' PREPARATION
1. Method: Communicative Approach
2. Skills: Integrated skills 
3. Techniques: questions-answers, explanation, pairwork, groupwork, role-play
4. Teaching aids needed: colour chalk, textbook, handouts, pictures
5. Students' preparation: Prepare the lesson at home
III. PROCEDURE IN CLASS
1. Stabilization:(1min) Greeting.
2. Checking up the previous knowledge (5mins) * Questions: Answer the questions: 
1. What do high school and college students usually do as volunteers in hospitals, orphanages or honmes for the aged?
2. How do volunteers help disadvantaged and handicapped children to overcome their difficulties?
3.Presentation of the new materials:
Teaching steps, time location
Teacher's activities
Students' activities
The lesson content
I.Presentation of the new material
34mins
II.Consolidation
III. Home
work
5mins
I. Warm up: 
- Has students answer the questions:
+ Do you want to be a volunteer?
+ Have you ever done volunteer work?
- Tells the aim of the lesson.(In our speaking lesson today, we talk about types of volunteer work).
II. Pre-speaking:
- Helps students understand more about the meaning of some words and some necessary language for talking about parties:
+ invalid(n)
+ martyr(n)
+ intersection(n)
III.While-speaking:
* Task 1: 
- Has students decide which of the following activities are volunteer work in pairs.
- Makes comments.
* Task 2: 
- Works with a good student to give a model.
A: What kind of volunteer work are you participating in?
B: I'm taking part in directing the traffic.
A: What exactly are you doing?
B: I'm directing vehicles at the intersections.
..
- Makes corrections in pronunciation, intonation and grammar
IV. Post-speaking: 
* Task 3: 
- Has students talk about a kind of volunteer work their friends and they usually do to help people. 
- Calls on some students to report about their ideas in front of the class.
- Makes comments.
No consolidation
Gets the students to write a paragraph about a kind of volunteer work their friends and they usually do to help people; and to prepare for the next lesson.
I. Warm up: 
Answer the questions.
Listen to the teacher.
II. Pre-speaking:
Listen, guess the meaning of the words and take notes.
III.While-speaking:
* Task 1: 
 Decide which of the following activities are volunteer work in pairs.
Listen to the teacher.
* Task 2: 
A good student practises with the teacher.
Listen to the teacher.
IV.Post-speaking: 
* Task 3: 
Talk about a kind of volunteer work their friends and they usually do to help people. 
Listen to the teacher.
Listen to the teacher and take notes.
UNIT 4: VOLUNTEER WORK (SPEAKING)
I. Vocabulary and languages:
+ invalid(n)
+ martyr(n)
+ intersection(n)
II/ Speaking tasks:
* Task 1: 
Decide which of the following activities are volunteer work in pairs.
* Task 2: 
A: What kind of volunteer work are you participating in?
B: I'm taking part in directing the traffic.
A: What exactly are you doing?
B: I'm directing vehicles at the intersections.
..
* Task 3: 
Decide on the following things to come up with a plan for their parties.
III/ Homework
- Write a paragraph about a kind of volunteer work their friends and they usually do to help people.
- Prepare for the next lesson. 
* Self-evaluation: 
Period:	 
Class(es): 11A 
UNIT 4: VOLUNTEER WORK (LISTENING)
I.AIMS AND OBJECTIVES
1.Language content: To help students listen some information about the parties.
2.Language function: Listening some information about the parties.
3.Educational aim:
4.Language: 	Vocabulary: funraising, donation
II.TEACHER'S AND STUDENTS' PREPARATION
1. Method: Communicative Approach
2. Skills: Integrated skills (pay much attention to listening skill)
3.Techniques: question-answer, explanation, discussion 
4.Teaching aids needed: colour chalk, textbook, pictures, handouts, 
5.Students' preparation: Prepare the lesson at home
III.PROCEDURE IN CLASS
1.Stabilization:(1min) Greeting.
2.Checking up the previous knowledge(5mins)* Questions: Talk about a kind of volunteer work you usually do to help people.
3.Presentation of the new materials:
Teaching steps, time location
Teacher's activities
Students' activities
The lesson content
I.Presentation of the new material: 34mins
II.Consolidation
III.Home
 work
 5mins
I. Warm up: 
- Gets the students to answer the questions: Are they volunteer work?
- Tells the aim of the new lesson.
II. Pre-listening:
- Pre- teaches vocabulary:
+ funraising activities(n) 
+ donation(n)
+ co-operate(v)
+ co-ordinate(v) 
III.While-listening:
* Task 1: 
- Has students fill in the missing information (individual work). 
- Gives the correct answers.
* Task 2 
- Has students answer the following questions in pairs.
- Makes comments and gives correct answers.
IV.Post-listening:
- Has students summarize the story about Spring School, using the following suggestions in groups:
- Makes corrections and gives final comments.
No consolidation
Gets the students to summarise the main points of the lesson, learn by heart all new words and to prepare for the next lesson.
I. Warm up: 
Answer the questions.
Listen to the teacher.
II. Pre-listening:
Listen, guess the meaning of the words and take notes.
III.While-listening:
* Task 1: 
Listen to the teacher and take notes.
*Task 2
Answer the following questions in pairs.
Listen to the teacher and take notes.
IV.Post-listening:
talk about Mai's birthday party in groups. 
Listen to the teacher.
Listen to the teacher and take notes.
UNIT 4: VOLUNTEER WORK (LISTENING)
I. Vocabulary:
+ funraising activities(n) 
+ donation(n)
+ co-operate(v)
+ co-ordinate(v) 
+ sponsor(n)
+ sponsor(n): nhà tài trợ
II.Listening tasks:
* Task 1: 
→ answers:
1. informal
2. 30 street children
* Task 2
→ answers:
1. It provides classes to disadvantaged children in Ho Chi Minh City.
2. Dance, theatre, singing and circus classes were set up in 1999.
V. Homework
- Summarise the main points of the lesson, learn by heart all new words.
- Prepare for the next lesson.
* Self-evaluation: 
Period:	 
Class(es): 11A 
UNIT 4: VOLUNTEER WORK (WRITING)
I.AIMS AND OBJECTIVES
1.Language content: To help students know how to write a formal letter expressing gratitude.
2.Language function: Writing a formal letter expressing gratitude.
3.Educational aim: To educate in the student the important role of parties in life.
4.Language: Vocabulary: issue(v), amount(n)
II.TEACHER'S AND STUDENTS' PREPARATION
1. Method: Communicative Approach
2. Skills: Integrated skills 
3.Techniques: questions-answers, explanation, translation. 
4. Teaching aids needed: colour chalk, textbook, charts
5.Students' preparation: Prepare the lesson at home
III.PROCEDURE IN CLASS
1.Stabilization:(1min) Greeting.
2.Checking up the previous knowledge(5mins) * Questions: Talk about Spring School.
3.Presentation of the new materials:
Teaching steps, time location
Teacher's activities
Students' activities
The lesson content
I.Presentation of the new material: 34mins
II.Consolidation
III. Home
 work
 5mins
I. Warm up: 
- Asks the students: 
+ What kind of letter is it?
- Tells the aim of the new lesson.
II. Pre-writing:
+ issue(v)
+ amount(n)
- expressions 
+ On behalf of ... I am writing to thank you for...
+ I would like to offer my sincerest thanks to you for ...
+ My heartfelt thanks go to you for ...
+ I am very much obliged to you for .....
+ I owe a great debt of gratitude to youfor...
+ I would like to give special thanks to you for...
III.While-writing: 
* Task 1: 
- Has students read the letter and underline the sentences that express the following points individually. 
* Task 2: 
- Has the students write a letter to acknowledge the receipt of donation and express their gratitude in groups.
IV. Post-writing: 
- Has students read their group's best writing, and ask students to give comments.
- Gives feedback.
* A sample letter:
 Hanoi, Viet Nam
 May 10, 2006
Dear Sir,
I am very happy to receive a donation of one million doing from your organization some days ago. The money will help us to build our school library. We will certainly issue a receipt as soon as possible.
I would like to express our thanks for the donation from your organization and hope to get more assistance and cooperation from your company in the fuutre.
I look forward to hearing from you soon.
Your faithfully,
Secretary
School Building Fund
No consolidation
Gets the students to write a thank-you letter at home and to prepare for the next lesson.
I. Warm up: 
Answer the question.
+ letter of invitation
Listen to the teacher.
II. Pre-writing:
Listen, guess the meaning of some words and take notes.
III.While-writing: 
* Task 1: 
Read the letter and underline 
* Task 2: 
Write a letter to acknowledge the receipt of donation 
IV. Post-writing:
Work in groups of five, read and correct their friends' writing.
Listen to the teacher and take notes.
Listen to the teacher and take notes.
UNIT 4: VOLUNTEER WORK (WRITING)
I. Vocabulary:
+ issue(v)
+ amount(n)
* Some useful expressions
+ On behalf of ... I am writing to thank you for...
+ I would like to offer my sincerest thanks to you for ...
+ My heartfelt thanks go to you for ...
+ I am very much obliged to you for .....
+ I owe a great debt of gratitude to youfor...
+ I would like to give special thanks to you for...
II. Writing tasks:
* Task 1: 
→ Answer: 
+The opening of the letter: S.1 
+ The donated amount: sentence 1
 * Task 2: 
* A sample letter:
 Hanoi, Viet Nam
 May 10, 2006
Dear Sir,
I am very happy to receive a donation of one million doing from your organization some days ago. The money will help us to build our school library. We will certainly issue a receipt as soon as possible.
I would like to express our thanks for the donation from your organization and hope to get more assistance and cooperation from your company in the fuutre.
I look forward to hearing from you soon.
Your faithfully,
Secretary
School Building Fund
III/ Homework
- Write a thank-you letter.
- Prepare for the next lesson. 
* Self-evaluation: 
Period:	 
Class(es): 11A 
UNIT 4: VOLUNTEER WORK (LANGUAGE FOCUS)
I.AIMS AND OBJECTIVES
To help students distinguish the sounds /w/ and /j/ and pronounce the words and sentences containing these sounds correctly.
* PRONUNCIATION: /w/ and /j/
* GRAMMAR: Gerunds and present participles; Perfect gerunds and perfect participles.	 
II.TEACHER'S AND STUDENTS' PREPARATION
1. Method: Communicative Approach
2. Skills: Integrated skills 
3. Techniques: questions-answers, explanation, tense using, sentence completion. 
4. Teaching aids needed: colour chalk, textbook, handouts, realia
5. Students' preparation: Prepare the lesson at home
III.PROCEDURE IN CLASS
1. Stabilization:(1min) Greeting.
2. Checking up the previous knowledge(5mins)* Questions: Read the letter and underline the sentences that express the following points:
a. The opening of the letter	c. The way(s) the money is used	e. The gratitude to the donor
b. The donated amount	d. The way the receipt is issued	f. The closing of the letter
3.Presentation of the new materials:
Teaching steps, time location
Teacher's activities
Students' activities
The lesson content
I.Presentation of the new material: 29mins
II.Consolidation (5mins)
III.Home 
 work
 5mins
A. PRONUNCIATION
I. Lead-in: 
- Introduces the sounds /w/ and /j/.
II. Pre-practice:
- Models the two sounds /w/ and /j/ for a few times and explains the differences in producing them.
- Corrects if students pronounce the target words incorrectly.
III. Controlled -practice:
- Has students read aloud the given sentences in pairs. 
- Corrects their mistakes.
IV. Free-practice:
- Has students give examples with the sounds /w/ and /j/.
- Gives comments.
B. GRAMMAR
1. GERUNDS & PRESENT PARTICIPLES 
2. PERFECT GERUNDS & PERFECT PARTICIPLES 
I. Lead-in: 
- Has students answer the questions:
- Tells the aim of the new lesson.
II. Pre-practice:
- Elicits the forms and usages of gerund or present participle, perfect gerund or perfect participle from students. 
2. Present participle: 
a. as part of the continuous form of a verb
Example: I am working.
 She was dancing.
b. after verbs of movement/position in the pattern:verb+present participle
Example:
- My mother used to go shopping everyday.
3. Perfect gerund and perfect participle
a. Perfect gerund:
- Form: having + P.P 
Example:
He was accused of deserting his ship = He was accused of having deserted his ship.
b. Perfect participle:
- Form: having + P.P 
- Use:
Example:
He had been living there for such a long time that he didn't want to move to another town. →Having lived there for such a long time, he didn't want to move to another town.
III.Controlled -practice:
* Exercise 1: 
- Has students complete the sentences with an appropriate gerund of the verbs from the box individually; then check their answers with a partner.
- Checks the answers with the whole class and provides correct answers.
* Exercise 2: 
- Has students complete the sentences 
- Checks the answers with the whole class and gives correct answers.
* Exercise 3: 
- Has students put the verbs in brackets into the perfect gerund/perfect participle individually; then check their answers with a partner.
IV. Free-practice: 
- Has students do some more exercises in pairs.
- Goes around the class and provides help when necessary.
- Calls on some students to write the sentences on the board.
- Checks the answers with the whole class and gives correct answers.
- Has students repeat the forms of gerund or present participle, perfect gerund or perfect participle.
- Makes comments.
Gets the students to review the grammar points they have learnt and to prepare for the next lesson.
A. PRONUNCIATION
I. Lead-in:
Listen to the teacher.
II. Pre-practice:
Listen to the teacher and take notes.
Listen to the teacher.
III.Controlled -practice:
Read aloud the given sentences and underline the words with the sounds /w/ and /j/ in pairs. 
IV. Free-practice:
Give examples with the sounds /w/ and /j/.
Listen to the teacher.
B. GRAMMAR
1. GERUNDS & PRESENT PARTICIPLES 2. PERFECT GERUNDS & PERFECT PARTICIPLES 
I. Lead-in: 
Answer the questions:
Listen to the teacher.
II. Pre-practice:
Listen to the teacher, answer the question and take notes.
II.Controlled -practice:
* Exercise 1: 
Complete the sentences with an appropriate gerund of the verbs from the box individually; 
* Exercise 2: 
Complete the sentences with an appropriate present participle of the verbs 
* Exercise 3: 
Put the verbs in brackets into the perfect gerund/perfect participle.
IV.Free-practice: 
Do some more exercises in pairs.
Write the sentences on the board.
Listen to the teacher and take notes.
UNIT 4: VOLUNTEER WORK (LANGUAGE FOCUS)
I. PRONUNCIATION
/w/ and /j/
II. GRAMMAR
1. GERUNDS & PRESENT PARTICIPLES 2. PERFECT GERUNDS & PERFECT PARTICIPLES 
1. Gerund: A gerund is a noun made from a verb by adding "-ing". The gerund always has the same function as a noun (although it looks like a verb), so it can be used:
2. Present participle: 
a. as part of the continuous form of a verb
Example: I am working.
 She was dancing.
b. after verbs of movement/position in the pattern:verb+present participle
Example:
- My mother used to go shopping everyday.
3. Perfect gerund and perfect participle
a. Perfect gerund:
- Form: having + P.P 
Example:
He was accused of deserting his ship = He was accused of having deserted his ship.
b. Perfect participle:
- Form: having + P.P 
- Use: 
Example:
He had been living there for such a long time that he didn't want to move to another town. →Having lived there for such a long time, he didn't want to move to another town.
III. Exercises:
* Exercise 1: 
→ answers:
1. hearing 4. meeting 7. starting
2. bending 5. spending
3. behaving 6. waiting 
* Exercise 2: 
→ answers:
1. burning - rising 3. lying
2. reading	 4. shopping
* Exercise 3: 
answers:
1. having made 4. Having tied
2. Having been 5. Having read
3. having been 6. having taken
III/ Homework
- Review the grammar points the students have learnt.
- Prepare for the next lesson.
 * Self-evaluation: