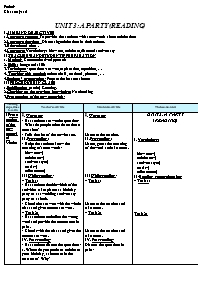 I.AIMS AND OBJECTIVES
1.Language content: To provide the students with some words about celebrations
2.Language function: Discussing celebrations in their culture.
3.Educational aim: .
4.Language: Vocabulary: blow out, celebrate, diamond anniversary
II.TEACHER'S AND STUDENTS' PREPARATION
1. Method: Communicative Approach
2. Skills: Integrated skills
3.Techniques: questions-answers, explanation, repetition,
4. Teaching aids needed: colour chalk, textbook, pictures,
5.Students' preparation: Prepare the lesson at home
III.PROCEDURE IN CLASS
1.Stabilization:(1min) Greeting.
2.Checking up the previous knowledge: No checking
3.Presentation of the new materials:
Period:	 
Class(es):11A 
UNIT 3: A PARTY (READING)
I.AIMS AND OBJECTIVES
1.Language content: To provide the students with some words about celebrations 
2.Language function: Discussing celebrations in their culture.
3.Educational aim: .
4.Language: Vocabulary: blow out, celebrate, diamond anniversary
II.TEACHER'S AND STUDENTS' PREPARATION
1. Method: Communicative Approach
2. Skills: Integrated skills 
3.Techniques: questions-answers, explanation, repetition, 
4. Teaching aids needed: colour chalk, textbook, pictures, 
5.Students' preparation: Prepare the lesson at home
III.PROCEDURE IN CLASS
1.Stabilization:(1min) Greeting.
2.Checking up the previous knowledge: No checking 
3.Presentation of the new materials:
Teaching steps, time location
Teacher's activities
Students' activities
The lesson content
I.Presentation of the new material
34mins
II.Consolidation
III.Homework
5mins
I. Warm up: 
- Has students answer the question:
+ What do people often do on these occasions?
- Tells the aim of the new lesson. 
II. Pre-reading:
- Helps the students know the meaning of some words:
+ blow out(v) 
+ celebrate(v) 
+ anniversary(n) 
+ mark(v) 
+ milestone(n) 
III.While-reading:
* Task 1: 
- Has students decide which of the activities takes place at a birthday party or at a wedding anniversary party or at both.
- Checks the answers with the whole class and gives correct answers.
* Task 2: 
- Has students underline the wrong word and provide the correct one in pairs.
- Checks with the class and gives the correct answers.
IV. Post-reading:
- Has students discuss the questions: 
1. Where do you prefer to celebrate your birthday, at home or in the restaurant? Why?
2. Do your parents celebrate their wedding anniversaries?
- Makes comments.
No consolidation
Gets the students to learn new words, read the text, answer the questions again and to prepare for the next lesson.
I. Warm up: 
Listen to the teacher.
II. Pre-reading:
Listen, guess the meaning of the word and take notes.
III.While-reading:
* Task 1: 
Listen to the teacher and take notes.
* Task 2: 
Listen to the teacher and take notes.
IV. Post-reading:
Discuss the questions in pairs: 
Listen to the teacher and take notes.
UNIT 3: A PARTY (READING)
I. Vocabulary:
+ blow out(v) 
+ celebrate(v) 
+ anniversary(n) 
+ mark(v) 
+ milestone(n) 
II/ Reading comprehension:
* Task 1: 
Task 2: 
III/ Homework
- Learn new words, read the text and answer the questions again
- Prepare for the next lesson. 
* Self-evaluation: 
Period:	 
Class(es):11A 
UNIT 3: A PARTY (SPEAKING)
I. AIMS AND OBJECTIVES
1. Language content: To help students know how to talk about parties and how to plan parties. 
2. Language function: Talking about parties and how to plan parties. 
3. Educational aim:
4. Language: Vocabulary: house-warming party, farewell party, .
II. TEACHER'S AND STUDENTS' PREPARATION
1. Method: Communicative Approach
2. Skills: Integrated skills 
3. Techniques: questions-answers, explanation, pairwork, groupwork,.. 
4. Teaching aids needed: colour chalk, textbook, chart, ..
5. Students' preparation: Prepare the lesson at home
III. PROCEDURE IN CLASS
1. Stabilization:(1min) Greeting.
2. Checking up the previous knowledge No checking
3.Presentation of the new materials:
Teaching steps, time location
Teacher's activities
Students' activities
The lesson content
I.Presentation of the new material
34mins
II.Consolidation
III. Home
 work
 5mins
I. Warm up: 
- Has students answer the questions:
+ Have you ever been invited to one of these parties?
+ How was it organized?
- Tells the aim of the lesson.(In our speaking lesson today, we talk about parties and how to plan them).
II. Pre-speaking:
- Helps students understand the meaning of some words
+ house-warming party
+ farewell party
+ a potluck dinner
+ to throw /give a party
III.While-speaking:
* Task 1: 
- Has students think of a party they have been to and choose from the list the things they want to talk about.
- Goes around the class and provides help if necessary.
* Task 2: 
- Puts students in pairs and gets them to tell each other about the parties they have been to.
- Goes around the class and provides help if necessary.
- Calls on some pairs to perform teir conversations in front of the class.
* Task 3: 
.
- Has students decide on the following things to come up with a plan for their parties.
- Calls on some representatives of each group to present in front of the class.
IV. Post-speaking: * Task 4:
- Has students work in groups to convince them to come to the parties. 
- Goes around the class and provides help if necessary.
- Calls on some students to report about the parties they have planned.
- Makes comments.
No consolidation
Gets the students to write a paragraph about a party they have been to and to prepare for the next lesson.
I. Warm up: 
Answer the questions.
Listen to the teacher.
II. Pre-speaking:
Listen, guess the meaning of the words and take notes.
III.While-speaking:
* Task 1: 
Think of a party they have been to.
Listen to the teacher.
* Task 2: 
Tell each other about the parties they have been to.
Listen to the teacher.
* Task 3: 
Answer the questions.
Decide on the following things to come up with a plan for their parties.
Listen to the teacher
IV.Post-speaking: *Task4:
Convince them to come to the parties. 
Listen to the teacher.
Listen to the teacher and take notes.
UNIT 3: A PARTY (READING)
I. Vocabulary:
+ house-warming party
+ farewell party
+ a potluck dinner
+ to throw /give a party
II/ Speaking tasks:
* Task 1: 
Choose from the list the things they want to talk about.
* Task 2: 
Tell each other about the parties they have been to.
* Task 3: 
Decide on the following things to come up with a plan for their parties.
III/ Homework
- Write a paragraph about a party they have been to.
- Prepare for the next lesson. 
* Self-evaluation: 
Period:	 
Class(es):11A 
UNIT 3: A PARTY (LISTENING)
I.AIMS AND OBJECTIVES
1.Language content: To help students listen some information about the parties.
2.Language function: Listening some information about the parties.
3.Educational aim:
4.Language: 	Vocabulary: clap, decorate 
II.TEACHER'S AND STUDENTS' PREPARATION
1. Method: Communicative Approach
2. Skills: Integrated skills 
3.Techniques: question-answer, explanation, groupwork
4.Teaching aids needed: colour chalk, textbook, pictures
5.Students' preparation: Prepare the lesson at home
III.PROCEDURE IN CLASS
1.Stabilization:(1min) Greeting.
2.Checking up the previous knowledge(5mins)* Questions: Talk about a party you have taken part in.
3.Presentation of the new materials:
Teaching steps, time location
Teacher's activities
Students' activities
The lesson content
I.Presentation of the new material: 34mins
II.Consolidation
III.Home
 work
 5mins
I. Warm-up: 
- Gets the students to answer the questions:
1. What are the pictures about?
2. When do you like to organise your birthday party, during the day or in the evening?
- Tells the aim of the new lesson
II. Pre-listening:
- Pre- teaches vocabulary:
+ clap(v)
+ decorate(v)
+ icing(n)
+ slice(n) 
III.While-listening:
* Task 1 
- Has students listen and decide whether the statements are True/False. 
- Gives the correct answers.
* Task 2 
- Has students listen again and answer the following questions in pairs.
- Calls on some pairs to practise asking and answering the questions. 
- Makes comments and gives correct answers.
IV. Post-listening:
- Has students work in groups to talk 
about Mai's birthday party. 
- Calls on some students of each group to report their group's ideas in front of the class.
No consolidation
Gets the students to write a short passage to describe Mai's birthday party and to prepare for the next lesson.
I. Warm up:
Answer the questions.
Listen to the teacher.
II. Pre-listening:
Listen, guess the meaning of the words and take notes.
III.While-listening:
* Task 1
Listen and decide whether the statements are True/ False.
*Task 2
Listen to the tape again and 
answer the following questions in pairs.
Listen to the teacher and take notes.
IV. Post-listening:
Talk about Mai's birthday party in groups. 
Listen to the teacher.
Listen to the teacher and take notes.
UNIT 3: A PARTY (LISTENING)
I. Vocabulary:
+ clap(v)
+ decorate(v)
+ icing(n)
+ slice(n) 
II.Listening tasks:
* Task 1
1. F (the party began at about 3 in the afternoon)
2. F (over 20)
* Task 2
1. She was 16 years old.
2. Because it is noisy and expensive.
3. She served them soft drinks and biscuits at the beginning of the party.
III. Homework
- Write a short passage to describe Mai's birthday party. 
- Prepare for the next lesson.
* Self-evaluation: 
Period:	 
Class(es): 11A 
UNIT 3: A PARTY (WRITING)
I.AIMS AND OBJECTIVES
1.Language content: To help students know how to write an informal letter of invitation.
2.Language function: Writing an informal letter of invitation.
3.Educational aim:
4.Language: Vocabulary: no
II.TEACHER'S AND STUDENTS' PREPARATION
1. Method: Communicative Approach
2. Skills: Integrated skills 
3.Techniques: questions-answers, explanation, translation. 
4. Teaching aids needed: colour chalk, textbook, charts
5.Students' preparation: Prepare the lesson at home
III.PROCEDURE IN CLASS
1.Stabilization:(1min) Greeting.
2.Checking up the previous knowledge(5mins) * Questions: Talk about Mai's birthday party.
3.Presentation of the new materials:
Teaching steps, time location
Teacher's activities
Students' activities
The lesson content
I.Presentation of the new material: 34mins
II.Consolidation
III. Home
 work
 5mins
I. Warm up: 
- Asks the students: 
+ What is the name of the letter?
- Tells the aim of the new lesson.
II. Pre-writing:
* Task 1: 
- Gets students to complete the letter of invitation with the words/phrases in the box individually and then compare their answers with a peer.
- Calls on students to give the answers and write them on the board.
* Task 2: 
- Helps students revise the format of a personal / informal letter by analyzing the letter that they've just completed. 
III.While-writing: Task 3:
- Has students write a letter of invitation, using the following questions in their books.
- Collects students' writings.
IV. Post-writing: 
- Has students work in groups of five, deliver each group five pieces of writings and tell them to read and correct their friends' writing.
- Calls on a student from each group to read their group's best writing, and ask students to give comments.
- Gives feedback.
* A sample letter:
 Hanoi May 10, 2004
Dear Lan,
As the school year is coming to an end, I'm giving a farewell party for people to meet up before they go away for holiday. Would you like to come? It will be at my place at 7p.m this coming Sunday. I intend to invite about 10 people, so it will be a small gathering and hopefully, people can socialize more easily. I will order some pizzas and buy snacks and fruit.
See you,
 Nam
No consolidation
Gets the students to write a letter of invitation at home and to prepare for the next lesson.
I. Warm up: 
Answer the question.
+ letter of invitation
Listen to the teacher.
II. Pre-writing:
* Task 1: 
Complete the letter of invitation with the words/ phrases in the box individually, then compare their answers with a peer.
Listen to the teacher.
* Task 2:
Revise the format of a personal/informal letter.
III.While-writing: Task 3:
Write a letter of invitation, using the following questions in their books.
IV. Post-writing:
Work in groups of five, read and correct their friends' writing.
Listen to the teacher and take notes.
.
Listen to the teacher and take notes.
UNIT 3: A PARTY (WRITING)
* Writing tasks:
* Task 1: 
* Task 2: Letter Completion
1. at my house 2. to come
3. refreshments 4. to cook
* Task 3:
* A sample letter:
 Hanoi May 10, 2004
Dear Lan,
As the school year is coming to an end, I'm giving a farewell party for people to meet up before they go away for holiday. Would you like to come? It will be at my place at 7 p.m this coming Sunday. I intend to invite about 10 people, so it will be a small gathering and hopefully, people can socialize more easily. I will order some pizzas and buy snacks and fruit
See you,
 Nam
III/ Homework
- Write a letter of invitation.
- Prepare for the next lesson. 
* Self-evaluation: 
Period:	 
Class(es):11A 
UNIT 3: A PARTY (LANGUAGE FOCUS)
I.AIMS AND OBJECTIVES
To help the students distinguish the sounds /l/, /r/ and /h/ and pronounce the words and sentences containing these sounds correctly.
* PRONUNCIATION: /l/, /r/ and /h/
* GRAMMAR: Infinitive and Gerund; 	 
II.TEACHER'S AND STUDENTS' PREPARATION
1. Method: Communicative Approach
2. Skills: Integrated skills 
3. Techniques: questions-answers, explanation, sentence completion. 
4. Teaching aids needed: colour chalk, textbook, handouts.
5. Students' preparation: Prepare the lesson at home
III.PROCEDURE IN CLASS
1. Stabilization:(1min) Greeting.
2. Checking up the previous knowledge(5mins)* Questions: Complete the letter of invitation with the words/phrases in the box: At my house winners to come to cook by Monday refreshments
3.Presentation of the new materials:
Teaching steps, time location
Teacher's activities
Students' activities
The lesson content
I.Presentation of the new material: 34mins
II.Consolidation
III.Homework
5mins
A. PRONUNCIATION 
I. Lead-in: 
- Gets students to pick out the words containing the ending sounds /m/, /n/
/ŋ/ in the Tongue Twisters and put them into the right column of the three sounds.
- Introduces the sounds /m/, /n/, /ŋ/.
II. Pre-practice:
- Models the two sounds /l/, /r/ and /h/ for a few times and explains the differences in producing them.
- Calls on some students to read the words out loud.
- Corrects if students pronounce the target words incorrectly.
III. Controlled -practice:
- Has students take turn to read aloud the given sentences in pairs. 
- Corrects their mistakes.
IV. Free-practice:
- Has students give examples with the sounds /l/, /r/ and /h/.
- Gives comments.
B. GRAMMAR
VERB FORM REVIEW
I. Lead-in: 
- Provides the students with some handouts and has the students underline the verbs followed by 
"TO-INFINITIVE"
- Tells the aim of the new lesson.
II. Pre-practice:
- Elicits the forms and usages of infinitive and gerund in active and passive voices from students.
+ Infinitive and gerund in active:
Form: V+to-infinitive/V+V+ing (gerund)
+ Infinitive and gerund in passive:
Form: to be + Past participle
 being + Past participle
III.Controlled -practice:
* Exercise 1: 
- Has students complete the sentences with the correct form, gerund or infinitive, using the words in brackets individually; then check their answers with a partner.
- Checks the answers with the whole class and provides correct answers.
* Exercise 2: 
- Has students choose the correct answer to complete the sentences.
- Checks the answers with the whole class and gives correct answers.
* Exercise 3: 
- Has students choose the correct answer to complete the sentences individually; then check their answers with a partner.
- Checks the answers with the whole class and gives correct answers.
IV. Free-practice: 
1. We/decide/not go out/cold weather
2. He /finish/clean/the floor
3. I/not interested/discuss/the problems
4. It/no use/do exercises/every morning
5. I/not mind/be kept/wait
No consolidation
Gets the students to review the grammar points they have learnt and to prepare for the next lesson.
A. PRONUNCIATION
I. Lead-in:
Pick out the words containing the ending sounds /m/, /n/, /ŋ/ in the Tongue Twisters.
Listen to the teacher.
II. Pre-practice:
Listen to the teacher and take notes.
Listen to the teacher.
III.Controlled -practice:
Read aloud the given sentences. 
Listen to the teacher.
IV. Free-practice:
Give examples with the sounds /l/, /r/ and /h/.
Listen to the teacher.
B. GRAMMAR
VERB FORM REVIEW
I. Lead-in: 
Underline the verbs followed by
"TO-INFINITIVE"
Listen to the teacher.
II. Pre-practice:
Listen to the teacher, answer the question and take notes.
II.Controlled -practice:
* Exercise 1: completion: Complete the sentences with the correct form, gerund or infinitive, using the words in brackets individually; then check their answers with a partner.
* Exercise 2: 
Choose the correct answer to complete the sentences individually; 
* Exercise 3: 
Listen to the teacher and take notes
IV.Free-practice: 
Listen to the teacher and take notes.
UNIT 3: A PARTY
 (LANGUAGE FOCUS)
A. PRONUNCIATION
+ When producing /m/, close tips.
+ When producing /n/, your tongues touch the roof of your mouths.
B. GRAMMAR
VERB FORM REVIEW
* Infinitive and gerund in active and passive voices:
+ Infinitive and gerund in active:
Form: V+to-infinitive/V+V+ing (gerund)
+ Infinitive and gerund in passive:
Form: to be + Past participle
 being + Past participle
* Exercise 1: 
 answers:
1. having 2. getting 3. to tell
4. practicing 5. to see
* Exercise 2: 
→ Suggested answers:
1. B 2. A 3. B 4. B 5.A
* Exercise 3: 
→ Suggested answers:
1. D 2. C 3. B 4. B 5. C
III/ Homework
- Review the grammar points the students have learnt.
- Prepare for the next lesson.
* Self-evaluation: