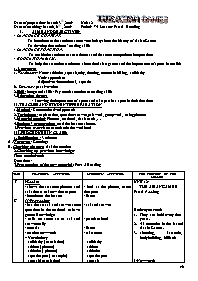 I. AIMS AND OBJECTIVES:
 - LANGUAGE CONTENT :
+To introduce to the students some vocabulary about the history of Asian Games
+To develop the students' reading skills
- LANGUAGE FUNCTION:
 + To enable the students to scan the text and do some comprehension questions
- EDUCATIONAL AIM:
 + To help the sts understand more about the Asian games and the importance of sports in our life
1. Language:
a. Vocabulary: Noun: athletics, squash, ruby, fencing, mountain biking, solidarity
 Verb: appreciate
 Adjectives: intercultural, aquatic
b. Structure: passive voice
2.Skill: Integrated skills: Pay much attention to reading skills
3.Education factor:
 - knowing the importance of sports and take part in a sport in their free time
II.TEACHER AND STUDENTS' PREPARATION
1.Method: Communicative Approach
2.Techniques: explanation, question-answer, pair work, groupwork, using pictures
3.Material needed: Pictures, textbook, flash cards,
4.Students' preparation: read the lesson at home.
5.Previous exercises: exercises in the workbook
Date of preparation: March 3th ,2009	 Unit 12 
 	Date of teaching: March , 6th , 2009 Period: 74	 Lesson: Part A Reading
AIMS AND OBJECTIVES:
	- LANGUAGE CONTENT : 
+To introduce to the students some vocabulary about the history of Asian Games
+To develop the students' reading skills 
- LANGUAGE FUNCTION:
 	+ To enable the students to scan the text and do some comprehension questions
- EDUCATIONAL AIM:
 	+ To help the sts understand more about the Asian games and the importance of sports in our life
1. Language:
a. Vocabulary: Noun: athletics, squash, ruby, fencing, mountain biking, solidarity
	Verb: appreciate
	Adjectives: intercultural, aquatic
b. Structure: passive voice
2.Skill: Integrated skills: Pay much attention to reading skills
3.Education factor: 
	- knowing the importance of sports and take part in a sport in their free time
II.TEACHER AND STUDENTS' PREPARATION
1.Method: Communicative Approach
2.Techniques: explanation, question-answer, pair work, groupwork, using pictures 
3.Material needed: Pictures, textbook, flash cards,
4.Students' preparation: read the lesson at home.
5.Previous exercises: exercises in the workbook
III. PROCEDURE IN CLASS:
1. Stabilization: 3 minutes 
A .Warm–up: Greetings 
B. Checking absence: Ask the monitor
2.Checking up previous knowledge: 
Time needed: omit
Questions: 
3.Presentation of the new material: Part A Reading
TIME
TEACHER'S ACTIVITIES
STUDENTS' ACTIVITIES
THE CONTENT OF THE LESSON
5'
8'
12'
8'
2'
I/Lead in 
- shows the sts some pictures and asks the sts to know these sports
- introduces the lesson 
II/Pre-reading
- has the sts ask and answer some questions in the textbook to have general knowledge
- calls on some sts to ask and answer orally
- remarks
- teaches new words
* Vocabulary
+ solidarity [ translation]
+ athlete [ picture]
+ athletics [ picture]
+ aquatic sport [ example]
+ squash [ translation]
+ rugby [ picture]
+ mountain biking [ drawing]
+ billiard [ picture]
+ karatedo [ picture]
+ appreciate [ translation]
- checks the words' understanding by asking the students to match the new words with the right picture
Task 1: Gap-filling
- asks the sts to do task 1 individually
- calls on some sts to give answers
- gives feedback
1. facilities; 2. aquatic; 3. enthusiasm; 4. effort; 5. advancing; 6. appreciated
1. III/ While reading
Task 2: Scan the text 
- asks the sts to read the text to write down the years and the events of the Asian games
- asks the sts to answer
- gives feedback
1. 1951
2. the 2nd Asain Games held in manila, Philippines
3. 1958
4. squash, rugby, fencing and mountain biking
5. 2002
Task 3: Answering questions
- asks the sts to ask and answer in pairs (5')
- calls on some sts to practise
- gives remarks and marks
1. The purpose of the Asian Games is developing intercultural knowledge and friendship within Asia.
2. 9919 participants took part in the 14th Asain Games.
3. The Vietnamese athletes won two gold medals in body building and billiards, and 2 others in women's karatedo.
IV/ Post reading 
- asks the sts to work in groups in 5'and name the sports in which Vietnamese athletes have won gold medals at the Asian Games.
- goes around to help
- calls on some sts to present
- gives feedback.
V/ Consolidation 
- reminds the content of the lesson.
- gives the message "playing sport for a healthy body"
- look at the picture, name the sports
- listen
- ask and answer
- practise aloud
- listen
- take notes
+ solidarity 
+ athlete 
+ athletics 
+ aquatic sport 
+ squash 
+ rugby 
+ mountain biking 
+ billiard 
+ karatedo 
+ appreciate 
- match the new words with the right picture
- do task 1
- answer
- take notes
1. facilities; 2. aquatic; 3. enthusiasm; 4. effort; 5. advancing; 6. appreciated
- read the text to write down the years and the events of the Asian games
- answer
- listen, take notes
1. 1951
2. the 2nd Asain Games held in manila, Philippines
3. 1958
4. squash, rugby, fencing and mountain biking
5. 2002
- ask and answer in pairs
- practise
- take notes
1. The purpose of the Asian Games is developing intercultural knowledge and friendship within Asia.
2. 9919 participants took part in the 14th Asain Games.
3. The Vietnamese athletes won two gold medals in body building and billiards, and 2 others in women's karatedo.
- work in groups in 5'and name the sports in which Vietnamese athletes have won gold medals at the Asian Games.
- listen
UNIT 12: 
THE ASIAN GAMES
Part A Reading
Before you read:
They are held every four years.
45 countries in the lasted Asain Games.
shooting, karatedo, bodybuilding, billiards
I/New words 
+ solidarity 
+ athlete 
+ athletics 
+ aquatic sport 
+ squash 
+ rugby 
+ mountain biking 
+ billiard 
+ karatedo 
+ appreciate 
Task 1
1. facilities; 2. aquatic; 3. enthusiasm; 4. effort; 5. advancing; 6. appreciated
Task 2
1. 1951
2. the 2nd Asain Games held in manila, Philippines
3. 1958
4. squash, rugby, fencing and mountain biking
5. 2002
Task 3
1. The purpose of the Asian Games is developing intercultural knowledge and friendship within Asia.
2. 9919 participants took part in the 14th Asain Games.
3. The Vietnamese athletes won two gold medals in body building and billiards, and 2 others in women's karatedo.
Home work(3'):
- learn by heart the new words
- translate the text
- do exercises in the workbook
Preparation for the next lesson (2'):
-prepare Part B at home (Speaking)
Self–evaluation:
Date of preparation: March 4th 09. Unit 12 : THE ASIAN GAMES
 	Date of teaching: March, 6th 09 Period: 75 Lesson: Part B Speaking
I.AIMS AND OBJECTIVES:
	- LANGUAGE CONTENT : 
+ To help the sts practise talking about the Asian games
+ To review Wh- questions and how to say number
+ To help the sts know more about the achievements of Vietnamese athletes in Asian Games
- LANGUAGE FUNCTION:
 	+ To enable the students to talk about the Asian games
- EDUCATIONAL AIM:
 	+ To make the sts aware of the importance of sports in our life
1. Language:
a. Vocabulary: review vocabulary in the reading text
 b. Structure: Wh- questions
2.Skill: Integrated skills: Pay much attention to speaking skills
3.Education factor: practising some kinds of sports
II.TEACHER AND STUDENTS' PREPARATION
1.Method: Communicative Approach
2.Techniques: explanation, question-answer, pair work, group work
3.Material needed: Pictures, textbook, 
4.Students' preparation: read the lesson at home
5.Previous exercises: exercises in the workbook
III. PROCEDURE IN CLASS:
1. Stabilization: 3 minutes 
 A .Warm–up: Greetings 
 B. Checking absence: Ask the monitor
 2.Checking up previous knowledge: 
Time needed: 5'
Question: ask some questions about the reading text ( page 137)and ask the sts to write some new words
Answer: 
3.Presentation of the new material: Part B Speaking
TIME
TEACHER'S ACTIVITIES
STUDENTS' ACTIVITIES
THE CONTENT OF THE LESSON
5'
5'
15'
9'
2'
I/Lead in 
- asks some questions to lead to the lesson
"What Asian countries have taken part in the Asian Games? Has Vietnam hold any Asian Games?Can you name some sports introduced in the Asain Games?
II/Pre-speaking
- asks the sts to look at the table on page 139
- introducesthe modal dialogue
- reviewsthe tense used and the passive voice
III/ While speaking
Task 2
- introduces the task, asks the sts to work in pairs to speak about the year, the host countries, the countries participated in and the number of sports played
- asks different pairs to practise orally
- gives remarks
Task 2
- asks the sts to work in groups to look at the table and take turn to talk about the sport results of the Vietnamese athletes at the 14th Asian Games
- calls on some sts to report
- remarks
IV. Post speaking
- divides the sts into 4 groups
- asks the sts to do a survey about the sport fans
- asks each student to express their ideas
- gives remarks
V/ Consolidation 
- reminds the content of the lesson 
- answer
Thailand, Japan, Korea, the Philippines, 
No, it hasn't.
- listen, 
- look at the table on page 139
- listen
- take notes
- listen, work in pairs to speak about the year, the host countries, the countries participated in and the number of sports played
- practise orally
- listen
- work in groups to look at the table and take turn to talk about the sport results of the Vietnamese athletes at the 14th Asian Games
- report
- listen
- work in groups
- do a survey
- express
- listen
- listen
UNIT 12
Part B Speaking
Task 1
Ask ans answer questions about the Asain games, using the information from the table
A: When and where were the first Asian Games held?
B: They were held in 1951 in India.
A: How many countries took part in the Games?
B: Eleven
A: How many sports were there at the Games?
B: Six
Task 2
Talk about the sports results of the Vietnamese athletes at 14th Asian Games
Home work (3') - practise speaking at home
Preparation for the next lesson(1') -prepare Part C at home
Self–evaluation:
Find someone who?
Name
Details
Hates sports?
What sport? Why?
Plays sports everyday?
How often?
Has ever won a sport competition?
When?
Has his/ her favorite sport idol?
Who?
Has never watched sports on TV?
Why?
Has never missed a football match on TV?
Favourite team?
Watches the Asian Games very often
Which game/ like best?
Date of preparation: March, 5th , 2009. Unit 12: 
 	Date of teaching: March, 10th , 2009 Period: 76 .Lesson: Part C Listening
	I.AIMS AND OBJECTIVES:
	- LANGUAGE CONTENT : 
+ To intoduce to the sts a passage about the Asian Games
- LANGUAGE FUNCTION:
+To help the sts develop listening skills
- EDUCATIONAL AIM:
 	+ To make the sts aware of the neccessity of training to achieve something
1. Language:
a. Vocabulary: freestyle (n), gymnasium (n), gymnast (n), bar (n), to land, to come live
 b. Structure: simple present
 2. Skill: listening and speaking
3. Education factor: 
	- 	Knowing more about the world records in sports and practise sports to keep fit
II.TEACHER AND STUDENTS' PREPARATION
1.Method: Communicative Approach
2.Techniques: explanation, pair work, group work, guessing
3.Material needed: Pictures, textbook 
4.Students' preparation: read the lesson at home.
5.Previous exercises: talk about the 14th Asian Games
III. PROCEDURE IN CLASS:
1. Stabilization: 3 minutes 
A .Warm–up: Greetings 
B. Checking absence: Ask the monitor
 Checking up previous knowledge: 
Time needed: 5'
Questions: asks 2 sts to talk about 14th Asian Games
Answer: textbook (part: speaking)
Presentation of the new material: Part C Listening 
TIME
TEACHER'S ACTIVITIES
STUDENT'S ACTIVITIES
THE CONTENT OF THE LESSON
7' 
5'
14'
7'
2'
I/Lead in 
- asks the sts to play the game "Noughts and crosses" [ words about names of sports]
- leads to the lesson
II. Pre listening
- asks the sts : Which sport from the tab ... sson: (1')
- prepare Part D at home (how to describe a pie chart )
Self–evaluation:
Date of preparation: March, 7th , 2009. Unit 12: 
 	Date of teaching: March, 13th , 2009 Period: 77 Lesson: Part D Writing
I.AIMS AND OBJECTIVES:
	- LANGUAGE CONTENT : 
+ To help the sts to write a paragraph describing activities
- LANGUAGE FUNCTION:
 	- To enable the students to write a paragraph describing activities
- EDUCATIONAL AIM:
 	- To make the sts aware of the importance in describing 
1. Language:
a. Vocabulary: 
 b. Structure: simple future
	2.Skill: writing
3.Education factor: knowing more about Asian Games and the preparation for it
II.TEACHER AND STUDENTS' PREPARATION
1.Method: Communicative Approach
2.Techniques: explanation, question-answer, 
3.Material needed: textbook, reference book
4.Students' preparation: read the lesson at home and review vocabulary
5.Previous exercises: talk about a famous athlete they know
III. PROCEDURE IN CLASS:
1. Stabilization: 2 minutes 
 A . Warm–up: Greetings 
 B. Checking absence: Ask the monitor: "Who is absent today?"
 Checking up previous knowledge: 
Time needed: 6'
Questions: talk about a famous athlete they know
Answer: textbook
Presentation of the new material: Part D Writing 
TIME
TEACHER'S ACTIVITIES
STUDENT'S ACTIVITIES
THE CONTENT OF THE LESSON
5'
10'
12'
8'
I/Lead in
- asks the ststo join the game "Yes-No Questions" about Asian Games [eg: Can England take part in the Asain Games? Was Korea the host country of the 14th Asain Games?]
- leads to the lesson
II. Pre writing 
- provides the sts with some new words
+ upgrade (v) [ translation]
+ recruit (v) [ translation]
- asks the sts to look at some activities suggested in the box, the sample writing 
- elicits the tense and the language used in the passage
- provides some useful language for description
+ use simple future tense
+ firstly/ first of all
+ then/ next
III/ While writing
- asks the sts to write a paragraph of 120 words to describe the preparations for the Games
- gives the sts 10' to describe the chart 
- goes around to help
- asks some sts to read their writing
IV/ Post writing 
- corrects the sts' writing
- answer the questions
* No, I don't.
- listen
- take notes
+ upgrade (v) [ translation]
+ recruit (v) [ translation]
- look at the textbook
- read out the answers
- listen and take notes
+ use simple future tense
+ firstly/ first of all
+ then/ next
- write the paragraph in 10'
- read their writing
- ask for help
- read their writing
- listen, correct
UNIT 12:
Part D Writing
New words
+ upgrade (v) [ translation]
+ recruit (v) [ translation]
Useful expressions
+ upgrade (v) [ translation]
+ recruit (v) [ translation]
Suggested writing
Home work (2'):
- write a paragraph (workbook)
Preparation for the next lesson ( 1'):
-prepare Part E at home 
Self–evaluation:
To prepare for the coming Asain Games, we have a lot of things to do. First of all, we will build one more national stadium and some sports building and car parks. The National Sports Centers and local stadiums are not in good condition, so they need to be immediately upgraded. And we will widen the traning areas and the roads to the sports buildings. Then we have to equip all the hotels and guest houses with modern facilities to welcome foreign athletes and visitors. These hotels should also have special services for disable athletes. It is necessary to promote and advise all the preparations for the Asian Games on the adio and TV. Finally, we need to recruit volunteers to serve the Games . These people should be university teachers and students with English. One more important thing is that we have to hold a competition to choose an official song for welcoming the Asian Games. 
Date of preparation: March, 9th , 2009 Unit 12 : 
 	Date of teaching: March, 13th , 2009 Period: 78 Lesson: Part E Language Focus
I.AIMS AND OBJECTIVES:
	- LANGUAGE CONTENT : 
+ To help the sts to pronounce the consonant clusters / str/, / skr/, / skw/, 
+ To review relative clauses 
+ To introduce to the sts the way to omit relative pronouns
- LANGUAGE FUNCTION:
 	- To enable the students to pronounce three sounds above correctly
	- To help them do some grammar exercises related to relative clauses and write sentences with omission of relative pronouns
- EDUCATIONAL AIM:
	 - To make the students aware of the importance of using relative clauses 
1. Language:
a. Vocabulary: review vocabulary learnt 
 b. Structure: present and past participle
	2.Skill: Integrated skills
3.Education factor: doing grammatical exercises regularly
II.TEACHER AND STUDENTS' PREPARATION
1.Method: Communicative Approach
2.Techniques: explanation, analysis, question-answer, group work, pair work
3.Material needed: textbook, reference books, hand-outs 
4.Students' preparation: do the exercises at home.
5.Previous exercises: write a paragraph describing a chart
III. PROCEDURE IN CLASS:
1. Stabilization: 2 minutes 
	A .Warm–up: Greetings 
	B. Checking absence: Ask the monitor
 Checking up previous knowledge: 
Time needed: 2'
Questions: asks some students to hand in their notebooks 
Answer: teacher checks at home
Presentation of the new material: Part E Language focus
TIME
TEACHER'S ACTIVITIES
STUDENT'S ACTIVITIES
THE CONTENT OF THE LESSON
5'
5'
4'
8'
5'
5'
5'
2'
I/Lead in 
- asks the sts to look at some words in a box (chart) and asks them to practise in a while then read aloud (The student who can read aloud quickly and correctly will be the winner)
- introduces the lesson: "Today we'll practise some sounds / str/, /skr/, / skw/
II. Presentation 1
* Pronounciation
Activity 1: Listen and Repeat
- reads the words in the text book carefully once, shows them how to pronounce the sounds correctly
- asks the sts to read the words in the textbook after the teacher
- calls on some sts to read the words
- makes corrections
Activity 2: Practise the sentences
- reads the sentences once and explains the meaning if necessary
- asks the sts to work in pairs to practise reading the sentences.
- calls on some sts to read aloud
- gives comments
III. Presentation 2
* Grammar: Relative Clauses and the ommision of relative pronouns
- asks the sts to give examples using relative clauses
- writes on the board
Eg: a. The bicycle which I bought last month has disappeared.
b. The bicycle which is expensive has disappeared.
- asks the sts to say the difference between the two sentences
- shows the omission of relative clauses (sentence a)
The bicycle I bought last month has disappeared.
- gives the rule
* We can leave out the pronoun when it is not the subject of the relative clause. Clauses without pronouns are very common in informal English.
Eg: The dress I bought fits me very well.
IV. Practice
Exercise 1 
- asks the sts to do exercise 1 in 2'
- calls on some sts to answer
- corrects
1. Have you found the bike you lost?
2. Most of the classmates he invited to the party couldn't come.
3. The short stories John told were very funny.
4. The dictionary I bought yesterday is expensive, but very interesting.
5. I didn't like the man we met this morning.
6. The beef we had for lunch was really delicious.
Exercise 2
- asks the sts to do the task individually, asks them to pay attention to the preposition in each sentence
- calls on some sts answer orally
- corrects
1. I enjoy my job because I like the people I work with.
2. The dinner party we went to wasn't very enjoyable.
3. The house we're living in is not in good condition.
4. I wasn't interested in the things they were talking about.
5. he didn't get the job he applied for.
6. The bed I slept in was very modern.
Exercise 3
- asks the sts to do exercise 3 in groups in 2'
- asks the sts to answer orally
- gives feedback
1.	V
2.	
3.	V
4.	
5.	V
6.	V 
V. Consolidation
- reviews the use of omission of relative pronouns
- look at the words in the chart and read them correctly
- listen
- listen
- read the words in the textbook after the teacher
- read the words aloud
- listen, repeat if necessary
- listen 
- practise reading the sentences
- practise
- listen
take notes
give example
Eg: a. The bicycle which I bought last month has disappeared.
b. The bicycle which is expensive has disappeared.
- say the difference between the two sentences
- look at the board, take notes
The bicycle I bought last month has disappeared.
- write down
* We can leave out the pronoun when it is not the subject of the relative clause. Clauses without pronouns are very common in informal English.
Eg: The dress I bought fits me very well.
- do exercise 1 in 2'
- answer
- take notes
1. Have you found the bike you lost?
2. Most of the classmates he invited to the party couldn't come.
3. The short stories John told were very funny.
4. The dictionary I bought yesterday is expensive, but very interesting.
5. I didn't like the man we met this morning.
6. The beef we had for lunch was really delicious.
- do the task individually
- listen
1. I enjoy my job because I like the people I work with.
2. The dinner party we went to wasn't very enjoyable.
3. The house we're living in is not in good condition.
4. I wasn't interested in the things they were talking about.
5. He didn't get the job he applied for.
6. The bed I slept in was very modern.
- do exercise 3 in groups 
- answer orally
- take notes
1. v
2.
3. v
4.
5.v
6. v
- listen
UNIT 12: 
THE ASIAN GAMES
Part E Language Focus
Pronunciation 
/ str/ / skr/ /skw/ 
Street scream square
Strong screen squeeze
Strange screw squash
Grammar: Relative Clauses and the ommision of relative pronouns
Eg: a. The bicycle which I bought last month has disappeared.
b. The bicycle which is expensive has disappeared.
a. The bicycle I bought last month has disappeared.
* We can leave out the pronoun when it is not the subject of the relative clause. Clauses without pronouns are very common in informal English.
Eg: The dress I bought fits me very well.
Exercise 1
1. The boy playing the piano is Ben.
2. Do you know the woman coming toward us?
3. the people waiting for the bus in the rain are getting wet.
4. The scientist researching for the causes of cancer are making progress.
5. The fence surrouding our house is made of wood.
6. We have an apartment overlooking the park.
Exercise 2 
1. I enjoy my job because I like the people I work with.
2. The dinner party we went to wasn't very enjoyable.
3. The house we're living in is not in good condition.
4. I wasn't interested in the things they were talking about.
5. He didn't get the job he applied for.
6. The bed I slept in was very modern.
Exercise 3
1. v
2.
3. v
4.
5.v
6. v
Homework (1')
- redo the execises and do some exercises in the workbook
Preparation for the next lesson (1'):
-prepare for the first semester examination
Self–evaluation: