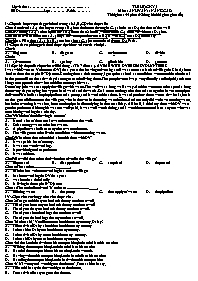 I/. Chọn từ hoặc cụm từ gạch dưới trong số A,B,C,D cần được sửa
Câu 1:I noticed ( A. ) the boy to creep ( B. ) into the house through ( C. ) a hole at ( D. ) the foot of the wall
Câu 2:Waiting ( A. ) at the airport for ( B. ) more than 2 hours, we decided ( C. ) to leave without ( D. ) her.
Câu 3:He advised me to not ( A. ) buy a new computer because( B. ) it was(C. ) not ( D. ) necessary
Câu 4:Mr. Pike, that ( A. ) is ( B. ) our boss, has ( C. ) just come back from ( D. ) Paris.
II/. Chọn từ có phần gạch dưới được đọc khác với các từ còn lại .
Câu 5:
A. beginner B. diagram C. environment D. divide
Câu 6:
A. adventurous B. anxiety C. affordable D. amount
III/. Đọc kỹ đoạn để chọn câu trả lời đúng . (Từ 7 đến 11 ). A YEAR WITH OVERSEAS VOLUNTEERS
I was with Overseas Volunteers (OV) for a year after leaving university, and I was sent to an isolated village in Chad, about 500 km from the capital N'Djamena. Coming from a rich country, I got quite a shock as conditions were much harder than I had expected. But after a few days I soon got used to living there. The people were always very friendly and helpful, and soon I began to appreciate how beautiful the countryside was.
One of my jobs was to supply the village with water. The well was a long walk away. And the women used to spend a long time every day carrying heavy pots backwards and forwards. So I contacted organization and arranged to have some pipes delivered. We built a simple pipeline and a pump, and it worked first time. It wasn't perfect - there were a few leaks, but it made a great difference to the villagers, who had never had running water before. And not only did we have running water, but in the evenings it was hot, because the pipe had been lying in the sun all day. All in all, I think my time with OV was a good experience. Although it was not well-paid, it was well worth doing, and I would recommend it to anyone who was considering working for a charity.
Bạn đang xem tài liệu "Thi học kỳ i môn: Anh văn 11 (nâng cao)", để tải tài liệu gốc về máy bạn click vào nút DOWNLOAD ở trên
Họ và tên : ........
SBD:........................Lớp : P.thi:
THI HỌC KỲ I 
Môn : ANH VĂN 11 NÂNG CAO 
Thời gian : 45 phút (Không kể thời gian giao đề)
I/. Chọn từ hoặc cụm từ gạch dưới trong số A,B,C,D cần được sửa
Câu 1:I noticed ( A. ) the boy to creep ( B. ) into the house through ( C. ) a hole at ( D. ) the foot of the wall 
Câu 2:Waiting ( A. ) at the airport for ( B. ) more than 2 hours, we decided ( C. ) to leave without ( D. ) her.
Câu 3:He advised me to not ( A. ) buy a new computer because( B. ) it was(C. ) not ( D. ) necessary
Câu 4:Mr. Pike, that ( A. ) is ( B. ) our boss, has ( C. ) just come back from ( D. ) Paris.
II/. Chọn từ có phần gạch dưới được đọc khác với các từ còn lại .
Câu 5: 
A.
 beginner	 
B.
 diagram 
C.
 environment 
D.
 divide	
Câu 6: 
A.
 adventurous 
B.
 anxiety 
C.
 affordable 
D.
 amount
III/. Đọc kỹ đoạn để chọn câu trả lời đúng . (Từ 7 đến 11 ). A YEAR WITH OVERSEAS VOLUNTEERS
I was with Overseas Volunteers (OV) for a year after leaving university, and I was sent to an isolated village in Chad, about 500 km from the capital N'Djamena. Coming from a rich country, I got quite a shock as conditions were much harder than I had expected. But after a few days I soon got used to living there. The people were always very friendly and helpful, and soon I began to appreciate how beautiful the countryside was.
One of my jobs was to supply the village with water. The well was a long walk away. And the women used to spend a long time every day carrying heavy pots backwards and forwards. So I contacted organization and arranged to have some pipes delivered. We built a simple pipeline and a pump, and it worked first time. It wasn't perfect - there were a few leaks, but it made a great difference to the villagers, who had never had running water before. And not only did we have running water, but in the evenings it was hot, because the pipe had been lying in the sun all day. All in all, I think my time with OV was a good experience. Although it was not well-paid, it was well worth doing, and I would recommend it to anyone who was considering working for a charity. 
Câu 7:Which of the following is not true?
A.
 It took a lot of time to take water home from the well. 
B.
 Solar energy was used to heat water. 
C.
 A pipeline was built to carry clean water to homes. 
D.
 The villagers used to live in conditions without running water.
Câu 8:What does the author think about his time with OV?
A.
 It was paid a lot of money.	 
B.
 It was not worth working. 
C.
 It provided good experience. 
D.
 It wasted time. 	
Câu 9:How did the author feel when he arrived in the village?
A.
 impressed 
B.
 disappointed 
C.
 surprised	 
D.
 depressed
Câu 10:The author ......................________.
A.
 used to be a volunteer working in a remote village 
B.
 has been working for OV for a year 
C.
 was born in a rich family 
D.
 is living in the capital N'Djamena
Câu 11:The underlined word 'It' refers to ......................_____.
A.
 running water 
B.
 the pump 
C.
 the supply of water 
D.
 the pipeline
IV/. Chọn câu có cùng ý như câu được cho .
Câu 12:I'm grateful that you looked after my mother so well, 
A.
 Thank you because you looked after my mother so well 
B.
 Thank you that you looked after my mother so well. 
C.
 Thank you about looking after mother so well 
D.
 Thank you for looking after my mother so well,
Câu 13:John said, "You'd better not lend them any money, Daisy."
A.
 John advised Daisy should not lend them any money 
B.
 John said to Daisy not lend them any money. 
C.
 John advised Daisy not to lend them any money. 
D.
 John said Daisy not to lend them any money.
Câu 14:After Louie had written his composition, he handed it to his teacher.
A.
 Writing the composition, Louie handed it to his teacher 
B.
 Handed the composition to his teacher, Louie wrote it. 
C.
 Having written his composition, Louie handed it to his teacher. 
D.
 Handing the composition, Louie had written his composition
Câu 15:"If I were you I would go to the doctor", Tom said to Mary,
A.
 Tom told Mary that he would go to the doctor, 
B.
 Tom advised Mary to go to the doctor. 
C.
 Tom told Mary to become a doctor, 
D.
 Tom advised Mary that to go to the doctor,
V/. Chọn từ hoặc cụm từ đúng
Câu 16:All the guys in the class were fascinated by him. He looked self- ....................... 
A.
 controlling 	 
B.
 controlled 	 
C.
 control	 
D.
 controller
Câu 17:The director avoided.................Pam's phone call. He had his secretary ........ to Pam
A.
 answer / talking 
B.
 to answer / to talk 
C.
 to answer / talked 
D.
 answering / talk
Câu 18:By the time their baby arrives, the Johnson hope......................painting and decorating the new nursery.
A.
 having been finished 
B.
 having finished 
C.
 to have finished 
D.
 to have been finished
Câu 19:A shop selling shoes is called a ______.
A.
 shoe seller 
B.
 shop of shoes 
C.
 shoe-selling shop 
D.
 shoe shop
Câu 20:These adults,......................come to my night class, are very eager to learn.
A.
 that	 
B.
 whose 
C.
 when 
D.
 who
Câu 21:.....................for 12 hours, I felt marvelous
A.
 Having been slept 
B.
 Having slept	 
C.
 Have been slept 
D.
 Have slept	
Câu 22:We can form a negative adjective by adding the suffix ........... to the noun "harm".	
A.
 -al 
B.
 -less	 
C.
 -ly	 
D.
 -ful	
Câu 23:Joana ......................the last bus. But I'm not sure
A.
 should have missed 
B.
 missed 
C.
 must have missed 
D.
 may have missed
Câu 24:......................._ all the papers already, Sarah put them back in the file,
A.
 Photocopying 
B.
 To photocopy 
C.
 Having photocopied 
D.
 To have photocopied
Câu 25:7/10 is read..........................
A.
 seven- tens	 
B.
 sevenths - ten	 
C.
 seven- tens 
D.
 seven -tenths	
Câu 26:The children are divided ................... groups to talk about the weather
A.
 by	 
B.
 in 	 
C.
 with	 
D.
 into
Câu 27:This competition is held to.......................funds to help the poor
A.
 rise 	 
B.
 increase 
C.
 grow	 
D.
 raise	
VI/. Chọn từ hoặc cụm từ đúng để điền vào đoạn văn sau đây . (Từ 28 đến 37 ).
 	 A beauty contest, or beauty pageant, is a competition between people, (28)......... largely on the beauty of their physical appearance. The modern beauty pageant can (29)......... its origin to the Miss America pageant, first held in Atlantic City, New Jersey, in 1921, under the title "Inter-City Beauty" contest. The following year the title was (30)......... as Miss America. Other contests include the yearly Miss World competition and Miss Universe, which are the two largest and most famous (31)......... beauty contests. Women from around the world (32)......... in the competition for these titles. To be selected as Miss World or Miss Universe, a contestant must be (33)......... or single. If a Miss World fails to live up to people's expectations, she may be (34)......... . The organizers of the major beauty contests represent their contests (35)......... being events of world importance. (36)......... , many other people consider beauty contests to be (37)......... . entertainment event of no great importance.
Câu 28: 
A.
 based 
B.
 used 
C.
 regarded 
D.
 set
Câu 29: 
A.
 pass	 
B.
 explain 
C.
 share 
D.
 trace	
Câu 30: 
A.
 renamed 
B.
 removed 
C.
 renewed 
D.
 retained
Câu 31: 
A.
 national 
B.
 internationale 
C.
 international 
D.
 nation
Câu 32: 
A.
 interest 
B.
 involve 
C.
 participate 
D.
 excite
Câu 33: 
A.
 celibate 
B.
 impressive 
C.
 faithful 
D.
 attractive
Câu 34: 
A.
 dismissed 
B.
 disqualified 
C.
 dispensed 
D.
 declared
Câu 35: 
A.
 as 
B.
 for 
C.
 to 
D.
 of
Câu 36: 
A.
 furthermore 
B.
 therefore 
C.
 However 
D.
 Besides
Câu 37: 
A.
 popular 
B.
 mass 
C.
 agreeable 
D.
 remarkable
VII/. Chọn từ có dấu nhấn khác với các từ còn lại
Câu 38: 
A.
 agreement 
B.
 delightful	 
C.
 evaluate 
D.
 gratitude	
Câu 39: 
A.
 organize	 
B.
 different 	 
C.
 teenager 
D.
 attendant	
Câu 40: 
A.
 desire	 
B.
 common	 
C.
 number 
D.
 floppy	
BẢNG ĐÁP ÁN :
01. 
a
B
c
d
11. 
a
b
c
D
21. 
a
B
c
d
31. 
a
b
C
d
02. 
A
b
c
d
12. 
a
b
c
D
22. 
a
B
c
d
32. 
a
b
C
d
03. 
A
b
c
d
13. 
a
b
C
d
23. 
a
b
c
D
33. 
A
b
c
d
04. 
A
b
c
d
14. 
a
b
C
d
24. 
a
b
C
d
34. 
a
B
c
d
05. 
A
b
c
d
15. 
a
B
c
d
25. 
a
b
c
D
35. 
A
b
c
d
06. 
a
B
c
d
16. 
a
B
c
d
26. 
a
b
c
D
36. 
a
b
C
d
07. 
a
B
c
d
17. 
a
b
c
D
27. 
a
b
c
D
37. 
a
b
C
d
08. 
a
b
C
d
18. 
a
b
C
d
28. 
A
b
c
d
38. 
a
b
c
D
09. 
a
b
C
d
19. 
a
b
c
D
29. 
a
b
c
D
39. 
a
b
c
D
10. 
A
b
c
d
20. 
a
b
c
D
30. 
A
b
c
d
40. 
A
b
c
d