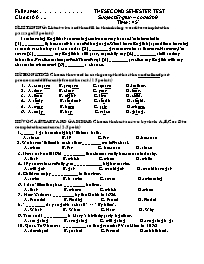 I/LISTENING:Listen twice and then fill in the missing words to complete the passage(1.5 points)
 I am learning English at an evening centre near my house.I'm interested in (1)__________ it, because it is a useful language.When I learn English,I spend time learning as much vocabulary as I can and as (2)_________ grammar rules as there are.However,I'm aware (3)_________ my English is still poor, especially my (4)__________ skill and my intonation.Practice makes perfect.Therefore, I (5)_________ practice my English with my classmates whenever I (6)_________ a chance.
II/PHONETICS: Choose the word in each group that has the underlined part pronounced differently from the rest.(1.5 points)
1. A. compare B. prepare C. square D. leather.
2. A. dear B. clear C. year D. bear.
3. A. time B. night C. live D. child.
4. A study B. student C. studio D. stupid.
5. A. wear B. here C. pair D. where.
6. A. enjoy B. boy C. voice D. going.
Bạn đang xem tài liệu "The second semester test subject: English – code: 268", để tải tài liệu gốc về máy bạn click vào nút DOWNLOAD ở trên
Full name: THE SECOND SEMESTER TEST
Class: 10 A.. Subject: English – code: 268 
 Time : 45'
I/LISTENING:Listen twice and then fill in the missing words to complete the passage(1.5 points)
 I am learning English at an evening centre near my house.I'm interested in (1)__________ it, because it is a useful language.When I learn English,I spend time learning as much vocabulary as I can and as (2)_________ grammar rules as there are.However,I'm aware (3)_________ my English is still poor, especially my (4)__________ skill and my intonation.Practice makes perfect.Therefore, I (5)_________ practice my English with my classmates whenever I (6)_________ a chance.
II/PHONETICS: Choose the word in each group that has the underlined part pronounced differently from the rest.(1.5 points)
A. compare B. prepare C. square D. leather.
A. dear B. clear C. year D. bear.
A. time B. night C. live D. child.
A study B. student C. studio D. stupid.
A. wear B. here C. pair D. where.
A. enjoy B. boy C. voice D. going.
III/VOCABULARY AND GAMMAR: Choose the best answer by circle A,B,C or D to complete the sentence.(2.5points)
 1.______ I go home tonight, I'll take a bath.
 A. since B. If C. for D. because
 2. We haven't talked to each other ________ we left school.
 A. when B. for C. because D. since
 3. It was not until 1915 _________ the cinema really became an industry.
 A. that B. which C. when D. while
 4. If you wrote carefully,you ____________ higher marks.
 A. will get B. got C. would get D. would have got
 5. Children enjoy ___________ in the river.
 A. swim B. to swim C. swam D. swimming
 6. I don't like the place _________ he lives.
 A. that B. where C. which D. when
 7. New York was _________ by the Dutch in 1624. 
 A. founded B. finding C. found D. finded
 8. " ________ do you get to school?" -- " By bike".
 A. What B. When C. How D. Why
 9. Tom and I __________ to Mary's birthday party together.
 A. am going B. are going C. will going D. are going to go
 10. Quoc Tu Giam was __________ on the grounds of Van Mieu in 1076. 
 A. developed B. pushed C. formed D. established.
IV/READING: Read the passage below then choose the best option to fill in the gaps.(2.0 points)
 The construction of the Hanoi Opera House started in 1901 and was completed in 1911. It was designed by architects Broger and Harloy and was the first opera house in Hanoi. There are more than 900 seats. The Hanoi Opera House is a building of great cultural,but also historical significance.In fact, it is where the people saw the appearance of the red flag with a star on 17th August 1945 ( at the balcony of the second floor of the opera). Besides, the building is located at the junction of Trang Tien and Hang Khay streets. On this square, the people of Hanoi turned a meeting into a demonstration to support the August Revolution.
 In 1997, with the aid of the French Government,the theatre was repaired in accordance with its original design.Provided with the best technical equipment,it is home to various high-quality performances.
When was the Hanoi Opera House constructed?
 .
How many seats in the Hanoi Opera House?
 .
Who were designers for the Hanoi Opera House?
 .
How was the theatre repaired in 1997?
 .
V/Find the mistake in the four underlined parts of each sentence that needs correcting.(1.0 point)
If the question were not so difficult, I will be able to answer it.
 A B C D 
2. The weatherman said that it is going to rain that night.
 A B C D
3. If it didn't rain yesterday, we would have gone camping.
 A B C D
4. It is not until he was 40 that he took the degree in economics.
 A B C D
 VI/ Rewrite the following sentences : (1.5 points)
He lost his job because he was late every day.( using conditional sentence)
à..
We didn't have the holiday until last summer.
àIt was not until .........
She makes some cakes for breakfast. (using passive voice)
à..
 *** GOODLUCK TO YOU***