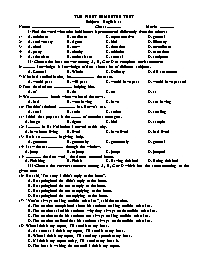 I/ Find the word whose the bold letters is pronounced differently from the others:
1/ A. celebrate B. eradicate C. representative D. general
2/ A. anniversary B. figure C. idol D. illiteracy
3/ A. clock B. mow C. donation D. co-ordinate
4/ A. party B. charity C. athletics D. marathon
5/ A. stimulate B. enthusiasm C. annual D. sculpture
 II/ Choose the best answer among A, B, C or D to complete each sentence:
6/ . knowledge is knowledge of facts about a lot of different subjects.
 A. General B. Whole C. Ordinary D. All are correct
7/ If he had studied harder, he. the exam.
 A. would pass B. will pass C. would have pass D. would have passed
8/ Tom thanked me . helping him.
 A. of B. for C. on D. at
9/ We . lunch when we heard the news.
 A. had B. were having C. have D. are having
10/ The thief admitted . Mr. Brown's car.
 A. steal B. stole C. stolen D. stealing
11/ I think that pop star is the . of countless teenagers.
 A. image B. figure C. idol D. sample
12/ I . in Ha Noi before I moved to this city.
 A. have been living B. lived C. have lived D. had lived
13/ He is so . in giving help.
 A. generous B. generosity C. generously D. general
14/ I saw the cat . through the window.
 A. jump B. to jump C. jumps D. jumped
15/ . the farm work, the farmer returned home.
 A. Finishing B. Finish C. Having finished D. Being finished
Bạn đang xem tài liệu "The first semester test subject: English 11", để tải tài liệu gốc về máy bạn click vào nút DOWNLOAD ở trên
THE FIRST SEMESTER TEST
Subject: English 11
Name: ................................................ Class: .............. Mark: ..............
 	I/ Find the word whose the bold letters is pronounced differently from the others:
1/ 	A. celebrate	B. eradicate	C. representative	D. general
2/	A. anniversary	B. figure	C. idol	D. illiteracy
3/	A. clock	B. mow	C. donation	D. co-ordinate
4/	A. party	B. charity	C. athletics	D. marathon
5/	A. stimulate	B. enthusiasm	C. annual	D. sculpture
	II/ Choose the best answer among A, B, C or D to complete each sentence: 
6/ ............ knowledge is knowledge of facts about a lot of different subjects.
	A. General	B. Whole	C. Ordinary	D. All are correct
7/ If he had studied harder, he....................... the exam.
	A. would pass	B. will pass	C. would have pass	D. would have passed
8/ Tom thanked me .................. helping him.
	A. of	B. for	C. on	D. at
9/ We .................. lunch when we heard the news.
	A. had	B. were having	C. have	D. are having
10/ The thief admitted ................ Mr. Brown's car.
	A. steal	B. stole	C. stolen	D. stealing
11/ I think that pop star is the .......... of countless teenagers.
	A. image	B. figure	C. idol	D. sample
12/ I ............ in Ha Noi before I moved to this city.
	A. have been living	B. lived	C. have lived	D. had lived
13/ He is so ................ in giving help.
	A. generous	B. generosity	C. generously	D. general
14/ I saw the cat ............... through the window.
	A. jump	B. to jump	C. jumps	D. jumped
15/ ............... the farm work, the farmer returned home.
	A. Finishing	B. Finish	C. Having finished	D. Being finished
	III/ Choose the correct sentence among A, B, C or D which has the same meaning as the given one:
16/ He said, "I'm sorry I didn't reply to the letter".
	A. He apologized for didn't reply to the letter.
	B. He apologized for not to reply to the letter.
	C. He apologized for not to replying to the letter.
	D. He apologized for not replying to the letter.
17/ "You're always making terrible mistakes", said the teacher.
	A. The teacher complained about his students making terrible mistakes.
	B. The teacher asked his students why they always made terrible mistakes.
	C. The teacher made his students not always making terrible mistakes.
	D. The teacher realized that his students always made terrible mistakes.
18/ When I finish my report, I'll send it to my boss.
	A. As soon as I finish my report, I'll send it to my boss.
	B. When I finish my report, I'll send my speech to my boss.
	C. If I finish my report today, I'll send to my boss it.
	D. The boss is waiting for me until I finish my report.
19/ I haven't got enough money, so I'm not going on holiday.
	A. If I had enough money, I will go on holiday.
	B. If I had enough money, I would go on holiday.
	C. If I had had enough money, I would go on holiday.
	D. If I had had enough money, I would have go on holiday.
20/ "If I were you, I would take the job", said my friend.
	A. My friend was thinking about taking the job.
	B. My friend insisted on taking the job for me.
	C. My friend advised me to take the job.
	D. My friend introduced the idea of taking the job to me.
	IV/ Choose the item among A, b, C or D that best answers the question about the passage:
	Throughout the United States, the number of places where people are allowed to smoke has gradually become smaller and smaller. First, it was banned on trains, buses, and planes, then in public places such as theaters, and airports. Now you can't smoke in any workplace. Nonsmokers are definitely winning the battle. "Why should we breathe their smoke?", they say.
	If they are lucky, smokers can still find some bars and restaurants where they can light up a cigarette, but it may soon be banned there, too. Anti-smoking groups even think that smoking ought to be banned in people's homes.
	Under new plans you won't be able to smoke where there are more than ten visitors in a week, or where there are children. In 1996, nicotine was classed as drug, like cocaine or heroin. In the country that gave tobacco to the world, smoking might one day illegal.
21/ Now you can smoke ................... but in the future you can't.
	A. on trains	B. in theaters	C. on planes	D. in bars
22/ "Why should we breathe their smoke?" The word "their" in this sentence means:
	A. smokers'	B. other people's	C. nonsmokers'	D. visitors'
23/ Which of the following sentence is true according to the passage?
	A. The number of smokers has become smaller.
	B. You can smoke in bars and restaurants.
	C. You cannot smoke in your office.
	D. There are more places for people who want to smoke.
24/ "Nonsmokers are winning the battle" means:
	A. there are more nonsmokers.	
	B. there are more smokers.
	C. there are fewer places where people can smoke.
	D. there are more places where people can smoke.
25/ In the future, smoking in ................... may soon be banned.
	A. bars and restaurants	B. the country that gave tobacco to the world
	C. large family's homes	D. all of these places
ĐÁP ÁN ANH VĂN 11 
	I/ 1. B	 2. C	 3. A	 4. A	 5. D
	II/ 6. A	7. D	8. B	9. B	10. D
	 11. C	12. D	13. A	14. A	15. C
	III/16. D	17. A	18. A	19. B	20. C
	IV/ 21. D	22. A	23. C	24. C	25. D