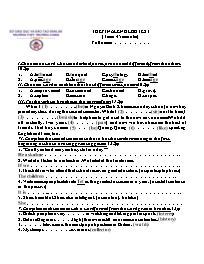 I.Choose one word whose underlined part is pronounced differently from the others (0.5p)
1. A.technical B.conquest C.psychology D.lauched
2. A.passage B.storage C.message D.teenage
II. Choose a word in each line that has different stress pattern (0.5p)
1. A.improvement B.cosmonaut C.astronaut D.gravity
2. A.caption B.mission C.tragic D.surpass
III. Put the verbs in brackets in the correct form (1.5p)
 When I (1) . (be) in Nguyen Binh Khiem secondary school, a new boy joined my class during the second semester. While I (2) . (sit) next to him, I (3) . (be/ask) to help him to get used to the new environment. We hit it off instantly. Two years (4) (pass) and now we have become the best of friends. That boy's name (5) (be) Quang. Quang (6) (like) speaking English and I am, too.
VI. Complete the second sentence so that it has the similar meaning to the first, beginning as shown or using given suggestion (2.5p)
1. "Could you lend me your bicycle for a day?"
He asked me .
2. We didn't listen to our teacher .We failed at the final exam.
If we .
3.The children who attend that school receive a good education. (use participle phrase)
The children .
Bạn đang xem tài liệu "The final English Test - Trường THPT Trường Chinh", để tải tài liệu gốc về máy bạn click vào nút DOWNLOAD ở trên
 THE FINAL ENGLISH TEST
 (Time: 45 minutes)
 Full name:
I.Choose one word whose underlined part is pronounced differently from the others (0.5p)
1. 	A.technical	B.conquest	C.psychology	D.lauched
2.	A.passage	B.storage	C.message	D.teenage
II. Choose a word in each line that has different stress pattern (0.5p)
1.	A.improvement	B.cosmonaut	C.astronaut	D.gravity
2.	A.caption	B.mission	C.tragic	D.surpass
III. Put the verbs in brackets in the correct form (1.5p)
 When I (1) .. (be) in Nguyen Binh Khiem secondary school, a new boy joined my class during the second semester. While I (2) .. (sit) next to him, I (3) .. (be/ask) to help him to get used to the new environment. We hit it off instantly. Two years (4)  (pass) and now we have become the best of friends. That boy's name (5)  (be) Quang. Quang (6)  (like) speaking English and I am, too. 
VI. Complete the second sentence so that it has the similar meaning to the first, beginning as shown or using given suggestion (2.5p) 
1. "Could you lend me your bicycle for a day?"
He asked me.
2. We didn't listen to our teacher .We failed at the final exam.
If we .
3.The children who attend that school receive a good education. (use participle phrase)
The children.
4. Vietnamese people celebrate Tet as the greatest occasion in a year. (use cleft sentence in the passive)
It is....
5. She is beautiful. She is also intelligent. (use not only but also)
She
V. Complete each sentence with a word formed from the word given in brackets (2p)
1. British people are very  in watching and taking part in sports. (interest)
2. Before Gagarin's .flight, there were still enormous uncertainties. (history)
3. television is the most popular pastime in Britian. (watch) 
4. My stamps ..is various. (collector)
IV. Read the passage, complete and answer the questions (3p)
 Five years ago David graduated from college with a degree in history.Today, he works for a large software company. Now twenty-seven David takes classes twice a week after work. He is learning to use the computer programme Powerpoint. "I enjoyed college, but my job doesn't use information I learned when I was doing my degree," David says.
Questions:
When / David / graduate / college / degree / history ?
How many / time / he / take / classes / week / after work ?
What / David / say ?
- THE END -