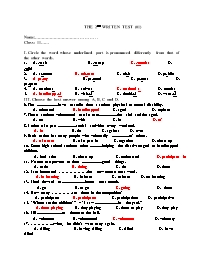 I. Circle the word whose underlined part is pronounced differently from that of the other words.
1. A. chair B. cheap C. chemist D. child
2. A. summer B. educate C. club D. public
3. A pretty B. pretend C. pretext D. prepare
4. A. teachers B. arrives C. textbooks D. combs
5. A. handicapped B. visited C. decided D. wanted
III. Choose the best answer among A, B, C and D.
6. The .have to suffer from a serious physical or mental disability.
 A. educated B. handicapped C. aged D. orphans
7. Those students volunteered to take care.the sick and the aged.
 A. on B. with C. in D. of
8. I often take part .social activities every weekend.
 A. in B. for C. against D. over
9. Each nation has many people who voluntarily .of others.
 A. take care B. take part in C. organize D. clean up
10. Some high school students often .helping the disadvantaged or handicapped children.
 A. look after B. clean up C. understand D. participate in
11. No one can prevent us from .good things.
 A. to do B. doing C. do D. done
Bạn đang xem tài liệu "The 2nd writen test (01) - Class: 11", để tải tài liệu gốc về máy bạn click vào nút DOWNLOAD ở trên
THE 2ND WRITEN TEST (01)
Name:..
Class: 11
I. Circle the word whose underlined part is pronounced differently from that of the other words.
1. A. chair 	 B. cheap C. chemist 	 D. child	
2.	A. summer	B. educate	C. club D. public
3.	A pretty B. pretend C. pretext D. prepare
4.	A. teachers	B. arrives	C. textbooks D. combs
5.	A. handicapped	B. visited	C. decided D. wanted
III. Choose the best answer among A, B, C and D.	
6. The .....................have to suffer from a serious physical or mental disability.
	A. educated	B. handicapped	C. aged D. orphans
7. Those students volunteered to take care..................the sick and the aged.
	A. on 	B. with	C. in D. of
8. I often take part ..................social activities every weekend.
 A. in	B. for 	 C. against	 D. over
9. Each nation has many people who voluntarily .................of others.
	A. take care	B. take part in C. organize D. clean up
10. Some high school students often ............helping the disadvantaged or handicapped children.
	 A. look after 	B. clean up	 C. understand	D. participate in
11. No one can prevent us from ....................good things.
 A. to do 	 B. doing	 C. do	 D. done
12. I am interested the new course next week.
	A. in learning	 B. in learn	 C. to learn	 D. on learning
13. I look forward to .......................home next month.
	 A. go	 B. to go	 C. going	D. done
14. How many are there in the competition?
 A. participates	B. participants C. participations D. participative
15. "Where are the children?" – "I saw .......................in the yard."
	 A. them playing	 B. they playing	 C. them to play	D. they play
16. Jill .........................to decorate the hall.	A. volunteer	B. volunteered	C. volunteers D. voluntary
17. ..twice, he didn't want to try again.
 A. failing B. having failing C. failed D. have failed
18. I apologized..the book at home..
 A. for leaving	 B. to leaving	 C. leaving	 D. to leave
19. Tom insisted............paying the bill.
 A. of	 B. in	 C. on	 D. for
20. Many college students want to do ............................ job during their vacation.
 A. volunteer	B. voluntary	 C. voluntarily	 D. volunteered
21. Her mother prevented her ..................... going out tonight.
 A. against	 B. from	 C. about 	 D. at
22. "Let's go to the cinema" à He suggested........... to the cinema.
 A. gone	 B. to go	 C. go	 D. going
23. " I made a mistake in the calculations"à She........... making a mistake in the calculations.
 A. promised	 B. apologized	 C. admitted	 D. agreed
III. Choose the item among A, B, C or D that best answers the question about the passage:
Each nation has many good people who take care of others. For example, some of high school and college students in the United States often spend many hours as volunteers in hospitals, orphanages or home for the aged. They read books to the people in these places, or they just visit them and play games with them or listen to their problems.
 	Other young volunteers go and work in the homes of people who are sick or old. They paint, clean up, or repair their houses, or the shopping or mow their lawns. For boys who no longer have fathers there is an organization called Big Brothers. College students and other men take these boys to baseball games or on fishing trips and help them to get to know things that boys usually learn from their fathers.
 	Each city has a number of clubs where boys and girls can go and play games or learn crafts. Some of these clubs show movies or organize short trips to the mountains, the beaches, museums or other places of interest. Most of these clubs use a lot of high school and college students as volunteers because they are young enough to understand the problems of younger boys and girls.
 	Volunteers believe that some of the happiest people in the world are those who help to bring happiness to others.
24. What do volunteers usually do to help those who are sick or old in their homes?
 A. They mow lawns, do shopping, and clean up their houses.
 B. They cook, sew, and wash their clothes.
 C. They tell them stories and sing and dance for them. 
 D. They take them to baseball games.
25. What do they help boys whose fathers do not live with them?
 A. To get to know things about their fathers.	
 B. To get to know things that boys want from their fathers.
 C. To learn things that boys usually learn from their fathers.
 D. To learn things about their fathers.
26. Which activity is NOT available for the students at the clubs?
 A. playing games B. watching films 
 C. going to interesting places D.learning photography
27. Why do they use many high school and college students as volunteers? Because......
 A. they have a lot of free time.
 B. they can understand the problems of younger boys and girls.
 C. they know how to do the work. 
 D. they are good at playing games and learning crafts.
28. What do volunteers believe?
 A. In order to make others happy, they have got to be unhappy.
 B. The happiest people in the world are those who make themselves happy.
 C. The happiest people in the world are those who are young and healthy.
 D. Bringing happiness to others makes them the happiest people in the world.
IV. Choose the underlined part among A,B,C or D that needs correcting.
29. We are looking forward to see you again.
	 A B C D
30. She smelt something burn and saw smoke rising.
 A B C D
31. David asked me telling him the time.
 A B C D
32. Peter apologized for break the vase.
 A B C D
V. Change the sentences into the reported speech.
33. Shall we go to Paris for the weekend?" Mary said to me. 
→ Mary suggested
34. "Stay here! I can't let you go out tonight," her mother said to Mary.
→ Her mother prevented	from
VI. Rearrange these words to make meaning sentences.
35. John/ me/ passing/ congratulated/ on/ the exam.
→
36. I/ not/ visiting Mary/ apologized for/ last weekend
→
THE 2ND WRITEN TEST (02)
Name:..
Class: 11
I. Circle the word whose underlined part is pronounced differently from that of the other words.
1. A. teachers	 B. arrives	 C. textbooks D. combs
2.	A. chair B. cheap C. chemist D. child
3.	A. pretty B. pretend C. pretext D. prepare
4.	A. handicapped	 B. visited	C. decided D. wanted
5.	A. summer	 B. educate	C. club D. public
III. Choose the best answer among A,B,C and D.	
6. Tom insisted............paying the bill.
 A. of	 B. in	 C. on	 D. for
7. Each nation has many people who voluntarily .................of others.
	A. take care	B. take part in C. organize D. clean up
8. I am interested the new course next week.
	A. in learning	 B. in learn	 C. to learn	 D.on learning
9. No one can prevent us from ....................good things.
 A. to do 	 B. doing	 C. do	 D. done
10. Those students volunteered to take care..................the sick and the aged.
	A. on 	B. with	C. in D. of
11. The .....................have to suffer from a serious physical or mental disability.
	A. educated	B. handicapped	C. aged D. orphans
12. Her mother prevented her ..................... going out tonight.
 A. against	 B. from	 C. about 	 D. at
13. "Let's go to the cinema" à He suggested........... to the cinema.
 A. gone	 B. to go	 C. go	 D. going
14. " I made a mistake in the calculations"à She........... making a mistake in the calculations.
 A. promised	 B. apologized	 C. admitted	 D. agreed
15. Some high school students often ............helping the disadvantaged or handicapped children.
	 A. look after 	B. clean up	 C. understand	D. participate in
16. Jill .........................to decorate the hall.	
A. volunteer	B. volunteered	C. volunteers D. voluntary
17. I look forward to .......................home next month.
	 A. go	 B. to go	 C. going	D. done
18. I apologized..the book at home..
 A. for leaving	 B. to leaving	 C. leaving	 D. to leave
19. How many are there in the competition?
 A. participates	B. participants C. participations D. participative
20. Many college students want to do ............................ job during their vocation.
 A. volunteer	B. voluntary	 C. voluntarily	D. volunteered
21. I often take part ..................social activities every weekend.
 A. in	B. for 	 C. against	 D. over
22. "Where are the children?" – "I saw .......................in the yard."
	 A. them playing	 B. they playing	 C. them to play	D. they play
23. .twice, he didn't want to try again.
 A. failing B. having failed C. failed D. have failed
III. Choose the item among A, B, C or D that best answers the question about the passage:
Each nation has many good people who take care of others. For example, some of high school and college students in the United States often spend many hours as volunteers in hospitals, orphanages or home for the aged. They read books to the people in these places, or they just visit them and play games with them or listen to their problems.
 	Other young volunteers go and work in the homes of people who are sick or old. They paint, clean up, or repair their houses, or the shopping or mow their lawns. For boys who no longer have fathers there is an organization called Big Brothers. College students and other men take these boys to baseball games or on fishing trips and help them to get to know things that boys usually learn from their fathers.
 	Each city has a number of clubs where boys and girls can go and play games or learn crafts. Some of these clubs show movies or organize short trips to the mountains, the beaches, museums or other places of interest. Most of these clubs use a lot of high school and college students as volunteers because they are young enough to remember the problems of younger boys and girls.
 	Volunteers believe that some of the happiest people in the world are those who help to bring happiness to others.
24. What do they help boys whose fathers do not live with them?
 A. To get to know things about their fathers.	
 B. To get to know things that boys want from their fathers.
 C. To learn things that boys usually learn from their fathers.
 D. To learn things about their fathers.
25. What do volunteers believe?
 A. In order to make others happy, they have got to be unhappy.
 B. The happiest people in the world are those who make themselves happy.
 C. The happiest people in the world are those who are young and healthy.
 D. Bringing happiness to others makes them the happiest people in the world.
26. Why do they use many high school and college students as volunteers? Because......
 A. they have a lot of free time.
 B. they can understand the problems of younger boys and girls.
 C. they know how to do the work. 
 D. they are good at playing games and learning crafts.
27. What do volunteers usually do to help those who are sick or old in their homes?
 A. They mow lawns, do shopping, and clean up their houses.
 B. They cook, sew, and wash their clothes.
 C. They tell them stories and sing and dance for them. 
 D. They take them to baseball games.
28. Which activity is NOT available for the students at the clubs?
 A. playing games B. watching films 
 C. going to interesting places D.learning photography
IV. Choose the underlined part among A,B,C or D that needs correcting.
29. I am looking forward to meet you again.
 A B C D
30. David asked me telling him the time.
 A B C D
31. Peter apologized for break the vase.
 A B C D
32. She smelt something burn and saw smoke rising.
 A B C D
V. Change the sentences into the reported speech.
33. "I hear you get high mark in the test. Congratulations!" Mary said to me. 
→ Mary congratulatedon.
34. I can't go to your birthday party next Saturday evening, Jack", said Mary.
→ Mary apologized for	.
VI. Rearrange these words to make meaning sentences.
35. Peter/ driving/ me/ insisted on/ to the theatre.
→
36. John/ us/ for/ thanked/ visiting him.
→

Tài liệu đính kèm:
ktra 45 lan 2 lop 11.doc