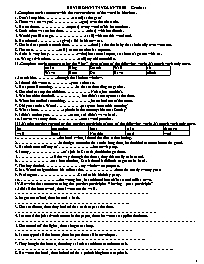 I.Complete each sentence with the correct form of the word in blackets.
1. Don't keep him (stand) at the gate!
2. There was no way of .(get) over the obstacle.
3. He made me (repeat) every word of his instructions.
4. Sonia often wastes her time (chat) with her friends.
5. Would you like to go ( sail) with me this weekend.
6. He oftened . ( give) a lift in his new car.
7. She had to spend so much time .(look) after the baby that she hardly ever went out.
8. The man .(talk) to our teacher is a reporter.
9. Anita is very busy (write) her annual report, so she can't go out with us.
10. Wang advised me (sell) my old motorbike.
II. Complete each sentence using the " ing" form of one of the following verbs. Use each verb only once.
make Ring Search Walk sit
Wave Burn Do Have climb
1.I catch him .through the kitchen window.
2. I found this woman .your suitcase.
3. He spent all morning in that café reading magazies.
4. She tried to stop the children . Noise, but couldn't.
5. We heard the doorbell ., but didn't see anyone at the door.
6. When he smelled something ., he rushed out of the room.
7. Did you see Mr. Wood past your house this morning?
8. What about .a picnic in the countryside next Sunday?
9. I didn't notice you .to me, so I didn't wave back.
10. I never waste my time .crossword puzzles.
Bạn đang xem tài liệu "Revision Unit 4 volunteer grade 11", để tải tài liệu gốc về máy bạn click vào nút DOWNLOAD ở trên
REVISION UNIT 4 VOLUNTEER Grade 11
I.Complete each sentence with the correct form of the word in blackets. 
1. Don't keep him(stand) at the gate!
2. There was no way of.(get) over the obstacle.
3. He made me(repeat) every word of his instructions.
4. Sonia often wastes her time(chat) with her friends.
5. Would you like to go( sail) with me this weekend.
6. He oftened . ( give) a lift in his new car.
7. She had to spend so much time..(look) after the baby that she hardly ever went out. 
8. The man..(talk) to our teacher is a reporter.
9. Anita is very busy(write) her annual report, so she can't go out with us.
10. Wang advised me(sell) my old motorbike.
II. Complete each sentence using the " ing" form of one of the following verbs. Use each verb only once.
make
Ring
Search
Walk
sit
Wave
Burn
Do
Have
climb
1.I catch him.through the kitchen window.
2. I found this woman.your suitcase.
3. He spent all morningin that café reading magazies.
4. She tried to stop the children. Noise, but couldn't.
5. We heard the doorbell., but didn't see anyone at the door.
6. When he smelled something., he rushed out of the room.
7. Did you see Mr. Wood past your house this morning?
8. What about.a picnic in the countryside next Sunday?
9. I didn't notice you.to me, so I didn't wave back.
10. I never waste my time.crossword puzzles.
III. Use the perfect gerund or the perfect participle of one of the following verbs. Use each verb only once.
be 
not notice
hear 
take
damage
walk
break
Not ride
read
work
1..the book twice, I found the film rather boring.
2. in foreign countries for such a long time, he decided to return home for good.
3. Rachel accused Tony of ..her new lap top.
4. Jenny, .of a job in Canada, decided to go there.
5. .all the way through the forest, they felt totally exhausted.
6. on a horse before, Sarah found it difficult to get on its back.
7. The boy denied my window on purpose.
8. Mr. Wood resigned from his office afterthere for nearly twenty years 
9. Paul regretsCarol to his birthday party.
10. ..the wrong bus, Maud found herself in an unfamiliar town.
IV. Rewrite the sentences using the perfect participle: " having + past participle"
1.I did all the housework, then I went out for walk.
.
2. he got out of bed, then he took a bath.
..
3. She ate dinner, then they looked for a café to pass the time.
.
4. Joan read the job advertisement in the paper, then she wrote an application letter.
5. She turned off the lights, then she got to sleep.
.
6. James typed all the letters, then he put them all in envelopes.
..
7. They bought the house, then they asked an architect to redecorate it.
..
8. He wrote the book, then he looked for a pubnishing house to print it.
..
9. He had drunk a bottle of wine. He couldn't drive home.
..
10. Anna has visited many European cities. She is planning to travel to South-east Asia this year.
..
V. Finish the second sentences so that it has the same meaning as the first one.
1. I really expect to meet you again soon.
I'm looking
2. Please, don't mention this matter to the children!
Would you mind..
3. The clerk was stealing the money. The manager caught him at that time.
The manager caught
4. Do you want to go out for a cup of coffee?
Do you feel..
5. She really doesn't want you to call her your " old lady"
She objects.
6. Nobody has moved the lawn for weeks.
The lawn
VI. Choose the word whose stress pattern is different from that needs correction. 
1. A. orphanage	B. difficulty	C. participate	D. handicapped
2. A. voluntary	B. volunteer	C. educate	D. mountainous
3. A. baseball	B. college	C. nation	D. remote
4. A. organoze	B. understand	C. happiness	D. interest
REVISION UNIT 5 ILLITERACY Grade 11
VII. Complete the second sentence so that it has the same meaning as the first one.
1" would you like to go to the movies this evening, Jill?" said Bob
Bob invited..
2. " Why don't you book a package holiday, Peter?" said Frank.
Frank advised.
3. " Don't forget to get up at five tomorrow, Derek," said Bill.
Bill reminded
4. " Don't go near the water, children," said the mother.
The mother warned.
5. " I'll make you a nice birthday cake," Tina's mother said.
Tina' mother promised.
6. " Lie down or I'll shoot," the robber shouted to everybody.
The robber threatened.unless everybody lay down.
7. " Get out of my way," he told the boy.
He ordered.
8. " Don't believe everything she says, Bruce," said Malcolm.
Malcom warned
9. " Please do as I say," she begged him.
She begged
10. " Don't miss your train, Martin," said his mether.
Martin's mother reminded
VIII. Write the following sentences in reported speech, using the right form of the words given in the brackets.
1." Be careful of strangers and don't go out at night" (warn)
2. " Come and see me whenever you want" ( invite)
.
3. " Please don't smoke in my car." (ask)
..
4. " Sue, give me your phone number" (tell)
..
5. " You should not drink too much beer." (advise)
.
6. " Don't forget to give the book back to Joe." (remind)
.
7. " I 'll never do it again." ( promise"
..
8. " all right, I'll wait for you" (agree)
9. " Please, lend me some money." (ask)
10. " I'll kill your son if you call the police," The kidnapper told them ( threaten)
11. " If I were you, I wouldn't accept his invitation," Kim said to Luynn. ( advise)
12. " Follow that car", the detective said to the taxi-driver. ( order)
13. " Go on, send your short story to the magazine," Pamela said Paul ( encourage)
.
VIII. Put the following into reported speech, using the correct form of one of the following verbs. Remember you can use each verb more than once.
Advise ask offer order remind warn
1." Please fill up this form," the secretary said to the customer.
..
2. " Don't touch that switch, Vera," said Tony
.
3. " Open the safe !" the robber told the bank manager.
.
4. " I were you, I wouldn't drive so fast," Nora said to Wayne.
5. " I'll help you with the washing –up, Monica," said Eric.
6. " Don't forget to reply to Jason's letter," Bill said to Joe
.
7. " why don't you ask for a pay rise, Wendy?" Tracy said to Wendy
.
8. " Don't drive fast on this road!" the policeman told us.
...
9. " Shall I make you a cup of tea?" Monica said to me.
10. " Put your gun down!" the detective told the crook.
..
IX. Put the following into reported speech.
1." Your cousin speaks very good English," Paul told me.
Paul said that..
2. " The man broke out of prison yesterday," said the policeman.
The policeman told us..
3. " I 'll lend you this book as soon as I finish it," Owen said to me.
Owen said
4. " I think I forgot to turn off the lights this morning." Brenda told Brian.
Brenda told Brian..
5. " I work eight hours a day, except when the children are on holiday," said Mrs. Wood
Mrs Wood said
6. " You have been making good progress this semester," Miss Lynn told me.
Miss Lynn said that.
7. " If you bought all the tickets, you would win the lottery," the man said.
The man told me..
8. " I like swimming but I don't go very often," Jill said to Pam.
Jill said that..
9. " I want to buy it, but I haven't brought any money," said Patrick.
Patrick told me
10. " I'm going to visit my aunt in Hue, but I'm not sure when," said Mai.
Mai told me.
X. Choose the word or phrase ( A, B, C or D ) that best completes each sentence.
1. The doctor advised meup late at night.
A. not to stay	B. to not stay	C. don't stay	D. didn't stay
2. He encouraged me..for that job.
A. applied	B. applying	C. apply	D. to apply
3. Malcolm told me that he to lock the door that morning.
A. was forgetting	B. would fotget	C. had forgotten	D. has forgotten
4. I sploke to the manager, and sheshe would phone you.
A. spoke	B. said	C. told	D. talked
5. Marthame to phone the police.
A. suggested	B. said	C. spoke	D. advised
6. I .my friends about my party, and they.they would come.
A. told-told	B. said – told	C. told – said	D. said – said
7. The tourist guideus to visit the museum.
A. recommened	B. insisted	C. talked	D. suggested
8. "Hand over the money!" said the robber. The robber..the clerk to hand over the money.
A. advised	B. reminded	C. ordered	D. threatened
9. " Don't..anything during the test," our teacherus.
A. say – told	B. tell – said	C. say - said	D. tell – told
10. " Shall I bring you a cup of coffee?" Jane said to me. Jane .to bring me a cup of coffee.
A. asked	B. offered	C. promised	D. ordered
11. ..old bottles is a strange hobby.
A. collect	B. colecting	C. collection	D. being collected
12. Did he..taking your mobile phone?
A. admit	B. refuse	C. expect	D.want
13. Sorry, but I don't feel like.this evening.
A. go out	B going out	C. to go out	D. to going out
14. She didn't want to see him, so she..to be ill.
A. suggested	B. considered	C. pretended	D. made
15. Their house really needs
A. paint	B. to paint	C. painting	D. painted
16. He looks so funny. Whenever I see him, I can't hepl.
A. smile	B. to smile	C. me smiling	D. smiling
17. He helped her, but it isn't necessary. He needn't..her!
A. help	B. to help	C. be helping	D. have helped
18. language, Stephen found it hard to get a job.
A. not know	B. not knowing	C. not to know	D. Don't know
19. We saw the lorryon the ice and hit the wall.
A. skid	B. skidded	C. to skid	D. was skidding
20. We were informed of the landslide while.along the pass.
A. drove	B. drriving	C. to drive	D. driven