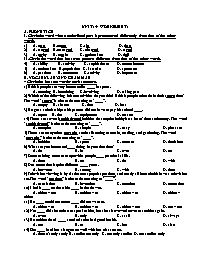 A. PHONETICS
I. Circle the word whose underlined part is pronounced differently from that of the other words.
 1) A. seats B. meets C. sits D. feats
2) A. ranged B. managed C. changed D. raged
3) A. rugby B. music C. undertaken D. dull
II. Circle the word that has stress pattern different from that of the other words.
4) A. ability B. activity C. sophisticate D. entertainment
5) A. undertaken B. population C. karaoke D. spectator
6) A. pastime B. enormous C. activity D. important
B. VOCABULARY AND GRAMMAR
* Circle the best answer for each sentence.
1) British people are very interested in ____ in sports.
 A. entering B. interfering C. involving D. taking part
2) Which of the following leisure activities do you think British people often do in their spare time? The word "spare" is closest in meaning to "____".
 A. empty B. absent C. free D. lost
3) He got a scholarship so his parents did not have to pay his school ____.
 A. report B. fee C. equipment D. master
14) There are several sophisticated hobbies that require hobbyists a lot of time and money. The word "sophisticated" is closest in meaning to "____".
 A. complex B. simple C. easy D. pleasant
Bạn đang xem tài liệu "Ôn tập Anh văn 11 - Unit 14: Worksheet 1", để tải tài liệu gốc về máy bạn click vào nút DOWNLOAD ở trên
UNIT 14- WORKSHEET 1
A. PHONETICS
I. Circle the word whose underlined part is pronounced differently from that of the other words.
 1)	A. seats B. meets C. sits D. feats
2)	A. ranged B. managed C. changed	 D. raged	
3) 	A. rugby B. music	 C. undertaken	 D. dull
II. Circle the word that has stress pattern different from that of the other words.
4)	A. ability B. activity	 C. sophisticate	D. entertainment
5)	A. undertaken B. population C. karaoke	D. spectator
6)	A. pastime B. enormous C. activity	D. important
B. VOCABULARY AND GRAMMAR 
* Circle the best answer for each sentence.
1) British people are very interested in ____ in sports.
	A. entering B. interfering C. involving	D. taking part
2) Which of the following leisure activities do you think British people often do in their spare time? The word "spare" is closest in meaning to "____".
	A. empty B. absent	 C. free D. lost
3) He got a scholarship so his parents did not have to pay his school ____.
	A. report B. fee	C. equipment	D. master
14) There are several sophisticated hobbies that require hobbyists a lot of time and money. The word "sophisticated" is closest in meaning to "____".
	A. complex	B. simple	C. easy	D. pleasant
5) There are many other pursuits such as listening to music, reading, and gardening. The word "pursuits" is closest in meaning to "____".
	A. hobbies	B. sports	C. courses	D. decisions
6) What are you interested ____ doing in your free time?
	A. for	B. in	C. over	D. on
7) Some training courses can provide people ____ practical skills.
	A. from	B. on	C. for	D. with
8) Our recreation is quite different ____ yours.
	A. between	B. among	C. with	D. from
9) Television viewing is by far the most popular pastime, and nearly all households have a television set. The word "pastime" is closest in meaning to "____".
	A. translation	B. invention	C. emotion	D. recreation
10) I left it ____ on the table ____ in the drawer.
	A. either – nor	B. neither – or	C. either – or	D. either – either
11) He ____ could not come ____ did not want to.
	A. either – or	B. neither – or	C. either – nor	D. nor – nor
12) Not ____ did she refuse to speak to him, but she also vowed never to see him again.
	A. even	B. only	C. at all	D. always	
13) He neither drank ____ smoked so he had good health.
	A. nor	B. or	C. but	D. also
14) She ____ hard but also gets on well with her classmates.
	A. doesn't only study B. studies not only C. not only studies D. not studies only
15) Either you leave now ____! 
	A. I will also call the police B. but I will call the police
	C. or will I call the police	 D. or I will call the police
C. READING
 Read the passage below and choose the best answer A, B, C or D to each question.
I'm interested in sports, especially athletics, and I run seven or eight kilometres every day. I particularly enjoy cross country running, where you have to run across fields, jump over streams and so on. While I'm running I think about all sorts of things, and at the end of a run I'm sometimes surprised to find that I've managed to solve a problem that was on my mind.
Next year, I'm going to try the London Marathon. It's hard race 26 miles, or 42 kilometres-and you have to be tough to finish, but I very much want to do it. I worry a bit about getting too old, and I'd like to prove to myself that I'm still almost as fit as I was twenty years old.
I'm interested in mountaineering s well as running. I'll never become an except climber, but I know what I'm doing in the mountains. I successfully completed a course in snow and ice climbing when I was younger; and I've done a series of easy climbs in the Alps during the last few years. My wife doesn't share my interest in mountains. She agreed to go climbing with me once, but she found that she felt ill as soon as she got above 1,000 metres.
30) If you do cross country running, you must ____.	
	A. cross your country	
 B. run along the coast	
	C. cross your countryside	
 D. cross fields, stream, etc 
31) At the end of a run the writer sometimes finds that ____.
	A. he is able to get the answer to a problem
 B. he grows bigger
	C. he feels better	
 D. he gets a surprising problem
32) The writer wants to take part in the London Marathon because ____.
	A. it helps to keep him fit	
 B. he wants to do it before getting old
	C. the reward is great	
 D. it helps him solve his problems
33) The writer takes up mountaineering because ____.
	A. he wants to become an expert climber 
 B. he simply likes it	
	C. his wife is interested in it	
 D. it is easy to practise
34) The writer's wife is not interested in mountaineering because ____.
	A. it doesn't bring her any interest	
 B. The air is cold
	C. she almost feels ill at the height of above 1,000 metres
	D. She doesn't want to climb together with her husband

Tài liệu đính kèm:
worksheet unit 14(1).doc