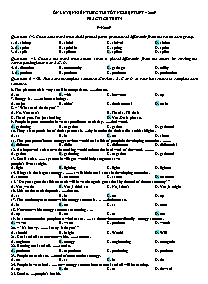 Questions 1-3. Choose one word whose bold printed part is pronounced differently from the rest in each group.
1. A. shrimp B. shrink C. shrivel D. shrine
2. A. sprite B. sprinkle C. spring D. sprint
3. A. split B. splinter C. splice D. splint
Questions 4-5. Choose the word whose main stress is placed differently from the others by circling the corresponding letter A or B, C, D.
4. A. direction B. community C. garbage D. utility
5. A. product B. produce C. producer D. production
Questions 6 – 30. These are incomplete sentences. Circle A, B, C or D as your best choice to complete each sentence.
6. The planet earth is very small in comparison .the sun.
A. to B. with C. between D. up
7. Energy is .to human beings.
A. major B. chief C. fundamental D. main
Bạn đang xem tài liệu "Ôn luyện kiến thức thi tốt nghiệp THPT năm 2009 - Practice test 5", để tải tài liệu gốc về máy bạn click vào nút DOWNLOAD ở trên
ÔN LUYỆN KIẾN THỨC THI TỐT NGHIỆP THPT – 2009
PRACTICE TEST 5
9-4-2009
Questions 1-3. Choose one word whose bold printed part is pronounced differently from the rest in each group. 
1. A. shrimp 	B. shrink 	C. shrivel 	D. shrine
2. A. sprite 	B. sprinkle 	C. spring 	D. sprint
3. A. split 	B. splinter 	C. splice 	D. splint 
Questions 4-5. Choose the word whose main stress is placed differently from the others by circling the corresponding letter A or B, C, D. 
4. A. direction 	B. community 	C. garbage 	D. utility
5. A. product 	B. produce 	C. producer 	D. production 
Questions 6 – 30. These are incomplete sentences. Circle A, B, C or D as your best choice to complete each sentence. 
6. The planet earth is very small in comparison.....the sun.
A. to 	B. with 	C. between 	D. up
7. Energy is.....to human beings.
A. major 	B. chief 	C. fundamental 	D. main
8. – "What can I do for you?"
A. No. You can't 	B. Thanks. I'll do it
C. Thank you. I'm just looking 	D. Yes. Do it please.
9. People in poor countries have to spend hours each day....fuel wood.
A. gathering 	B. to gather 	C. gather 	D. gathered
10. They also spend a lot of their spare cash..dry batteries for their radio and flashlights.
A. at 	B. in 	C. on 	D. about
11. The prospect of better energy services would make life of people in developing countries.......
A. different 	B. differ 	C. difference 	D. differential
12. An improved solar stove for cooking would reduce the hard work of firewood........
A. gather 	B. gathering 	C. to gather 	D. gathered
13. Small solar ..... systems in villages would help surgeons save
people's lives at night.
A. light 	B. lighting 	C. lights 	D. lighten
14. Biogas is the largest energy ...... available in rural areas in developing countries.
A. sources 	B. resources 	C. sauce 	D. resource
15. "Do you agree that life on earth will have changed a great deal by the end of the next century?"
A. Yes, we do 	B. Yes, I think so 	C. No, I don't	D. Yes, it might
16. Life on the earth depends....the sun.
A. at 	B. in 	C. on	D. up
17. The tendency to use renewable energy sources is...the increase.
A. in 	B. on 	C. at	D. onto
18. Non-renewable energy sources are running .. 
A. up 	B. on 	C. to	D. out
19. In some countries people use wind or sea ... as the environment-friendly energy sources.
A. waves 	B. water 	C. products	D. weeds
20. – "It's heavy...... I carry it for you?"
A. should 	B. Might 	C. Would	D. Will
21. Coal and oil are non-renewable.....sources.
A. engineer 	B. energy 	C. engineering	D. energetic
22. Burning coal and oil.....smoke.
A. produces 	B. to produce 	C. producing	D. produce
23. People on earth are..need of more nuclear energy. 
A. on 	B. at	C. in 	D. for
24. People have to look.... new energy sources because coal and oil will be used up.
A. up 	B. for 	C. to	D. forward
25. Smoke...people's health.
A. effects 	B. effect 	C. affect	D. affects
26. "What a beautiful dress you have! I like it." ~ -"......"
A. It's great 	B. Oh. It's old 	C. You look nice 	D. Thanks
27. People have used coal and oil to ...electricity for a long time.
A. generating 	B. generated	C. generate 	D. generates
28. Biogas is mainly used for cooking and ..
A. heating 	B. heat 	C. hot	D. hotness
29. ".." ~ "It's nice"
A. What do you think of the weather today?	B. How does the weather like?
C. What does the weather like?	D. Do you like the weather today?
30. One-third of humanity does not have modern energy...like electricity
A. suppliant 	B. supplement 	C. support 	D. supplies
Questions 31 – 35. Read the following passage and complete the sentences that follow by circling the corresponding letter (A or B, C, D) of the correct answers. 
 Energy is fundamental to human beings, especially to poor people – the one-third of humanity that does not have modern energy supplies like electricity, with which their life could be improved.
 Many people who live in countryside have to gather fuel wood. This takes a lot of time. Moreover, it causes indoor air pollution because of heavy smoke. For many people living in rural areas in developing countries of the world, biogas is the largest energy resources available and costs almost nothing.. The main use of biogas is for cooking and heating. As biogas is smoke-free, it helps solve the problem of indoor air pollution. Moreover, plant waste and animal manure cost almost nothing.
 The tendency to use renewable energy sources is on the increase when non-renewable ones are running out. In the near future, people in the developing countries may use wind or sea waves as the environment- friendly energy sources.
31. Poor people's life would be better, if they had .......
A. wood 	B. electricity 	C. coal 	D. petrol
32. Using fuel wood.......
A. saves a lot of time 	B. reduces heavy smoke	C. causes pollution 	D. takes a lot of money
33. People living in rural areas should not use biogas because it is.......
A. unavailable 	B. expensive 	C. harmful 	D. cheap
34. The only disadvantage of using biogas is that it is.......
A. smoke-free 	B. clean to the enviroment	C. costly 	D. available
35. The tendency to use renewable energy sources.......
A. goes up 	B. goes down 	C. fluctuates 	D. levels
Questions 36 – 40. Read the following passage carefully and then choose the best option to fit each space by circling the letter A or B, C, D. 
 Here are some suggestions for practical conservation. Use less (36)..... at home and at work. Persuade governments to pay for researches into alternative energy resources like solar power. (37)......paper, glass, metal, plastic and batteries as much as possible. Ask for bottle (38).....for glass recycling at local supermarkets. Walk, cycle or use public transport if possible, to cut down on car exhaust (39)....., which contribute to the greenhouse effect. Launch campaign for public transport systems to be improved. Join one of the many pressure (40).....which work to protect wildlife and the countryside.
36. A. oil 	B. petrol 	C. fuel 	D. wood
37. A. Reduce 	B. Redo 	C. Rewind 	D. Recycle
38. A. labels 	B. cleaners 	C. banks 	D. factories
39. A. smoke 	B. air 	C. fuels 	D. fumes
40. A. pairs	B. groups 	C. individuals 	D. teams
Questions 41-45. In these sentences, each one has four underlined words )r phrases marked A, B, C and D. Choose the one word or phrase that must be changed in order for the sentence to be correct by circling letter A or B, C, D. 
41. Non-renewable energy source cannot be remade in a short period of time.
 A B C D
42. Solar systems and biogas should introduce to as many people as possible.
 A B C D
43. People have used coal and oil to generate electric for a long time.
 A B C D
44. Renewable energy sources such as the wind and sun energy is limitless.
 A BCD
45. Renewable energy sources can be formed natural in a short period of time.
 A B C D
Questions 46 – 50. The words in italic below are cues to make sentences in a paragraph. Choose the correct option by circling the corresponding letter A or B, C, D. 
46. / chart / according / three Asian countries / more students / take / college / mathematics / (Taiwan, Japan and 
 Korea) / more /.
 A. According up the chart, more students from three Asian countries (Taiwan, Japan and Korea) are taking 
 Mathematics at the college.
 B. According with the chart, more students from three Asian countries (Taiwan, Japan and Korea) are taking 
 Mathematics at the college.
 C. According to the chart, more students from three Asian countries (Taiwan, Japan and Korea) are taking 
 Mathematics at the college.
 D. According for the chart, more students from three Asian countries (Taiwan, Japan and Korea) are taking 
 Mathematics at the college.
47. / students / some / Graphic Design / enrol / college /.
 A. Some students enrolled into the Graphic Design at the college.
 B. Some students enrolled to the Graphic Design at the college.
 C. Some students enrolled the Graphic Design at the college.
 D. Some students enrolled in the Graphic Design at the college.
48. / Mathematics / number of students / large / enrolled students / have / overall /.
 A. Overall, Mathematics has the largest number of enrolled students.
 B. Overall, Mathematics has largest number of enroled students.
 C. Overall, Mathematics has a largest number of enrolled students.
 D. Overall, Mathematics has the large number of enrolled students.
49. / males / females / the / take / outnumber / Mathematics / each country /.
 A. For each country, the males take Mathematics outnumber the females.
 B. For each country, the males taking Mathematics outnumber the females.
 C. For each country, the males took Mathematics outnumber the females.
 D. For each country, the males are taking Mathematics outnumber the females.
50. / notice / it / Japan and Korea / similar / have / profiles /.
 A. It is noticeable that Japan and Korea have similar profiles.
 B. It notice that Japan and Korea have similar profiles.
 C. It notices that Japan and Korea have similar profiles.
 D. It noticed that Japan and Korea have similar profiles.
*********
To be continued

Tài liệu đính kèm:
On Thi TNPT 5 BGDDT.doc