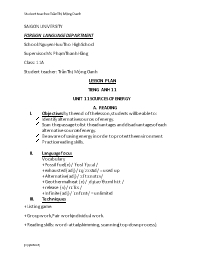 A. READING
I. Objectives By the end of the lesson, students will be able to:
 Identify alternative sources of energy.
 Scan the passage to list the advantages and disadvantages of each alternative source of energy.
 Be aware of saving energy in order to protect the environment.
 Practice reading skills.
II. Language focus
Vocabulary:
+ Fossil fuel (n) / ˈfɒsl ˈfjuːəl /
+ exhausted (adj) / ɪɡˈzɔːstɪd / = used up
+ Alternative (adj) / ɔːlˈtɜːnətɪv /
+ Geothermal heat (n) / ˌdʒiːəʊˈθɜːml hiːt /
+ release (v) / rɪˈliːs /
+ Infinite (adj) / ˈɪnfɪnət / = unlimited
Bạn đang xem tài liệu "Lesson plan tieng Anh 11 - Unit 11: Sources of energy", để tải tài liệu gốc về máy bạn click vào nút DOWNLOAD ở trên
SAIGON UNIVERSITY
FOREIGN LANGUAGE DEPARTMENT
School: Nguyen Huu Tho High School
Supervisor: Ms Phạm Thanh Hằng
Class: 11A
Student teacher: Trần Thị Mộng Oanh
LESSON PLAN
TIENG ANH 11
UNIT 11 SOURCES OF ENERGY
READING
Objectives By the end of the lesson, students will be able to:
Identify alternative sources of energy. 
Scan the passage to list the advantages and disadvantages of each alternative source of energy.
Be aware of saving energy in order to protect the environment.
Practice reading skills.
Language focus
Vocabulary:
+ Fossil fuel (n) / ˈfɒsl ˈfjuːəl /
+ exhausted (adj) / ɪɡˈzɔːstɪd / = used up
+ Alternative (adj) / ɔːlˈtɜːnətɪv / 
+ Geothermal heat (n) / ˌdʒiːəʊˈθɜːml hiːt /
+ release (v) / rɪˈliːs / 
+ Infinite (adj) / ˈɪnfɪnət / = unlimited
Techniques: 
+ Listing game.
+ Group work, Pair work, individual work.
+ Reading skills: word-attack, skimming, scanning (top-down process).
Teaching aids: chalks, black-board, pictures, sticker ball, group boards, and markers
Time: 45 minutes
Procedures 
Greetings (1')
Review of the previous lesson (4')
New lesson
Stages
Teacher's activities
Students' activities
1.Warm-up
(4')
2. Pre-reading
(10')
3. While- reading
(15')
4. Post-reading
(10')
5. Homework
(1')
Listing game
T divides class into 4 groups.
T shows some icons of some home appliances and introduces that they all need electricity to operate.
T asks Ss to work in 4 groups and list home appliances that use electricity as much as possible in 3 minutes, and then Ss stick the group boards on the black board.
Which group has the most things gets the highest marks.
T checks understanding the rule
T gives each group 1 group board.
T organizes the game.
After 3 minutes, T calls 4 Ss to check amount of words and spelling on 4 group boards.
T announces the result. 
Lead-in "Home appliances need to electricity to operate".
-T asks "Where does electricity come from?" and elicits some answers giving clues "Đa Nhim, Trị An, Đa mi,"; "It's in the morning sky"T reminds Ss to remember The Fukushima Daiichi nuclear disaster on 11 March 2011,
- T introduces the lesson: "Today we are going to study Unit 11 SOURCES OF ENERGY PART A READING"
- T presents new words by using appropriate techniques.
+ fossil fuel (n) / ˈfɒsl ˈfjuːəl /
T explains the meaning and sticks pictures related to the explanation on the board.
Fossil fuels are fuels formed inside the earth from the remains of plants and animals after millions of year.
The fossil fuels are non-renewable (limited) sources of energy so they should be conserved.
T asks "What does it mean?"
+ exhausted (adj) / ɪɡˈzɔːstɪd / = used up
T draws an oil can and explains
"It's full." T cleans the board gradually until there is still a little oil at the bottom. T says: "It's going to be empty." Or "It's exhausted". "Who can tell me the Vietnamese meaning of "exhausted"?".
+ alternative (adj) / ɔːlˈtɜːnətɪv / 
T explains "Because fossil fuels are limited and polluted, we need alternative sources of energy to replace fossil fuels (nuclear energy, sun power, water power,)
"So what does it mean?"
+ geothermal heat (n) / ˌdʒiːəʊˈθɜːml hiːt /
T shows a picture and explains the content of this picture.
+ release (v) / rɪˈliːs / 
T shows pictures and says "they are released."
T asks "What does it mean?"
+ limited (adj)
+ infinite (adj) / ˈɪnfɪnət / = unlimited
T gives an example: "fossil fuels are limited but water power is infinite (unlimited)"
T asks Ss "What do they mean (limited and infinite)?"
Activity 1
T asks Ss to work in pairs and do Task 1.
- T calls some Ss to read the whole sentences with the words filled in.
- Keys: 1- released, 2-alternative, 3-energy, 4-limited, 5-exhausted
Activity 2
- T asks Ss to skim the text and choose the main idea for it. (T plays the tape once)
- T asks some Ss to give answer. 
- T comments and explains.
- Key: 3. New sources of energy, though with some disadvantages, are great to replace fossil fuels in the future.
Activity 3
- T asks Ss to look at Task 2 and shows the answers of Nuclear power as examples.
- T distributes the other four sources of energy for four groups.
Lucky animal game
-T shows eight animal pictures on the board.
-T asks a member of each group to go to the board, T gives a sticker ball to him/her.
- A member of groups takes turn to go to the board and throws a sticker ball into a random picture. There are 3 times of each group in order to throw into a picture.
- Questions are opened for them to answer if Ss throw into a picture exactly.
- In 20 seconds, the group has to give an answer.
-There are four questions:
What is our major source of energy?
How many sources of energy are mentioned in the text? What are they?
Which source of energy do you think has the most potential?
Is our major source of energy limited? Why/ why not? 
-There is a lucky animal having 1 point, an unlucky animal having -1 point, two animals having to get 1 point from another group.
-Key:
1. Our major source of energy comes from fossil fuels.
2. There are five sources of energy. They are solar energy, nuclear power, water power, wind power, geothermal heat.
3. Solar energy has the most potential.
4. Yes, it is. Because power demand is increasing very rapidly, fossil fuels will be exhausted within a relatively short time .
-T introduces the Task of "After you read" in their textbook on page 126,127 and asks Ss to do this task.
-T asks Ss to learn by heart new words and prepare the next lesson.
Listen to the T.
Look at the screen
And think of home appliances.
- Listen carefully the rule of the game
Get the group board.
Work in groups.
Listing home appliances on the group boards in 3 minutes, then stick them on the black board.
Guess electricity comes from water power, sun power, and nuclear power.
Listen and raise their hands to answer.
Focus on the lesson.
Take notes.
Answers "Nhiên liệu hóa thạch"
Answer "cạn kiệt"
Answer "thay thế"
Focus on the lesson and take note
Look at the pictures and guess the meaning "thả ra, phóng ra, phát ra"
Based on the example and give an answer "có hạn và vô hạn"
Work in pairs and do task 1.
Work individually and skim the text, then choose the main idea of the text
- Ss work in groups and fill in the table. 
Each group votes a member who throws a sticker ball.
Work in groups in 1 minute to give an answer.
-Ss learn the words and prepare Speaking part for the next lesson.
Comments
	Student teacher	Supervisor
	Trần Thị Mộng Oanh	Phạm Thanh Hằng