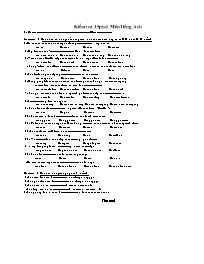 Excercise 1: Chọn đán án đúng nhất bằng cách khoanh tròn các đáp án A,B,C, hoặc D ( 6 điểm)
1. He rushed into the burning building, .was very brave.
 A. it B. who C. that D. which
 2. My father didn't coffee for breakfast.
 A. used to have B. use to have C. use to having D. use be having
 3. Without the Braille Alphabet it would be very difficult for .
 A. disabled B. the deaf C. the mute D. the blind
 4 . Thuy's class is different other classes because the children are disabled.
 A. on B. from C. in D. at
 5. The little boy is helping .cross the street.
 A. the poor B. the rich C. the blind D. the young
 6. Many people lost their home in the Earthquake. The government is trying
 to establish more shelters to care for
 A. the childless B. the homeless C. the blind D. the deaf
 7 . The government should have special policies to help the . .
 A. disable B. disabled C. disability D. disablement
 8. I .up late at night.
 A. use to stay B. am used to stay C. used to staying D. am used to staying
 9 . The blind child a great effort to learn "Braille ".
 A. did B. got C. made D. created
 10 . There was a lot of .from the local residents.
 A. oppose B. opposite C. opponent D. opposition
 11 . I'd like to introduce you to Mrs. Thuy, is the teacher of this special class.
 A. that B. which C. who D. whom
 12. The children will learn how .sums.
 A. to do B. doing C. do D. will do
 13 . We .for the delay in answering your letter.
 A. sorry B. regret C. apologize D. excuse
 14. very few people can .my name correctly.
 A. pronoun B. pronounce C. announce D. allow
 15 . The blind .unable to see anything.
 A. is B. are C. am D. have
 . He said it was right that .should beg.
 A. blind B. the blinds C. the blind D. the blindness
Kiểm tra 15 phút Môn Tiếng Anh
Full name:............................................................. Class:...............
Excercise 1: Chọn đán án đúng nhất bằng cách khoanh tròn các đáp án A,B,C, hoặc D ( 6 điểm)
1. He rushed into the burning building, ..was very brave. 
 A. it B. who C. that D. which 
 2. My father didn't coffee for breakfast. 
 A. used to have B. use to have C. use to having D. use be having 
 3. Without the Braille Alphabet it would be very difficult for .. 
 A. disabled B. the deaf C. the mute D. the blind 
 4 . Thuy's class is different other classes because the children are disabled. 
 A. on B. from C. in D. at 
 5. The little boy is helping..cross the street. 
 A. the poor B. the rich C. the blind D. the young 
 6. Many people lost their home in the Earthquake. The government is trying 
 to establish more shelters to care for  
 A. the childless B. the homeless C. the blind D. the deaf 
 7 . The government should have special policies to help the . . 
 A. disable B. disabled C. disability D. disablement 
 8. I .up late at night. 
 A. use to stay B. am used to stay C. used to staying D. am used to staying 
 9 . The blind child  a great effort to learn "Braille ". 
 A. did B. got C. made D. created 
 10 . There was a lot of .from the local residents. 
 A. oppose B. opposite C. opponent D. opposition 
 11 . I'd like to introduce you to Mrs. Thuy,  is the teacher of this special class. 
 A. that B. which C. who D. whom 
 12. The children will learn how .sums. 
 A. to do B. doing C. do D. will do 
 13 . We .for the delay in answering your letter. 
 A. sorry B. regret C. apologize D. excuse 
 14. very few people can .my name correctly. 
 A. pronoun B. pronounce C. announce D. allow 
 15 . The blind ..unable to see anything. 
 A. is B. are C. am D. have 
 . He said it was right that ..should beg. 
 A. blind B. the blinds C. the blind D. the blindness 
Exercise 2: Chọn từ đúng trong ngoăc ( 4 điểm)
 1. The rich (is / are ) .. not always happy. 
 2. The poor (is / are )not always unhappy. 
 3. The dead never .( return / returns ). 
4. The lazy can never .( succeeds / succeed ). 
5. The young ( have / has ) the future in their hand. 
The end