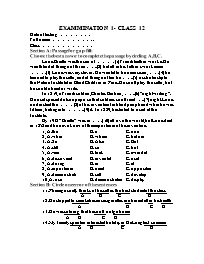 Choose the best answer to complete the passage by circling A,B,C.
 Louis Braille was the son of (1) French leather worker. He went blind at the age of three .(2) he fell in his father's workroom. .(3) Louis was very clever. He wanted to be a musican, .(4) he learned to play the cello, and at the age of ten he .(5) a scholarship to the Nation Institute for Blind Children in Paris. He could play the cello, but he couldn't read or write.
 In 1819, a French soldier, Charles Barbier, .(6) "night writing". He used special dots on paper so that soldiers could read .(7) night. Louis understood the (8) of his invention for blind people and when he was fifteen, he began to .(9) it. In 1829, he started to use it at the Institute.
 By 1932 " Braille" was in .(10) all over the world, but Louis died in 1852 and he never knew of the importance of his invention.
 1, A. the B. a C. one
 2, A. when B. where C. before
 3. A. So B. Also C. But
 4. A. still B. so C. but
 5, A.won B. took C. awarded
 6, A. discovered B. invented C. used
 7, A. during B. in C. at
 8, A. inportance B. need C. opposition
 9, A. demonstrate B. sell C. develop
 10, A. use B. demonstration C. display
Bạn đang xem tài liệu "Exammination 1 - Class 12", để tải tài liệu gốc về máy bạn click vào nút DOWNLOAD ở trên
Exammination 1- Class 12
Date of testing:
Full name:.
Class:
Section A: Passage for gap- fill:
Choose the best answer to complete the passage by circling A,B,C.
	Louis Braille was the son of(1) French leather worker. He went blind at the age of three..(2) he fell in his father's workroom. .(3) Louis was very clever. He wanted to be a musican, .(4) he learned to play the cello, and at the age of ten he..(5) a scholarship to the Nation Institute for Blind Children in Paris. He could play the cello, but he couldn't read or write.
	In 1819, a French soldier, Charles Barbier,..(6) "night writing". He used special dots on paper so that soldiers could read ..(7) night. Louis understood the (8) of his invention for blind people and when he was fifteen, he began to ..(9) it. In 1829, he started to use it at the Institute.
 	By 1932 " Braille" was in.(10) all over the world, but Louis died in 1852 and he never knew of the importance of his invention.
	1, A. the	B. a	C. one
	2, A. when	B. where	C. before
	3. A. So	B. Also	C. But
	4. A. still	B. so	C. but
	5, A.won	B. took	C. awarded
	6, A. discovered	B. invented	C. used
	7, A. during	B. in	C. at
	8, A. inportance	B. need	C. opposition
	9, A. demonstrate	B. sell	C. develop
	10, A. use	B. demonstration	C. display
Section B: Circle one error of the sentences
11. Phuong usually thinks of hisself as the best student of the class
	 A B C D
12. He stopped to smoke because cigarettes are harmful for his health
	A	B	C	D
13. He was so tiring that he could not go home
	A	B	C	D
14. My family spent an interested holiday in Ha Long last summer
	A	B	 C	D
15. Would you mind lend me your motorbike until next weekend?
	A	 B	C	 D
16. Ha Noi is the place which I grew up at ten
	A	B	C	D
17. They would rather go by air as spend a week travelling by train
	A	B	C	D
18. I have worked for this company ten years ago.
 A	B	 C	D
19. When was he young, he hated Chemistry, Biology and Math
	A	B	C	D
20. She can play the piano more good than her sister
	 A	 	B	C	D
Section C: Choose sentences that have the same meaning with atilic sentences:
1. my/ I/ asking/ for/money/ hate/ parents.
	A. I hate asking money for my parents
	B. I hate asking my parents for money.
	C. I hate asking parent my for money.
	D. I hate for my parents money asking.
2. time/ It/ him/ a/ the/ is/ take/ for/ job/ him/ to.
	A. It is a time to take the job for him.
	B. It is the time for him to take a job.
	C. It is a time for him to take the job.
	D. It is the time to take a job for him.
3. Britian/ people/ today/ are/ out/ in/ of/ many/ work.
	A. In Britian, many people are of out work today.
	B. In Britian, many people are out of work today.
	C. In Britian, people many out are of today work.
	D. In Britian, today out work are people of many.
4. at/ what/ hate/ you/ weekends/ do/ doing?
	A. What do hate you doing at weekends?
	B. What you do hate doing at weekend?
	C. What do you hate doing at weekend?
	D. What do you hate at weekend doing?
5. up/ on/ early/ don't/ Sunday/ I mind/ getting
	A. I don't mind getting up early on Sunday
	B. I don't mind up getting on Sunday early
	C. I don't mind on Sunday getting up early
	D. I don't mind early getting up on Sunday.
6. her/ Kent's/ house/ to/ after/ parents/ the/ want/ look.
	A. Kent's parents want her the house to look after.
	B. Kent's parents want the house to look after her.
	C. Kent's parents want to her look after the house.
	D. Kent's parents want her to look after the house.
7. her/ living/ she/ a/ not/ is/ of/ city/ own/ afraid/ on in/big.
	A. She is not afraid of living in her own on a big city.
	B. She is not afraid of living on her own in a big city.
	C. She is afraid of not living on her own in a big city.
	D. She is afraid of not living in her own on a big city.
8. cinema/ going/ interested/ with/ to/ she/ friends/is/her/in/the.
	A. She is interested with going in the cinema to her friends.
	B. She is interested with going to her friends in the cinema 
	C. She is interested in with going her friends to the cinema
	D. She is interested in going to the cinema with her friends 
9.haft/ she/to/ an/ at/ queue/ the/ bus/ stop/ has/ hour/ for.
	A. She has to queue at haft an hour for the bus stop.
B. She has to queue at the bus stop for haft an hour 
C. She has haft an hour to queue for at the bus stop 
C. She has haft an hour at the bus stop to queue for 
10. with/ the/ I/ same/ day/ am/ up/ thing/ fed/ every/ doing.
	A. I am fed up with doing the same thing every day
B. I am fed with up doing the same thing every day
C. I am fed up doing the same thing with every day
D. I am fed with every day up doing the same thing 

Tài liệu đính kèm:
Bai thi chung chi A.doc