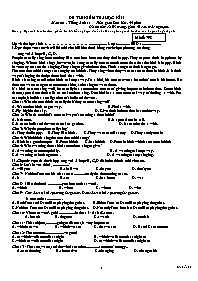 I. Đọc đoạn văn sau và trả lời mỗi câu hỏi bên dưới bằng cách chọn phương án đúng
 ứng với A hoặc B, C, D.
People usually sing because they like music or because they feel happy. They express their happiness by singing. When a bird sings, however, its song usually means much more than that the bird is happy. Birds have many reasons for singing. They sing to give information. Their songs are their language.
The most beautiful songs are sung by male birds. They sing when they want to attract female birds. It is their way of singing that helps them look for a wife.
Birds also sing to tell other birds to keep away. To a bird, his tree or even a branch of tree is his home. He does not want strangers to come near him, so he sings to warn them.
If a bird can not sing well, he usually has some other means of giving important information. Some birds dance, spread out their tails or make others sing. One bird has a most unusual way of finding a wife. For example, it builds a small garden of shells and flowers.
Câu 1: What do most birds usually do if they can not sing well?
A. Warn other birds to go away. B. Find a wife.
C. Fly high in the sky. D. Give their information in another way.
Câu 2: What is one bird's unusual way of attracting a female bird?
A. It dances. B. It spreads out its tail.
C. It uses shells and flowers to make a garden. D. It searches for a wife.
Câu 3: Why do people usually sing?
A. They feel happy. B. They like birds. C. They want to tell a story D. They study music
Câu 4: Which birds sing the most beautiful songs?
A. Birds in a good temper B.Female birds C. Male birds D. Female birds which attract male birds
Câu 5: What warning does a bird sometimes sing to give ?
A. A warning to come quickly. B. A warning to keep away .
C. A warning to be dangerous . D. A warning to stop singing.
Bạn đang xem tài liệu "Đề thi kiểm tra học kì II môn thi: tiếng Anh 11 - Mã đề 798", để tải tài liệu gốc về máy bạn click vào nút DOWNLOAD ở trên
ĐỀ THI KIỂM TRA HỌC KÌ II
Môn thi : Tiếng Anh 11 Thời gian làm bài : 45 phút
 Đề thi này có 03 trang, gồm 40 câu trắc nghiệm.
(Lưu ý: Học sinh làm bài trên phiếu trả lời trắc nghiệm ở cuối đề thi này bằng cách bôi đen các đáp án được chọn).
Mã đề 798
Họ và tên học sinh :................. Lớp :............. SBD : ...................
I. Đọc đoạn văn sau và trả lời mỗi câu hỏi bên dưới bằng cách chọn phương án đúng 
 ứng với A hoặc B, C, D.
People usually sing because they like music or because they feel happy. They express their happiness by singing. When a bird sings, however, its song usually means much more than that the bird is happy. Birds have many reasons for singing. They sing to give information. Their songs are their language.
The most beautiful songs are sung by male birds. They sing when they want to attract female birds. It is their way of singing that helps them look for a wife.
Birds also sing to tell other birds to keep away. To a bird, his tree or even a branch of tree is his home. He does not want strangers to come near him, so he sings to warn them.
If a bird can not sing well, he usually has some other means of giving important information. Some birds dance, spread out their tails or make others sing. One bird has a most unusual way of finding a wife. For example, it builds a small garden of shells and flowers.
Câu 1: What do most birds usually do if they can not sing well?
A. Warn other birds to go away.	B. Find a wife.
C. Fly high in the sky.	 D. Give their information in another way.
Câu 2: What is one bird's unusual way of attracting a female bird?
A. It dances.	B. It spreads out its tail.	
C. It uses shells and flowers to make a garden. 	 D. It searches for a wife. 
Câu 3: Why do people usually sing?
A. They feel happy. 	B. They like birds. 	C. They want to tell a story D. They study music
Câu 4: Which birds sing the most beautiful songs?
A. Birds in a good temper B.Female birds C. Male birds D. Female birds which attract male birds
Câu 5: What warning does a bird sometimes sing to give ?
A. A warning to come quickly. B. A warning to keep away .
C. A warning to be dangerous	.	 D. A warning to stop singing.
II.Chọn từ/ cụm từ thích hợp ứng với A hoặc B, C, D để hoàn thành mỗi câu sau.
Câu 6: Let's have a drink, ................ ?
A. will you 	B. shall we 	C. do you	D. don't you 
Câu 7: Neither Tom nor his classmates ...........ready for the coming exam.
A. is	B. are	C. has been	D. was
Câu 8: I like the book .............. you lent me last week.
A. which	 B. when	 C. where D. who
Câu 9: Tom doesn't like playing the guitar. Dane doesn't like playing the guitar. 
 It means that .............. . 
A. Both Tom and Dane likes playing the guitar. B. Either Tom or Dane likes playing the guitar.
C. Neither Tom nor Dane likes playing the guitar. D.Not only Tom but also Dane likes playing the guitar. 
Câu 10: Vietnam won 3 gold ................ in the 15th Asian Games.
 A. boards	B. degrees C. awards	D. medals 
Câu 11: This subject,...........going to discuss, is very important
A. which are we	B. which we are 	C. that we are	D. B and C are correct
Câu 12: The concert...................was good
A. to which we listened last night 	B. which we listened last night to	
C. which to we listened last night 	D. to which we listened last night to
Câu 13 : The sun, water, and the wind are other.............sources of energy..
 A. transforming 	 B. alternative 	 C. changing	 D. changeable
Câu 14: . ..........that the capital of South Carolina was moved from Charleston to Columbia
 A. In 1790 was	 B There was in 1970 C. It was in 1790 	 D. In 1790
Câu 15: The man................ in front of you now is Mr Jack
A. who sitting	 B. who sit	 C. which sit 	 D. sitting 
Câu 16: I wanted to see the man...................the restaurant
A. who owned 	 B. owned	 C. whom owned	 D. who owning
Câu 17: Oil, coal, and natural gas are.............. ..
 A. solar system B.fossil fuels C. nuclear power	 D. hydropower
Câu 18: We offer a speedy and secure service of transferring money in less than 24 hours. 
 The word secure means ........................ .
A. certain	 B. safe 	 C. fast	 D. sound
Câu 19: The heat coming from ................. inside the earth is called geothermal heat
A. sincere	 B. deep 	 C. severe	 D. artful
Câu 20: The ............. of the road is approximately 100 kilometers.
A. length B. long C. lengthy	 D. lengthen
Câu 21: Human beings have a great influence.............. our environment.
 A. in	 B. on	 C. at	 D. about
III. Chọn từ thích hợp ứng với A, hoặc B, C, D để điền vào mỗi chỗ trống trong đoạn văn sau .
During their five-decade history, the Asian Games have been advancing in all aspects. The number of (22).............has been increasing. The quality of athletes, officials and sport facilities has also been (23)............. through time. New sport and (24).............. sports have been introduced and (25)...........to the Games. The 1st Asian Games (26).............. .in New Delhi, India in 1951.
Câu 22: A. referees	 B. organizers	 C. participants	 D. holders
Câu 23: A.developing B. raising	 C. falling	 D. pushing
Câu 24: A. young	 B. strong	 C. advanced	 D. traditional
Câu 25: A. multiplied B. added 	 C. used	 D. bought
Câu 26: A. held	 B. holding	 C. were held 	 D. were holding 
IV. Chọn câu ứng với A hoặc B, C, D có nghĩa gần nhất với câu cho trước.
Câu 27: That's the man. I told you about him yesterday.
A.That's the man about which I told you yesterday. B.That's the man about whom I told you yesterday. 
C. That's the man whom about I told you yesterday. D.That's the man about that I told you yesterday.
Câu 28: He prefers typing to writing by hand
A. He doesn't like to write by hand.	 B. He likes typing letter.	
C. He doesn't like typing.	 D. He'd rather type than write by hand . 
Câu 29: Despite feeling cold, we kept walking.
A. Although we felt cold, but we kept walking. B. Although we felt cold, we kept walking. 
C. Therefore we feel cold, we kept walking.	 D. However we felt cold, we kept walking.
Câu 30: Nam is not good at English and neither am I. 
A. I am not good at English as Nam is.	B. Nam isn't good at English but I am.
C. Neither Nam nor I am good at English.	D. Neither Nam nor I am not good at English.
Câu 31: Quan is very good at drawing. His father is a famous painter.
A. Quan whose father is a famous painter is very good at drawing.	
B. Quan, whose father is a famous painter is very good at drawing.	
C. Quan's father, who is a famous painter, is very good at drawing. 	
D. Quan, whose father is a famous painter, is very good at drawing.
V. Chọn từ mà phần gạch chân có cách phát âm khác với những từ còn lại.
Câu 32: A. eight	B. height 	C. weight	D. freight 
Câu 33: A. entertained	B. reached	C. looked	D. walked
Câu 34: A game 	B. strange C. square D. occasion 
Câu 35: A. minds	B. plays	C. households	D. sports 
VI. Chọn từ hoặc cụm từ được gạch chân cần phải sửa để câu trở thành đúng. 
Câu 36: I think either you or your brother are to blame
	 A B C D
Câu 37: The street building just last month is now in bad condition
 A	 B	 C D
Câu 38: Neil Armstrong was the first person setting foot on the moon
 	 A	 B	 C	 D
Câu 39: It was their team spirit who helped them win the gold medal.
 A B C D
Câu 40: These brown shoes look nice, aren't they?
 A	 B C D
PHIẾU TRẢ LỜI TRẮC NGHIỆM 
Mã đề: 798
Họ và tên học sinh : ....................................................................... Lớp: ................... SBD: ................
(Lưu ý: Học sinh làm bài trên phiếu trả lời trắc nghiệm này bằng cách bôi đen các đáp án được chọn.)
 ĐÁP ÁN ĐỀ THI SỐ 2 HỌC KỲ II 
 MÔN : TIẾNG ANH 11
Đề
Stt
ĐỀ 798
01
D
02
C
03
A
04
C
05
B
06
B
07
B
08
A
09
C
10
D
11
B
12
A
13
B
14
C
15
D
16
A
17
B
18
B
19
B
20
A
21
B
22
C
23
A
24
D
25
B
26
C
27
B
28
D
29
B
30
C
31
D
32
B
33
A
34
C
35
D
36
C
37
B
38
C
39
B
40
D