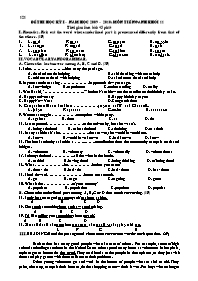 ĐỀ THI HỌC KỲ I – NĂM HỌC 2009 – 2010: MÔN TIẾNG ANH KHỐI 11
 Thời gian làm bài: 45 phút
I. Phonetics. Pick out the word whose underlined part is pronounced differently from that of the others. (1P)
1. A. truth B. trust C. trumpet D. struggle
 2. A. answer B. reward C. award D. wait
3. A. promise B. promote C. problem D. proper
4. A. machine B. chemistry C. character D. mechanic
II. VOCABULARY AND GRAMMAR.
A. Choose the best answer among A, B, C and D. (3P)
5. John .him carry the package.
 A. thanked me for helping B. said thanking with me to help
 C. told me to thank with helping D. asked me to thank and help
6. My most embarrassing happened a few years ago.
 A. knowledge B. experience C. understanding D. reality
7. We all said, ". .!" before Nam blew out the candles on the birthday cake.
A. Happy anniversary B. Happy birthday to you
C. Happy New Year D. Congratulations
8. Companies will now be able to program on ITV and Channel 4.
 A. judge B. sponsor C. recite D. announce
9. We must struggle corruption within party.
 A. against B. from C. at D. for
10. Lan expected to the university, but she wasnt.
 A. being admitted B. to be admitted C. admitting D. to admit
11. Marry said that if she .the answer, she would have told me.
 A. knows B. would have known C. had known D. knew
12. The local authority asked for a . .contribution from the community to repair roads and bridges.
 A. volunteer B. voluntary C. voluntarily D. voluntariness
13. Johnny admitted .all the wine in the bottle.
 A. to drink B. having drunk C. being drinking D. of being drunk
14. What .he before you came?
 A. does / do B. had / do C. had / done D. has / done
15. I look forward . home next month.
 A. go B. to go C. to going D. gone
16. What is the of your country?
 A. populate B. population C. populous D. popular
Bạn đang xem tài liệu "Đề thi học kỳ I – Năm học 2009 – 2010: môn tiếng Anh khối 11", để tải tài liệu gốc về máy bạn click vào nút DOWNLOAD ở trên
 121
	đề thi học kỳ I – năm học 2009 – 2010: môn tiếng anh khối 11
	Thời gian làm bài: 45 phút
I. Phonetics. Pick out the word whose underlined part is pronounced differently from that of the others. (1P)
1.	A. truth B. trust C. trumpet D. struggle
 2.	A. answer B. reward C. award D. wait
3. 	A. promise B. promote C. problem D. proper
4. A. machine B. chemistry C. character D. mechanic
II. VOCABULARY AND GRAMMAR.
A. Choose the best answer among A, B, C and D. (3P)
5. John ..him carry the package.
	A. thanked me for helping 	B. said thanking with me to help
	C. told me to thank with helping	D. asked me to thank and help 
6. My most embarrassing happened a few years ago.
	A. knowledge B. experience C. understanding D. reality
7. We all said, "...!" before Nam blew out the candles on the birthday cake.
A. Happy anniversary 	B. Happy birthday to you 
C. Happy New Year 	D. Congratulations 
8. Companies will now be able to program on ITV and Channel 4.
	A. judge B. sponsor C. recite D. announce 
9. We must struggle corruption within party.
	A. against B. from C. at D. for 
10. Lan expected to the university, but she wasn't.
	A. being admitted B. to be admitted	C. admitting D. to admit 
11. Marry said that if she .the answer, she would have told me.
	A. knows B. would have known C. had known D. knew	 
12. The local authority asked for a ....contribution from the community to repair roads and bridges.
	A. volunteer B. voluntary C. voluntarily D. voluntariness
13. Johnny admitted ..all the wine in the bottle.
	A. to drink B. having drunk	C. being drinking D. of being drunk
14. What .he before you came?
	A. does / do B. had / do	C. had / done D. has / done
15. I look forward.home next month.
	A. go B. to go	C. to going D. gone
16. What is the of your country?
	A. populate B. population C. populous D. popular
B. Choose the underlined part among A, B, C or D that needs correcting. (1P)
17. I only just managed to stop myself to shout at him.
 A B C D 
18. She smelt something burn and saw smoke rising.
 A B C D
19. I'd like telling you something about myself.
 A B C D
20. She said that if she were free tomorrow, she would go shopping with me.
	 A B C D
 III. READING: Read the passage and choose one correct answer for each question. (2P)
 Each nation has many good people who take care of others. For example, some of high school and college students in the United States often spend many hours as volunteers in hospitals, orphanages or homes for the aged. They read books to the people in these places, or they just visit them and play games with them or listen to their problems.
 Other young volunteers go and work in the homes of people who are sick or old. They paint, clean up, or repair their houses, do the shopping or mow their lawns. For boys who no longer have fathers, there is an organization called Big Brothers. College students and other men take these boys to baseball games or on fishing trips and help them to get to know things that boys usually learn from their fathers.
 Each city has a number of clubs where boys and girls can go and play games or learn crafts. Some of these clubs show movies or organize short trips to the mountains, the beaches, museums or other places of interest. Most of these clubs use a lot of high school and college students as volunteers because they are young enough to understand the problems of younger boys and girls.
 Volunteers believe that some of the happiest people in the world are those who help to bring happiness to others.
21. Where don't high school and college students often do voluntary work?
A. in hospitals B. at clubs C. in homes for the aged D. in orphanages 
22. The word "the aged" in line 3 is closest in meaning to
A. the old	B. old	C. the poor	D. the young 
23. What do volunteers usually do to help those who are sick or old in their homes?
A. Volunteers tell them stories and sing and dance for them.
B. Volunteers take them to baseball games.
C. Volunteers cook, sew, and wash their clothes.
D. Volunteers mow lawns, do shopping, and clean up their houses.
24. What do they help boys who no longer have fathers?
A. To learn things that boys usually learn from their fathers.
B. To get to know things about their fathers.
C. To get to know things that boys want from their fathers.
D. To learn things about their fathers.
25. Big Brothers is.
A. the name of a club. 
B. a home for children.
C. the name of a film.
D. an organization for boys who no longer have fathers.
26. Which of the following activities is NOT available for the boys and girls at the clubs?
A. playing games B. watching films
C. going to interesting places D. learning photography
27. Why do they use many high school and college students as volunteers? -Because........................
A. they know how to do the work
B. they have a lot of free time
C. they can understand the problems of younger boys and girls
D. they are good at playing games and learning crafts
28. What do volunteers believe?
A. Bringing happiness to others makes them the happiest people in the world. 
B. The happiest people in the world are those who make themselves happy.
C. The happiest people in the world are those who are young and healthy.
D. In order to make others happy, they have to be unhappy.
IV. Writing: Finish the second sentence so that it has a similar meaning to the first one, beginning with the given words or phrases. (3P)
29. "Why don't we have dinner here?" Mark said.
 Mark suggested 
30. "I will come to see you if I have time," she said to me.
 She told
31. "You stole my wallet, didn't you?" Tom said to Jerry.
 Tom accused
32. "I'll repair your computer tomorrow," said my brother.
 My brother promised
33. "Oh..no, I didn't break your vase, Mum!" said my son.
 My son denied
34. "Remember to turn off the lights before going out," Susan said to me.
 Susan reminded 
	mã đề: 122
	đề thi học kỳ I – năm học 2009 – 2010: môn tiếng anh khối 11
	Thời gian làm bài: 45 phút
I. Phonetics.
 Pick out the word whose underlined part is pronounced differently from that of the others. (1P)
1. A. cheese	B. changeable 	C. chemistry 	D. children
2. A. lunch	B. salad C. library	D. folk
3. A. husband	B. hospital	C. hour	D. hit
4. A. change	B. single	C. angry	D. England
II. VOCABULARY AND GRAMMAR.
A. Choose the best answer among A, B, C and D. (3P)
5. We . lunch when we heard the news.
A. was having B. were having C. have D. had been eaten
6. Good friend should be based on .understanding.
A. mutual	 B. selfish C. sneaky D. cruel
7. Jane admittedthe money.
A. stealing B. steal C. to steal D. stolen
8. My brother refused...me $5.
A. lending B. to lend C. to have lent D. lend
9. You cannot always insist on your own way - there has to be some
A. suspicious	 B.loyal to C. give and take D. friend
10. My boss does not...me to use the telephone for private calls.
A. let 	 B. get 	 C. know D. allow
11. She was not fired. She left the company..
A. volunteers B.voluntary C. volunteer D. voluntarily 
12. They ..all the day swimming and sunbathing at the beach.
A. spent B. used	 C. took	 D. passed
13. If you had come to the party, you....her.
A. had met	 B. would meet C. would have met D. meet
14. He likes to take ..in sport, not only to watch it
 A. place B. part C. exercise D. practice.
15. In the rural areas, ...is widespread.
A. illiterate B. literacy 	C. illiteracy	 D. literate
16. She insisted.seeing the manager although he was in a meeting
A. in	B. of	C. to	D. on
 B. Choose the underlined part among A, B, C or D that needs correcting.(1P)
17. They ate everything by the time I arrived at the party.
	 A B 	 C	D
18. She advised me see the doctor the following day. 	
 A	 B C D	
19. The customs officer made him to open his briefcase.
	 A	 B	C D
20. You cannot prevent him from to spend his money	
	A	 B C D
III. READING: Read the passage and choose one correct answer for each question.(2P)
 My most memorable experience happened three months ago when I went to the south of France with my husband. We traveled by boat and car. We were there for two weeks and stayed in a small hotel. We had a very good time. Everyday, we sunbathed, read books and went to the beach. We visited a lot of historical places, too. The weather was lovely and the food in France was wonderful. 
However, on the last day our car broke down. We both did not speak French and we needed to get to Boulogne to get the boat to England. Luckily, we met another English man, Simon Pike, who was very friendly. He had a car and he took us to Paris to catch the train to Boulogne. 
When we arrived at the station, Simon said, "Don't worry, I speak a little French." He ran to the ticket office and bought us two tickets. He asked a guard in French: "Excuse me, which platform to Boulogne?" – "Platform 7" said the guard, "But hurry! The train leaves in two minutes." 
We ran to platform seven, said goodbye, thanked Simon and got on the train. When the train left, we started to talk to an Italian tourist. "What time do we arrive in Boulogne?" we asked. "Boulogne?" he said "I think you have a problem. This train goes to Toulouse."
21. Their mostexperience happened three months ago.
A. unforgettable	B. embarrassing	C. forgettable	D. remember
22. What did the couple go to Boulogne for?
 A. to see an English man 	 B. to go toToulouse 
 C. to practice French 	 	 D. on holiday
23. What did they do when they were in France?
	 A. They sunbathed.	B. They read books.
 C. They went to the beach.	D. All are correct.
24. How could they speak French?
 A. They could speak French very well
 B. They could not speak any French at all
 A. The husband could speak French very well but the wife spoke French very badly
 C. The wife could speak French very well while the husband spoke French very badly
 25. How could they get to Paris to catch the train?
	A. Simon gave them a lift	 	B. They got to Paris by boat
	C. Simon lent them his car 	D. They drove there themselves.
26. Why did they need to get to Boulogne?
 A. to visit Boulogne 	 B. to catch a train to Eng land
 C. to visit their friends 	 D. to return to England
27. What happened on the last day of the journey?
 A. Their car was stolen 	B. They didn't want to go by car
 C. They did not have any money 	D. Their car did not work 
28. Where did the train take them to?
	A. Boulogne	 	B. Toulouse
 C. England	 	D. Italy 
 IV. Writing: Finish the second sentences so that it has a similar meaning to the first one, beginning with the given words or phrases. (3P)
29. "Let's go to the cinema tomorrow," Hoa said.
Hoa suggested
30. "You should go home and rest for a while," said his boss.
His boss advised.. 
31. "Would you like to dance with me?" he said.
He invited me ..
32. "If you had asked me, I would have lent you my motorbike," he said to me.
He told me...
33. "I am sorry I did not wait for you," Marry ... 
I. Phonetics. Pick out the word whose underlined part is pronounced differently from that of the others. (1P)
1.	A. please B. pleasure C. pleasant D. plenty
2.	A. award B. mow C. lawn D. wrong
3. 	A. two B. between C. twin D. twinkle 
4. A. wedding B. song C. bringing D. engineer
II. VOCABULARY AND GRAMMAR.
A. Choose the best answer among A, B, C and D. (3P)
5. Marry said that if she .the answer, she would have told me.
	A. had known B. would have known C. knows D. knew 
6. Lan expected to the university, but she wasn't.
	A. to be admitted B. to being admitted	 C. admitting D. to admit 
7. We all said, "...!" before Nam blew out the candles on the birthday cake.
A. Happy anniversary B. Happy birthday to you C. Happy New Year D. Congratulations 
8. The local authority asked for a ....contribution from the community to repair roads and bridges.
	A. volunteer B. voluntary C. voluntarily D. voluntariness
9. We must struggle corruption within party.
	A. at B. from C. against D. for 
10. What is the of your country?
	A. populate B. popular C. populous D. population
11. Companies will now be able to program on ITV and Channel 4.
	A. judge B. sponsor C. recite D. announce	 
12. John ..him carry the package.
	A. thanked me for helping 	B. said thanking with me to help
	C. told me to thank with helping	D. asked me to thank and help
13. Johnny admitted ..all the wine in the bottle.
	A. to drink	B. having drunk	C. being drinking D. of being drunk
14. What .he before you came?
	A. does / do	B. had / do	C. had / done D. has / done
15. I look forward.home next month.
	A. going	B. to go	C. to going D. gone
16. My most embarrassing happened a few years ago.
	A. knowledge B. experience C. understanding D. reality
B. Choose the underlined part among A, B, C or D that needs correcting. (1P)
17. I only just managed to stop myself to shout at him.
 A B C D
18. She said that if she were free tomorrow, she would go shopping with me.
	 A B C D
19. I'd like telling you something about myself.
 A B C D 
20. She smelt something burn and saw smoke rising.
 A B C D 
 III. READING: Read the passage and choose one correct answer for each question. (2P)
 Each nation has many good people who take care of others. For example, some of high school and college students in the United States often spend many hours as volunteers in hospitals, orphanages or homes for the aged. They read books to the people in these places, or they just visit them and play games with them or listen to their problems.
 Other young volunteers go and work in the homes of people who are sick or old. They paint, clean up, or repair their houses, do the shopping or mow their lawns. For boys who no longer have fathers, there is an organization called Big Brothers. College students and other men take these boys to baseball games or on fishing trips and help them to get to know things that boys usually learn from their fathers.
 Each city has a number of clubs where boys and girls can go and play games or learn crafts. Some of these clubs show movies or organize short trips to the mountains, the beaches, museums or other places of interest. Most of these clubs use a lot of high school and college students as volunteers because they are young enough to understand the problems of younger boys and girls.
 Volunteers believe that some of the happiest people in the world are those who help to bring happiness to others.
21. Where don't high school and college students often do voluntary work?
A. in hospitals B. in orphanages C. in homes for the aged D. at clubs
22. The word "the aged" in line 3 is closest in meaning to
A. old	 B. the old	C. the poor	 D. the young 
23. What do volunteers usually do to help those who are sick or old in their homes?
A. Volunteers tellthem stories and sing and dance for them.
B. Volunteers mow lawns, do shopping, and clean up their houses.
C. Volunteers cook, sew, and wash their clothes.
D. Volunteers take them to baseball games.
24. What do they help boys who no longer have fathers?
A. To learn things that boys usually learn from their fathers.
B. To get to know things about their fathers.
C. To get to know things that boys want from their fathers.
D. To learn things about their fathers.
25. Big Brothers is.
A. the name of a club. 
B. a home for children.
C. the name of a film.
D. an organization for boys who no longer have fathers.
26. Which of the following activities is NOT available for the boys and girls at the clubs?
A. playing games 	 B. watching films
C. going to interesting places 	 D. learning photography
27. Why do they use many high school and college students as volunteers? - Because........................
A. they know how to do the work
B. they have a lot of free time
C. they can understand the problems of younger boys and girls
D. they are good at playing games and learning crafts
28. What do volunteers believe?
A. In order to make others happy, they have to be unhappy.
B. The happiest people in the world are those who make themselves happy.
C. The happiest people in the world are those who are young and healthy.
D. Bringing happiness to others makes them the happiest people in the world. 
IV. Writing: Finish the second sentence so that it has a similar meaning to the first one, beginning with the given words or phrases. (3P)
29. "Oh..no, I didn't break your vase, Mum!" said my son.
My son denied 
30. "Why don't we have dinner here?" Mark said.
 Mark suggested
31. "I hear you passed your exams. Congratulations!" Tom said to Jerry.
 Tom congratulated
32. "I'll repair your computer tomorrow," said my father.
 My father promised
33. "Don't forget to turn off the lights before going out," Ann said to me.
Ann reminded
34. "I will come to see you if I have time," she said to me.
 She told
	mã đề: 124
	đề thi học kỳ I – năm học 2009 – 2010: môn tiếng anh khối 11
	Thời gian làm bài: 45 phút
I. Phonetics.
 Pick out the word whose underlined part is pronounced differently from that of the others. (1P)
1. A.mutual	B.question 	C. nature	D.loyalty 
2. A. iron	B. reach C. library	D. borrow
3. A. plan	B. play	C. plane	D. plate
4. A. traffic	B. stranger	C. theatre	D. true
II. VOCABULARY AND GRAMMAR.
A. Choose the best answer among A, B, C and D. (3P)
5. She insisted.seeing the manager although he was in a meeting
A. in	B. of	C. to	D. on 
6. Good friend should be based on .understanding.
A. cruel	B. selfish C. sneaky D. mutual 
7. She was not fired. She left the company..
A. volunteers B.voluntary C. volunteer D. voluntarily
8. My brother refused...me $5.
A. lending B. to lend C. to have lent D. lend
9. You cannot always insist on your own way - there has to be some
A. suspicious	 B.loyal to C. give-and-take D. friend
10. My boss does not...me to use the telephone for private calls.
A. let 	 B. get 	 C. know D. allow
11. In the rural areas,...is widespread.
A. illiterate B. literacy 	C. illiteracy	 D. literate 
12. They ..all the day swimming and sunbathing at the beach.
A. spent B. used	C. took	 D. passed
13. If you had come to the party, you....her.
A. had met	 B. would meet C. would have met D. meet
14. He likes to take ..in sport, not only to watch it
A. place B. part C. exercise D. practice.
15. Jane admittedthe money.
A. stealing B. steal C. to steal D. stolen
16. We . lunch when we heard the news.
A. was having B. were having C. have D. had been eaten 
 B. Choose the underlined part among A, B, C or D that needs correcting. (1P)
17. The thief asked her handing over her money.
 A B C D 
18. She advised me see the doctor the following day. 	
 A	 B C D	
19. You cannot prevent him from to spend his money	
	A	 B C D
20. They ate everything by the time I arrived at the party.
	 A B 	 C	D 
III. READING: Read the passage and choose one correct answer for each question.(2P)
 My most memorable experience happened three months ago when I went to the south of France with my husband. We traveled by boat and car. We were there for two weeks and stayed in a small hotel. We had a very good time. Everyday, we sunbathed, read books and went to the beach. We visited a lot of historical places, too. The weather was lovely and the food in France was wonderful. 
However, on the last day our car broke down. We both did not speak French and we needed to get to Boulogne to get the boat to England. Luckily, we met another English man, Simon Pike, who was very friendly. He had a car and he took us to Paris to catch the train to Boulogne. 
When we arrived at the station, Simon said, "Don't worry, I speak a little French." He ran to the ticket office and bought us two tickets. He asked a guard in French: "Excuse me, which platform to Boulogne?" – "Platform 7" said the guard, "But hurry! The train leaves in two minutes." 
We ran to platform seven, said goodbye, thanked Simon and got on the train. When the train left, we started to talk to an Italian tourist. "What time do we arrive in Boulogne?" we asked. "Boulogne?" he said "I think you have a problem. This train goes to Toulouse."
21. Their mostexperience happened three months ago.
A. unforgettable	B. embarrassing	C. forgettable	D. remember
22. What did the couple go to Boulogne for?
 A. to see an English man 	 	B. to go toToulouse 
 C. to practice French 	 	D. on holiday
23. What did they do when they were in France?
	 A. They sunbathed.	B. They read books.
 C. They went to the beach.	D. All are correct.
24. How could they speak French?
 A. They could speak French very well
 B. They could not speak any French at all
 A. The husband could speak French very well but the wife spoke French very badly
 C. The wife could speak French very well while the husband spoke French very badly
 25. How could they get to Paris to catch the train?
	A. Simon gave them a lift	 	B. They got to Paris by boat
	C. Simon lent them his car 	D. They drove there themselves.
26. Why did they need to get toBoulogne?
 A. to visit Boulogne 	B. to catch a train to England
 C. to visit their friends 	D. to return to England
27. What happened on the last day of the journey?
 A. Their car was stolen 	B. They didn't want to go by car
 C. They did not have any money 	D. Their car did not work 
28. Where did the train take them to?
	A. Boulogne	 	B. Toulouse
 C. England	 	D. Italy 
 IV. Writing: Finish the second sentences so that it has a similar meaning to the first one, beginning with the given words or phrases. (3P)
29. "I will never play games again," the boy said.
The boy promised ..
30. "You should go home and rest for a while," said his boss.
His boss advised.. 
31. "Would you like to dance with me?" he said.
He invited me ..
32. "If you had asked me, I would have lent you my motorbike," he said to me.
He told me...
 33. "I am sorry I did not wait for you," Marry said to John.
Marry apologized.
34. "Let's go to the cinema tomorrow," Hoa said.
Hoa suggested

Tài liệu đính kèm:
han de thi hkI.doc