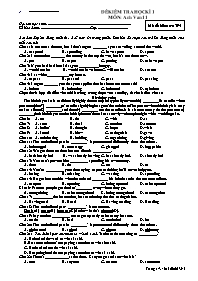 Bôi đen đáp án đúng nhất (A, B, C hay D) trong phiếu làm bài để chọn câu trả lời đúng nhất cho mỗi câu hỏi
Câu 1: It cost me a fortune, but I don't regret _______ a year traveling around the world.
A. to spend B. spending C. have spent D. spent
Câu 2: I remember _______ the money in the top drawer, but it's not there now.
A. put B. to put C. putting D. to have put
Câu 3: If you had had breakfast, you __________hungry.
A. would not be B. would not have been C. will not be D. are not
Câu 4: I saw him___________my house.
A. to pass B. passed C. pass D. passing
Câu 5: I regret _______ you that your application has been unsuccessful.
A. inform B. informing C. informed D. to inform
Chọn thích hợp để điền vào mỗi ô trống trong đoạn văn sau đây, từ câu 6 đến câu 10
Birthday cake
The birthday cake is traditionally highly decorated, and typically covered (6) ________ lit candles when presented, the (7) ________ of candles signifying the age of the celebrant. The person whose birthday it is may make a silent (8) ________ and then (9) ________ out the candles. It is also customary for the person (10) ________ their birthday to cut the initial piece of the cake as a newlywed couple might with a wedding cake.
Câu 6: A. on B. for C. with D. as
Câu 7: A. sum B. deal C. number D. amount
Câu 8: A. belief B. thought C. hope D. wish
Câu 9: A. knock B. blow C. extinguish D. gave
Câu 10: A. celebrating B. holding C. organizing D. giving
Câu 11: The underlined part in '________' is pronounced differently from the others.
A. influenced B. constancy C. glanced D. incapable
Bạn đang xem tài liệu "Đề kiểm tra học kì 1 môn: Anh van 11 - Mã đề kiểm tra 395", để tải tài liệu gốc về máy bạn click vào nút DOWNLOAD ở trên
/
ĐỀ KIỂM TRA HỌC KÌ 1 
MÔN: Anh Van 11 
Họ, tên học sinh:...................................................................................
Số báo danh:.................................................Lớp:..............................
Mã đề kiểm tra 395
Bôi đen đáp án đúng nhất (A, B, C hay D) trong phiếu làm bài để chọn câu trả lời đúng nhất cho mỗi câu hỏi
Câu 1: It cost me a fortune, but I don't regret _______ a year traveling around the world.
A. to spend	B. spending	C. have spent	D. spent
Câu 2: I remember _______ the money in the top drawer, but it's not there now.
A. put	B. to put	C. putting	D. to have put
Câu 3: If you had had breakfast, you __________hungry.
A. would not be	B. would not have been C. will not be	 D. are not
Câu 4: I saw him___________my house.
A. to pass	B. passed	C. pass	D. passing
Câu 5: I regret _______ you that your application has been unsuccessful.
A. inform	B. informing	C. informed	D. to inform
Chọn thích hợp để điền vào mỗi ô trống trong đoạn văn sau đây, từ câu 6 đến câu 10
Birthday cake
The birthday cake is traditionally highly decorated, and typically covered (6) ________ lit candles when presented, the (7) ________ of candles signifying the age of the celebrant. The person whose birthday it is may make a silent (8) ________ and then (9) ________ out the candles. It is also customary for the person (10) ________ their birthday to cut the initial piece of the cake as a newlywed couple might with a wedding cake.
Câu 6: 	A. on	B. for	C. with	D. as
Câu 7: 	A. sum	B. deal	C. number	D. amount
Câu 8: 	A. belief	B. thought	C. hope	D. wish
Câu 9: 	A. knock	B. blow	C. extinguish	D. gave
Câu 10: 	A. celebrating	B. holding	C. organizing	D. giving
Câu 11: The underlined part in '________' is pronounced differently from the others.
A. influenced	B. constancy	C. glanced	D. incapable
Câu 12: We got there on time but our friends _________.
A. had already left	B. was already leaving	C. has already left.	 D. already left
Câu 13: You can't prevent him _________ spending his own money.
A. from	B. for	C. on	D. to
Câu 14: You're _________ your time trying to persuade him; he'll never help you.
A. losing	B. missing	C. wasting	D. spending
Câu 15: He got into trouble when he refused ________ his briefcase for the customs officer.
A. to open	B. opening	C. being opened	D. to be opened
Câu 16: Famous people get tired of ________ everywhere they go.
A. recognizing	B. to be recognized	C. being recognized	D. to recognize
Câu 17: __________the instruction, he snatched up the fire extinguisher.
A. Having read	B. Read	C. Having reading	D. Reading
Câu 18: The underlined part: '_________' is not correct.
She is (A) upset (B) because (C)Andrew hadn't phoned (D).
Câu 19: My mother _________ me to get up early to learn my lessons.
A. made	B. had	C. reminded	D. let
Câu 20: The underlined part in '________' is pronounced differently from the others.
A. cholesterol	B. school	C. chorus	D. chimney
Câu 21: 'You didn't pay attention to what I said.' is closest in meaning to '_________.'
A. He looked forward to what I said.	
B. He accused me of not paying attention to what he said.
C. He thanked me for what I said.
D. He apologized for not paying attention to what I said.
Câu 22: There's____________at the door. Can you go and see who it is?
A. one	B. anyone	C. no one	D. someone
Câu 23: The teacher encouraged me _________ harder.
A. studied	B. studying	C. to study	D. study
Câu 24: The manager _________ the men to return to work immediately.
A. said	B. ordered	C. insisted	D. apologized
Câu 25: If it didn't rain, I _________to see you.
A. would have come	B. would come	C. come	D. will come
Câu 26: "I will come to see you if I have time," the man said to her is closest in meaning to '_________.'
A. The man told her that he would have come to see her if he had had time.
B. The man told her that he will come to see her if he had time.
C. The man told her that he would come to see her if he had time.
D. The man told her that he will come to see her if he has time.
Đọc kĩ đoạn văn sau đây và chọn câu trả lời đúng nhất cho mỗi câu hỏi, từ câu 27 đến câu 30
Huey and Bo were two dogs that often played together near the sea cliff of Portishead. One day, while Huey was chasing her, Bo ran through some bushes. Then she slipped 70 feet down the side of the cliff! 
At first, David Sutton, Bo's owner, didn't know what to do to help his dog. But Huey started to climb down the side of the cliff. Finally she reached the other dog. 
After she had looked carefully at Bo's injuries, Huey started to show her friend the way up the side of the cliff. As she was climbing up the cliff, Bo had to stop to rest. When Huey saw her friend in difficulty, she pushed her up the rest of the way. By the time Bo reached the top, she had lost a lot of blood. She was still alive, however! 	
Bo recovered in the end from her terrible fall. Mr Sutton was amazed. 'Huey risked her life to save Bo,' he said. 'It was a real act of friendship.'	
Câu 27: According to the passage, Bo was ___________.
A. a person	B. a tourist	C. Huey's owner	D. a dog
Câu 28: Bo slipped 70 feet down the side of the cliff while ___________.
A. she was climbing up the cliff	B. she was chasing Huey
C. she was running through some bushes	D. she was climbing down the cliff
Câu 29: After slipping 70 feet down the side of the cliff, Bo ___________.
A. fell asleep	B. was too badly injured that she couldn't move
C. wasn't injured at all.	D. was injured
Câu 30: ___________ saved Bo.
A. A stranger	B. A hunter	C. Mr. Sutton	D. Huey
Câu 31: The underlined part in '________' is pronounced differently from the others.
A. pleasure	B. such	C. sorrow	D. suspicion
Câu 32: Can somebody show me ________ the film in this camera?
A. how changing	B. how to change	C. how to changed	D. how change
Câu 33: ____________twice, he didn't want to try again.
A. Having failed	B. Failing	C. To fail	D. Having failing
Câu 34: "It was nice of you to visit me. Thank you". Miss White said to Jack is closest in meaning to '_________.'
A. Miss White thanked Jack for visiting her.	B. Miss White thanks Jack for visiting her.
C. Miss White thanked Jack to visit her.	D. Miss White thanked Jack for visit her.
Câu 35: I am looking forward to_____________you.
A. met	B. meet	C. to meet	D. meeting
Câu 36: I saw you in the park yesterday. You _______ on the grass and reading a book.
A. had sat	B. were sitting	C. sat	D. are sitting
Câu 37: Peter __________ on driving me to the station.
A. stopped	B. dreamed	C. insisted	D. looked
Câu 38: The underlined part in '________' is pronounced differently from the others.
A. eradicate	B. illiteracy	C. rate	D. nation
Câu 39: They spent a lot of money___________the house.
A. of modernizing	B. modernize	C. modern	D. modernizing
Câu 40: The underlined part: '_________' is NOT correct.
The doctor (A) advised to go (B) for (C) a (C)walk every evening.
-----------------------------------------------
----------- HẾT ----------
made
cauhoi
dapan
395
1
B
395
2
C
395
3
B
395
4
D
395
5
A
395
6
C
395
7
C
395
8
D
395
9
B
395
10
A
395
11
D
395
12
A
395
13
A
395
14
C
395
15
A
395
16
C
395
17
A
395
18
A
395
19
C
395
20
D
395
21
B
395
22
D
395
23
C
395
24
B
395
25
B
395
26
C
395
27
D
395
28
C
395
29
D
395
30
D
395
31
A
395
32
B
395
33
A
395
34
A
395
35
D
395
36
B
395
37
C
395
38
B
395
39
D
395
40
B