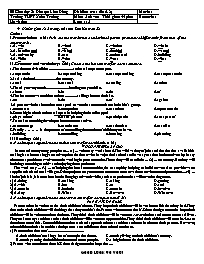 Code 1:
I. Pronunciation: (1M) Pick out the word whose underlined part in pronounced differently from that of the other words:
1. A. who B. wheel C. whether D. whale
2. A. handicapped B. visited C. decided D. wanted
3. A. university B. use C. understand D. building
4. A. while B. write C. west D. wear
II. Grammar and vocabulary: (2M) Choose the best answer for each sentence:
1. The doctor advised him . and to take up some sport.
a. stop smoke b. stop smoking c. to stop smoking d. to stop to smoke
2. Jack admitted . the money.
a. steal b. to steal c. stealing d. stolen
3. Thank you very much . lending me your bike.
a. about b. in c. for d. of
4. The instructor warned the students . sailing alone on the lake.
a. on b. for c. of d. against
5. A person who has been chosen to speak or vote for someone else on behalf of a group.
a. contestant b. competitor c. examinee d. representative
6. Some high school students take part in helping the handicapped.
a. play a role of b. take a place of c. participate in d. are a part of
7. To make something develop or become more active.
a. to encourage b. to enhance c. to stimulate d. to strike
8. Family is the process of controlling the number of children you have.
a. building b. controlling c. housing d. planning
III. Reading: (2M)
Bạn đang xem tài liệu "Đề kiểm tra 1 tiết môn: Anh văn - Trường THPT Xuân Trường", để tải tài liệu gốc về máy bạn click vào nút DOWNLOAD ở trên
Sở Giáo dục & Đào tạo Lâm Đồng
Đề kiểm tra 1 tiết (L2) 
Marks: 
Trường THPT Xuân Trường
Môn: Anh văn Thời gian: 45 phút
Remarks: 
Họ và tên: 
Lớp: 11A
Đề này gồm có 2 trang, thí sinh làm bài trên đề
Code 1:
I. Pronunciation: (1M) Pick out the word whose underlined part in pronounced differently from that of the other words:
1. A. who 	B. wheel 	C. whether	D. whale
2. A. handicapped 	B. visited 	C. decided 	D. wanted
3. A. university	B. use 	C. understand 	D. building
4. A. while	B. write	C. west	D. wear 
II. Grammar and vocabulary: (2M) Choose the best answer for each sentence:
1. The doctor advised him ......................... and to take up some sport.
a. stop smoke	b. stop smoking	c. to stop smoking	d. to stop to smoke
2. Jack admitted ....................... the money.
a. steal	b. to steal	c. stealing	d. stolen
3. Thank you very much ........................ lending me your bike.
a. about	b. in	c. for	d. of
4. The instructor warned the students ............ sailing alone on the lake.
a. on	b. for	c. of	d. against
5. A person who has been chosen to speak or vote for someone else on behalf of a group.
a. contestant	b. competitor	c. examinee	d. representative
6. Some high school students take part in helping the handicapped.
a. play a role of	b. take a place of	c. participate in	d. are a part of
7. To make something develop or become more active.
a. to encourage	b. to enhance	c. to stimulate	d. to strike
8. Family  is the process of controlling the number of children you have.
a. building	b. controlling	c. housing	d. planning 	
III. Reading: (2M)
A. Read the passage and choose the best answer for each blank: (1 M)
VOLUNTEERS ABROAD
 More and more young people are ... (1) ... voluntary work abroad. The wild variety of jobs and destinations available is making it an increasingly attractive option for those who have just left school and have a year free before university. Many choose to spend these twelve months working in poor countries. There they will earn little ... (2) ... no money. But they will be doing something useful – and enjoying the experience.
 The work may ... (3) ... of helping the local communities, for example by helping to build new road or provide water supplies to isolated rural villages. Other projects may concentrate more on conservation or environmental protection. ... (4) ... kind of job it is, it is certain to be challenging and worthwhile, and an experience that will never be forgotten. 
1) A. doing	B. making	C. taking	D. getting
2) A. with	B. but	C. or	D. and
3) A. consist	B. include	C. contain	D. involve
4) A. Any	B. What	C. However	D. Whatever
B. Read the passage and choose one correct answer for each question: (1 M)
 PARENTS' DREAMS
 Parents often have dreams for their children's future. They hope their children will have a better life than they had. They dream that their children will do things that they couldn't do. Parents who come to the U.S from foreign countries hope their children will have better education here. They think their children will have more career choices and more successful lives. They make many sacrifices so that their children will have more opportunities. They think their children will remain close to them because of this. Some children understand and appreciate these sacrifices and remain close to their parents. However, other children feel ashamed that their parents are so different from other Americans.
1) Parents often dream of ......................................
A. their children's making a lot of money in the future.	C. one day living on their children's money.
B. one day seeing their children become famous people.	D. a bright future for their children.
2) Parents who come home from U.S from foreign countries hope that ..... 
 A. their children will have a lot of careers.	C. their children will have more opportunities for good education.
 B. their children become successful directors.	D. their children will make a lot of sacrifices. 	 
3) Parents think their children will remain close to them because...........
A. they give their children a lot of money.	C. they know their children will be successful in the future.
B. of the sacrifices	D. they are living in a foreign country
4) The word career in line 5 is closest in meaning to ............................
 A. education	B. travel	C. subject 	D. profession
IV. Writing: (3M)
A. Rewrite the sentences below, beginning with the words given: (1M)
1. "No, it's not true. I didn't cheat in the exam!"
-> Tom denied 	
2. "Congratulation! You won the singing contest" 
-> My teacher congratulated 	
3. He got off his horse. He began searching for something on the ground.
-> Getting	
4. He had spent all his money. He decided to go home and ask his father for a job.
-> Having	
B. Give the right form of the verbs in brackets: (1M)
1. She (decide)(stay) at home last night
2. He tried (avoid) (answer) my question.
C. Identify one underlined word or phrase that is incorrect: (1M)
1. We're looking forward to see you again.
 A B C D
2. I'd like buying some earrings like yours.
 A B C D
3. She smelt something burning and saw smoke rise.
 A B C D
4. David asked me telling him the time.
 A B C D
V. Listening: (2M)
A. Listen to the second paragraph and fill in the blanks: (1M)
In an informal survey carried out in Perth, western of Australia, students were asked to give their views on what makes an (1).. school. 80 per cent of the students felt that (2) in the classroom was essential learning to take place. This implied that students should be treated as individuals with both their (3).. and their weaknesses. 60 per cent of the students felt they should be (4).. to set realistic goals for their learning, and to have positive attitudes towards themselves and others.
One hundred per cent of the students felt that the social side of school was as important as academic activities. The older students felt that they should be allowed to give some input school decision making a direct effect on students.
1. 
2. 
3. 
4. 
B. Listen to the whole paragraph and decide whether the statements are True (T) or False (F): (1M)
_______1. Students were asked to give their opinions on what makes a successful school.
_______2. 80% of the students thought that self – respect in the class room was necessary learning to take place.
_______3. 50 % of the students expected their teachers to be motivated.
_______4. Learning should be focused on important life skills.
***THE END***
Sở Giáo dục & Đào tạo Lâm Đồng
Đề kiểm tra 1 tiết (L2) 
Marks: 
Trường THPT Xuân Trường
Môn: Anh văn Thời gian: 45 phút
Remarks: 
Họ và tên: 
Lớp: 11A
Đề này gồm có 2 trang, thí sinh làm bài trên đề
Code 2:
I. Pronunciation: (1M) Pick out the word whose underlined part in pronounced differently from that of the other words:
1. A. beyond	B. year	C. quay	D. yet 
2. A. who	B. when	C. what	D. why
3. A. attended	B. improved	C. dedicated	D. exhibited
4. A. well	B. week	C. two	D. forward
II. Grammar and vocabulary: (2M) Choose the best answer for each sentence:
1. Someone told us ........................... sit on the stairs.
a. don't	b. not	c. not to	d. to not
2. I apologized ........................ the book at home.
a. for leaving	b. to leaving	c. leaving	d. to leave
3. Her mother prevented her ..................... going out tonight.
a. against	b. from	c. about	d. at
4. I wouldn't dream..................... going to the party I hadn't been invited to.
a. with	b. for	c. at	d. of
5. They had a really good chance of winning the national ...................... 
a. compete	b. competition	c. competitor	d. competitive
6. The work of the charity is funded by voluntary ......................... .
a. action	b. activity	c. donation	d. organization
7. To agree to give someone money for a charity if that person competes a special activity.
a. organize	b. support	c. sponsor	d. encourage
8. Nearly all the students believed that learning should focus on 
a. the importance of life	b. the importance of skills	c. the important life skills	d. important communication skills. 
III. Reading: (2M)
A. Read the passage and choose the best answer for each blank: (1 M)
VOLUNTEERS ABROAD
 More and more young people are ... (1) ... voluntary work abroad. The wild variety of jobs and destinations available is making it an increasingly attractive option for those who have just left school and have a year free before university. Many choose to spend these twelve months working in poor countries. There they will earn little ... (2) ... no money. But they will be doing something useful – and enjoying the experience.
 The work may consist of helping the local communities, for example by helping to build new road or provide water supplies to isolated rural villages. Other projects may concentrate more on conservation or environmental protection. ... (4) ... kind of job it is, it is certain to be ... (5) ... and worthwhile, and an experience that will never be forgotten. 
 1) A. taking	B. getting	C. doing	D. making 
2) A. or	B. with	C. but	D. and
3) A. Whatever	B. However	C. What	D. Any 
4) A. challenging	B. dangerous	C. difficult	D. attracted
B. Read the passage and choose one correct answer for each question: (1 M)
 PARENTS' DREAMS
 Parents often have dreams for their children's future. They hope their children will have a better life than they had. They dream that their children will do things that they couldn't do. Parents who come to the U.S from foreign countries hope their children will have better education here. They think their children will have more career choices and more successful lives. They make many sacrifices so that their children will have more opportunities. They think their children will remain close to them because of this. Some children understand and appreciate these sacrifices and remain close to their parents. However, other children feel ashamed that their parents are so different from other Americans.
1) Parents often dream of ......................................
A. one day seeing their children become famous people	C. one day living on their children's money.
B. a bright future for their children.	D. their children's making a lot of money in the future.
2) The word career in line 5 is closest in meaning to ............................
 A. profession	B. travel	C. education 	D. subject
3) Parents think their children will remain close to them because...........
A. they give their children a lot of money.	C. of the sacrifices 
B. they are living in a foreign country	D. they know their children will be successful in the future.
4) The word close in line 7 is closest in meaning to ............................
 A. dear	B. friendly	C. helpful	D. kind
IV. Writing: (3M)
A. Rewrite the sentences below, beginning with the words given: (1M)
1. "All right, it's true, I lost my temper" 
-> Peter admitted 	
2. "I'm very grateful to you for your help, Mr. Smith".
-> Sue thanked 	
3. I knew that he was poor. I offered to pay his fare.
-> Knowing	
4. He had spent all his money. He decided to go home and ask his father for a job.
-> Having 	
B. Give the right form of the verbs in brackets: (1 M)
1. After I (work) for 3 hour, I stopped (eat) lunch.
2. We don't (want) anybody (know) that we are here.
C. Identify one underlined word or phrase that is incorrect: (1M)
1. I warned them not climb the mountain in such bad weather.
 A B C D
2. They voluntarily spent their vacations to teach illiterate people to read & write.
 A B C D
3. I'd like to thank your brother for your help.
 A B C D
4. You can congratulate yourself about having done an excellent job.
 A B C D
V. Listening: (2M)
A. Listen to the second paragraph and fill in the blanks: (1M)
About 55 per cent of the students expected their teachers to be (1). and interested in what they were doing; this would then reflect in their (2).. of the students. Nearly all the students believed that learning should be centered on important life skills such as communication, building (3). and self-confidence, the ability to learn from failure, and time management, suited to the (4).of the students concerned.
One hundred per cent of the students felt that the social side of school was as important as academic activities. The older students felt that they should be allowed to give some input school decision making a direct effect on students.
1. 
2. 
3. 
4. 
B. Listen to the whole paragraph and decide whether the statements are True (T) or False (F): (1M)
_______1. The survey carried out in the USA.
_______2. 80% of the students thought that mutual respect in the class room was necessary learning to take place.
_______3. 50 % of the students expected their teachers not to be interested in what they were doing.
_______4. Learning should be focused on important communication skills.
***THE END***
LISTENING 11-2: 
In an informal survey carried out in Perth, western of Australia, students were asked to give their views on what makes an effective school. 80 per cent of the students felt that mutual respect in the classroom was essential learning to take place. This implied that students should be treated as individuals with both their strengths and their weaknesses. 60 per cent of the students felt they should be encouraged to set realistic goals for their learning, and to have positive attitudes towards themselves and others.
About 55 per cent of the students expected their teachers to be motivated and interested in what they were doing; this would then reflect in their performance of the students. Nearly all the students believed that learning should be centered on important life skills such as communication, building self-respect and self-confidence, the ability to learn from failure, and time management, suited to the maturity of the students concerned.
One hundred per cent of the students felt that the social side of school was as important as academic activities. The older students felt that they should be allowed to give some input school decision making a direct effect on students.
Answer keys: 
Code 1: 
I. 1A	2A	3C	4B
II. 1C	2C	3C	4D
5D	6C	7C	8D
III. A. 1A	2C	3A	4D
B. 1D	2C	3B	4D
IV. 
A. 1. Tom denied cheating in the exam.
2. My teacher congratulated me on winning the singing contest.
3. Getting off his horse, he began searching for something on the ground.
4. Having spent all his money, he decided to go home and ask his father for a job.
B. 1. decided, to stay	2. to avoid, answering 
C. 1C	2B	3D	4B
V. A. 1. effective	2. mutual respect	3. strengths	4. encouraged
B. 1T	2F	3F	4T
Code 2: 
I. 1C	2A	3B	4C
II. 1C	2A	3B	4D
5B	6C	7C	8C
III. A. 1C	2A	3A	4A
B. 1B	2A	3C	4A
IV. 
A. 1. Peter admitted losing his temper.
2. Sue thanked Mr. Smith for his helping.
3. Knowing that he was poor, I offered to pay his fare.
4. Having spent all his money, he decided to go home and ask his father for a job.
B. 1. had worked, eating	2. want, to know 
C. 1B	2B	3D	4C
V. A. 1. motivated	2. performance	3. self - respect	4. maturity
B. 1F	2T	3F	4F

Tài liệu đính kèm:
TEST 2.doc