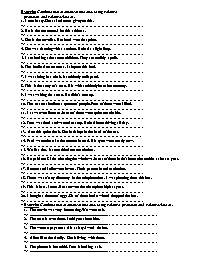 Exercise:Combine these sentences into one, using relative
 pronouns and relative clauses:
1. I met Mary. She asked me to give you this.
-->
2. He is the customer. I lost his address.
-->
3. She is the novelist. Her book won first prize.
-->
4. She was dancing with a student. He had a slight limp.
-->
5. I am looking after some children. They are terribly spoilt.
-->
6. The bed had no mattress. I slept on this bed.
-->
7. I was sitting in a chair. It suddenly collapsed.
-->
8. This is the story of a man. His wife suddenly loses her memory.
-->
9. I was waiting for a man. He didn't turn up.
-->
10. The car crashed into a queue of people. Four of them were killed.
-->
11. I saw several houses. Most of them were quite unsuitable.
-->
12. Tom was tired and wanted to stop. He had been driving all day.
-->
13. Ann felt quite fresh. She had slept in the back of the car.
-->
Bạn đang xem tài liệu "Bài tập về mệnh đề quan hệ", để tải tài liệu gốc về máy bạn click vào nút DOWNLOAD ở trên
Exercise:Combine these sentences into one, using relative 
 pronouns and relative clauses:
1. I met Mary. She asked me to give you this.
--> 
2. He is the customer. I lost his address.
--> 
3. She is the novelist. Her book won first prize.
--> 
4. She was dancing with a student. He had a slight limp.
--> 
5. I am looking after some children. They are terribly spoilt.
--> 
6. The bed had no mattress. I slept on this bed.
--> 
7. I was sitting in a chair. It suddenly collapsed.
--> 
8. This is the story of a man. His wife suddenly loses her memory.
--> 
9. I was waiting for a man. He didn't turn up.
--> 
10. The car crashed into a queue of people. Four of them were killed.
--> 
11. I saw several houses. Most of them were quite unsuitable.
--> 
12. Tom was tired and wanted to stop. He had been driving all day.
--> 
13. Ann felt quite fresh. She had slept in the back of the car. 
-->
14. Paul wanted to take the mountain road. His tyres were nearly new.
--> 
15. We lit a fire. It soon dried out our clothes.
--> 
16. He paid me $5 for cleaning the windows. Most of them hadn't been cleaned for at least a year. 
--> 
17. Romeo and Juliet were lovers. Their parents hated each other.
--> 
18. There wasn't any directory in the telephone box. I was phoning from this box.
--> 
19. This is Mrs. Jones. Her son won the championship last year.
--> 
20. I bought a dozen of eggs. Six of them broke when I dropped the box.
--> 
* Exercise:Combine these sentences into one, using relative pronouns and relative clauses:
The movie was very interesting. We went to it.
--> .............................................................................. 
The man is over there. I told you about him.
--> .............................................................................. 
The woman pays me a fair salary. I work for her.
--> .............................................................................. 
Alice likes the family. She is living with them.
--> .............................................................................. 
The picture is beautiful. Tom is looking at it.
--> .............................................................................. 
I enjoyed the music. We listened to it after dinner.
--> .............................................................................. 
The person was very friendly. I spoke to him. 
--> .............................................................................. 
The motel was very clean. We stayed at that motel.
--> .............................................................................. 
The person never came. Sally was waiting for that person.
--> .............................................................................. 
I never found the book. I was looking for it.
--> .............................................................................. 
* Exercise 1: Rewrite the following sentences using present participle, past participle or to-infinitive:
1. English has an alphabet that consists of 26 letters.
à 
 2. Do you the man who is talking to my father ?
 à 
 3. Applications which were sent after 23rd will not be considered.
 à 
 4. We have a lot of exercises which we have to do tonight.
 à 
 5. Studies of her son are the most important thing that she cares about. 
 à 
6. The equipment which belongs to the club is insured.
à 
7. George is the first person that we will interview.
à 
8. Meetings which are held every month are called monthly meetings.
 à
 9. The most excellent students who were rewarded the scholarship would have a two-week holiday in Vung Tau.
à 
10 Ann is the woman who is responsible for preparing the budget.
à  
à  
11. The man who is talking to John is from Korea.
à  
12. The ideas which are presented in that book are interesting.
à  
Combine the sentences into one single sentence using relative clauses:
The taxi driver was friendly. He took me to the airport.
à  
I must thank the people. I got a present from them. 
 à 
The town is small. I grew up there.
à 
That is the drawer. I keep the jewelry there.
à 
The woman pays me a fair salary. I work for her.
à 
My flat is in an old part of the city. It was built in the 1920s.
à 
The traffic is very noisy. It passes my flat.
à 
The local market sells excellent local produce. It is a two-minute walk from my flat.
à 
We went to Sandra's party. We enjoyed it very much.
à 
 John is one of my closest friends. I have known him for a very long time.
à 
 The book is about a girl. She runs away from home.
à 
 A new stadium will be opened next month. It can hold 90,000 people.
à 
 Alaska is the largest state in the United States. My brother lives there.
à 
 My wife and I are really enjoying the TV set. We bought it for ourselves last week.
à 
 Yesterday, Anna rescued a bird. The cat had brought it into the house.
 à
Exercise 1: Supply is or are in the following:
1. Both the teacher and the student ..here.
2. Neither the teacher nor the student here.
3. Not only the teacher or the student .here.
4. Not only the teacher but also the student here.
5. Either the students or the teacher planning to come.
 6. Either the teacher or the students planning to come.
* Exercise 2: Combine the following into sentences that contain parallel structure. Use appropriate paired conjunctions: both and, not onlybut also, either or, neither nor:
1. He does not have a pen. He does not have paper.
à ..
Ron enjoys horseback riding. Bob enjoys horseback riding.
à ..
Arthur is not in class today. Ricardo is not in class today.
à ..
Arthur is absent. Ricardo is absent.
à ..
We can fix dinner for them here, or we can take them to a restaurant.
à ..
She wants to buy a Ford, or she wants to buy a Toyota.
à ..
We could fly or we could take the train.
à ..
The library does not have the book I need. The bookstore does not have the book I need.
à ..
Coal is an irreplaceable natural resource. Oil is an irreplaceable natural resource.
à ..
Her roommates do not know where she is. Her brother does not know where she is.
 à ..
I. Circle the word whose underlined part is pronounced differently from that of the other words.
1)	A. stones	B. learns	C. phones	D. tense
2) 	A. lifted	B. lasted	C. happened	D. decided 
3) 	A. speed	C. person	C. temperature	D. psychology	
II. Circle the word that has stress pattern different from that of the other words.
4)	A. uncertain	B. technical	C. attention	D. attraction
5)	A. psychology	B. cosmonaut	C. accident	D. national
6) A. uncertainty	 B. satisfaction	 C. psychology	 D. approximate
III. Circle the best answer for each sentence.
8) No one knew precisely what would happen to a human being in space. The word "precisely" is closest in meaning to "____".
	A. nicely	B. exactly	C. rigidly	D. roughly
9) Many spacemen could never get back to the Earth because of ____ accidents.
	A. tragedy	B. tragic	C. tragically	D. tragedies
10) He finds it difficult for him to recover from his son's ____.
	A. die	B. dead	C. deadly	D. death
11) He failed again, which was a/an ____ disappointment.
	A. enormous	B. big	C. wide	D. large
12) The flight will take approximately three weeks. The word "approximately" is closest in meaning to "____".	A. closely	B. exactly	C. about	 D. precisely
13) How long did Yuri Gagarin's trip into space ____? Only 180 minutes.
	A. lengthen	B. last	C. late	D. strengthen
14) When ____ astronaut travels into space, if a technical failure happens, he can never get back to ____ Earth.	A. an / the	B. Þ / an	C. an / Þ	 D. the / Þ
15) Neil Armstrong was the first man to set foot on ____ moon.
	A. a	B. an	C. the	D. Þ
16) Everybody congratulated the astronauts ____ their successful trip into space.
	A. on	B. for	C. of	D. in
17) Yuri Gagarin became the first man to travel into space ____ April 12th, 1961.
	A. at	B. on	C. in`	D. from
18) A / an ____ is a person who is trained for traveling in a spacecraft.
	A. astronaut	B. scientist	C. engineer	D. technician
19) When spacemen travel into space they have to face enormous ____ because they do not know what may happen.
	A. certainties	B. uncertainties	C. possibilities	D. precisions
20) Lisa's been able to play the flute since she was six, ____?
	A. can't she	B. isn't she	C. wasn't he	D. hasn't she
21) Neil seemed to have a good time at the party, ____?
	A. hadn't he	B. had he	C. did he	D. didn't he
22) There has not been a great response to the sale, ____?
	A. does there	B. hasn't there	C. has there	d. hasn't it
23) She had done more work in one day than her husband ____ in three days.
	A. do	B. could do	C. may do	D. done
24) You are going to come to the party, ____?
	A. aren't you	B. do you	C. will you	D. won't you
25) Despite the bad weather, he ____ get to the airport in time.
	A. could	B. couldn't 	C. was able to	D. almost 
26) You're Cynthia, ____ you? A. aren't 	B. are	C. didn't	 D. were
27) We didn't eat here last week, ____ we? A. didn't B. did	C. haven't D. do
28) You have ever heard about Yuri Gagarin, ____?
	A. do you	B. haven't you	C. don't you	D. didn't you
29) Jenny ____ leave the hospital only fours days after the operation.
	A. was able to	B. could	C. can	D. will be able to
30) At last, they ____ get through the mountain in such a heavy rain.
	A. can	B. could	C. are able to	D. were able to
WRITING * Choose the underlined part among A, B, C or D that needs correcting.
41) Your grandfather could speak five languages, could he?
	A B C D
42) She spoke in a very low voice, but I can understand what she said.
 A B C D 
43) I used to be to stand on my head but I can't be able to do it now.
 A B C D
44) The trip was cancelled last week. John couldn't go away because he was ill.
 A B C D