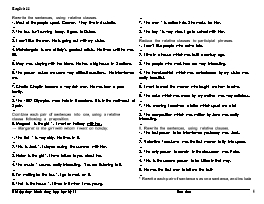 Rewrite the sentences, using relative clauses.
1. Most of the people speak German. They live in Australia.
→
2. The bus isn't running today. It goes to Oxford.
→
3. I don't like the man. He is going out with my sister.
→
4. Michelangelo is one of Italy's greatest artists. He lived until he was 90.
→
5. Mary was staying with her friend. He has a big house in Scotland.
→
6. The person asked me some very difficult questions. He interviewed me.
→
7. Charlie Chaplin became a very rich man. He was from a poor family.
→
8. The 1992 Olympics were held in Barcelona. It is in the north-east of Spain.
→
Combine each pair of sentences into one, using a relative clause following a preposition.
0. Margaret is the girl * . I went on holiday with her.
→ Margaret is the girl with whom I went on holiday.
1. The flat * is very dirty. He lives in it.
→
2. This is Jack *. I stayed during the summer with him.
→
3. Helen is the girl *. I have talked to you about her.
→
4. The music * sounds really interesting. You are listening to it.
→
5. I'm waiting for the bus *. I go to work on it.
→
6. That is the house *. I lived in it when I was young.
→
7. The man * is called Eric. She works for him.
→
8. The boy * is very nice. I go to school with him.
Bạn đang xem tài liệu "Bài tập thực hành tổng hợp học kỳ II môn Tiếng Anh", để tải tài liệu gốc về máy bạn click vào nút DOWNLOAD ở trên
Rewrite the sentences, using relative clauses.
1. Most of the people speak German. They live in Australia.
→ 
2. The bus isn't running today. It goes to Oxford.
→
3. I don't like the man. He is going out with my sister.
→
4. Michelangelo is one of Italy's greatest artists. He lived until he was 90.
→ 
5. Mary was staying with her friend. He has a big house in Scotland.
→
6. The person asked me some very difficult questions. He interviewed me.
→ 
7. Charlie Chaplin became a very rich man. He was from a poor family.
→ 
8. The 1992 Olympics were held in Barcelona. It is in the north-east of Spain.
→ 
Combine each pair of sentences into one, using a relative clause following a preposition.
0. Margaret is the girl * . I went on holiday with her.
→ Margaret is the girl with whom I went on holiday.
1. The flat * is very dirty. He lives in it.
→ 
2. This is Jack *. I stayed during the summer with him.
→ 
3. Helen is the girl *. I have talked to you about her.
→ 
4. The music * sounds really interesting. You are listening to it.
→ 
5. I'm waiting for the bus *. I go to work on it.
→ 
6. That is the house *. I lived in it when I was young.
→ 
7. The man * is called Eric. She works for him.
→ 
8. The boy * is very nice. I go to school with him.
→ 
Reduce the relative clauses to participial phrases.
1. I don't like people who arrive late.
→ 
2. I live in a house which was built a century ago.
→ 
3. The people who work here are very interesting.
→ 
4. The handkerchief which was embroidered by my sister was really beautiful.
→ 
5. I want to meet the woman who taught me how to drive.
→ 
6. The cake which was made by my mother was very delicious.
→ 
7. This morning I received a letter which upset me a lot
→ 
8. The composition which was written by Jane was really interesting.
→ 
II. Rewrite the sentences, using relative clauses.
1. The last person to be interviewed yesterday was Jack.
→ 
2. Valentina Tereskova was the first woman to fly into space.
→ 
3. The only person to remain in the classroom was Peter.
→ 
4. This is the second person to be killed in that way.
→ 
5. He was the first man to tell me the truth
→ 
* Rewrite each pair of sentences as one sentence, and include the word in bold. Begin as shown, and make any necessary changes
1. We want to visit a museum. It opens at 12.00. 	 	 that
→ The museum that we wanted to visit opens at 12.00. 
2. A boy's bike was taken. He visited the police station. 	 	whose
→ The boy 
3. A friend met me at the airport. He carried my suitcase.	 who
→ The friend 
4. Tom cooked a meal. It was delicious	 that
→ The meal 
5. The friend is staying with me. She comes from Paris	 who
→ The friend 
6. I found man's wallet. He gave me a reward	 whose
→ The man 
7. I go to the shop in the centre. It is cheaper.	 that
→ The shop in the centre 
8. I go to a girl's party. She phoned me.	 whose
→ The girl 
Find the word or phrase that needs correcting
1. The man to speak to me is John's brother.
2. He is the second person be killed in that way.
3. They work in a hospital sponsoring by the government.
4. It an essay writing in 1779, Judith Sargeant Murray promoted the cause of women's education.
5. A dam is wall building across river to shop the river's flow and collect the water.
6. It was at this shop where I bought a T-shirt three days ago.
7. It is my closest friend goes abroad to study next month.
8. It was the dog who the boy hit
9. Mark's known for ages that his parents are coming to stay with us this weekend, but it was only yesterday did he told me
10. Collect stamps is my hobby 
11. Both Tom with Ann were late for class 
12. Mai is no only beautiful but also intelligent.
13. Both Lan and Minh is good students. 
14. Neither James or his brother have become to Paris.
15. Your grandfather could speak five languages, could he?
16. She spoke in a very low voice, but I can understand what she said.
17. I used to be to stand on my head but I can't be able to do it now.
18. The trip was cancelled last week. John couldn't go away because he was ill.
Rewrite each sentence, paying attention to the SUBJECT, OBJECT and ADVERBIAL .
1. I met Mr. Smith on the train to Hanoi two weeks ago 
→ 
2. I met the same boy yesterday.
→ 
3. His appearance frightened the children.
→ 
4. We met each other at this tower.
→ 
5. My neighbours made a lot of noise.
→ 
6. Reading book keep me occupied.
→ 
7. The secretary sent Jack the photo last week.
→ 
8. She bought him a computer at this shop.
→ 
9. I have been waiting for John.
→ 
10. Mary sent me the present by post
→ 
Change the sentences into cleft sentences in the passive.
Example: 0 . The boy hit the dog in the garden.
	 → It was the dog that was hit in the garden by the boy.
1. My mother gave me this camera.
→ 
2. People talked a lot about the accident.
→ 
3. The monkeys amused the children.
→ 
4. We ordered wine.
→ 
5. My brother prefers pop music.
→ 
 Combine each pair of sentences into one, using the conjunctions in brackets.
Example: 0. Tom was late. Ann was late. 	(both and )
	 → Both Tom and Ann were late
1. Jane owns a shop. She owns a restaurant. ( both .and) )
→ 
2. Helen likes cats. Mary likes cats. ( both .and )
→ 
3. She is at the office. She is at the airport. ( either or )
→ 
4. Paul is at home. Paul is at the gym. ( either or )
→ 
5. Chris didn't have time to take a holiday. Sheila didn't have time to take a holiday. ( neither ..nor )
→ 
6. David doesn't play tennis. David doesn't play table-tennis. ( neither ...nor )
→ 
7. Nam is handsome. Nam is intelligent.( not only but also )
→ 
8. Mai plays the guitar well. Mai dances beautifully. ( not only but also )
→ 
Complete the questions by adding the tag questions.
1. Paul doesn't like football, .?
2. You have got a sister, ?
3. You haven't done your homework, ?
4. You sat next to Helen? ?
5. Your name is John, .?
6. I didn't leave my wallet on the desk,.?
II. Complete the sentences with could (n't) or was / were able to .
1. Jack was an excellent tennis player. He beat anybody.
2. The fire spread quickly but everyone escape.
3. They didn't have any tomatoes in the first shop I went to, but I get some in the next shop.
4. He can't play tennis very well now but he ...play quite well when he was younger.
5. The boy fell into the river but fortunately we ..rescue him.
6. She wasn't at home when I phoned but I contact her at her office.
Rewrite each sentence, beginning as shown, so that the meaning stays the same.
1. People think the government will build a supermarket here.
→ The government 
→ It 
2. People believed that fresh air was bad for sick people.
→ fresh 
→ It 
3. They say he is an agitated state.
→ He 
→ It 
4. We expect that the rate of inflation will fall.
→ The rate of inflation
→ It 
5. They say he is somewhere in Germany.
→ He 
→ It 
6. People rumoured that he was involved in the bank robbery.
→ He 
→ It 
7. People think that she died in a plane crash.
→ She 
→ It 
8. People believed that the earth was the centre of the universe.
→ The earth
→ It 
9. It is expected that the strike will end soon.
→ The strike 
10. It is thought that the prisoner escaped by climbing over the wall.
→ The prisoner 
11. It is reported that many people are homeless after the floods.
→ Many people 
12. It is said that the man robbed the stone of $ 3,000 in cash.
→ The man 
13. It is reported that the building was badly damaged by fine.
→ The building 
14. It is said that the company is losing a lot of money.
→ The company 
15. It is said that she works 16 hours a day.
→ She 
1.They say that he is a good student 
2.People think that Mary will come here in two days .
3.They believed that My mother went there
4.They report that he has gone to Paris 
5.They said that the dog did'nt run away
6.People believe that your father likes dogs 
7.They say that he can do that 
8.People think that there are many apples in this village
ACTIVE VOICE : S1+say/ think/ belive + S2+ V
PASSIVE VOICE: S2 be said/thought/believed+ to do Sth ( to have V3)
PASSIVE VOICE: It be said/ thought/ belived+ that+ S+V