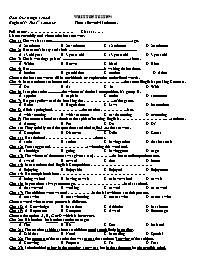 Listen carefully and choose the best answer.
Câu 1: She was last seen .ago.
 A 20 minute B 20 - minutes C 12 minutes D 20 minutes
Câu 2: Her name's Mary and she is .
 A 13 old year B 3 years old C 13 years old D 3 year old
Câu 3: She is wearing a pair of .shoes.
 A White B Brown C black D Blue
Câu 4: Her .is waiting for her there.
 A brother B grandfather C mother D father
Choose the best answer to fill in each blank or replace the underlined words.
Câu 5: Most students are interested . .the annual English speaking Contests.
 A On B At C In D With
Câu 6: I am pleased to .the winner of the final competition. It's group B.
 A appoint B explain C recite D announce
Câu 7: He got a yellow card for breaking the .of the game.
 A Rules B Regulations C Laws D Instructions
Câu 8: Alicia apologized .the teacher .late.
 A with / coming B with / to come C to / for coming D to/coming
Câu 9: The contest aimed to stimulate the spirit of learning English . .students.
 A Among B For C On D Of
Câu 10: They quickly read the questions and tried to find out the answers.
 A Complete B Discover C Offer D Guess
Bạn đang xem tài liệu "Bài soạn môn Tiếng Anh 11 - Written test n04", để tải tài liệu gốc về máy bạn click vào nút DOWNLOAD ở trên
Hoai Duc A high school Written test N04
English11- The 1st semester Time allowed: 45 minutes.
Full name: . Class: 11
Listen carefully and choose the best answer.
Câu 1: She was last seen ................................................................................ago.
	A 20 minute	B 20 - minutes	C 12 minutes	D 20 minutes
Câu 2: Her name's Mary and she is ....................................................................
	A 13 old year 	B 3 years old	C 13 years old	D 3 year old
Câu 3: She is wearing a pair of ...................................................................shoes.
	A White	B Brown	C black	D Blue
Câu 4: Her ..........................................................................is waiting for her there.
	A brother	B grandfather	C mother	D father
Choose the best answer to fill in each blank or replace the underlined words.
Câu 5: Most students are interested ...the annual English speaking Contests.
	A On	B At	C In	D With
Câu 6: I am pleased to ..............the winner of the final competition. It's group B.
	A appoint	B explain	C recite	D announce
Câu 7: He got a yellow card for breaking the ..of the game.
	A Rules	B Regulations	C Laws	D Instructions
Câu 8: Alicia apologized ..the teacher ..late.
	A with / coming	B with / to come	C to / for coming	D to/coming
Câu 9: The contest aimed to stimulate the spirit of learning English ...students.
	A Among	B For	C On	D Of
Câu 10: They quickly read the questions and tried to find out the answers.
	A Complete	B Discover	C Offer	D Guess
Câu 11: He admitted .the car.
	A stole	B stolen	C having stolen	D that he steals
Câu 12: Tom suggested .swimming this weekend.
	A should go	B going	C having gone	D to go
Câu 13: The winner of the contest was given a (an) ..for her excellent performance.
	A award	B reward	C fine	D bonus
Câu 14: Most students find English Competitions .
	A Enjoying	B Enjoyable	C Enjoyed	D Enjoyment
Câu 15: He complained about .
	A being waited	B having to wait	C to have waited	D to wait
Câu 16: My teachers always encourage .hard at school.
	A that we work	B working	C to work 	D us to work
Câu 17: The children were warned in the lake without an adult present.
	A not swim	B not swimming	C not to swim	D to not swim
Choose word whose stress pattern is different.
Câu 18: A Knowledge	B Marathon	C Athletics	D Maximum
Câu 19: A Represent	B Compete	C Award	D Encourage
Choose the option A, B, C or D which is incorrect.
Câu 20: His brother insisted on see the manager
	A The	B His	C See	D Insisted
Câu 21: The teacher said that about 10 children need special help in reading.
	A Said that	B Need	C In reading	D Special
Câu 22: The purpose of the examination was to test the students' knowing of the subject.
	A Knowing	B Purpose	C To	D Test
Câu 23: John decided to buy in the morning a new car, but in the afternoon he changed his mind.
	A In the afternoon	B Changed his mind	C To buy	D In the morning a new car
Read the passage and choose the best answer.
	This is the fifteenth year of our annual competition, which is open to all local high school students. Whether you play or sing, alone or in a band or orchestra, we'd like you to enter. Classical, rock or any other kinds of music, we'd like to hear you. Our competition takes place from May 10th to May 20th in the Central House of Culture in front of a large audience and a jury of seven.
	Competitors may perform any piece of their choice, including the one they have composed themselves, provided it does not exceed the limit of 20 minutes. The winner is given a time in a recording studio without charge and a TV appearance. The runner – up has an instrument of his/ her choice. If you are interested in the competition, telephone Mary Brown on 0984112324.
Câu 24: This is a(n)..
	A letter	B advertisement	C public announcement	D piece of news
Câu 25: The competition is held every ..
	A Month	B Week	C Fifteen years	D Year
Câu 26: Who can take part in the competition? .
	A Local students	B Mary Brown	C A jury of seven	D A large audience
Câu 27: How long does the competition last? .
	A 10 days	B 20 minutes	C Fifteen years	D On May 10th
Câu 28: Which sentence isn't true? .......................................................................
A All students can take part in the competition, except local ones.	
B Competitors can play as a group.	
C The winner gets free use of recording studio.	
D Competitors can play the song they have written.
Read the passage and choose the best answer to fill in each blank.
Jennifer Well is a genius. He is only 12, but he is already studying medicine at the University of Chicago! He wants to become a doctor. He ( 29). school. He says," I love to learn".
Before he went to the (30) , he studied at home. His mother and father were his teachers because they could not find a school that was good enough for him. His mother (31).. him Maths. She had to study late in the night in order to keep ahead of her son. He can also play the piano (32).. and he does Taekwondo.
He grew (33). In California with his family. His mother is Korean and his father is Japanese. He says that his parents never push him. " But sometimes I pull them along!", he smiles. His mother agrees with him. " He will decide his own life," She says. He dreams of fighting diseases like cancer in the future. This intelligent young man will surely succeed!
Câu 29: A Enjoys	B Quits	C Leaves	D Dislikes
Câu 30: A village	B university	C USA	D city
Câu 31: A taught	B guided	C helped	D instructed
Câu 32: A silently	B noisily	C quickly	D beautifully
Câu 33: A out	B in	C down	D up
Choose the word whose underlined part is pronounced differently from the others.
Câu 34: A orchestra	B chemistry	C charity	D scholarship
Câu 35: A completion	B information	C competition	D question
Câu 36: A announce	B annual	C award	D among
Câu 37: A sponsor	B wonderful	C problem	D enjoy
Câu 38: A Minority	B Literacy	C Library	D Primary
Rearrange the words to make a meaningful sentence by choosing the option A, B, C or D.
Câu 39: his students/ Monday / on / to hand in/ the professor / their / reports / told.
A The professor told his students on Monday to hand in their reports.	
B The professor told his students to hand in their reports on Monday.	
C The professor told to hand in his students their reports on Monday.	
D His students on Monday told the professor to hand in their reports.
Câu 40: for/ Linda/ not telling me/ earlier/ her flight/ about / apologized
A Linda apologized for not telling me about her flight earlier.	
B Linda apologized for not telling her about my flight earlier.
C Linda apologized me for not telling about her flight earlier.	
D Linda apologized for telling me about her late flight .
Đáp án : 
	1. D	2. D	3. D	4. A	5. C	6. D	7. C	8. C	9. A	10. B	11. C	12. B	13. A	14. B	15. B	16. D	17. C	18. C	19. A	20. C	21. B	22. A	23. D	24. C	25. D	26. A	27. A	28. A	29. A	30. C	31. A	32. D	33. D	34. C	35. D	36. B	37. B	38. B	39. B	40. B	

Tài liệu đính kèm:
de3_11cb2.doc