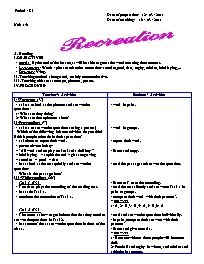 A. Reading
I.OBJECTIVES:
 - Aim(s): By the end of the lesson, ss will be able to guess the word meaning from context.
 - Lexical items: Words / phrases related to recreation: snooker, pool, dart, rugby, cricket, bricklaying,.
 - Structure: V-ing.
II.Teaching method : Integrated, mainly communicative.
III.Teaching aids: cassette tape, pictures, poster.
IV.PROCEDURE:
 Period : 85 
 Date of preparation: 12/ 03 / 2011
 Date of teaching: 16 / 03 / 2011
Unit 14:
A. Reading
I.OBJECTIVES:
 - Aim(s): By the end of the lesson, ss will be able to guess the word meaning from context.
 - Lexical items: Words / phrases related to recreation: snooker, pool, dart, rugby, cricket, bricklaying,...
 - Structure: V-ing.
II.Teaching method : Integrated, mainly communicative.
III.Teaching aids: cassette tape, pictures, poster.
IV.PROCEDURE:
Teacher's Activities
Students' Activities
I/ Warm-up: ( 3')
 - asks ss to look at the pictures and answer the questions:
 1/ What are they doing?
 2/ What are these pictures about?
II/ Pre-reading: (7')
 - asks ss to answer the questions ( using a poster )
 Which of the following leisure activities do you think British people often do in their spare time?
 - asks them to report their work.
 - pre-teach vocabulary:
 * "All work and no play makes Jack a dull boy "
 * bricklaying * sophisticated * glass engraving
 * snooker * pool * dart
 - has ss look at the text quickly and answer the question:
 + What is the passage about?
III/ While-reading: (26')
 + Task 1: (13')
 - T reads or plays the recording of the reading text.
 - has ss do Task 1.
 - conducts the correction of Task 1.
 + Task 2: (13')
 - T instructs ss how to get information that they need to answer the questions in Task 2.
 - has some of the ss answer the questions in front of the class.
IV/ Post-reading: (8')
 - T instructs ss to discuss the questions on page 157 and compare the forms of popular entertainment in Vietnam with those in Britain.
 * Remarks 
- work in pairs.
- work in groups.
- report their work.
- listen and copy.
- read the passage and answer the question.
- listen to T or to the recording.
- read the text silently and answer to Task 1 in pairs or groups.
- compare their work with their partners'.
* Answers:
1- A, 2- B, 3- B, 4- A, 5- B, 6- A
- read and answer the questions individually.
- in pairs,compare their answers with their partners'
- listen and give remarks.
* Answers:
1/ Because without them people will become dull.
2/ Football and rugby in winter, and cricket and athletics in summer.
3/ Walking and swimming.
4/ Because this is a new kind of entertainment which gives them pleasure.
- discuss in groups.
* Homework: (1')
- learn new words and make sentences with them.
- summarize the reading text. 
- prepare lesson 2 ( Speaking )
Remark : __________________________________________________________________________________________________________________________________________________________________________________________________________________
Period : 86 
 Date of preparation: 13/ 03 / 2011
 Date of teaching: 18 / 03 / 2011
Unit 14
B. Speaking
I. Objective
 - Aim(s): students learn to express agreement and disagreement.
 - Lexical items: words / phrases related to entertainment activities, stating the reasons.
 - Structures: - Let's + bare infinitive
 - Expressions of agreement and disagreement.
 - Conditional sentence type 1.
 - Have to + infinitive
II.Teaching method : Integrated, mainly communicative.
III.Teaching aids: pictures of some beautiful places, posters.
IV.Procedure:
Teacher's Activities
Students' Activities
 I/ Warm-up: (5')
 - Ask ss some questions:
 1/ Do you enjoy visiting some beautiful places?
 2/ Would you like to go out after class?
 II/ Pre-speaking: (10') Task 1
-What do you say to show agreement and disagreement ?
-Call Sts who raise their hands
Suggested answers
 Agreement expressions
 I quite agree 
 I agree with what you say.
That's right
Disagreement expression
I don't agree
I'm afraid I disagree
That's wrong
 - Use posters of some expressions of agreement and disagreement.
 - Read and ask ss the meaning.
 - Check and give feedback.
 III/ While-speaking: (20') 
 * Task 2:
 - Introduce the dialog 
 - Set a model
 A : Let's go camping.
 B : Yes, let's do that. Then we can rest and 
 enjoy ourselves in the quiet countryside .
 C : Oh, I don't think it's a good idea. If we go camping, we 'll have to bring a lot of equipments with us.
 - Ask ss to practise the dialog in groups.
 - Remind the modal verb " can" and If clause type 1.
 - Check ss' memory. (set the time)
 * Task 3:
 - Use the poster.
 - Set a model
 A : We are going to have two days of next week. Have you had any plans yet ?
 B : Yes, let's go camping in the countryside.
 A : Yes, that's a good idea then we can rest and enjoy ourselves in the quiet countryside
 C : I don't think that's a good idea. If we go there , we'll have to hire a bus and it will be rather expensive.
 - Mode 1 dialogue.
 - Guide ss how to replace.
 - Ask ss to practise in groups.
 - Go around the class and help ss if necessary.
 - Take notes ss' mistakes. ( pronunciation)
 - Correct some of common mistakes.
 - Ask some groups to present in front of the class.
 - Remark.
 IV/ Post-writing: (8') 
- Call some groups to report fheir discussion to the class.
- Ask ss to give the reasons. ( why ? / why not ?)
* Homework: (2') Ss write a dialogue to express agreement / disagreement about a four-day holiday to Da Lat. 
 - Answer the questions
 -Close their textbooks
 - Work individual
 - Check some pairs
- Look at the posters.
 - Answer the question. ( Answer key: 1- A, 2- D, 3- A, 4- A, 5- D, 6- A, 7- A.
 - Listen carefully.
 - Look at the poster.
 - Work in groups.
 - Close books, practise in groups.
 - Listen and write down on their notebooks.
 - Work in groups.
- Practise in groups.
- Report in front of the class.
- Give the reasons.
Remark : __________________________________________________________________________________________________________________________________________________________________________________________________________________
Period : 87 
 Date of preparation: 14 / 03 / 2011
 Date of teaching: 19 / 03 / 2011
Unit 14:
C. Listening
I. Objective
 - Aim(s): students learn to listen monologue about enterainment activities in summer holiday
 - Lexical items : 
II.Teaching method : Integrated, mainly communicative.
III.Teaching aids: students' books , teacher's book , cassette player..
IV.Procedure:
Teacher's Activities
Students' Activities
1. Warm-up (5mns)
-Ask Sts to write daily entertainment activities with the verbs below :
 - Go .
- Watch .
- Read ..
- Listen.
- Play.
Suggested answers
go swimming , watch television, read books ,
listen to music, play sports.
2. Before you listen (10mns )
-Ask Sts to look at the pictures 1 and 2 and anwer the questions.
1. Who are they ?
2. Where are they ?
3.What are they doing ?
Eg : Picture 1
-They are students
- They are in the countryside.
- They are going for a picnic.
 Picture 2
- They are tourists.
- They are in a town.
- They are going sightseeing.
Vocabulary
campgrounds (n) nôi caém traïi
trash (n) raùc röôûi
widerness (n) vuøng hoang daõ
waterfalls (n) thaùc nöôùc
dirt bike (n) xe ñaïp ñaày buïi
giant tree (n) caây khoång loà
depressed (adj) chaùn naõn
solitude (n) traïng thaùi coâ ñoäc
3. While you listen (20mns)
- Task 1 : 
-Ask Sts to go through the statements in task 1 to master the meaning. 
-Play the tape once
- Check whether Sts have answers
-Play the tape twice
-Check in front of class
-Pause the tape right the answer to help Sts get information.
Suggested answers
1. T 2.T 3.F 4.T 5.F 6.T
- Play the tape three times to help Sts listen the sentences with wrong information to correct.
- 3.F He used to.
-5.F She doesn't want to live in nature and enjoy it because of the solitude of the winderness.
-Task 2 :
-Ask Sts to go through the answer in task 2 to master the meaning. 
- Play the tape once
- Check whether Sts have answers
-Play the tape twice
-Check in front of class
-Pause the tape right the answer to help Sts get information.
4.After you listen (8mns)
-Ask Sts to list three advantages of having a camping holiday
- Check in front of class
Sugessted answer
When you have a camping holiday
 -you can get close to nature and enjoy it.
-your friendship can be better.
- you can learn lots of things from real life.
5. Homework (2mns)
-Write about 3 advantages and disadvantages of having a camping holiday.
- Close their textbooks
- Work in pairs
- Answer
Open their textbooks
Work in pairs 
Guess 
Asnwer freely
 -Listen and repeat after the teacher
 - Work individual
Listen 
Listen
Answer
Listen and correct
- Listen 
Listen
Answer
Listen and correct
Work in pairs
Present in front class
Remark : __________________________________________________________________________________________________________________________________________________________________________________________________________________
 Period : 88 
 Date of preparation: / 03 / 2011
 Date of teaching: / 03 / 2011
Unit 14
D. Writing
I. Objective
 - Aim(s): students learn to describe a camping holiday .
 - Lexical items : 
II.Teaching method : Integrated, mainly communicative.
III.Teaching aids: students' books , teacher's book , pictures .
IV.Procedure:
Teacher's Activities
Students' Activities
1. Warm – up (5mns)
Set the scene ( picture about camping)
- Give the answers
1. What activities do you see in this picture ?
2.How often do you take part in this activity?
3.When did you last do it ?
-Call sts who raise their hands
Suggested answer
1.It's a camping day.
2.Sometimes
3.Last year
2. Before you write (10mns )
Task 1 : Last week , class 11A2 went to Bavi for a camping holiday. 
-Ask Sts to match activities with the correct pictures.
- Go around to check and help
- Check in front of class
Suggested answer
a – 2 the bus leaving school
b – 3 putting up the umbrella tent
c – 4 watching wildlife in the forest
d – 6 swimming in the lake
e – 9 fishing
f – 5 cooking food over an open fire
g – 5 singing and dancing around the campfire
h – 7 playing a quiz game
i – 8 leaving campsite
3. While you write (20mns )
Task 2 
- Ask Sts to discuss and write apassage about class's camping holiday, using the information in task 1
-Ask each chef hang his writing on the board
- Read and correct in front of class the mistakes sts ofen take
-Give the comment 
Suggested passage :
Last weekend we all went to Bavi for a camping holiday. We went to school at 4. 30 because the bus would leave at 5.00. The first thing we did at the campsite was putting up the umbrella tent. Next we went around to watch wildlife in the forest. Some went fishing and swimming in the lake.Then we went back to our tents and prepared lunch we took a rest. In the evening we sang and danced around the camp fire and also
Played aquiz game there. We left the campsite at 4 p.m the next day . although all of us were tired, we had a good time to live together .
4. After you write (8mns )
- Ask sts to practice speaking about camping
holi ... mif ranked as the tallest structure on earth for more than 43 centuries.
The structure consisted of approximately 2 million blocks of stone.
 Opinions
 1. The Great Pyramid is believed to have been
 built over a 20-year period.
One theory involves the construction of a straight or spiral ramp that was raised as the construction proceeded.
A second theory suggests that the blocks were lifted and placed using thousands of huge weight arms.
The boat is believed to have been used to carry the body of Khufu in his last journey on earth before being buried inside the Pyramid.
Give some useful expressions(p. 182)
3.While speaking 
Task 2:
-Give instructions of task 2
-Call 1 pair to model the task: 1 says the fact and 1 says the option
- Set model
Fact : The Great Pyramid was 147 meters hight.
Opinion : The Great Pyramid is believed to have been
 built over a 20-year period.
-Ask sts to work in pairs
-Point out some pairs to stand up and do task 2
-Correct pronunciation/grammarif there are some mistakes.
4.Post-speaking:
Task 3:
-Stick the poster ( Useful language )
I think / I am sure.
It is said that ..
The Pypamid is said..
They must.
-Explain the questions
- Set model
A : Who built The Great Pyramid of Giza ?
B : I think The Great Pyramid of Giza was built by the 
 Egyptian Paraoh Khufu.
C : I am sure that the Egyptian Paraoh Khufu the 
 Great Pyramid of Giza 
A : How long did it take them to build it ?
B : Probably they spent over 20years to compete it.
C : Oh, no ! It is said to have been built in 20 years.
-Let sts work in groups to ask and answer the questions, using the useful expressions and cues
-Go around and give help
-Call some groups to give their opinions
-Correct mistakes
5.Homework:
Prepare listening (p.182)
Make 3 sentences, using some useful expression to express their opinions
Look at them and answer 
Work in pairs
Work in pairs
Work in groups
Give their opinions
Look at the poster
- Observe the model
Work in pairs
Remark : __________________________________________________________________________________________________________________________________________________________________________________________________________________
 Period : 101 
 Date of preparation: / 04 / 2011
 Date of teaching: / 04 / 2011
Unit 16
 C. Listening
I/ Objective
Aims: Help sts to listen to the text to get information about The Great Wall of China.
Lexical items: words related to describing.
II.Teaching method : Integrated, mainly communicative.
III.Teaching aids: cassette player, posters, pictures.
IV Procedure:
Teacher's activities
Students' activities
1.WARM- UP (3')
- List some wonders of the world
 * Suggested answers: The Great Wall of China, The Great Pyramid of Egypt
2. PRE- LISTENING (12')
1) Show the picture of The Great Wall and ask:
What can you see in the picture?
Where do you think it is?
When do you think it was built?
2) Pre- teach vocabulary:
man-made wonder (n) (example)
magnificence (n) (translation)
significance (n) ( translation)
World Heritage (n) (example)
ancient ( adj) ( antonym)
stone roadway (n) ( picture)
 3) Checking vocabulary: Rub out and remember
3. WHILE- LISTENING: (20')
YTASK 1:
- Stick the poster of task 1 on the board.
- Devide the class into 4 big groups.
- Deliver the cards of 8 missing words to each group.
- Give instruction of the game
- Let ss listen 3 times to play the game
- Decide the winners ( group with more correct words)
- Correct task 1
YTASK 2: 
TO GOOD SS:
- Run through the questions.
- Let ss listen 2 more times to answer the questions (individually)
- Ask ss to compare the anwers with their partners
- Call some ss to answer orally, correct and ask them to write the answers on the board.
- Let ss copy the answers into their notebooks.
TO "WEEK" SS:
- Design task 2 in the form of Multiple choice:
1) When did the ancient Chinese start building the Great Wall?
A. 1386 B. 1368 C.1388 D. 1638
2) How many provinces does the wall cover?
A. 5 B 7 C. 8 D. 9
3)Why is it considered one of the greatest wonders in the world?
- Because it can be seen from
A. the Moon B. the Sun
C. the Milky Way D. the Orion
4) Which part of the wall is the best choise for visit?
The part in the northwest of Beijing
The part in the southwest of Beijing
The part in the northeast of Beijing
The part in the southeast of Beijing
- Let ss work in pairs, listen to the tape twice.
- Ask ss to give the answers
- Correct.
4.POST LISTENING: (10')
WRITE- IT- UP:
Write a short paragraph about the Great Wall, use the prompts below:
It/ consider/ man-made wonders/ magnificence/ significance
It/ take/ 200 years/ complete/ the Great Wall
It/ stretch/ 6,000 kms/ east/ west
The wall/ 11 metres high/ stone runway/ run/ top/ it.
5.HOMEWORK:
-Rewrite the paragraph in Post Listening
-Study the vocabulary and prepare Writing
- List some wonders
- Brainstorm
- Copy
-Get the cards
-Play the game ( gap- fill)
- Listen the last time to correct the exercises.
- Work individually, listen and answer the questions in task 2.
- Compare the answers with partners.
- Answer orally, then write the answers on the board.
- Copy.
-Work in pairs.
- Work in groups and write a paragraph about the Great Wall based on the prompts provided.
Remark : ____________________________________________________________________________________________________________________________________________________________________________________________________________________________________________________
 Period : 102 
 Date of preparation: / 0 / 2011
 Date of teaching: / 0 / 2011
Unit 16
 D. Writing
 I. Objectives:
* Aim: By the end of the lesson, Sts are able to write a report on a man-made place
* Lexical items: words related to a man-made place
II.Teaching method : Integrated, mainly communicative.
III.Teaching aids: posters, pictures.
IV Procedure
Teacher's activities
students' activities
1.Warm up(3')
_ Give 4 pictures and 4 names of places (Da Lat, Ha Long Bay, Nha Trang, Hoi An Ancient Town)
_ Let students work in groups and match the pictures with the places
2.Pre- writing: 
Pre-teach vocabulary:	
 Marble (n) (explanation)
 Dedicated to (v) (explanation)
 Buddha's throne (n) (explanation)
 Illustrate (v) (example)
Check vocabulary: rub out and remember.
Let students work in groups to read through the information supplied by the text book(p184) and then answer the questions
Ask questions:
 1. How many towers do the Ponagar Cham Towers consist?
 2. Where are they located?
 3. When were they built?
 4. What was each tower dedicated to?
 5. How is the largest Tower?
 6. How long did the tour last?
 7. How was the trip?
Call two groups to stick their posters of answers on the board
3.While writing:
_Let students write a report based on the information on their posters.
_Give instructions and give the introductory paragraph of the passage.
_ Let students work in groups to write the report.
4.Post-writing:
_Call 4 groups to stick their posters on the board
_Let students correct their peers' mistake (by playing games)
5.Homework:
Rewrite the report at home 
_ Work in groups and do the matching
_Work in groups and read the information
_Work in groups and answer the questions
_Work in groups
_Work in groups
_read the posters and give comments
_ Correct their peer's mistakes (group with more mistakes found and right correction will be the winner)
REMARKS:
__________________________________________________________________________________________________________________________________________________________________________________________________________________
 Period : 103 
 Date of preparation: / 0 / 2011
 Date of teaching: / 0 / 2011
Unit 16
 E. Language focus
I. Objectives:
1. Aims: By the end of the lesson, students can know the way to pronounce some sounds /ft/, /vd/, /fs/, /vz/ and use the structures: "It is said that"and " People say that"
2. Lexical items: words related to " the pronunciation"
3. Structures: "It is said that"and " People say that"
II.Teaching method : Integrated, mainly communicative.
III.. Teaching aids: posters, pictures
IV. Procedure:
Teacher's activities
Students' activities
A.PRONUNCIATION:
* Warm-up:
- Show 2 pictures ( a gift, knives)
- Ask questions: + What's this?
 + What are they?
- Write the 2 words on the board:
 gift knives
- Read and ask Ss to repeat the words.
- Emphasis the last sound of these words and lead to the Pronunciation part.
* While- pronunciation:
- Show poster of words in pronunciation part.
- Read the words and let Ss repeat.
- Call some Ss to read the words, correct if there is any mistakes.
- Show poster of the sentences in Textbook (p. 189).
- Read sentences and let Ss repeat.
- Point out some Ss to read the sentences aloud, correct mistakes. 
B. GRAMMAR:
1. PRESENTATION:
- Give examples:
1. It is believed that the prisoner drove through the town at the speed of 90 km an hour.
=> The prisoner is believed to have driven through the town at the speed of 90 km an hour.
2. It is said that he speaks English very well.
=> He is said to speak English very well.
3. It is expected that the strike will begin tomorrow.
=> The strike is expected to begin tomorrow.
- Read sentences and explain the use of the structure "It is said that" 
2. PRACTICE:
Exercise 1:
- Ask Ss to work in pairs doing the exercise.
- Call some Ss to write their sentences on the board.
- Correct mistakes and ask Ss to copy down.
- Call some Ss read these sentences aloud.
Exercise 2 : (p. 186) : do the same as Exercise 1.
III.PRODUCTION:
- Give some sentences and ask Ss to rewrite them using the structures: "It is said that"and " People say that" 
1. People say that snakes are dangerous.
=>
2. It is said that he is very rich.
=>
3. People say that Vietnamese people are friendly.
=>
4. It is believed that he saw the murder.
=>
* HOMEWORK:
- Ask Ss to learn Vocabularies and Structure. 
- Ask Ss to prepare " Test yourself"
- Look at the pictures
- Answer: + gift
 + knives
- Listen and repeat
- Look at the poster.
- Repeat.
- Some Ss read aloud.
- Look at the poster.
- Repeat sentences.
- Some Ss read sentences aloud.
- Look at the examples on the board.
- Listen and take notes.
- Work in pairs.
- Write their sentences on the board.
- Correct and copy down.
- Stand up and read aloud.
- Rewrite sentences :
1. Snakes are said to be dangerous.
2. He is said to be very rich.
3. Vietnamese people are said to be friendly.
4. He is said to have seen the murder.
- Learn Vocabularies and Structure
- Prepare " Test yourself"
Remark : __________________________________________________________________________________________________________________________________________________________________________________________________________________