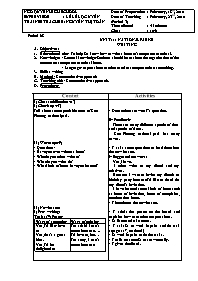 A. Objectives:
1. Educational aim: To help Sts know how to write a letter of acceptance or refusal.
2. Knowledge: - General knowledge: Students should learn about the organization of the content on acceptance or refusal letter.
 - Language: expressions are often used to accept or refuse something.
3. Skills: writing
B. Method: Communicative approach
C. Teaching aids: Communicative approach.
D. Procedure:
NGO QUYEN HIGH SCHOOL
SUPERVISOR : LÊ LÊ LỘC UYỂN
TRAINEE TEACHER: NGUYỄN THỊ TOÀN
Date of Preparation	: February, 18th, 2010
Date of Teaching	: February, 23rd, 2010
(Period 3)
Time allotted	: 45 minutes
Class	: 10/6
Period 68
	UNIT 11: NATIONAL PARKS
	 WRITING
Objectives:
Educational aim: To help Sts know how to write a letter of acceptance or refusal.
Knowledge: - General knowledge: Students should learn about the organization of the content on acceptance or refusal letter.
 - Language: expressions are often used to accept or refuse something.
Skills: writing
Method: Communicative approach
Teaching aids: Communicative approach.
Procedure:
Content
Activities
I) Class stabilization:(1')
I) Check up:(4')
Tell about some special features of Cuc Phuong national park.
II) Warm up:(4')
- Questions:
- Have you ever written a letter?
- Who do you often write to?
- What do you write for?
- What kinds of letter have you learned?
II) New lesson:
I) Pre- writing:
Task 1(7')Poster:
Ways of accepting
Ways of refusing
Yes, I'd like/ love to
Yes, that's a great idea.
Yes, I'd be delighted to
I'm afraid I can't come because.
I'd love to, but
I'm sorry, I can't come because
Dear Chi,
Something is wrong with my phone, so I am leaving you this note. Thanks for your invitation____________! How about meeting at the school gate at 8: 30?
Lien
Dear David,
Thanks for your note._____________ my father has been ill since yesterday and I have to look after him.
Let's go another time.
Mike
3. Dear Daisy and Tony,
Thanks very much for your invitation o dinner. Of course, ___________.
I'm sure we will have a very good time together.
Susan.
A letter of acceptance:
- Thank for invitation.
- Use expressions of accepting
A letter of refusal:
- Thank for invitation.
- Use expression of refusing.
- Write the reason for refusal and suggest an alternative date or activities.
Task 2:(8')
§ Letter of acceptance:
Rearrange the following sentences to make a letter of accepting an invitation to spend a weekend in the country.
Dear Lan,
1. Thank you for your letter.
2. You know how much I love spending a weekend in the country after a long and hard term.
3. It is lovely to hear that you are going to spend the next weekend in the country.
4. I will catch the usual train on Friday evening.
5. Give my best regards to your parents and hope to see you soon.
6. I would really like to come.
§ Letter of refusal: 
Rearrange the following sentences to make a letter declining an invitation to go to a birthday party.
Dear Hoa, 
1) It's great to hear that you are going to hold a birthday party at home on the next Saturday.
2) On that day, I have to take an important examination.
3) Anyway, thank you for inviting me and give you best wishes on your birthday.
4) Thank you for your invitation.
5) I'd really love to come to your party.
6) But, I'm afraid I can't come.
II) While writing:
Task 3: (textbook, page 118)(10')
One of your friends has invited you to go for a picnic to Cuc Phuong national park next weekend. Write a reply letter accepting or declining his/her invitation.
III) Post- writing:(10')
Correction
IV) Homework(1'):
Write a letter of acceptance or refusal with the same topic in task 3.
- One student answers T's question.
Ø Feedback:
+ There are many different species of flora and species of fauna.
+ Cuc Phuong national park has many caves.
- T asks some questions to lead them into the new lesson.
ØSuggested answers:
+ Yes, I have.
+ I often write to my friend and my relatives.
+ Because I want to invite my friends to birthday party because I'd like to thank for my friend's invitation.
+ I have learned some kinds of letter such as letter of invitation, letter of complains, confirmation letter.
- T introduces the new lesson.
- T sticks the poster on the board and explains how to use these expressions.
- Ss listen and take notes.
- T asks Ss to work in pairs and do task 1(page 117, textbook)
- Ss work in pairs to do the tasks.
- T calls on some Ss to answer orally.
- T gives feedback.
Ø Feedback:
1. Yes, that's a great idea.
2. I'm afraid I can't come.
3. I'd like to.
- T analyses 3 letters in task 1 and explains the way to write a letter of acceptance and refusal.
- T gives Ss 2 letters of acceptance and refusal with jumbled sentences.
- T asks Ss to work in-group of 4 to rearrange these sentences to make complete letters.
- T calls on some Ss to give answers and corrects.
ØFeedback:
Letter of acceptance:
1Ò3Ò 6Ò 2 Ò4Ò 5
Letter of refusal:
4 Ò1Ò 5 Ò6 Ò2Ò 3
- T asks Ss to do task 3 individually.
- Ss write the letters.
- T goes around to help Ss if necessary
- T has some Ss write their letter on the board.
- T asks other students to give their comments.
- Ss give comment.
- T writes errors and mistakes on the board and gives correction.
ØSuggested answers:
Dear Nam, 
Thank for your letter. It's great to hear that you are going to have a picnic in Cuc Phuong national park. I'd like to go with you. I will meet you at the school gate at 6.00 am next weekend
Give my regard to your parents.
Love, Minh
Dear Hoa, 
Thank for your letter. It is lovely to hear that you are going to have a picnic in Cuc Phuong national park. I'd love to but I'm going to visit my uncle in HCM city next weekend. Let's make another time perhaps.
Give my regard to your parents
Have a good journey.
Love, Minh
VICE-PRINCIPAL SUPERVISOR TRAINEE TEACHER