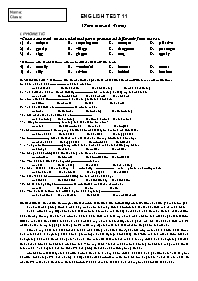 I. PHONETIC
*Choose one word whose underlined part is pronounced differently from the rest.
1) A. culture B. acquaintance C. constant D. talkative
2) A. gossip B. village C. dangerous D. passenger
3) A. sing B. glance C. turn D. sneaky
* Choose one word whose stress is different from the rest.
4) A. merrily B. wonderful C. interest D. retreat
5) A. silly B. advice C. behind D. bamboo
II. VOCABULARY: Choose the best answer (A, B, C or D) that best completes each sentence.
6. I can hear a cat . at the window
A. scratches B. to scratch C. scratching D. was scratching
7. The children seem to be totally . of working quietly by themselves.
A. unable B. impossible C. incapable D. not able
8. John refused to.his children go to the concert.
A. allow B. permit C. let D. enable
9. The dentist told him.his mouth wide.
A. open B. to open C. opening D. to opening
10. His parents never allowed him.
A. a smoking B. smoking C. some smoke D. to smoke
11. Do you.my turning the television on now?
A. mind B. disapproved C. want D. object
12. He.me to buy my air ticket immediately or it would be too late.
A. convinced B. insisted C. advised D. suggested
Bạn đang xem tài liệu "Bài soạn môn học Tiếng Anh khối lớp 11 - English test 11", để tải tài liệu gốc về máy bạn click vào nút DOWNLOAD ở trên
Name:
Class:
English Test 11
(Time allowed: 45min)
I. PHONETIC
*Choose one word whose underlined part is pronounced differently from the rest.
1)
A.
culture
B.
acquaintance
C.
constant
D.
talkative
2)
A.
gossip
B.
village
C.
dangerous
D.
passenger
3)
A.
sing
B.
glance
C.
turn
D.
sneaky
* Choose one word whose stress is different from the rest.
4)
A.
merrily
B.
wonderful
C.
interest
D.
retreat
5)
A.
silly
B.
advice
C.
behind
D.
bamboo
II. VOCABULARY: Choose the best answer (A, B, C or D) that best completes each sentence.
6. I can hear a cat .. at the window
A. scratches B. to scratch C. scratching D. was scratching
7. The children seem to be totally .................. of working quietly by themselves.
A. unable B. impossible C. incapable D. not able
8. John refused to..................his children go to the concert.
A. allow B. permit C. let D. enable
9. The dentist told him..................his mouth wide.
A. open B. to open C. opening D. to opening
10. His parents never allowed him...................
A. a smoking B. smoking C. some smoke D. to smoke
11. Do you..................my turning the television on now?
A. mind B. disapproved C. want D. object
12. He..................me to buy my air ticket immediately or it would be too late.
A. convinced B. insisted C. advised D. suggested
13. I..................my friend to lend me his caravan for my trip to the country.
A. persuaded B. suggested C. proposed D. offered
14. They would..................go by plane than spend a week travelling by train.
A. always B. rather C. prefer D. better
15. Her guest apologized for causing her so much...................
A. problem B. trouble C. complication D. obstacle
16. You eat the olives; everybody..................them. 
A. hate B. is hating C. hates D. are hating
17. Her latest documentary is primarily .................. with youth unemployment.
A. concerned B. involved C. engaged D. related
18. I can't see the..................of sitting on the beach all day.
A. attract B. attractive C. attractively D. attraction
19. He is always loyal..................his principles whatever happens.
A. with B. about C. on D. to
20. You should inform the police if you see anything...................
A. suspicious B. uncertain C. afraid D. unbelievable
READING: Read the passage, then decide whether the following statements are true (T) or false (F)
I knew it was going to be a bad day when, on the way to the airport, the taxi driver told me he was lost.
I had booked my flight over the telephone, so when we finally arrived, I had to rush to the reservation desk to pay for my ticket. The woman at the desk told me that my name was not on the passenger list. It took fifteen minutes to realize that she had spelled my name incorrectly. She gave me the ticket and told me I'd better check in my luggage quickly or I'd miss my night. I was the last person to get on the plane.
I found my seat and discovered that I was sitting next to a four-year old boy who had a cold. I sat down and wondered if anything else could go wrong. I hate flying, especially take-off, but the plane took off and everything seemed to be all right. Then, a few minutes later, there was a funny noise and everything started to shake. I looked out of the window and – oh my God - there was smoke coming out of the wing. All I could think was "The engine are on fire. We are going to crash. I am too young to die,"
Almost immediately, the captain spoke to us in a very calm voice "Ladies and gentlement. This is your captain speaking. We are having a slight technical problem with one of our engines. There is no need to panic. We will have to return to the airport. Please remain seated and keep your seat belts fastened."
A few minutes later, we were coming on to land. The pilot made a perfect landing on the runway. It was over. We were safe. That day I decided not to fly again. I caught another taxi and went home. But as I closed the front door. I looked down at my case. Somehow I had picked up the wrong suitcase.
There was nothing wrong with her on the way to the airport.
She was in a great hurry at the airport.
It took her about fifteen minutes to get her ticket.
She was delighted with the boy sitting nearby.
The plane had to come back to the airport because its engine was on fire.
The suitcase she brought home wasn't hers.
After that day, she decided that she would never fly again.
IV. GRAMMAR: 
* Complete the sentences with the correct form of the verb in brackets.
She lets her children ________ (stay) up very late.
We had nothing ________ (do) except look at the cinema posters.
We both heard him ________ (say) that he was leaving.
It made him angry ________ (wait) for people who were late.
I couldn't understand what the passage said, so I had my friend ________ (translate) it for me.
It's important ________ (start) the meeting on time.
*Give the right form of the verbs in brackets: Simple Past or Past Continuous. 
When I .............................(arrive) at his house he ................................ (sleep)
He (play) guitar outside his house when someone opened the window and (throw) .. out a bucket of water.
As I (cross) ..the street, I (step)on a banana skin and (fall)..heavily.
When I (look).for my passport I (find).this old photograph.
Bill ..............................(have) breakfast when I ...............................(stop) at his house this morning.
I (see).you yesterday in the park. You (sit)on the bench with your arm around Tom.
As he (pass)..the bank, a man in a mask (knock) him on the ground
*Give the right form of the verbs in brackets: Simple Past or Past Perfect. 
After Fred (spend) his holiday in Italy he (want) to learn Italian.
Jill (phone)  Dad at work before she (leave)  for her trip.
Susan (turn on) the radio after she (wash) the dishes.
When she (arrive) the match already (start) .
After the man (come) home he (feed)  the cat.
Before he (sing) a song he (play)  the guitar.
She (watch)  a video after the children (go)  to bed.
After Eric (make)  breakfast he (phone)  his friend.
I (be)  very tired because I (study)  too much.
They (ride)  their bikes before they (meet)  their friends.
___________The end __________