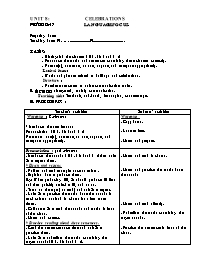 I. AIMS:
- Distinguish the clusters / fl / - / fr / and / r/
- Pronounce the words and sentences containing these clusters correctly.
- Use one(s), someone, no one, anyone, and everyone appropriately.
 Lexical items:
- Words and phrases related to holidays and celebrations.
 Structure:
- Use these structures to solve communicative tasks.
II. METHOD: Integrated, mainly communication.
 Teaching aids: Textbook, sub-board, lesson plan, cassette tape.
III. PROCEDURES:
Bạn đang xem tài liệu "Bài soạn môn học Tiếng Anh 11 - Unit 8: Celebrations - Period 47: Language focus", để tải tài liệu gốc về máy bạn click vào nút DOWNLOAD ở trên
UNIT 8: CELEBRATIONS 
Period: 47 language focus.
Preparing date: 
Teaching date: B2....................B4..............................
I. Aims: 
- Distinguish the clusters / fl / - / fr / and / r/ 
- Pronounce the words and sentences containing these clusters correctly.
- Use one(s), someone, no one, anyone, and everyone appropriately.
 Lexical items:
- Words and phrases related to holidays and celebrations.
 Structure:
- Use these structures to solve communicative tasks.
II. Method: Integrated, mainly communication.
 Teaching aids: Textbook, sub-board, lesson plan, cassette tape.
III. Procedures:
Teacher's activities
Students' activities
 Warm-up ( 2 minutes)
* Introduce the new lesson: 
Pronunciation / fl / - / fr / and / r/
Grammar: one(s), someone, no one, anyone, and everyone appropriately.
Warm-up
- Copy down.
- Answer free.
- Listen and prepare.
Pronunciation: ( 10 minutes)
- Introduce the sounds / fl / - / fr / and / r/ then asks Ss to repeat them.
* Listen and repeat.
- Guides and read example once or twine .
- Explains how to produce them.
E.g: When producing /fl/, Ss should produce /f/ first and then quickly switch to /l/, and so on.
- Turns on the tape ( or read) and ask Ss to repeat.
- Asks Ss to practice the words have the sounds in each column out loud in chorus for a few more times.
- Call some Ss to read the sounds and words in front of the class.
- Listen and correct.
* Practice reading aloud these sentences.
- Read the sentences once time and ask Ss to practice them.
- Asks Ss to underline the words containing the target sounds/ fl / - / fr / and / r/.
- Walks around to listen and takes notes of the typical error.
- Calls Some Ss to read the sentences again and provide correct feedback.
- Listen and read in chorus.
- Listen and practice the words have the sounds
- Listen and read silently.
- Underline the words containing the target sounds.
- Practice the sentences in front of the class.
 Grammar: ( 10 minutes)
Explains Ls how to use: one(s), someone, no one, anyone, and everyone.
+ One and ones are used to replace a previously mentioned noun. One replaced single noun, and Ones replaced plural noun. 
+ Someone = somebody. It is used with singular verb in an affirmative statement or a question when the speaker/ write expects the 'yes' answer.
+ Anyone = anybody. It is used with singular verb in a negative statement or a question.
+ No one usually takes a singular affirmative verb.
+ Everyone = everybody. It usually goes with a singular verb. It is used to refer to every person or all people.
Note: The expressions have singular meaning and take singular verb, so personal pronouns and possessive adjectives should logically he/she. Him/her . However, in modern English plural forms are more common:
Ex: Everyone has come in , haven't they? 
 No one should leave their luggage on the bus. 
-Listen to the teacher carefully
- study
- Copy down the notebook
- Study
- Copy down the notebook
- Study
- Copy down the notebook
 Exercises. ( 22 minutes)
Exercise 1:
*Introduce: 
- Asks Ss to complete sentence using someone, no one, anyone or everyone. Use each word twice.
- Gives Ss some new words and write them on the board then explain the meaning.
- Guides Ss to make some strategies.
- Asks Ss to read carefully sentences.
- Writes the example on the board.
- Asks Ss to look at the sentence example and work individually and then discuss the following pairs.
- Walks around the class to help when necessary.
- Suggested answer.
- Asks Ss to compare their answer with friends.
- Calls on Ss to answer and practice the sentences in front of the class.
- Corrected answer.
Exercise 1:
- Complete sentence using someone, no one, anyone or everyone. Use each word twice.
- Copy down the notebook
- Read carefully sentences.
- Look at the sentence example and work individually and then discuss the following pairs.
- Compare the answer with friends.
- Write the correct answers on the board.
- Practice the sentences in front of the class.
1. anyone 2. someone 3. anyone
4. someone 5. no one 6. everyone
7. no one
Exercise 2:
* Introduce: 
Asks Ss to rewrite the sentences using pronoun one(s).
- Give Ss some new words and write them on the board then explain the meaning if have.
- Asks Ss to read carefully sentences.
- Writes the example on the board.
- Asks Ss to look at the sentence example and work individually and then discuss the following pairs.
- Walks around the class to help when necessary.
- Suggested answer.
- Asks Ss to compare their answer with friends.
- Calls Ss to answer and practice the sentences in front of the class.
- Corrected answer.
Exercise 2:
- Rewrite the sentences using pronoun one(s).
- Read carefully sentences.
- Look at the sentence example and work individually and then discuss the following pairs.
- Compare the answer with friends.
- Write the correct answers on the board.
- Practice the sentences in front of the class.
1. Of three bags, I like the blue one.
2. Mai is making a fruit cake. Huong is making one, too.
3. I like reading books, especially the ones about the natural word.
4. I don't have computer, and my father doesn't want me to have one.
5. They lest me choose the pencil, and I took the red one.
6. There are several national celebrations in Vietnam, but perhaps the most meaningful one is the Tet holiday.
7. We told each other both happy stories and sad ones about our lives. 
Exercise 3:
- Asks Ss to use the words in the box to complete sentences 
- Gives Ss some new words and write them on the board then explain the meaning.
- Guides Ss to make a strategy.
- Asks Ss to read sentences carefully.
- Asks Ss to look at the sentence example and work individually and then discuss the following pairs.
- Walks around the class to help when necessary.
- Asks Ss to compare their answer with friends.
- Calls on Ss to answer and practice the sentences in front of the class.
- Corrected answer.
Exercise 3:
- Read carefully sentences.
- Look at the sentence example and work individually then compare the answer with friends.
- Write the correct answers on the board.
- Practice the sentences in front of the class.
1. traditional 2. grand 3. gifts 
4. celebrating 5. polite 6. good luck
7. excitement
 Homework( 1 minutes)
- Asks Ss to review the use of one(s), someone, no one, anyone, and everyone.
 and do the exercise 1, 2,3 again.
- Asks Ss to prepare the new lesson.
Homework
- Work at home